The Thredbo Cannonball MTB Festival, Australia's biggest and richest mountain bike event, celebrates five massive years in 2017 and with a packed program of gravity events and non- stop entertainment, this year's event, 6-10 December, promises to be the biggest and the best yet.
The famous event, twice ranked Australia's best event by the MTBA will see amateurs, rising stars and the world's best descend on Thredbo for five days of dirt defying action and the chance to take home their share of a whopping $70k in cash and prizes. This is the biggest prize purse ever seen at an Australian gravity inspired event.
The five mega events are set to showcase the diverse terrain on offer in the Snowy Mountains, and highlight why Thredbo is Australia's home of gravity mountain biking. There's something for all styles of MTB riding, with the festival attracting riders of all levels in a mix of events including the prestigious wearelusty Australian Open Downhill, Canyon Flow Motion Cup, Maxxis All Mountain Assault, SRAM Whip Wars Big Air and the RockShox Pump Track Challenge on the Village Green.
There's over 15 categories in each event, so no excuses – the Cannonball Festival caters to all and is a great introduction to the growing popularity of mountain bike competitions, just choose an event that aligns with your skill and ability.
Participation across all events is crucial for the pro field as these riders will have the chance to be crowned King or Queen of Cannonball. Points scored across each event will determine this factor.
The weekend offers just as much action off the trails as on them, with both sides of the resort pumping during the iconic mountain biking celebration. Thredbo's famous village will play host to an awesome line-up of DJ's and live gigs with the region's stellar offering of bars and restaurants also open.
A massive prize pool, a roll call of big names and some of the best gravity tracks in the country, the Cannonball Festival is one not to be missed.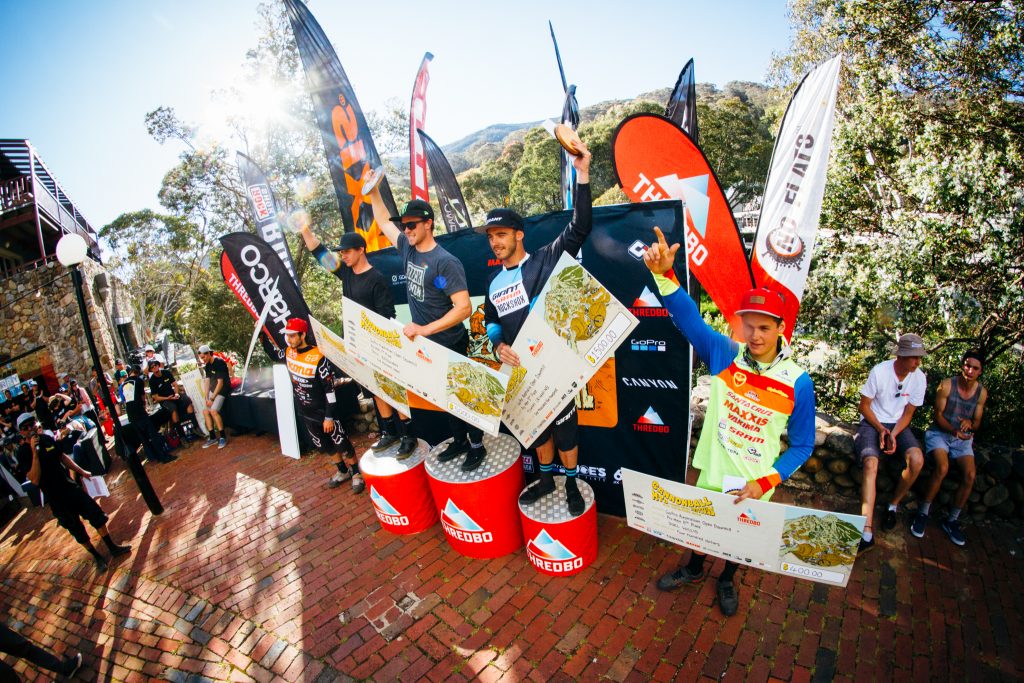 Event registrations are now open with a 15% early bird competitor discount for those signing up before midnight 31 October 2017. Click here to register now. Visit thredbo.com.au/cannonballfestival for full event details. And for a taste of what's on offer, check last years highlights video below.
wearelusty Australian Open Downhill | Sunday 10 December 
The wearelusty Australian Open DH will be raced on Thredbo's famous Cannonball Downhill Trail the old school way, meaning we will include the upper fast and furious summer road. Riders will then be thrown into a technical masterpiece comprising of rocky chutes, features that launch and fast open sections with speeds not dis similar to those found on a World Cup course. This event also boasts the biggest pay day for a DH race in Australia. New to this year's main event will be a seeding day for all categories which will go down on Friday 8th Dec. This will give riders a chance to see where they stand among the rest of the field, before heading back up to the start gate on Sunday Dec 10th for downhill finals.
Canyon Flow Motion Cup | Saturday 9 December 
Saturday morning will see the Canyon Flow Motion Cup go down on Thredbo's famous 5km Kosciuszko Flow Trail. Although not super technical, this race requires a fit efficient type of rider. A stack of steep banked berms and rolling traverses ensures that cornering and pedalling ability will be paramount. The Flow Motion Cup is also a great introduction to gravity racing.
SRAM Whip Wars | Saturday 9 December 
The crowd pleasing SRAM Whip Wars will again hit centre stage Saturday afternoon, with some of the best mountain bikers from different genres sending it sideways on the super booter at the finish arena. The biggest sideways whip bought back will take the honours. A crowd pleasing trick will also fill your pockets with cash.
ROCKSHOX Pump Track Challenge | Friday 8 December 
Get ready for the ROCKSHOX Pump Track Challenge, see Thredbo's Pump Track in full flight as the smooth momentum masters set the perfectly sculpted course on fire. A test of ultimate skill and stamina, as riders pump, double and manual around the 2-3 lap course without a single pedal stroke.
Maxxis All-Mountain Assault | Thursday 7 December 
The Maxxis All-Mountain Assault returns to 1800m above sea level at the top of the Gunbarrel Express Chairlift. The iron men and women of mountain biking will embark on a gruelling 7km undulating descend on a trail designed for a short travel mountain bike with times around 13 minutes to aim for. The All-Mountain trail has everything a rounded rider could ask for, technical descends, natural obstacles, smaller jump options and pinch climbs to push even the most avid enduro purist.