Yes indeed, "Bonjour", Sunn Bikes are officially back! Hold on, 'the' Sunn Bikes that used to absolutely dominate the MTB racing scene back around the turn of the century? Yep!
But for those of you that missed out on that golden era and are a little newer to this whole MTB game, first here's a quick history lesson to bring you up to speed. Sit back, get comfortable, grab yourself a coffee and chocolate croissant and prepare to learn! Sunn Bikes were a French/European MTB heavyweight during the 1990's. Cutting their teeth originally in BMX during the 80's, Sunn turned to MTB which is what could be described as the glory years of MTB during the 90's. During those early golden years mega-star racers such as; Nicolas 'Nico' Vouilloz, François Gachet, Cedric Gracia and Anne-Caroline Chausson, all piloted their Sunn Bikes to countless Downhill World Championship titles and World Cup wins. Not to mention the fact that at one stage Sunn held the world land speed record. A madman by the name of Eric Barone was the first human to reach the 200km/h on a bicycle and he did it riding a Sunn. That's pretty damn cool, eh! Due to some technical difficulties during the early 2000's, the company took a hiatus from the bright lights of the big stage. However, the platform for the company has always remained viable and then in 2013 the brand was given a fresh start and a year later Sunn bikes began building a quiet comeback into an industry it once dominated. In the last few years we have seen a resurgence of Sunn Bikes and it appears they mean business by releasing a full range of trail and enduro weapons.
The team here at [R]evolution Mag were recently lucky enough to get our hands on Sunn's all new enduro whip being the Kern Finest LT. Designed as their trademark enduro beast we were pretty damn excited to see what Sunn Bikes had delivered. From the moment we pulled this thing out of the box a sense of nostalgia come over us, we had a couple of flashbacks to the early years of downhill and it's fair to say when we first got a glimpse of the Kern LT it was easy on the eye.
"This bike is very well spec'd for the price tag, it has a great frame design and geomitry numbers, and as you can tell the Kern LT Finest sure does have a very eye-catching look about it."
It's a little weird in the sense that when we first looked at this bike it's as though Sunn never left as this whip really shows off the unique Sunn design and characteristics of yesteryear, however, make no mistakes people this beast is new school.
Some of the cool features of this sled include; an alloy chassis with carbon lower rear chain stays (short 435mm), Mavic Deemax wheels (142mm Rear Hub – 110mm front hub), Race Face Bars and Stem, Avid Brakes, Race Face cranks, Sram XX1 11 speed drive chain, E-thirteen top guide along with Rock Shox Lyrik RTC 3 (Boost), Super Delux rear shock along with a Reverb Dropper.
For the price there is no real expense spared on the components and as far as 'bang for your buck' goes it's difficult to look past this complete package. One of the Sunn's most commented on and eye-catching aspects is, of course, it's paint job; although it's all clear coat there is a leopard fur print pattern on the top tube which is far from in line with the current MTB trends in paint design. Colour is always a personal thing but we reckon this bike looks pretty damn cool.
The Sunn Kern suspension system is a 4-bar linkage, with 160mm of travel front and rear. The pivots are close to the rear axle keeping the rear end active whilst the main pivot is designed in line with the chain line to improve pedalling efficiency. This bike looks aesthetically good too which is due to its low bottom bracket, 66-degree head angle, 75-degree seat angle and it is built to tackle any solid decent with the ability to still climb well.
It's clear from the design that the Kern LT is built to last with toughness in mind. There is a little more weight in this rig than some of your full carbon enduro bikes, however, there is a lot of detail paid to the attention of this model along with the components Sunn has put together an all Enduro rig which is not only going to be reliable but it's also going to last. It has a built-in downtube bash guard and chain stay frame protection, there is plenty of room for a bottle and cage within the main triangle even though its design is low, long and slack. When you go in to have a detailed look at this rig there is nothing that comes to mind that you really want to change.
Adding all of that together, Sunn has produced a bike with a proven platform to be a winner on any Sunday ride or any Enduro World Series event. The suspension design is what's referred to as the LR/VR kinematics, system. In laymen's terms, its designed to improve stability and control whilst descending along with pedalling and climbing efficiency under load. The Sunn Kern is also available in a number of models which also include a 140mm travel and 120 travel version. So, after a good look at this rig we were very keen to throw a leg over this beast to see how it rode, let's just say from the onset it didn't disappoint. From some cross country warm up laps to some very harsh downhill runs it became evident early in the piece that this puppy was built for speed.
As mentioned above there is a little more weight in this rig than some of the carbon whips we've tested lately yet to our surprise it didn't really affect the pedalling efficiency, in fact that little extra weight made the bike handle extremely well on the descent as it felt extremely planted, at times it almost felt like a lightweight downhill bike which was awesome. The Rock Shox suspension platform in conjunction with the LR/VR kinematics, system created a bike with positive handling and control which transferred into a hell of a lot of traction to both wheels. This bike inspired all around aggressive, confident riding especially on the descents.
I can say for sure that this bike really loves the rough stuff out there on the trails! Another of the bike's standout features was that every time I rode I rode it the Sunn was quick to prove its ability to rip corners really bloody well! The key reason that this bike seems to change direction out on the trails so well would have to be due to is slack geo angles, which also give the bike a nice 'comfortable and relaxed' feel within its wide open cockpit area. The Sunn's clever geometry means that the bike tends to always feel quite stable at high and low speed. The Kern felt very compliant over a variety of terrain and still climbed reasonably well for a long travel enduro rig. The more time we spent on this bike the more we liked it and at times it really was amazing yet not surprising that Sunn Bikes have returned with such a nice bike at a very competitive price.
In today's MTB climate we are very spoilt for choice so it's difficult at times to choose what we want to ride. You cannot return to this industry and be in the game if your product isn't on point. Sunn bikes have really hit the mark with the Kern LT and it will be interesting as to what develops in the future.
"If you're the type of rider who likes to explore the outer extremities of MTB and you want something that not only performs like a great all-rounder and is built to take an absolute beating, can we suggest you consider some 'Euro' style and go with the Sunn Kern LT."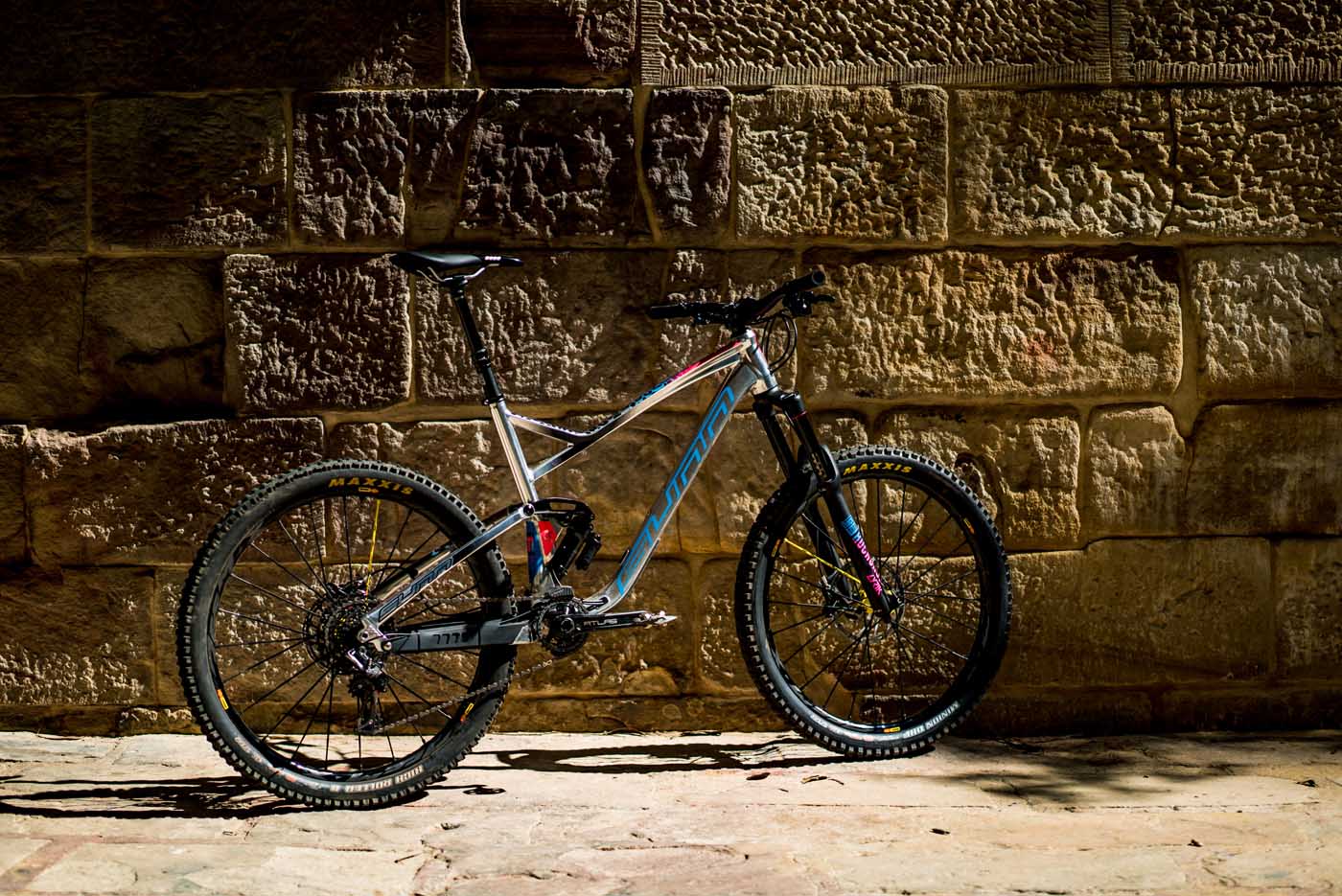 Tech 'n Spec
Frame // Custom T6 Alloy front triangle w' Monobloc Carbon T800 stays.
Spec // RockShox Pike 160mm Forks, Rockshox Monarch rear shock, Mavic Deemax Pro Enduro wheels, SRAM Guide RSC brakes, SRAM XX1 rear mech, Ethirteen TRS+ chain device, RockShox Reverb (Stealth) dropper post, Race Face Atlas cranks, RaceFace Atlas bars and stem, SUNN Ti-Rails saddle.
Price // $6599.00
Browse // www.sunnbikes.com.au