As you probably know already Red Bull Hardline is a world renowned, highly infamous DH event which takes place each year over in Wales, UK, on a custom-built course littered with near impossible features which are designed to push the hero riders of our sport to their absolute limits.
An absolute spectacle in the greater world of MTB competition, Hardline is a race that attracts hundreds of thousands of MTB fans tune into watch via their screens each year. The scale of the track, and the size of the drops and jumps and gaps and rocks that link it all together, is unfathomable for regular folk like you and I… Given the 'danger level' of the course only a tiny handful of the world's best gravity riders are even offered entry into the event. The best of the best. The bravest, the fastest, the most skilled.
And guess what, for the first time ever RedBull is set to host a Hardline event outside of the UK with Tasmania's Maydena Bike Park being selected for the honours to host the event early next year. Expect everything we've come to love about the original Hardline for the Aussie version, but with the addition of an entire week long mountain bike festival for riders of all stages built around the Hardline event.
The man responsible for bringing Hardline to our shores is, of course, our buddy Simon Frenchie (Maydena Bike Park CEO) and we caught up with his recently to learn more…   
Mate thank you for taking the time to chat with us today as news goes live that Maydena has been selected to host the first ever Hardline event outside of the events birthplace over in Wales. Heck yes!!! How did it all come about?
Simon: To be honest, it came about pretty organically.  We have been talking to Red Bull for a while about a range of different things, and the Hardline event gradually became a bigger part of the conversation.  Red Bull Australia wanted another major event, while Red Bull Global were keen to add another Hardline venue, and we had what we all agreed was a perfect venue – things just went from there.
We formed an agreement to proceed with the event in September, and it's been full steam ahead since then.
Talk about putting Maydena on the map, earlier this year the eyes of the MTB world were fixated on Maydena when the bike park hosted the second round of the Enduro World Cup and now the bar looks to be raised even higher. In terms of expectation of audience viewership, how might Hardline AU compare to the buzz that was generated from the World Cup? 
The Enduro World Cup was amazing, and it generated a huge amount of attention for the Park.  In saying that though, Hardline is a whole different, much bigger beast.  Hardline Maydena will have a live global broadcast, and is very much geared to spectators in the venue, so we expect a huge in-field and digital audience for the event.
We have all sorts of things planned for spectators, including an on-hill bar and party zone at the big road gap, with shuttles running to get spectators the best access to the course.
The event is scheduled to take place at the end of February next year, there must be a hive of activity down at the Bike Park right now getting everything ready – what's the vibe like on the ground down there now that this news of Hardline has become official?
Our team have been sitting on this one for a while, so it's great to finally be able to get the word out.  Construction of the course started back in early October, but we've kept things under wraps until we got to the official launch.  We are pumped to be able to bring such a massive global event down to Tasmania, further solidifying the States position in Australian mountain biking!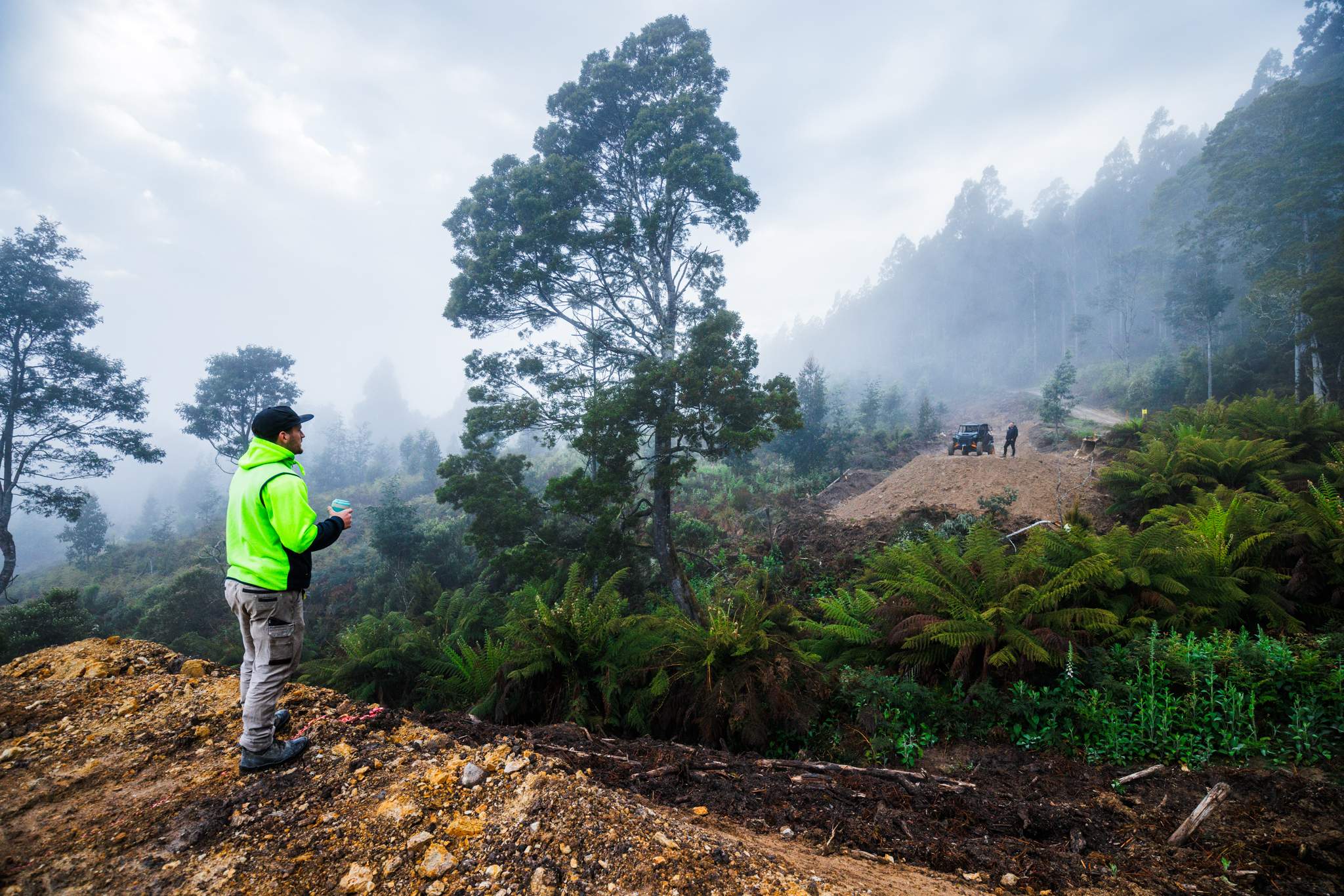 Now, when people think Hardline no doubt images of that absolutely gigantic road gap pop into their head, along with vision of a baron Welsch hillside littered with 80-foot-long jumps and riders 'threading the needle' down razor-sharp rock gardens. In terms of building a Hardline course that lives up to the name, how do you take that blueprint that already exists, and then essentially teleport that formula to the other side of the planet?
We have worked to strike the right balance between sticking to what makes Hardline the event it is, while making sure we put a local spin on it.  From early on, it was agreed with Red Bull that this is Hardline Maydena, we didn't want a straight replica of the Welsh course.  We absolutely have a massive road gap planned, wild rock gardens, big drops, and some huge jumps. Beyond that we have a couple of unique features planned that will really get people talking – we are keeping these under wraps for now!
We are really excited about this build, it is definitely going to push the limits of a downhill race course, with many features planned to exceed the scale of even those in the UK course.
Furthermore, is it going to be a separate challenge for the course designers and builders to infuse just enough of an 'Aussie element' into the course so that it makes it unique and stands apart from the Welsh course? For instance, Crankworx Cairns has that rich red dirt and jungle backdrop which makes it stand apart from any other CWX sites… What can riders and fans look forward to seeing from the Hardline AU course that's planned?
The course will be very unique to Maydena.  While we will have plenty of massive features, we have included lots of incredible, steep rainforest terrain, that will be quintessentially Maydena.  Our team also have some incredible rock features planned, using some of the amazing rock cliffs through the eastern area of the bike park.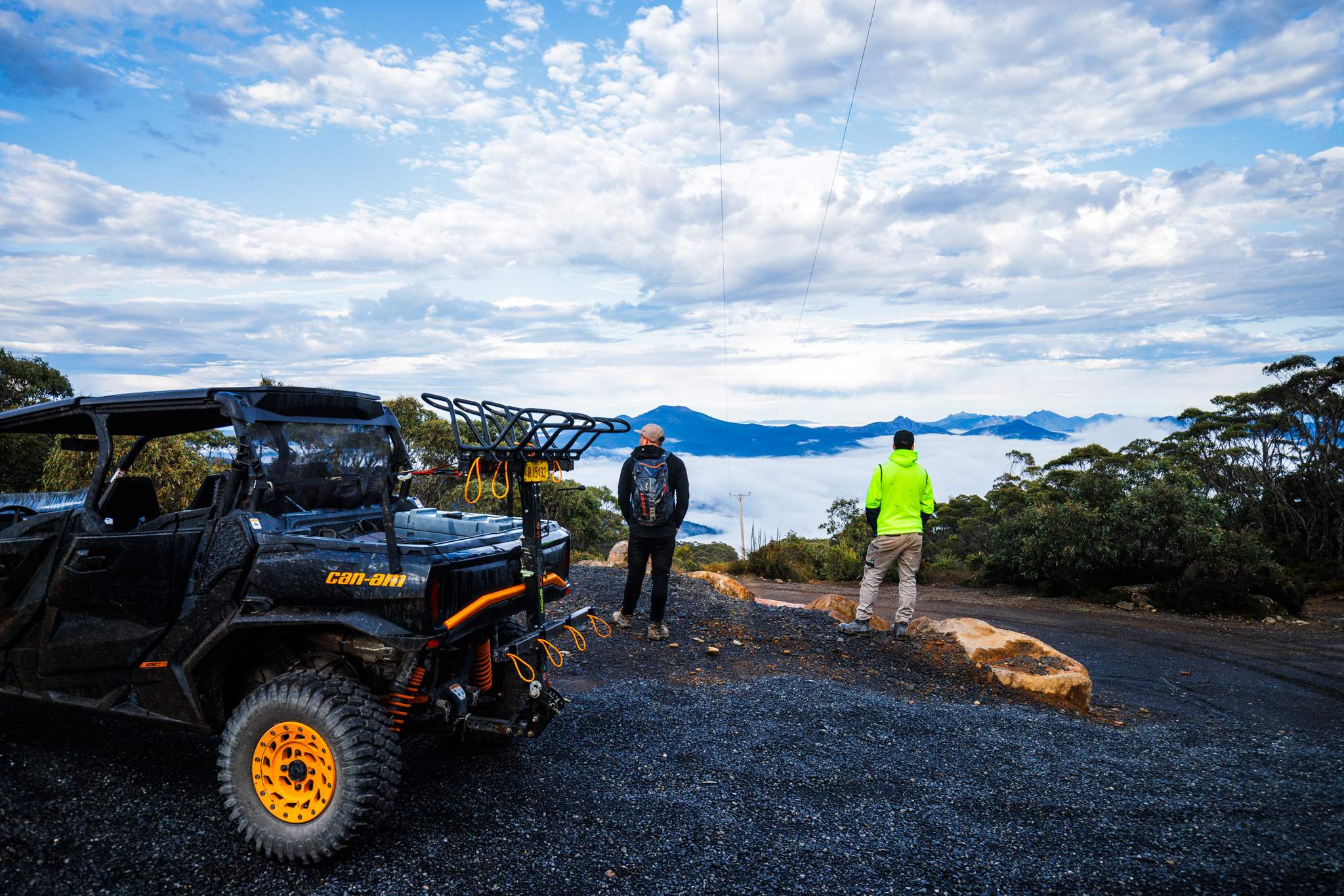 The Hardline event held over in the UK is limited to just 25 invited riders to take part, and spectator numbers are also limited, so it's a very, very exclusive event which more or less takes place 'off of the map'. However, one of the most exciting things we've heard about Hardline AU is that you guys have so much planned for the week of the event in addition getting to witness those 25 or so riders take on a mind-blowing course. Tell us a bit about the festival that you've got planned?
Hardline Wales is an amazing event, but as you say, it is a single day spectator-only event.  In short, we are building this into a week long celebration of gravity-based mountain biking with options for all riding abilities to participate!  We've decided to re-launch Gravity Fest, which we haven't hosted since prior to COVID-19. The festival will include our King and Queen of the Mountain event, a Jump Jam, a stand-alone world-level DH race event, a kids race event, and obviously the Hardline race as the marquee spectator event.  We will also be including a bunch of other industry events and more social events as we get closer to finalising the event program.
We've really tried to build this into an event for the people with racing options for all riders, along with great parties, and some of the most incredible race spectating you'll ever see!
When do entries and tickets go on sale? We want to sign up ourselves right now!
By the time you're reading this spectator entries for Hardline, and entries for the broader Gravity Fest program will be live.  While we don't have an exact web address at the time of going to print, you'll have no trouble finding the event with the launch the team have planned for October 25th.
In terms of accommodation and places to eat, etc, Maydena is still a bit limited, even though options around the town are definitely growing year on year in that regard, have you guys worked out some special arrangements to cater for the masses during the week of the event next February?
That's right, accommodation in Maydena can be tight, and most places will be booked up already by the event team and athletes.  We will be building a really cool clamping village for the athletes, which will reduce accommodation demand a little.  We will have a bus service on offer, running people to and from Hobart, making it as easy as possible to get to the venue.  Camping in/around the town is also something we are working on.  We know that accommodation will likely be long gone by the time this announcement goes live, so we hope people can get creative staying in the broader region, and back into Hobart using our transport service.  If anyone wants to invest in accommodation development in Maydena, we have land available, so we'd love to hear from you!
Is it too early to start mentioning names of some of the International, and local, superstar riders that have been invited by RedBull to take part in Hardline AU?
As I write this, the rider invite list is being finalised.  I can't reveal too much now, but I can say that we will be hosting plenty of the Hardline heavy hitters and regulars, along with a strong contingent of local talent.  I can also confirm that we will definitely have female athletes involved at the event.  A rider announcement is expected in November.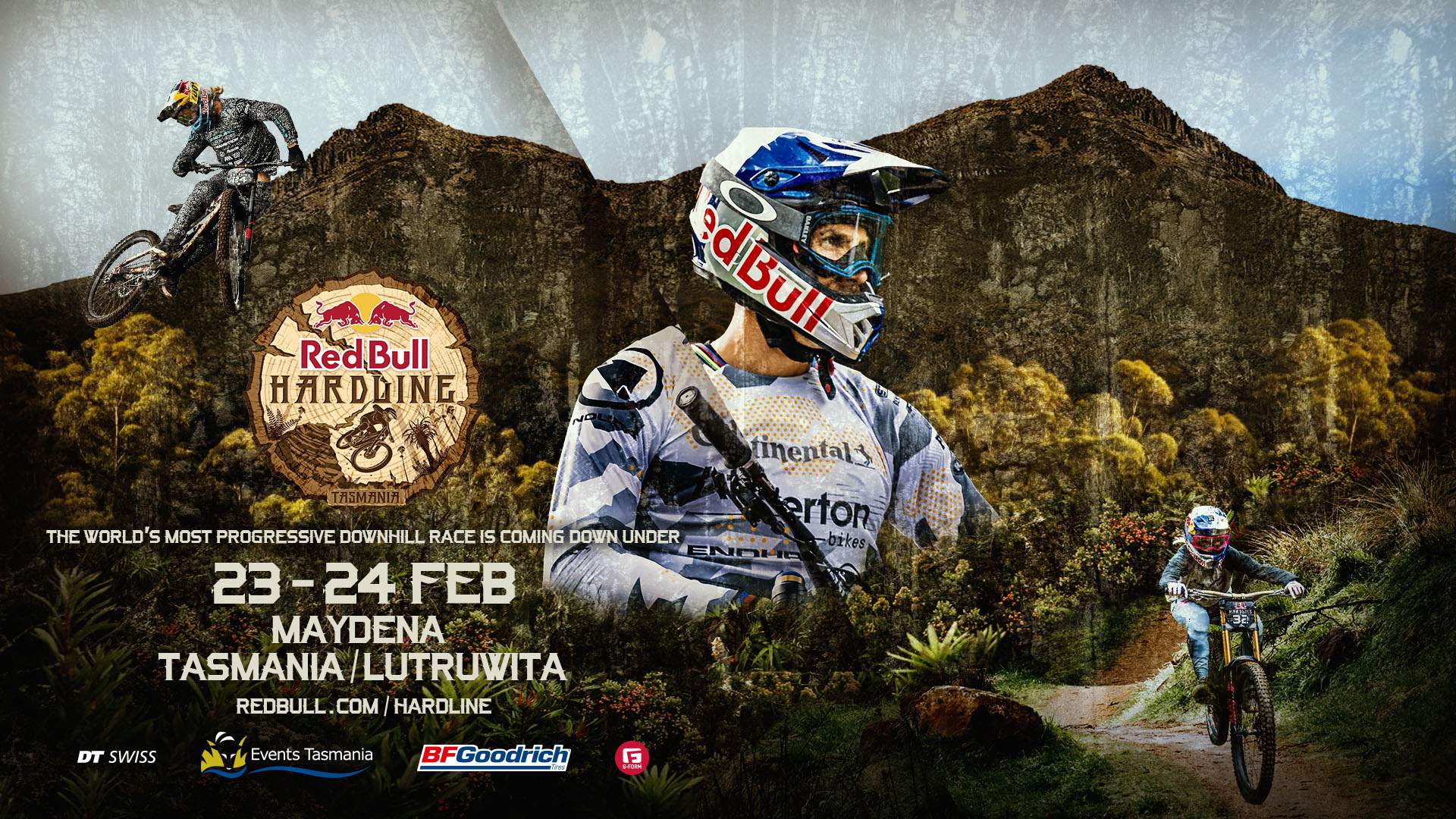 Well, there we have it, it's official, and we are absolutely buzzing with excitement for this event! We can't wait to be standing trackside to witness the action down there all week-long next February. In the meantime, we'll be sure to keep a close eye on Maydena Bike Park's website and social channels for event updates. And of course, here at [R]evo we've got plenty of pre-event coverage planned in the pipeline so keep an eye out for that as well everyone.
Cheers Frenchie! [R]