The red cliffs of Utah brought us yet another year of simply nuts riding from the best riders on this planet.
In what was one of the wildest events yet, big mountain riding took centre stage on what is the premiere bike event of the year. Cam Zink. What can you say. It took 13 years for him to stomp a second Rampage victory against a whole new gen of riders. His run took in the steepest, most exposed chutes, to the balls out speed into the huge flip, all the way to a flat 360 drop, his run was pure big mountain riding, with speed, control and style. Many internet Rampage veterans called him oo old, but this run stands the test of time and is far beyond the bulk of slopestyle runs that started half way down the ridgelines.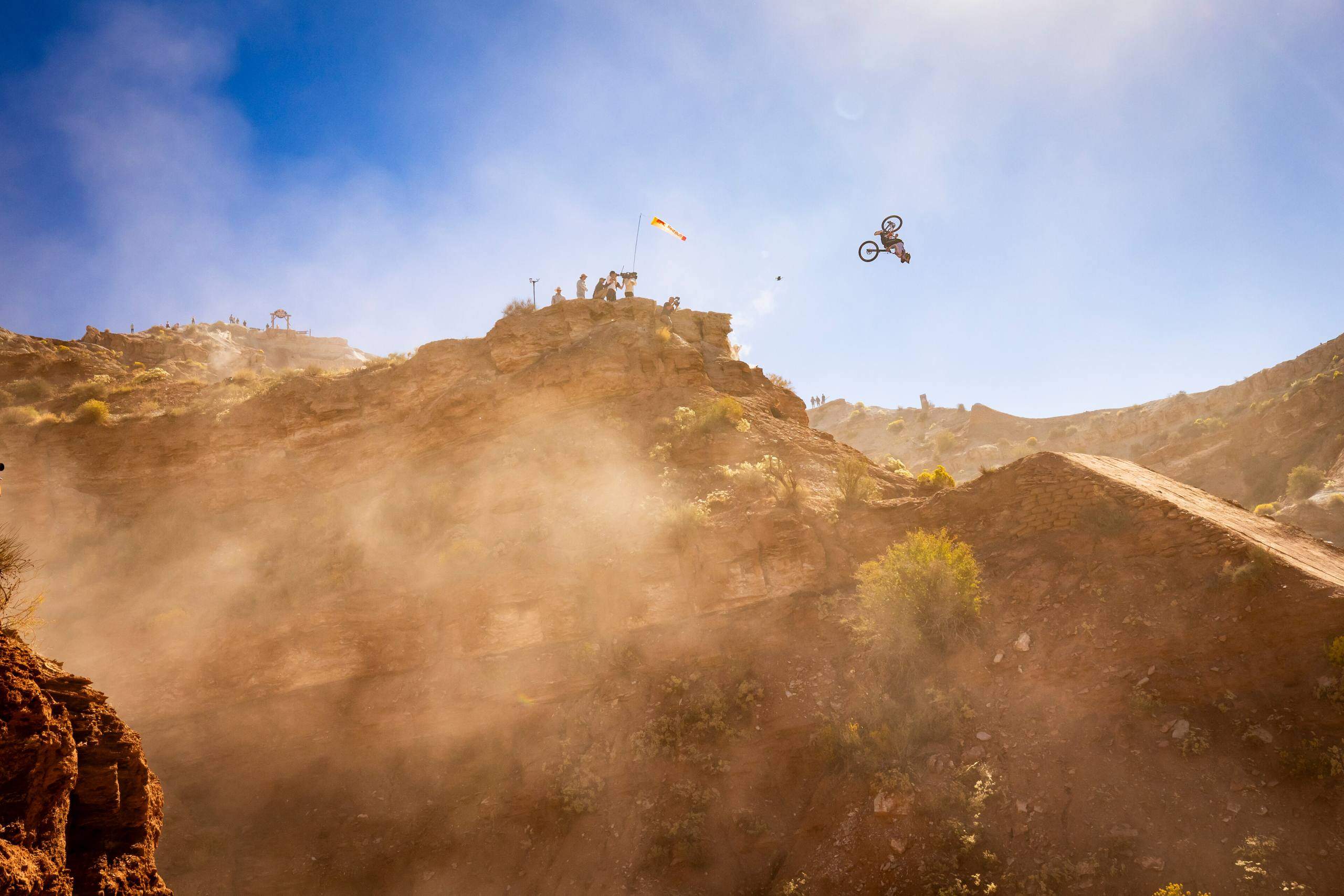 It takes a lot for a run to line up, and after I cased that jump (run 1) my jitters and nervousness switched to competitiveness. I was ready to go again and tackle my second run, and I knew the wind wouldn't ruin this for me. I'm glad I reached for the stars and got the win. The original Sender was 10 years ago, and my last win was 13 years ago and it was still the biggest step-down flip I've ever done, and here we are again. It's still just as intimidating and scary. I've put in a lot of work, and I feel fortunate to still push it at 37 – the oldest to compete here."

Cam Zink
Tom van Steenbergen's runner-up run was a comeback story two years in the making as he started with a caveman drop and kept the momentum going by throwing a big 360 and a highly technical flat drop backflip on his biggest feature to bank a deserved podium spot. Sharing the same line, American Carson Storch trailed closely behind his good friend in third with an impressive run featuring a backflip and two of his signature 360 spins.
The duo then skipped their second runs for the first Red Bull Rampage party train down to the finish. Brendan Fairclough ensured his Rampage legacy will be remembered with an absolutely bonkers run up top that saw him tackle the most exposed gap of the weekend.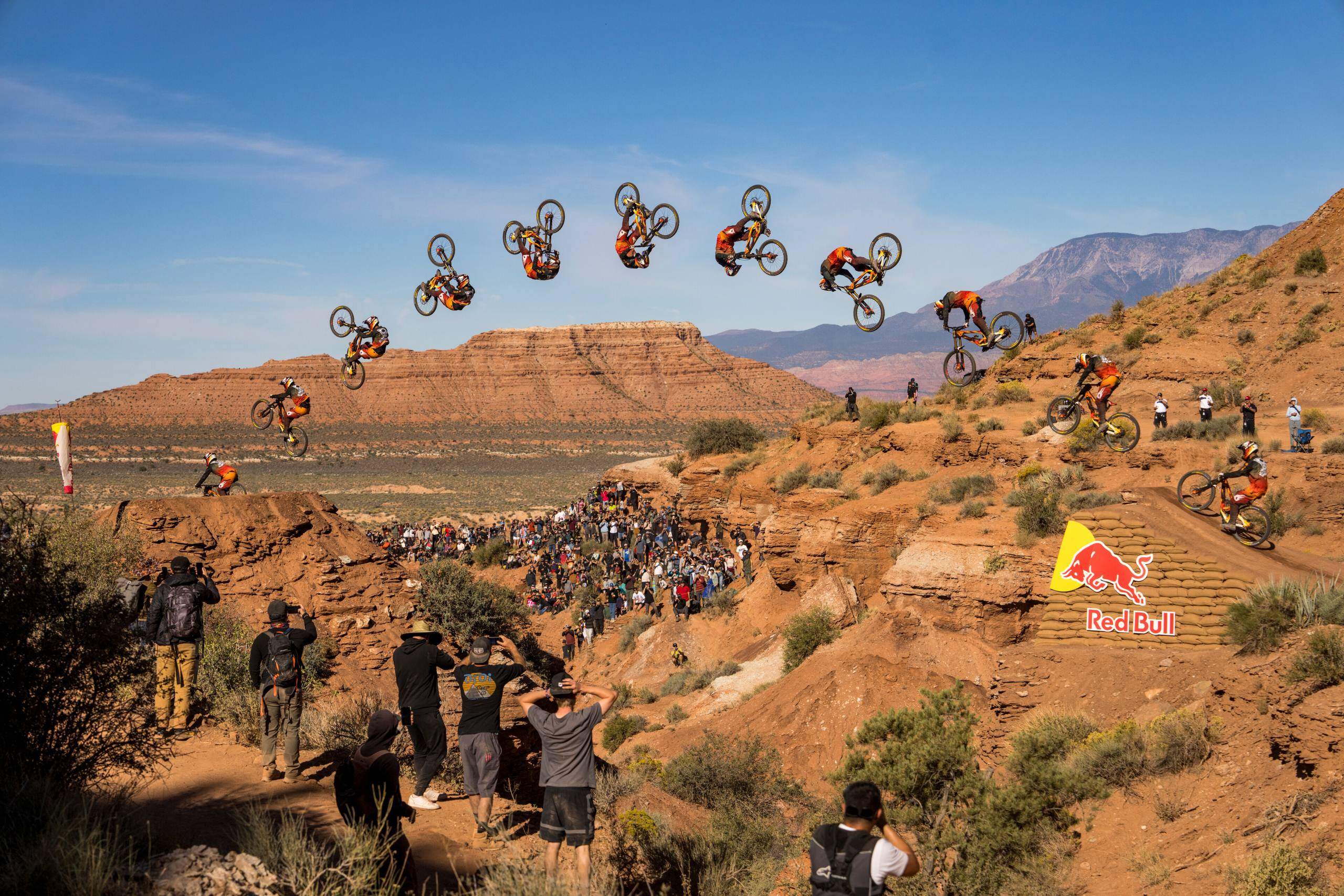 Many will say Spanish rider Bienvenido Aguado Alba was judged harshly, however he managed to snag three different awards as his massive 70+ foot front flip over the canyon gap took home the Utah Sports Commission Best Trick Award, the T-Mobile People's Choice Award and the Kelly McGarry Spirit Award.
I've been thinking about the front flip for the whole year. The speed required is so scary, and that was the big challenge for pulling it off. And it worked twice! Since 2019, when I made my rookie mistake, I've been working to get back here."

Bienvenido Aguado Alba
Two-time winner Kyle Strait won the BFGoodrich Tires Toughness Award after conquering the same line where he injured his back on last year, while Swede Emil Johansson won the Michelin Style Award for his fluidity and flow on the course, as well as his unique trick combos. But being a big mountain event, unless you take slopestyle skills to the big hits and lines, you just aren't going to reach the podium. Regardless of your thoughts from afar, unless you've looked down at the big lines up top, or better yet ridden them, there's just no comparison to the slopestyle-esque lines that litter the lower regions of the new Rampage zone.
2023 Red Bull Rampage result
1. Cam Zink USA 95.00
2. Tom Van Steenbergen CAN 89.00
3. Carson Storch USA 87.00
4. Brendan Fairclough GBR 86.66
5. Talus Turk USA 84.00
6. Kyle Strait USA 83.58
7. Emil Johansson SWE 82.83
8. Bienvenido Aguado Alba ESP 79.44
9. Thomas Genon BEL 77.41
10. Reed Boggs USA 76.73
11. DJ Brandt USA 73.51
12. Alex Volokhov CAN 72.00
13. Kurt Sorge CAN 69.66
14. Jaxson Riddle USA 68.00
15. Adolf Silva ESP 51.33
16. Szymon Godziek POL 0.00
17. Clemens Kaudela AUT 0.00
Enjoy the full replay if you missed the action above and we tracked down a bunch of the riders edits from what was one wild Rampage. Here's to the progression never slowing!
Brendog

Bienvenido Aguado Alba

Jackson Riddle

Clemens Kaudela

Talus Turk

Thomas Genon