Its fair to say that Amaury Pierron is taking the DH world by storm right now. At just 22 years of age, the young Frenchman easily won the World Cup overall series this year thanks to an incredible string of 3 back to back wins and as well as a bunch of other podiums.
Amaury raced the big 29'er Commencal Supreme DH all season long and not surprisingly his bike has been attracting a stack of attention. Let's take a closer look at his Championship winning machine.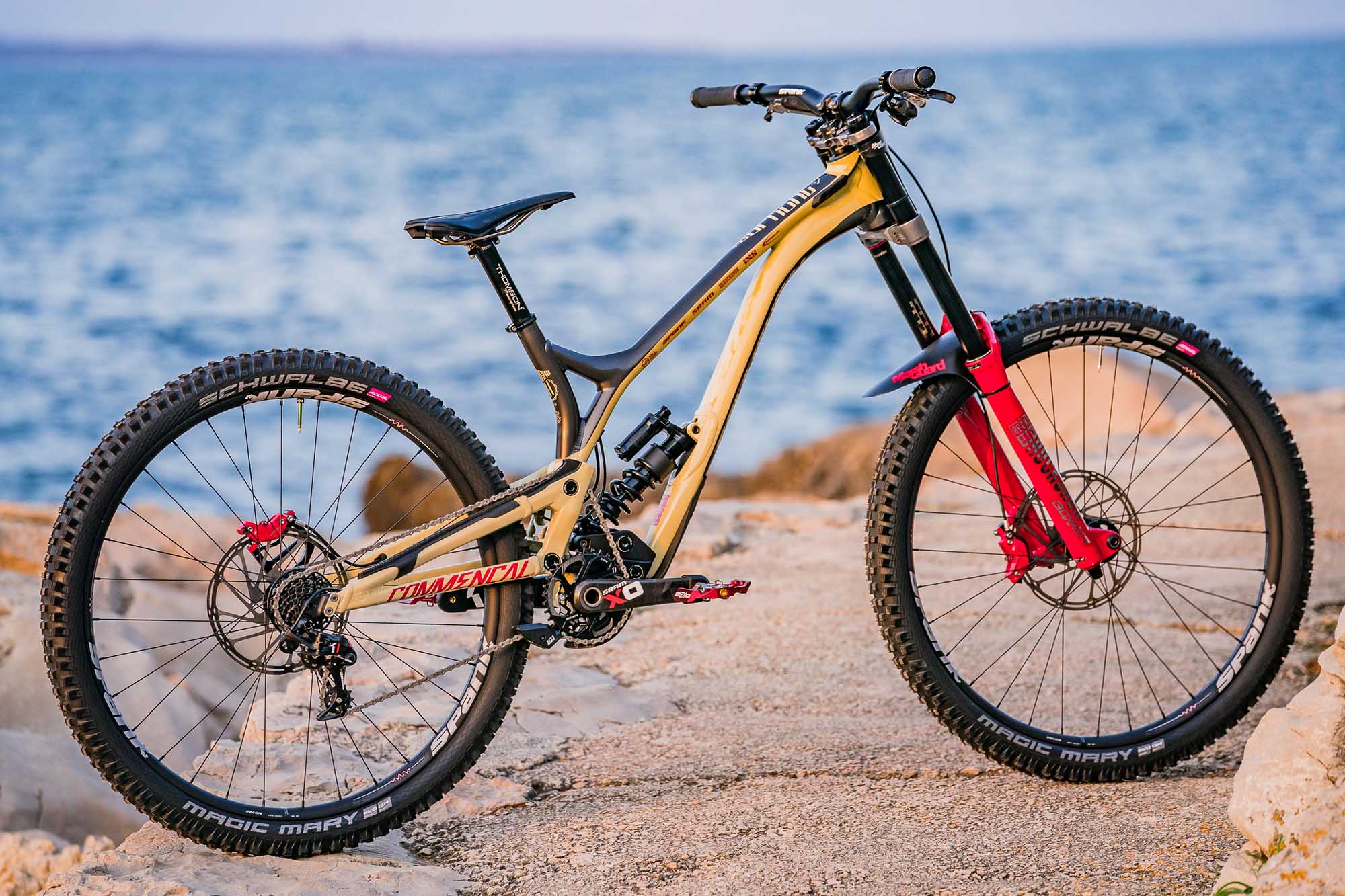 [R]: Mate, a lot of people in the DH race community seem to unanimously agree that the Commencal is hands down the fastest bike in the pits at the moment. Besides the fact that you've been so dominate on it, why do you think a lot of your rivals consider your bike to be superior to the bike's that they're on right now? 
Amaury: Well, you know, we worked a lot to have a good bike, and we'll work again to have a better bike. It's a lot of parameters. I mean, everybody involved in the development have to look in the same direction, and have to be confident with other people. I mean riders, engineers, designers, and the boss. Agreement is the key. We did these things well, and it works. 
[R]: How long have you been aboard the 29'er?
Amaury: I've been riding this bike now since mid-season last year. I told the team that I really wanted a 29er, and I finally got it for last rounds. Since then I have only ridden he 27.5" bike twice I think.
"The 29'er is just a lot more stable at speed, for sure. When you're racing big, fast World Cup tracks you always want to go faster and I feel that this bike really allows me to always push it that much harder." 
[R]: Would you say that you're quite particular with your bike set-up, always playing with different settings looking for an advantage, or do you just 'set and forget' and just ride it each weekend?
Amaury: I work hard during the Winter to find the best set up I can to have the fastest bike. And we have a lot of things to play with. So when the season starts I feel good on my bike and I don't really like to change the set up so much. I just adjust a bit with my mechanic according to the track.
[R]: Do you have any custom parts on your bike, or stock parts that have been modified by your mechanics?
Amaury:  My bike is pretty standard to be honest. I just have a swinging arm that is different to the production version. It's a little firmer than the normal one. And a few other secrets of course! haha
[R]: You're a big lad, do you go through (break) a lot of parts during the season?
Amaury: Hmmm maybe you'd be best off asking this question to my mechanics! Haha. No I'm not too bad. I mean, just look at the past season, I never had a mechanical during a race run, so that says a lot. 
[R]: When you're at home do you work on your own bikes or do you always get a mechanic to take care of that stuff?
Amaury: No way, when I'm at home all I like to do is chill on the sofa and play Xbox and eat kebabs, so I don't have time to waste working on bikes! Haha. Jokes, yes for sure I take care of my babies myself.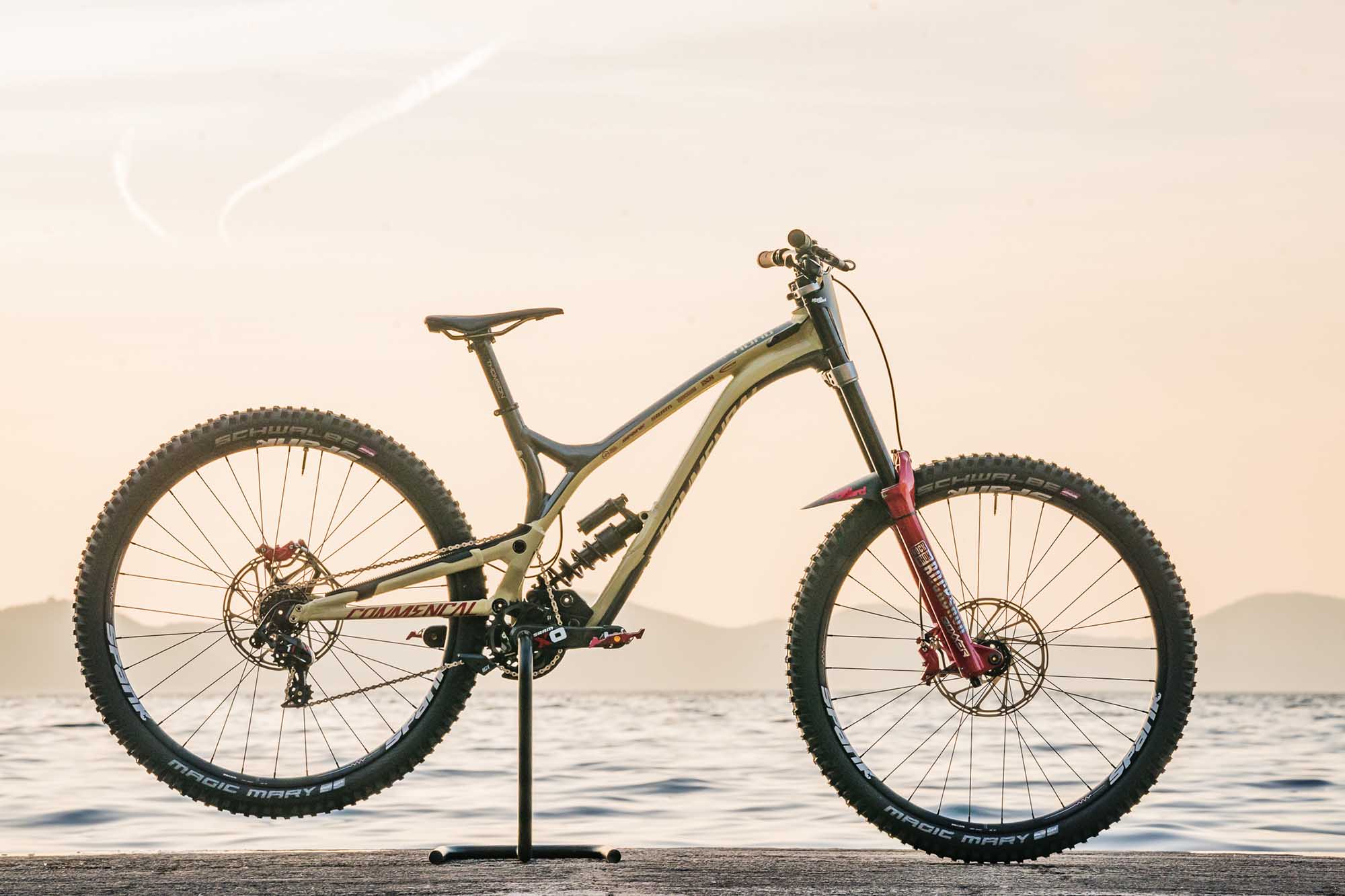 Set-up details

Frame stock or custom? I swap between the two depending on the track 
Size? Large
Fork? Rock Shox BoXXer World Cup
Air pressure? I honestly don't know!
Rear Shock: Rock Shox Super Deluxe Air
Always an air shock? This season yes.
Drivetrain: SRAM XO1 7-Speed
Front chainring size? Usually 36tooth
Pedals? HT Components clips 
Brakes: SRAM Codes
Rotor size? 220mm big boys!
Bars? Spank Vibrocore
Width? 785
Grips? Lizard Skin
Stem? Custom Spank DM 10mm rise
Length? 40mm
Rims? Spank Spike Vibrocore
Rim width? Heaps wide. Wider the better. 
Hubs? Spank, with my name on them!
Tyres? Schwalbe
Flat protection inside your tyres? Yes, sometimes
What PSI do you run in your tyres? Honestly I just go by feeling
Seat: WTB Hightail team
Post: Thomson Masterpiece, the best!
Bike weight in race spec? Top secret!
Photos // Keno Derleyn