IT'S BIG. IT'S BRIGHT. IT'S BUILT TOUGH. IT'S MADE FOR PRETTY MUCH ANY TERRAIN YOU CAN FIND IN AUSTRALIA BAR MAYBE LAKE EYRE… SAY HELLO TO THE BRAND NEW 2018 KONA PROCESS!
Reviewer/Rider

//

 Matt Holmes  Photos

//

Matt Staggs
Falling just short of a full blown redesign, Kona have dropped a much anticipated refresh of their popular platform. Many riders will tell you that it is nothing short of the most fun they've had on a bike thanks to their early adoption of the long top tube, short stays and relaxed head angle. As a result, the new Process is a bike that will excite more than a few out there. The crew at Kona have worked hard to bring the 2018 frame more in line with the rest of their range, namely the Operator series of bikes with their vertically mounted shock.
With that pedigree so apparent, its descending prowess is a given. From there, improvements that needed to happen over previous Process models were standover, space for a bottle in the frame, massive seat post insertion, greater pedal efficiency (maybe their nemesis in the past) and more of that Kona burliness we have grown to know and love.
Straight to the heart and soul of the matter, the carbon frame construction is a single monocoque featuring the right combo of smooth lines and heft where it's needed. The crew at Kona have put some real effort into this frame design and claim to have nailed strength v stiffness. On paper, the carbon frame is only marginally lighter than its aluminium bro, but stiffness and strength wise, it's worlds apart. Like most Kona's, it's built tough before watching its weight. Special mention has to be given to the head tube area, it's done beautifully. Massive at the bottom yet flowing into the frame. A perfect match for the big 160mm Lyric forks you'll find up front.
Interestingly, they used aluminium for the chainstays, giving a little more flex where you want it and of course durability against the harsh reality that goes on down there, chains and carbon don't play well in case you hadn't noticed. We dare say those stays kept manufacturing costs down a little as well. They've nailed the internal cable routing with a very rad cable port, which comes complete with a spare hanger inside. And we were stoked to see that the routing allows for moto or backwards brake set up also.
On the geo side of things, funnily enough the top tube hasn't grown like most other brands this year, instead it stays the same as the 2017 edition at 475mm (on our large) which leads us to think Kona were ahead of the pack when they designed the original bike and made the top tube length perfect first time around. Kona were early adopters of the long TT and short chain stays, their Process range back in 2014 was all about it, so maybe they got it spot-on back then? They also did the unthinkable this year and made the head tube steeper alongside the seat tube. By easing up on the head angle by a half-degree, and making the seat angle steeper (76°), plus raising the main pivot, the new Process brings a whole new level of pedalling ability plus a more progressive feel throughout the travel. Shock wise, the new, longer stroke RockShox Super Deluxe RCT's big body is trunnion mounted on bearings instead of bushings, and 20mm axles with bearings and hardware have the smooth carbon rocker looking like it'll last a lifetime. Chain and seat stay wise, you'll fit 2.5 inch tyres in, and they run on WTB 35mm wide asymmetrical rims. SRAM takes care of braking with Guide RSC's and their X01 Eagle 12 speed group has all the range you'll need to climb anything.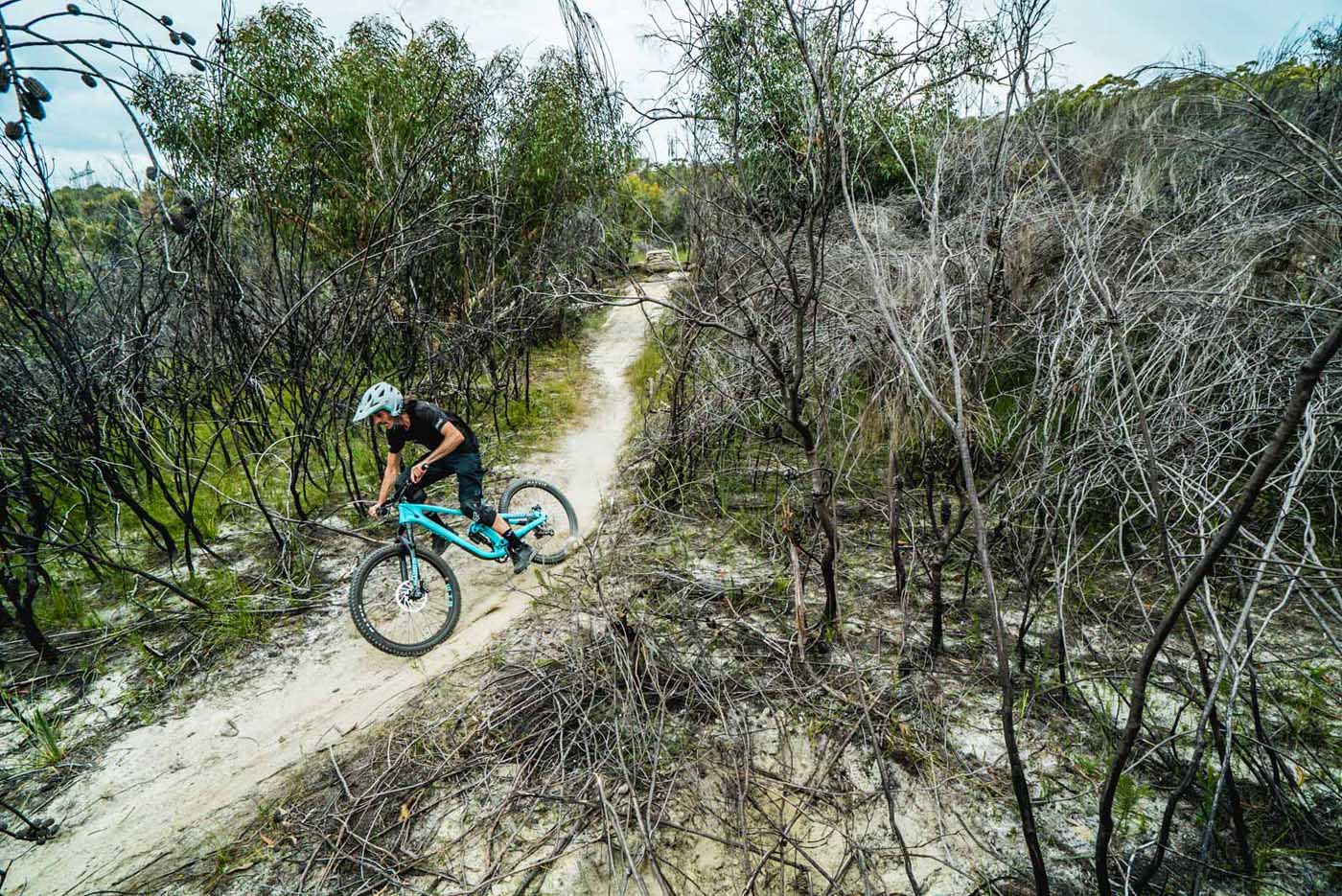 Jumping on board, it's pretty hard not to notice that it's a big bike on 153mm of travel with sizeable rubber. As a result at slow speed, it isn't the most nimble bike out there. However get some pedals in, find your flow and that progressive rear end has a knack of making you feel like you're on a much shorter travel ride. While many older Kona's may have been let down a little by their pedalling prowess, the new Process is definitely an eye opener. That steep seat angle and better pedalling characteristics make for one straight up climbing weapon in and out of the saddle, albeit not the lightest! It's easy to shift your weight forward on the seat, and the 170mm dropper is something special.
"In a nutshell, the Process is incredibly playful on the downs and deceptively fast."
Big props have to be given for the bearing mounted trunnion shock too, as small bump sensitivity is amazing when riding through and up chattery trails. While RockShox have placed an easy to operate lever to lock that rear end out, even out of the saddle up gnarly pinch climbs, the Process never bobbed too much, or felt like it's wallowing in its travel. There's a definite feeling of support in the upper to mid stroke, running 30% sag giving the Process such a planted and playful feeling with traction everywhere.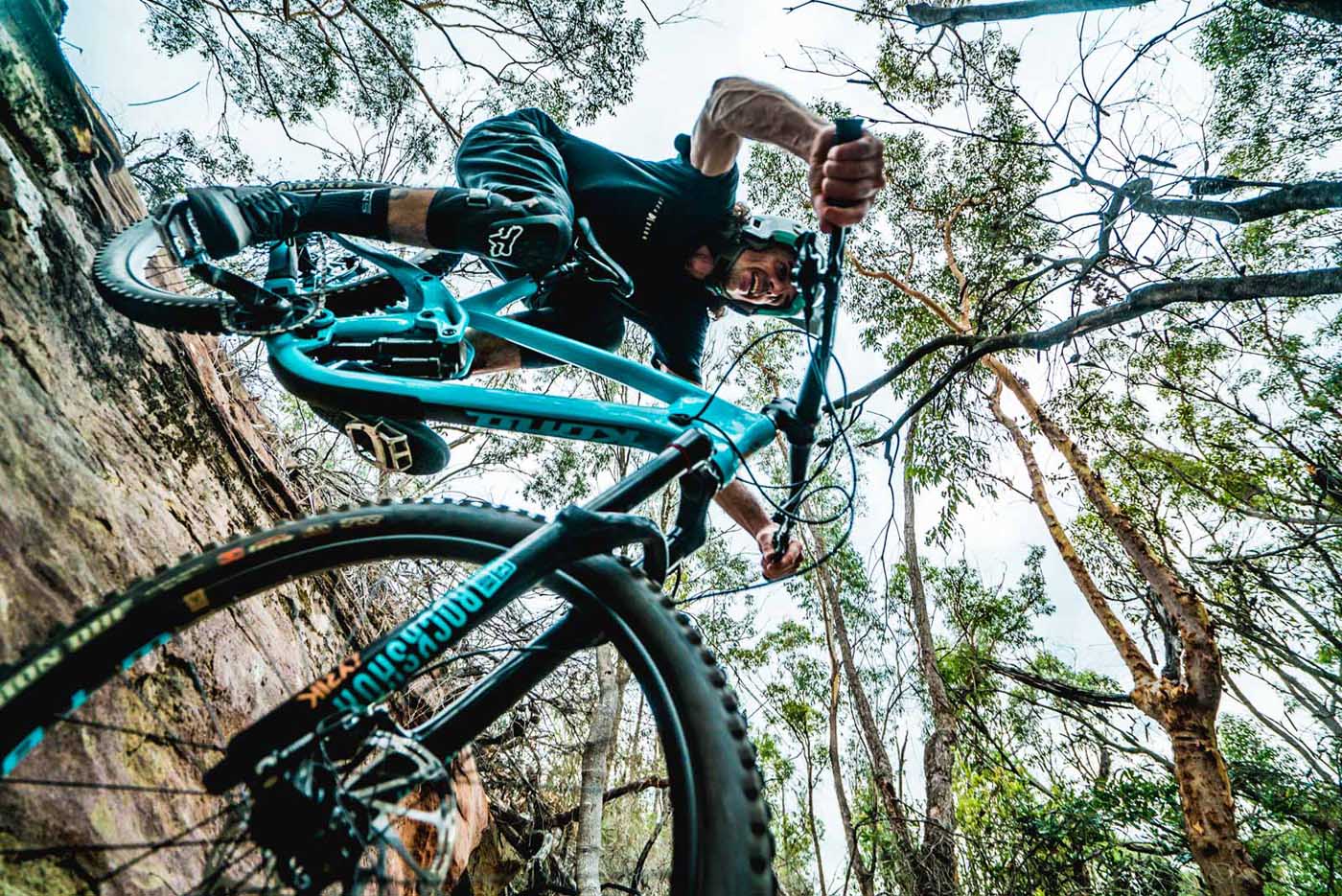 On the flipside, the side I know I prefer, it's a demon descender. That mid stroke support makes the Process so much damn fun, it's reminiscent of a coil shock. And, even though much of the travel feels (and is) deep and supple, it resists you blowing through every last millimetre unless you hit something hard, real hard. The Lyrik's are pretty damn solid, and when matched to that stiff headtube, the bike tracks incredibly straight through rough terrain. A volume spacer or two will bring them more in line with the back also.
160mm up front does tend to lend itself to hitting bigger things, be it drops, gaps or chutes and the Kona laps it up. Well supported travel means you can ride out on the bike rather than getting bucked off. Incredibly stable once sent into the air, the Process also lands with poise. We must mention that it's so damn stiff, flex anywhere from the head tube to the rear axle was virtually non-existent, it just holds lines and rails corners.
So, the lowdown? In a nutshell, the Process is incredibly playful on the downs and deceptively fast. It's DH and freeride roots are firmly embedded in its DNA, and as a result it's more than capable on big terrain, taking on big drops or gaps with no qualms. A well thought-out spec-list has it more than capable of anything Australian terrain can throw at it, bar a Nullarbor crossing, all while being a reliable ride day in day out. With Kona's Australian shredder Connor Fearon singing its praises on local DH and enduro terrain, you can be sure it's a capable ride that will handle anything. Maybe the main reason I dug the Process so much? Plain and simple fun!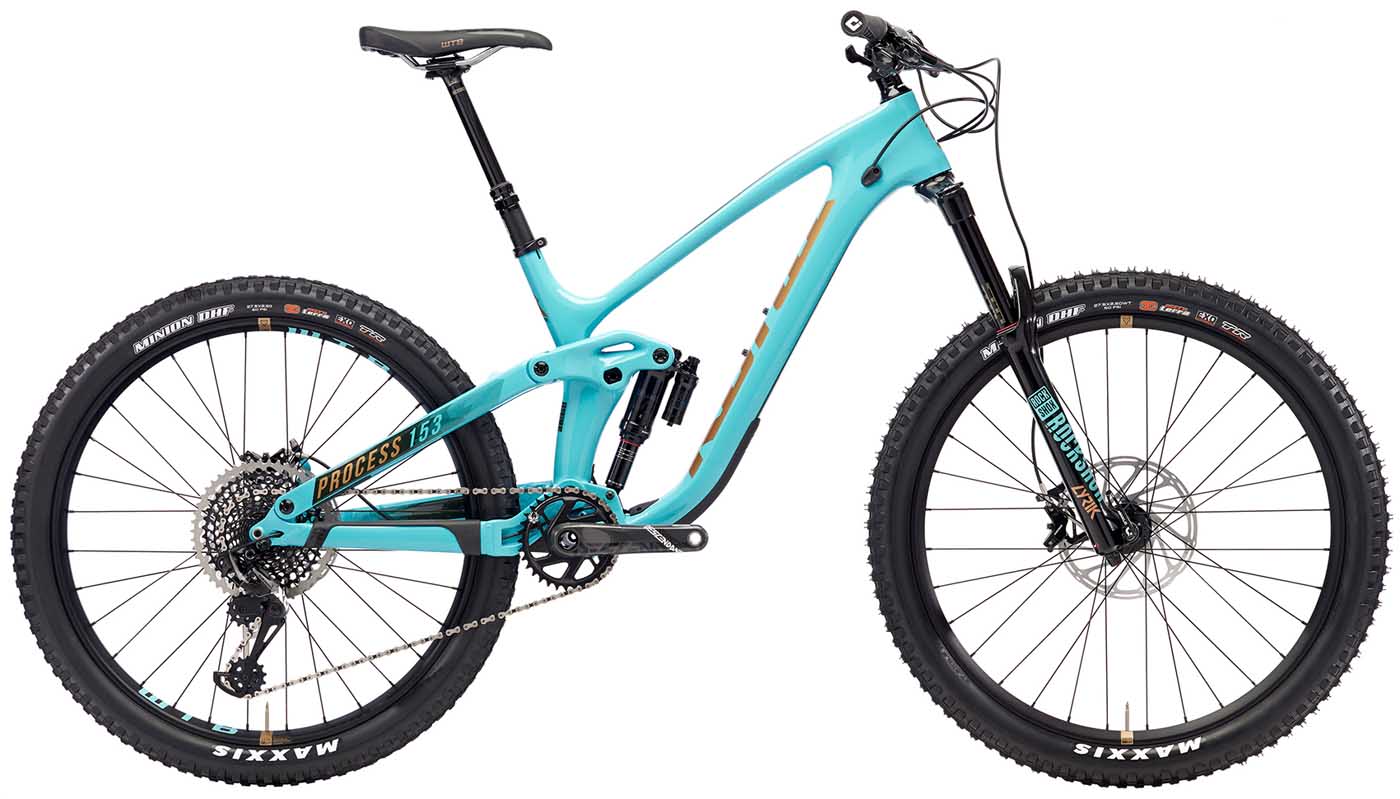 Frame // Deluxe carbon frame, alloy chainstays.
Travel // 160mm front, 153mm rear
Spec // RockShox Lyrik RCT3 Fork, RockShox Super Deluxe RCT shock,  SRAM X01 Eagle 12x drivetrain, SRAM Guide RSC brakes, Rock Shox Reverb dropper post, WTB Asym i29 TCS wheels.
Price // $7899.00
Browse // www.konaworld.com
Geometry // (mm)
| | | | | | |
| --- | --- | --- | --- | --- | --- |
| | SIZE | S | M | L | XL |
| 1 | ST LENGTH | 385 | 410 | 450 | 485 |
| 2 | TT LENGTH | 573 | 600 | 629 | 668 |
| 3 | REACH | 425 | 450 | 475 | 510 |
| 4 | STACK | 602 | 607 | 616 | 625 |
| 5 | STANDOVER | 705 | 704 | 704 | 703 |
| 6 | HT ANGLE | 66.0 | 66.0 | 66.0 | 66.0 |
| 7 | HT LENGTH | 115 | 120 | 130 | 140 |
| 8 | ST ANGLE | 76.0 | 76.0 | 76.0 | 76.0 |
| 9 | CS LENGTH | 425 | 425 | 425 | 425 |
| 10 | BB DROP | 10 | 10 | 10 | 10 |
| 11 | BB HEIGHT | 348 | 348 | 348 | 348 |
| 12 | WHEELBASE | 1160 | 1187 | 1216 | 1255 |
| 13 | FRONT CENTER | 735 | 762 | 791 | 830 |
| 14 | FORK LENGTH | 552 | 552 | 552 | 552 |
| 15 | FORK OFFSET | 42 | 42 | 42 | 42 |