Norco have come a long way since their early days of building huck master free ride machines. This is the Norco optic C7.2, a 120mm rear, 130mm front, 27.5" trail bike with super sexy lines. It's more than a little aesthetically pleasing and let's face it, when you are riding something that you look at and think to yourself, damn that's a nice bike, your confidence and ability just seem to go up.
Out of the box this bike's colour pops and all the cool kids like bright colours these days. Up in the bike stand, it revealed a double chain ring. Now that's a bit 2009 I thought but as I dug deeper in the box I found a race face 32 tooth single chain ring and it was then that I got a little excited. I changed out the double rings with the single chain ring, removed all of the front derailleur and clutter from the cockpit, built the bike up and I'm set to hit the trails.
First thing I notice on the dirt is the handling of this bike is quite exceptional, at 12.7 kg it adds to a fairly nimble ride. The carbon front triangle is super stiff and the bike steers exactly where you want it to along with good bottom bracket stiffness to get the power through the frame.
"It is an extremely versatile bike straight out of the box (as soon as you ditch the front mech and fit the single ring that comes with the bike). It's ready for racing, all-mountain adventures, or smashing turns down at your local trails, straight out of the box!"
The geometry is super dialled for a trail bike and it all comes down to the GT Gravity tune geometry that Norco developed for the Norco Aurum DH bike a few years ago. It has now trickled down though to other models in the Norco line up. The GT Gravity tune is different to other bike company's geometry bike layouts, asthey have balanced the rear centre and the front centre of the bike to create an optimal weight distribution. In layman's terms, this means a large will have a longer chain stay and front triangle to other sizes so you can get the same feel between sizes. A 68 degree head angle means fun on the downhills and blasting the single track which then in turn still makes climbing a breeze. With a steep 75.5 degree seat tube angle, it definitely helps with the pedalling efficiency and a 334mm bottom bracket height makes for confidence inspiring turning.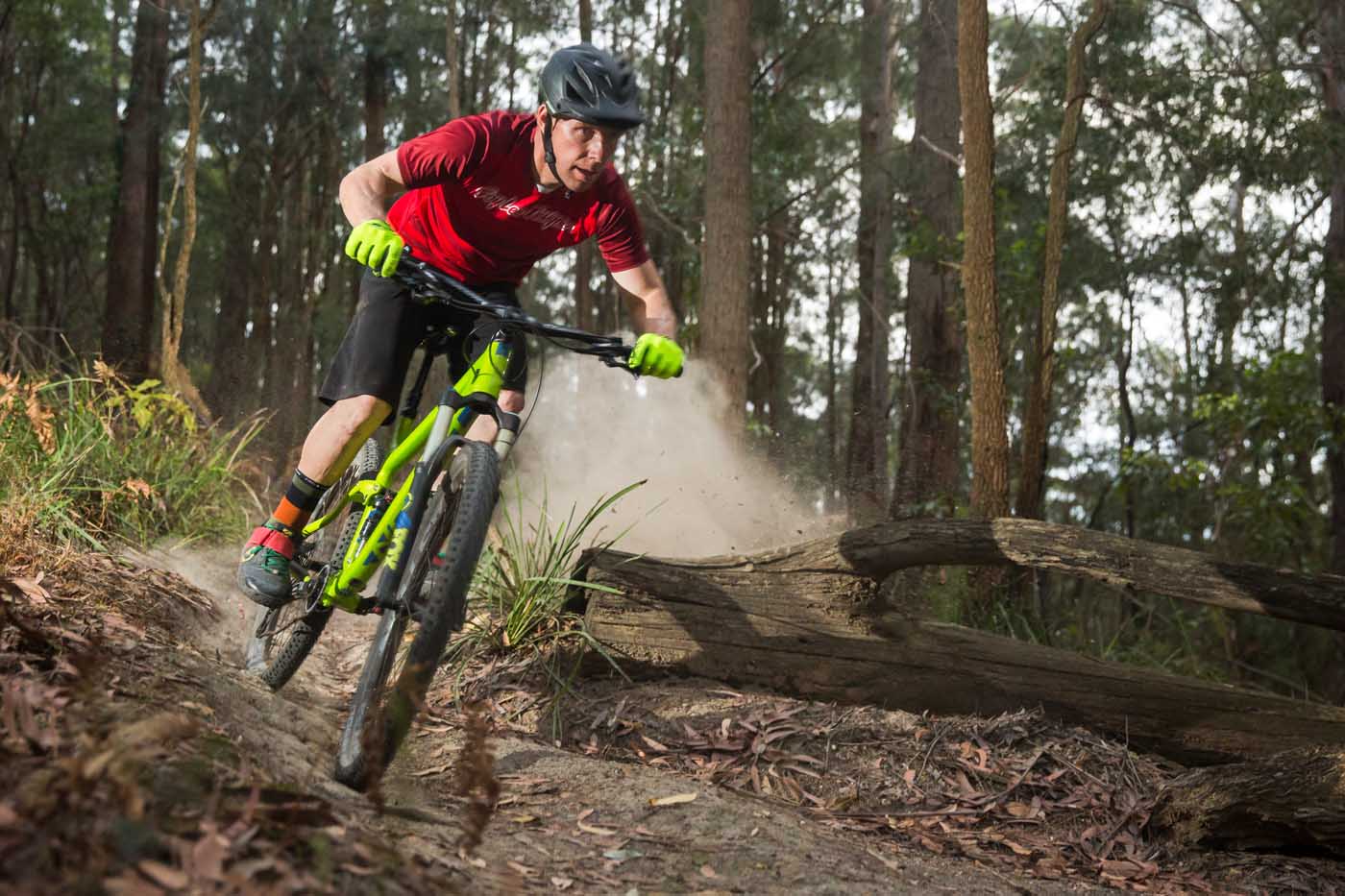 Something to be noted with the Optic is the amount of research and development that has gone into this bike, considering that it comes in an aluminium and a carbon model, two different wheel sizes and five different frame sizes and that each frame has completely different geometry thanks to the GT Gravity Tune. Norco had their work cut out for them to get this bike sorted and I think they have done a pretty good job.
The rear A.R.T suspension has been around since 2012 and is fairly dialled in. It delivers good climbing efficiency but when it comes to the single trail or decent, it steps up to the next level with excellent traction in the rear end and the bumps seem to feel smaller. For a second I thought I was on a 29er as the straight line speed caught me by surprise.
The group set is bomb proof with a Shimano XT drive train and brakes, Fox 34 Float fork and Fox Float DPS rear shock. This combines a fairly maintenance free ride but just make sure you get your gear serviced at the manufactured recommended intervals. Rock Shox Reverb stealth dropper post which is what I think is the best on the market and Race Face turbine cinch crankset and cockpit sees it provide good bang for your buck.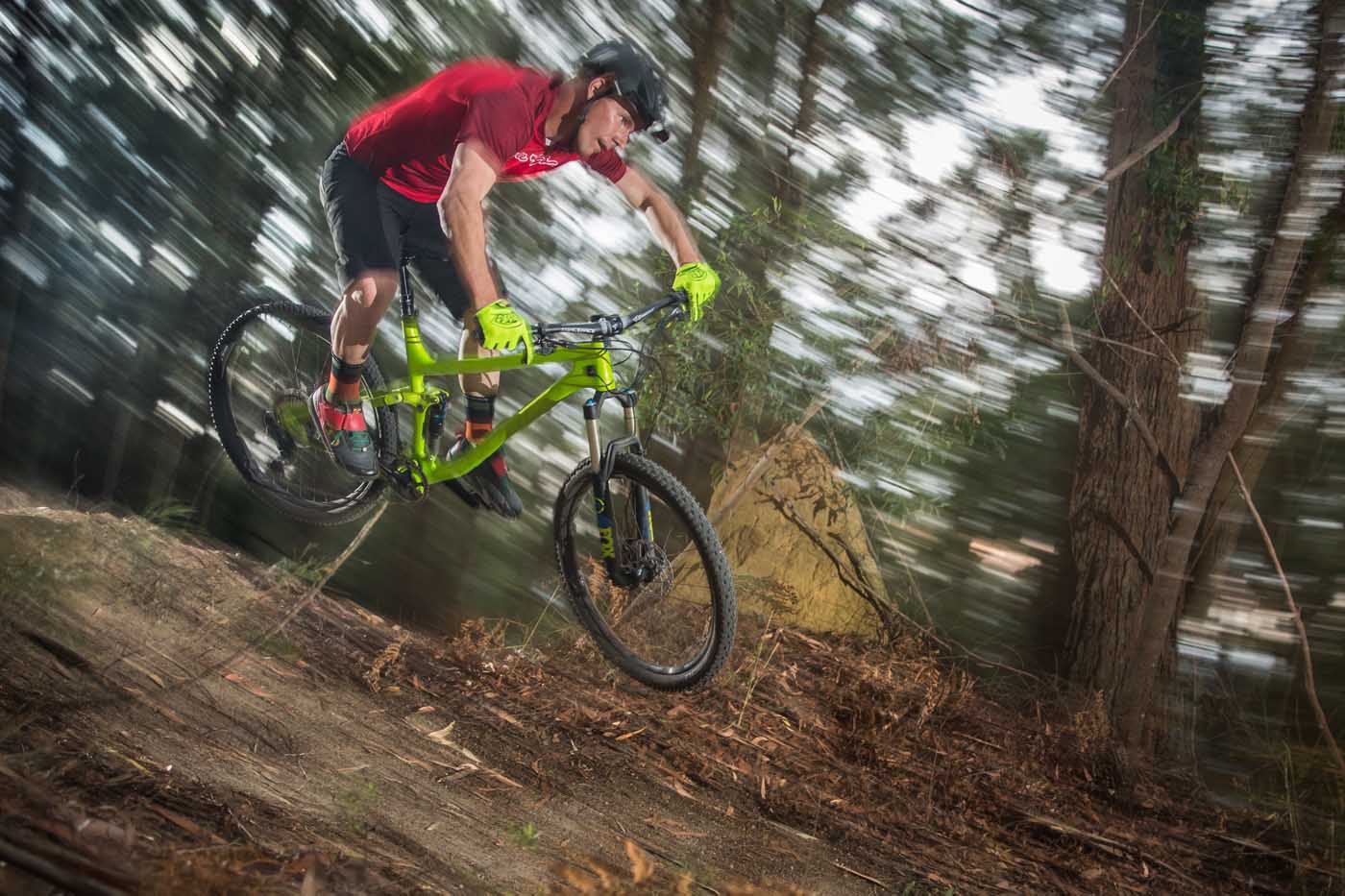 If I may be a little picky, in this day and age I would have liked to have seen a wider rim choice. Also for a fairly aggressive trail bike, a different selection of tyres would have been nice but considering what you get for the rest of the bike you may see some Easton AR wheels on the second hand forums which is an easy upgrade for a buyer to look at. One would question why the rear seat and chain stays are not carbon fibre but I guess this helps keep the cost down.
Overall I think Norco have come through with a good package. They have ticked all the boxes, 650b or 29'' along with good trail bike handling and a very easy on the eye bike, the Norco Optic C7.2 will be on a few buyer's new bike lists for 2017.
Norco Optic C7.2
Frame // Carbon front triangle, alloy rear triangle, 130mm front travel/120mm rear, ART suspension linkage design.
Spec // FOX 34 Float Performance Elite fork, Fox Float DPS Peformance Elite EVOL rear shock, Full Shimano XT Groupset including brakes, Race Face Turbine Cinch cranks, Race Face Turbine bar and stem.
Price // $5999.00
Browse // www.norco.com
Reviewer // Ben Goff
Photos // Richard McGibbon