SRAM's AXS (which is short for 'access') symbolises the absolute cutting edge of MTB component technology. Not just from SRAM, but across the entire industry. AXS is all about wireless digital, seamlessly integrated technology.
And as expected, with all of that exclusivity and excellence comes a rather stagering price tag to match. Why invest in such an expensive group set? Let's break it down…
Words // Scott Prendergast
Expense is really how you look at it. AXS isn't cheap, it is the crème of the crop from SRAM however for what SRAM are giving you as a rider with AXS we reckon it is damn reasonably priced. Is the expensive stuff better? Well in short, yes, it is.  Traditional mechanical cables have their benefits however in comparison to the new ASX no amount of hardware can really compare to the consistency in precision shifting the electronics have to offer. Think about it, once set up the motor within the hardware does all the work, there is no more cable friction or heavy shifting with a dirty drive chain, your shifting efficiency and performance never changes. In comparison to Shimano's Di2 SRAM have gone a step further with wireless Bluetooth, this has created a group set which is extremely easy to fit, interchangeability with other bikes is a breeze, not to mention the neat aesthetics of this group set is easy on the eye. These subtle extremes are really what you're paying for along with a high-end drive chain that works amazing and to be honest it's worth the extra cash.
How easy or difficult was this setup to install?
The whole installation process takes a lot less time than your standard group set. With the sheer lack of cables, it took us about 25 minutes, to fit, set up and we were ready for the trails. The fact you don't have to run any internal cables or seat post dropper hose through the frame saved us ample time, plus it is a lot easier to change these components to another bike if need be. Pretty much everything hooks up to your bike in a similar fashion to AXS's mechanical twins, you have your usual limit extremity adjustments on your derailleur along with B-tension adjustment. If there are any concerns with your setup SRAM have a couple of videos online in relation to the fitting and installing. You will also find information on how to download and use the AXS the app and pair it with your components and make those micro adjustments when you're customising your AXS setup to suit your own riding style.
Tell us more about the App, what's the go with that and how does all that tech stuff work?
The SRAM AXS application is super easy to download and sync to the components. Each individual component has a little button you hold down and a light will begin to flash, turn your blue tooth on in the device you have downloaded the App and it'll step you through the 'pairing' process with each component. Super simple and quick. You can then customise and then make any adjustments to any individual component through this application. Once again SRAM have made this super easy to use so do not be discouraged if you are not a computer guru because it was a breeze. Once again there is plenty of information online from SRAM as to how to do it.
Alright let's take a closer look at the spec details of each component within the AXS group:
It has to be said that the AXS derailleur looks really neat and tidy! Similar to a mechanical XO or XX1 rear mech, it's not a bulky item considering within the ASX derailleur SRAM have hidden an electric motor, a gearbox along with the AXS clutch, well actually 2 clutches. You get your standard clutch which has been designed in the same sense as its mechanic sibling at the lower cage pivot for chain tension and retention, yet there is also what is referred to as an 'overload clutch.' Basically, it is there to isolate the internal gearbox from any trail impacts.
The shifter
This shifter is like a mechanical shifter in size, yet there is a definitive reason as to how this design came about. After a lot of testing from SRAM this design gave a better reach for the rider with their thumbs to the shifting paddles, these paddles where also designed a little larger for a more comfortable fit with the rider's thumb. It also makes it a lot easier for SRAM to fit the CR2032 battery within the lever.  The shifting paddle works in a similar fashion to its mechanical twin, you hold it up and it will shift up or down and it will shift down. Again, through the SRAM App you can change which way the paddle up shifts or down shifts in a similar fashion to a standard or inverse pull derailleur. If you hold the paddle shifter down in one direction it will also continue to shift through the cassette similar to a multiple shift with a mechanical shifter, not only that when you shift you get a definitive 'click' sensation so you are aware as when you have shifted gears.
Chain, Cassette and Cranks
Once again SRAM offer this setup which in the Eagle 'Colorsystem' with a number of colour options in the cassettes & chains, being black, gold, rainbow and the all new Copper. This cassette and chain we ran with this setup come from SRAMS X-Dome XX1 group set however the AXS drive chain is compatible with any of SRAMS cranks, chains cassettes or chain rings.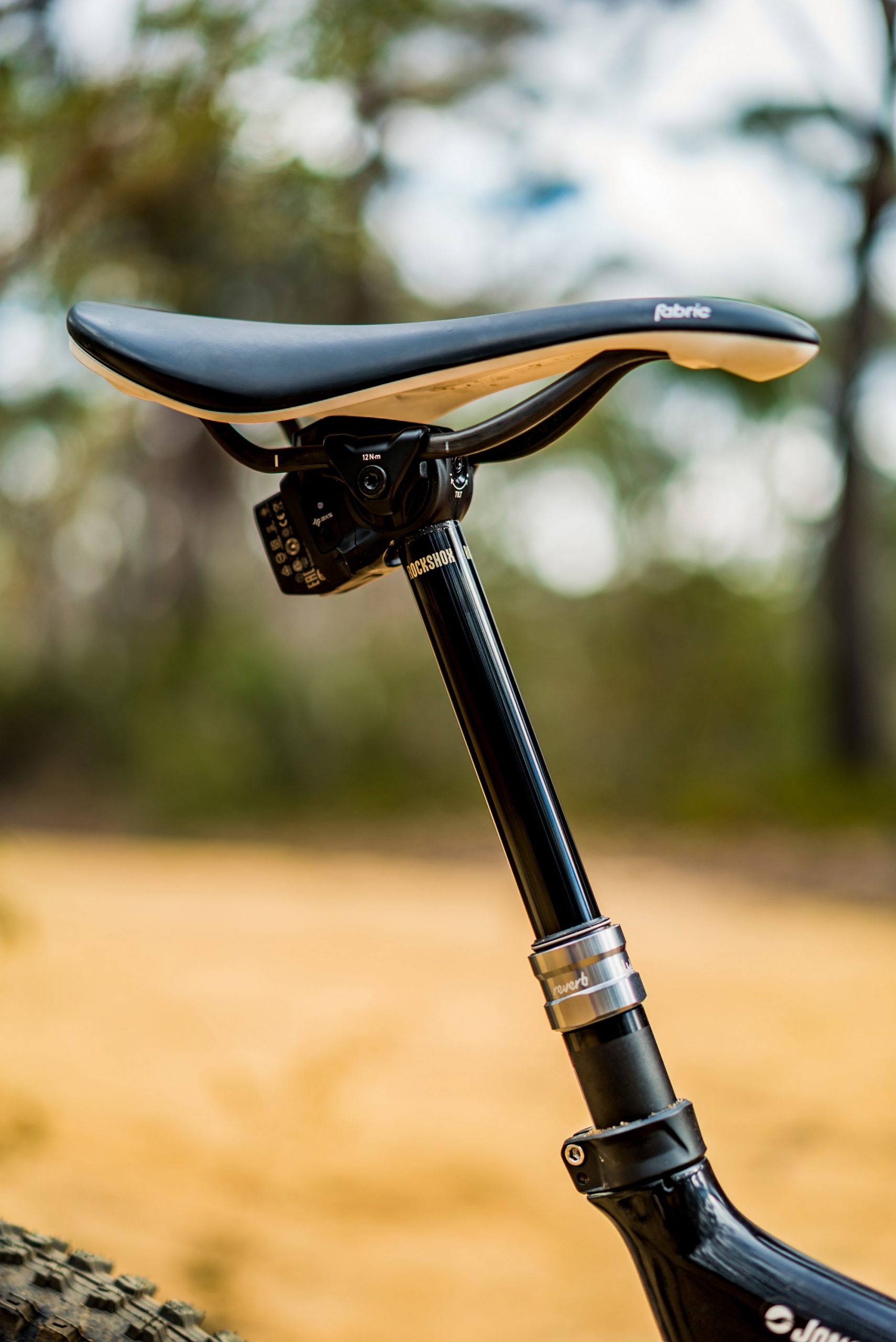 Hey what about the seat post?
Good point, to be honest there is not a heap to say about the 'e-Verb dropper.' It works exactly the same as your standard Rockhox dropper but without the internal hydraulic line which was super cool. The battery is the same as your derailleur as the e-Verb dropper has around 20 odd hours of life, it tucks up neatly under your seat so it's out of the way, and because it runs a similar battery life to your rear mech when you charge up your derailleur you might as well charge your set post too, both batteries are the same and this makes it a whole lot easier to remember. The seat post lever is a paddle style shifter which looks like your AXS gear shifter. Both the dropper shifter and gear shifter integrate with your SRAM brake fittings making them look super neat and tidy. Of note the dropper shifter as with your gear shifter runs a CR2032 style battery which lasts for ages and you can purchase replacements from any hardware store, supermarket or service station.
Finally it's time to talk about the real deal; how it performed on the trail!?
From the installation, setup, application pairing not to mention the performance we cannot fault it. We have been riding ASX for some time now and in a variety of trail conditions and it has proven its reliability. One bonus thing we noticed was the ASX setup made your drive chain super quite with the elimination of any cable rattle which in turn transpired into a quieter bike on the trail. With the lack of cables, it also makes your whole bike look super neat. That aside the feel of this drivechain never changed due to the derailleur motor doing all the work in those gritty weather conditions rather than your fingers, that is not something you will never get with a mechanical drive chain. Overall, will you catch us running to our local bike shop to demand AXS over mechanical XO or XXI? Probably not, because there is absolutely nothing wrong with the quality and performance of SRAMS mechanical line up, there are pros and cons with both. A lot of any rider's decision will come down to personal riding style and preference, with that said you cannot ignore the quality, durability, and performance of AXS.
It is extremely well made, user friendly and is probably and good insight into the future of your MTB components, so our question to you is why not get on board as progression in this sport is inevitable?!
To make it simple, if you're the type of rider who wants the best this is it, if you're the type of shredder who just likes good kit that works well all the time, this is it. Not to mention if you are the type of racer who is looking for that extra edge with components that are going to work when it counts, in any weather conditions, again AXS is it. [R]