To say the racing was close in Leogang would be the biggest understatement of the year! Closely followed by saying that this was one of the best ever for the Australian contingent with podiums across nearly all categories. 
Epic weather that shone done throughout the week remained for finals day at Round 3 of the Mercedes-Benz UCI DH World Cup in Leogang, Austria, with a scattering of clouds offering little respite from the relentless sunshine. Riders did their best to evade the heat and direct rays while preparing for their race runs, but the course, which is mostly out in the open, was baked to the point of its surface crumbling.
With slippery dust from start to finish, a winning run would need precision riding, while really pushing the envelope on one of the fastest courses of the season.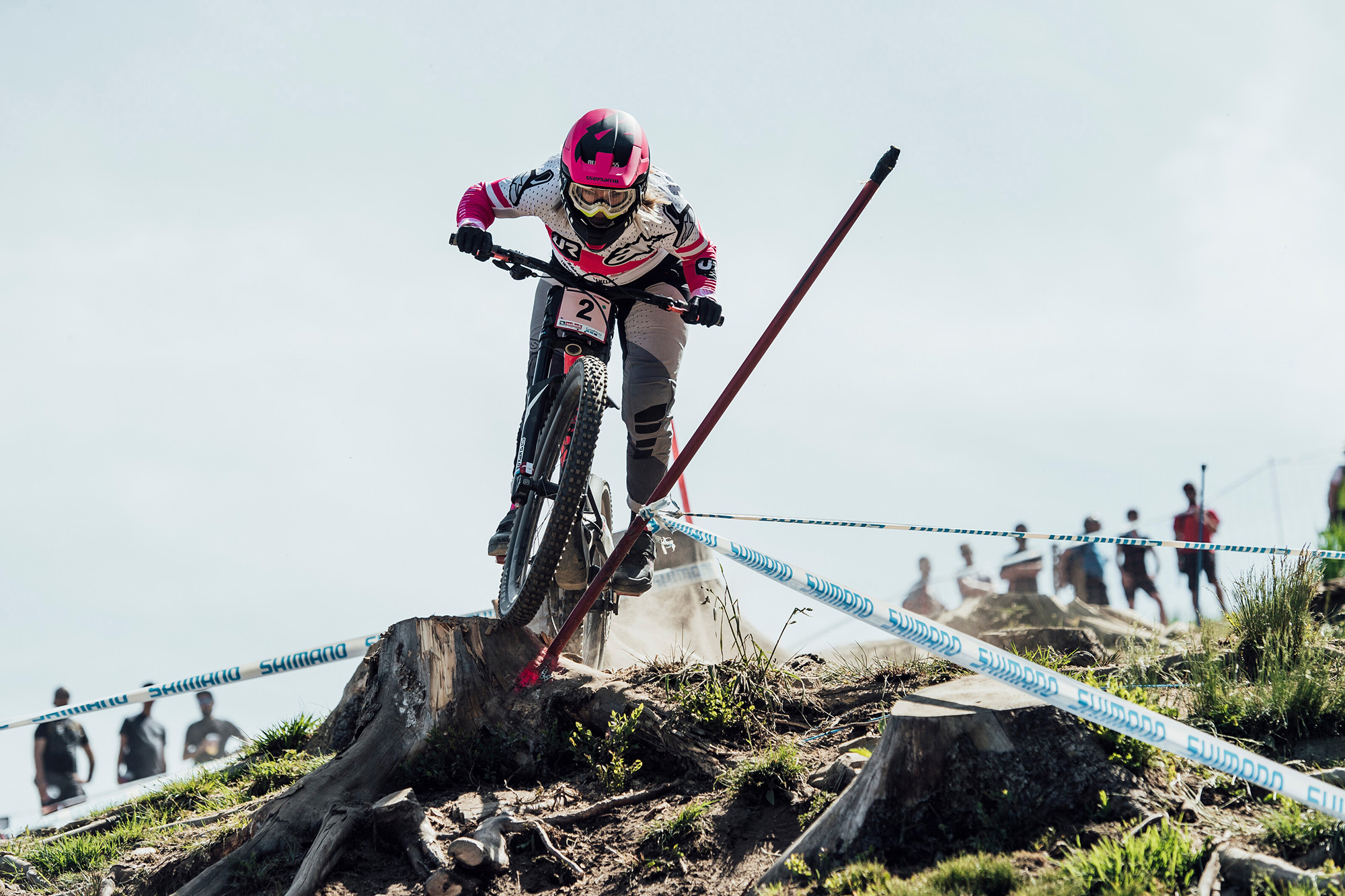 Elite Women
The time to beat had been set early by Kiwi Kate Weatherly, who put in a massive ride, charging through the high speed mid-section to go fastest of the day through the speed trap, stopping the clock at 3m 51.467s. Weatherly's time stood strong, as rider-after-rider attempted to take the lead.
A valiant effort by Veronika Widmann was good, but not quite enough. Marine Cabirou looked to be on a great run and bettered Weatherly at all the split times, only to crash out near the finish.
Finally, Germany's Nina Hoffmann put in a storming run to absolutely smash the leader's time by nearly seven seconds. Her time was also just a tenth of a second slower than Tracey Hannah's fastest qualifying time and with the course only deteriorating, she looked to be in with a chance for the win.
Rachel Atherton was one rider who discovered the boundaries of grip. Before even reaching the first split time, Atherton, who had qualified second to Tracey Hannah, was over the handlebars and out of contention for the win, but thankfully uninjured.
All eyes were on Tracey Hannah as she took to the course. The last rider down the hill was gunning for it from the start and pushing even harder than in qualifying. The Australian rider was supremely efficient on the flat-out sections of the track and clean in the trees, taking chunks out of Hoffmann's time at every split.
Hannah crossed the finish line with a time of 3m 42.107s and celebrated an emotional fourth World Cup win.
"I've won three World Cups, but none of the World Cups I've won Rachel has started in. I've finally had the chance to be strong enough and fit enough to give her a run for her money. That means more to me than the World Cup win alone; racing against her and being able to win."

Tracey Hannah
Elite Men
The Men's race was no less exciting. It was also equally dangerous, with big names, like Laurie Greenland, Bernard Kerr and Loris Vergier finding themselves on the wrong side of the grip limits.
A man who's renowned for being able to judge exactly how hard to push in any conditions is Loïc Bruni. The reigning world champion hit the track with energy and accuracy, sliding just the right amount and bouncing between turns.

The French rider hurtled down the hill in 3m 16.132s, a time that was 3.2s faster than Charlie Harrison, who'd been sitting on the hot seat for quite a while until that point. Connor Fearon put down an epic run full of his fast becoming signature lines and foot out style which would see him slot into 8th come the end fo the day.
A trademark perfect run from Bruni wasn't going to stop his rivals having a good go however. Amaury Pierron, Aaron Gwin and Danny Hart all put in solid runs to finish sixth, fifth and fourth in that order.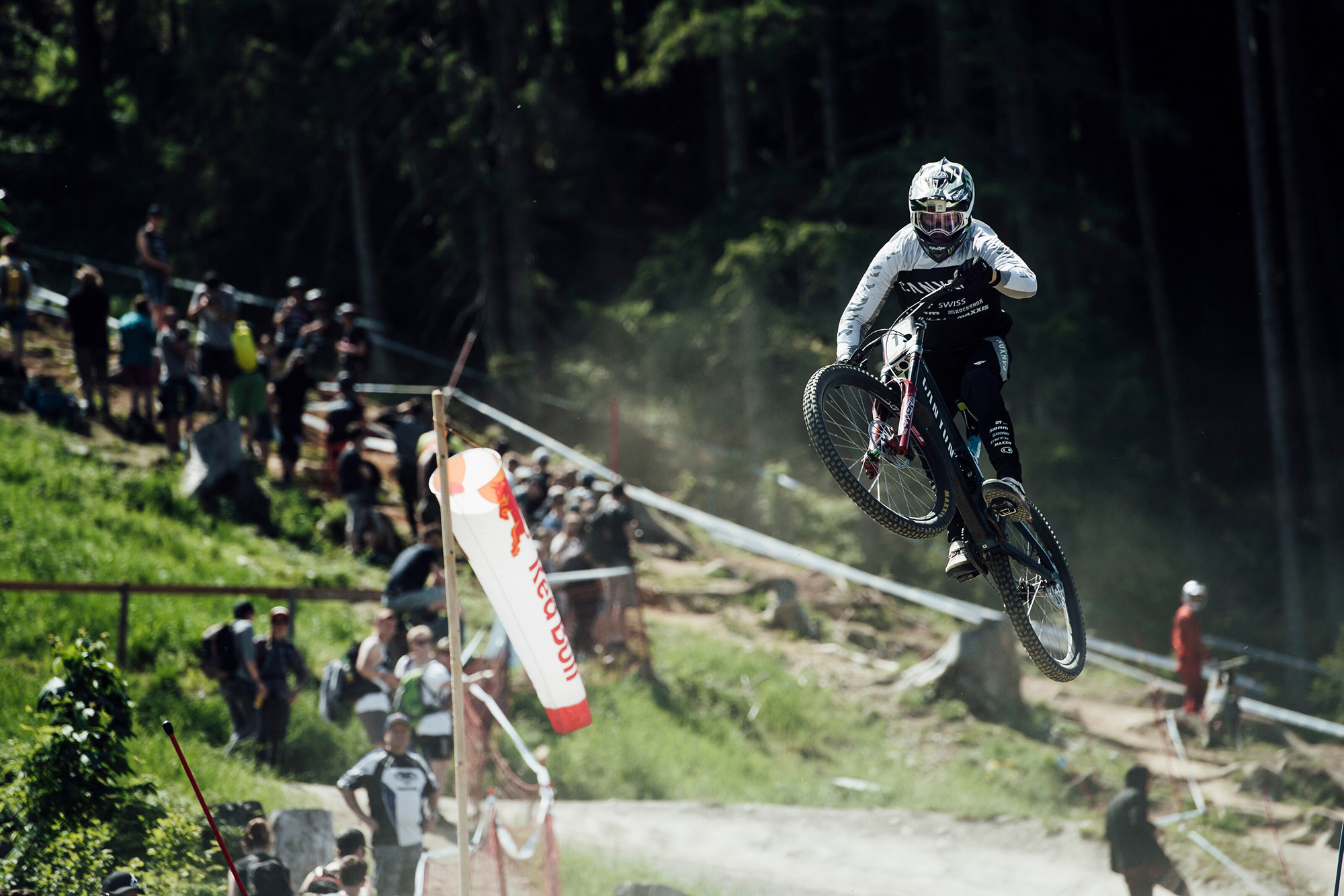 Mr Consistent, Troy Brosnan, was a tiny 0.7s slower than Bruni, but despite not beating him, the Australian will hang on to the series leader's jersey when the World Cup moves on to Vallnord, Andorra for the next round in early July.
Fastest qualifier Greg Minnaar, 21 times a World Cup winner, was the only man left to try and better Bruni's time. From start to finish the result could have gone either way, with Minnnaar just a fraction of a second slower at each split and gaining speed as he progressed through his run.
Bruni was literally on the edge of his seat in the finish arena – Minnaar had been strong at the end of the track in qualifying, but the veteran racer couldn't quite claw it back. He crossed the finish line in second place, an infinitesimal 0.3s behind Bruni, who threw his arms aloft in celebration of his second win of the season.
"I was struggling on the top section at the beginning of the weekend, then yesterday at the bottom, so maybe today I kind of found the balance. I started the run pretty committed and I couldn't really feel the grip. It was super-hard because it dried up a lot. I just held on, depended on everything I had – because every detail counts on this track – and it was enough."

Loic Bruni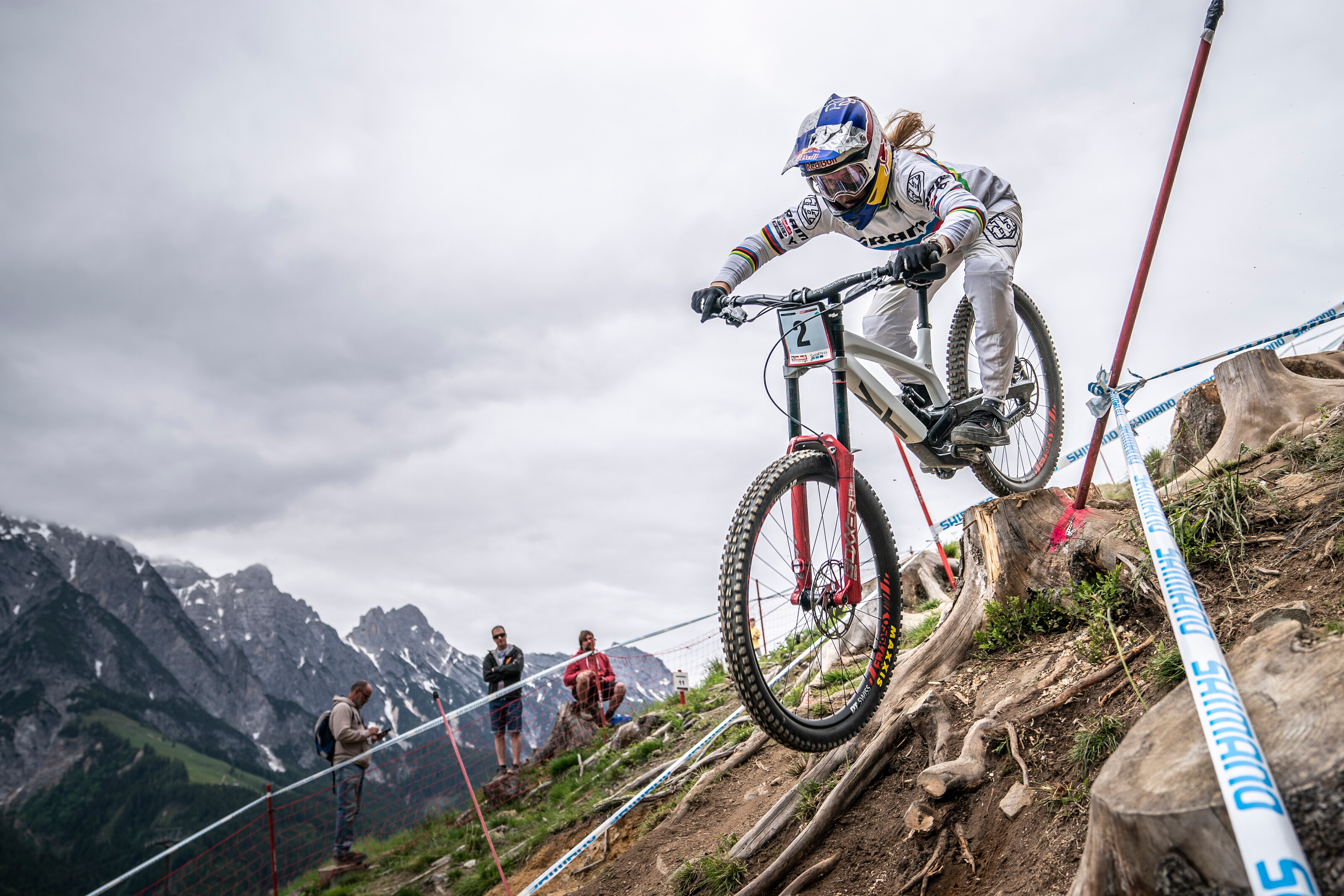 Once again, the Junior categories were dominated by Vali Höll and Thibaut Daprela.
Höll took the Junior Women's win by a staggering 18s from Anna Newkirk, while Daprela fended off our junior shredder Kye A'Hern to take the win in Junior Men by just 1.9s.
UCI DH World Cup Rd 3 Leogang Men's results
| | | |
| --- | --- | --- |
| RANKING | NAME | TIME |
| 1 | Loïc Bruni | 3m 16.132s |
| 2 | Greg Minnaar | 3m 16.456s |
| 3 | Troy Brosnan | 3m 16.878s |
| 4 | Danny Hart | 3m 18.126s |
| 5 | Aaron Gwin | 3m 18.550s |
UCI DH World Cup Rd 3 Leogang Women's results
| | | |
| --- | --- | --- |
| RANKING | NAME | TIME |
| 1 | Tracey Hannah | 3m 42.107s |
| 2 | Nina Hoffmann | 3m 44.542s |
| 3 | Kate Weatherly | 3m 51.467s |
| 4 | Marine Cabirou | 3m 51.671s |
| 5 | Veronika Widmann | 3m 54.192s |
There is a break of a few weeks before the season resumes in Vallnord, Andorra on July 5 which sees both Tracey Hannah and Troy Brosnan both holding the over lead!
Massive thanks to Red Bull for their continued coverage of the premiere bike racing series!
UCI MTB World Cup women's downhill overall:
1. Tracey Hannah AUS 650
2. Rachel Atherton GBR 500
3. Nina Hoffmann GER 475
4. Marine Cabirou FRA 440
5. Veronika Widmann ITA 307
UCI MTB World Cup women's downhill overall:
1. Troy Brosnan AUS 520
2. Loïc Bruni FRA 515
3. Amaury Pierron FRA 450
4. Danny Hart GBR 435
5. Greg Minnaar RSA 321