I knew this film was going to be something mega special when the rumours about its existence began floating around nearly 2 years before I even learnt its name. A small handful of people in the 'know' from the mountain bike world had been whispering that a film was being made that was going to blow minds. Every time we flew overseas for a press camp or headed to a major race, someone was talking about Gamble…
I remember being so intrigued by all the rumous I even a ran a Google search hunting for details, but it came up empty! Then one day early this year a random email appeared in my inbox with the subject line 'for your eyes only' and inside was a secret link to the Gamble's official trailer. I pushed 'play' and holy f*king shit it was insane! I then immediately reached out to the film's masterminds, Joe Bowman from Steel City Media and Aaron Bartlett from Creative Concept to learn more about the film and in particular Connor Fearon's EPIC section within it. Want to find out more? Keep reading friends…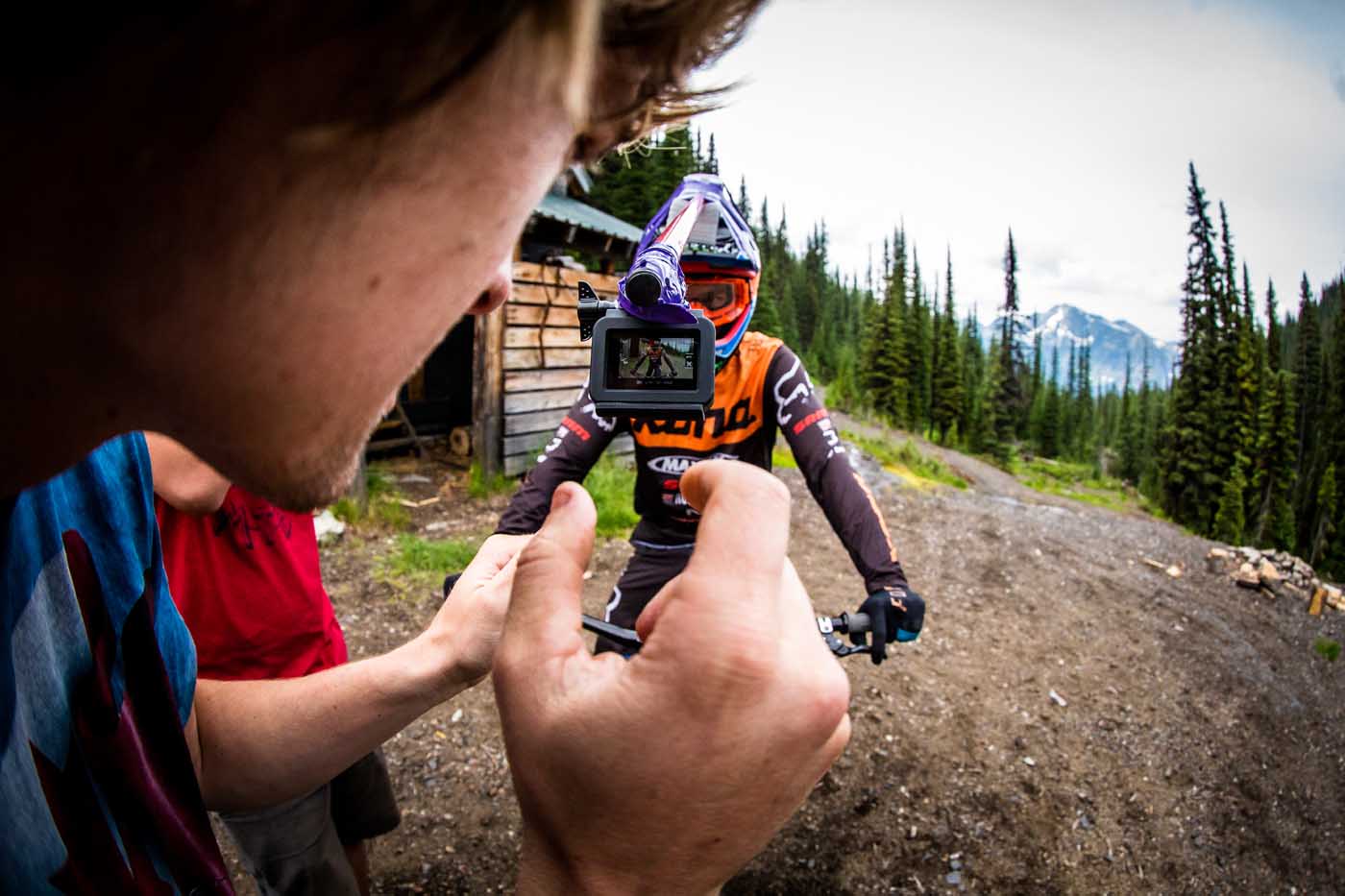 [R]evolution: Boys, you have absolutely crushed it with Gamble! The production quality, the riding quality and even just the creativity that has gone into the film is totally next level. To start with can you tell us a bit about the back story behind the film and how you guys hatched its concept?
Aaron: Thanks a lot! We've both been doing world cup filming from 6 to 9 years each. Over the past couple of seasons the frustration of not always being able to capture the true speed and ability of some of the fastest riders in the world due to the time and schedule restraints kind of spurred on the concept of 'taking some of them outside the tape' to allow both them and us to do what we wanted. After plenty of chat during late night editing sessions with the other squids, we finally pulled the trigger early 2016 and started to mock up ideas and begin pitching to people with the idea of beginning shooting early '17. It's a long old process!
Joe: The back story is kind of a long but simple one I guess… Me and Aaron both grew up buying and watching full length mountain bike films each year, the usual suspects like Rankin, Clay, NWD series and the Collective Crew etc… It used to be so rad that you had these whole host of films to get into and watch on repeat until the dvd's wouldn't read anymore, then came along the internet I guess! The web has been amazing obviously with the amount of free, on demand content that you can get stuck into literally every day of the week, but I think people have become slightly numb to the quality and work that goes into your average three minute web edit today.  
[R]: Where did the name Gamble come from? 
Joe: We had a bloody nightmare with the name. We had this big whiteboard in my living room where we all basically threw names at it until a few stuck, then we slowly narrowed it down bit by bit. GAMBLE sounds obvious now as we always had the poker game in mind, but it took a while to get there haha. 
Aaron: Yeah I still have nightmares about sitting in Joe's living room in Sheffield banging our heads against the wall next to his fireplace trying to think of a bloody name. I think we all went slightly mad during the process! It's always tough coming up with names for things and in the end the simple option usually works the best.
[R]: Clearly an enormous amount of time, resources, planning, logistic, must have been ploughed into the film. Can you guys give us bit of an idea of what was involved in the process of making Gamble a reality? 
Joe: I think until you've done a full length feature there's no way of explaining how much different it is to a regular web piece. I guess it basically starts with the thinking up of the concept and basis around the entire storyline, which normally takes a lot of thinking, drinking and throwing ideas around friends and colleagues. Once you've got the rough idea down, picking riders and potential locations is obviously a big one. This is something we went back and forth on for probably nearly a year… Due to loads of things, your lineup always seems to change, but I guess you've always gotta match the riders to the storyline, which for us was taking some of the fastest and biggest personalities from the DH circuit outside the tape.
Probably the biggest struggle and most important part is writing the proposal and pitching brands to raise a budget. This has been a huge learning curve and an eye opener for how much you need to pull off a proper full length piece like this, even if you keep it as tight as we have. I think one of the raddest things for me was seeing how the brands who came on board especially Santa Cruz and Maxxis, who stepped up and backed a film that had less than 40% of their own riders in it, just because they love downhill and believe in what we were trying to do.
Aaron: I've done a couple of full length features. Back in the day when I was starting out filming I did Foot Out Flat Out, which was mainly UK and European racing stuff and then more recently I've done Life on Wheels which was a racing documentary film with the Lapierre team. Both of these projects were difficult and time consuming but Gamble has been on another level with the pre-production and filming side of things. To be honest, the editing has been pretty fun and we've been able to manage our time well with that, especially over Christmas and New Year where we both really cracked on with quite a few segments. We're just in the process now of putting the final touches to the film before we hand it in and although we've had a couple of weeks with some big days and a few late nights, the stress level has been kept to a minimum which is ideal. The organization side of things is where it's really been a learning curve.
The logistics of moving a crew of 5-8 people from different countries around the world to places like Argentina, South Africa, Canada etc. has been tough to manage and keeping on top of the budget has been a challenge!
[R]: We mentioned before about the production level that you guys have achieved with Gamble is way, way above what you'd expect from a MTB film. Is that what you set out to achieve?
Joe: We've definitely emphasized on trying to make this all about loud and fast action, mixed with some entertaining intros that hopefully showcase their personality and provide a bit of humour. Every rider who's been involved in the film honestly went above and beyond to help make their segments happen. Can't thank them enough.
Aaron: Thanks mate. I think we've tried to hit a niche with the style of the film that hasn't really been done before. We've tried to mix some old school filming techniques with modern day production values and add a bit of Hollywood level acting (cough) and humour in there too. The riding is the main star though, like Joe said, the riders are the ones who make this film!
[R]: The film features a 'who's who' of the biggest personalities and talents in downhill. How did you get all these boys involved, did you just write out an ultimate wish list of riders that you wanted to film with or did it all just kind of evolve? 
Joe: I guess once we cooked up the story for GAMBLE, we looked at the riders we'd worked with before and also picked a couple that fitted the bill and were known grafters who'd be down to make their segments happen. We're fortunate enough to know all these dudes pretty well after being in the industry for a long time, but it was definitely hard to narrow it down that's for sure. There's tons of boys and girls who definitely could have been in here, but it's our first big film anyway and we'd be keen to shake it up next time round and try and bring some new blood to light!
Aaron: There are definitely riders who could have been in the film that we've missed. But you've got to draw a line somewhere and I think the list of riders we've ended up with definitely tick most of the boxes. All of these guys are good friends and that's really helped when it's come down to the nitty gritty. They've all been willing to go the extra mile to make things extra special and for that we've really got to say cheers!
[R]: There are a million standout qualities to the film, several of which are the epic destinations that you guys have filmed. How many countries did your visit to capture footage for all of the rider's sections? 
Joe: When picking locations, we always gave the riders first shout on this, because if they're not stoked on the trail or location you're at then you're fighting a losing battle that will end up affecting the end product. We must have been to a dozen different countries in total I guess, but one of the raddest things for me was creating a new trail from scratch in the center of Sheffield for Peaty's section. Mixed with the song that you guys will hear on it, made for a full on 'bucket list' tick! Haha Building and creating new sections or features was another big plan of ours from the start, even if our budget didn't really reflect the scale we were going for haha. Working with each location, local company's and bike parks etc, we managed to create a bunch of unique trails and features for a chunk of the riders which was pretty mental. Highlight had to be Steve's line in Sheffield for me though, the boys at Bike Track and the local council went above and beyond.
Aaron: Yeah it was definitely a bit of a world tour this year and it's been really cool to visit a few new places along the way. When you're doing World Cups it tends to follow a pretty set schedule these days and you don't often find yourself in new locations.
Part of this film was about trying to showcase some new venues which haven't been seen so much, even building new lines and tracks across the world. The Madeira trip was definitely a highlight, with the added factor of having our custom built line to shoot on, along with some epic scenery and weather! What dreams are made of!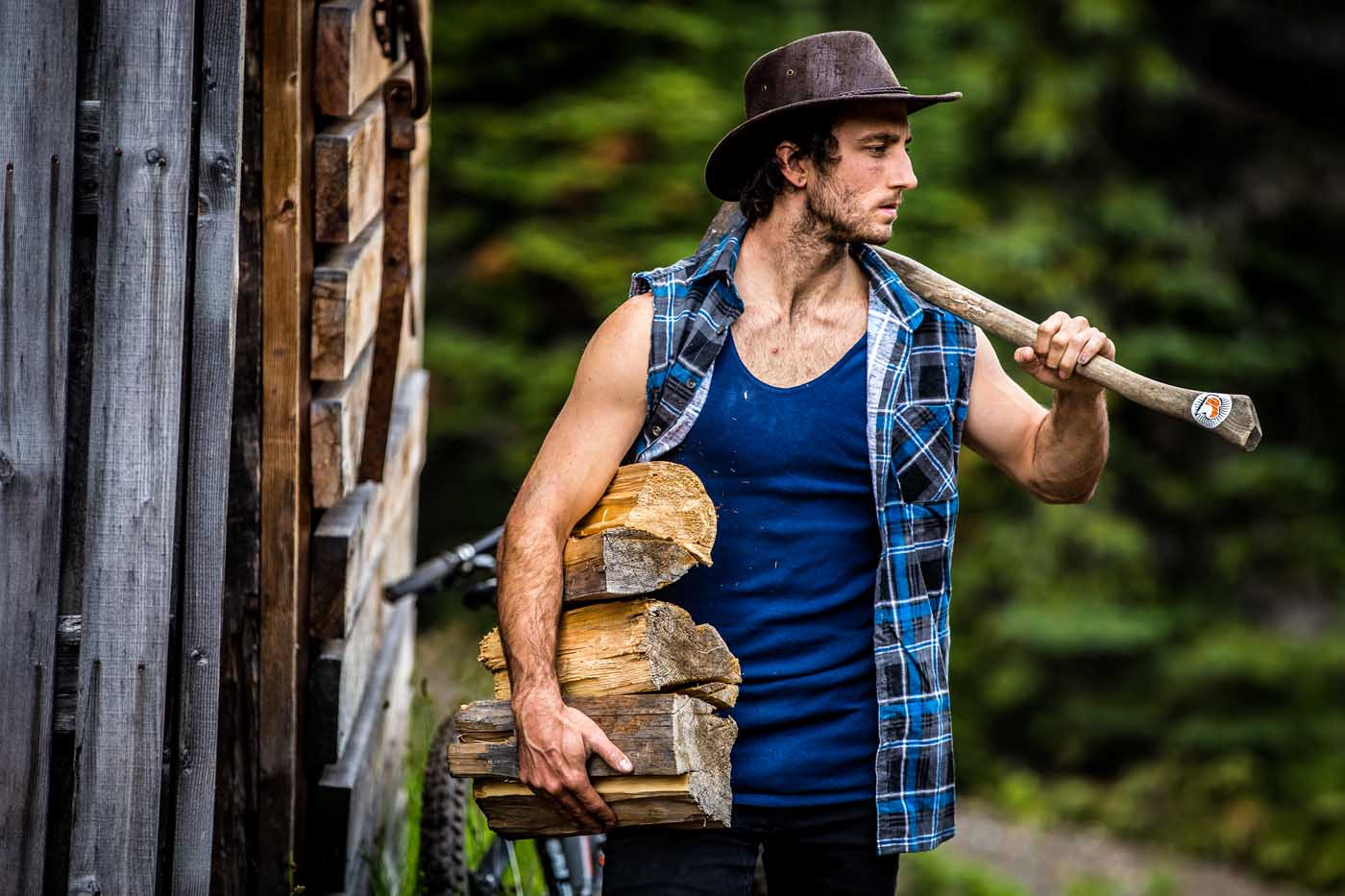 [R]: Okay let's cut right to the chase and shine the focus on our absolute favourite rider section in the film (perhaps we're a little biased though, eh!) which is of course Connor Fearon's part! First of all, what was the backstory with his character? 
Aaron: Come on, Connor is a no brainer for a film like this! He runs flats, he gets loose 99.9% of the time and he's a complete animal when it comes to work rate on a shoot. Not to mention the fact that he can ride a bike around a corner faster than pretty much anyone on the planet with a broken finger! Seriously, I've never seen such an impressive display of cornering on a mountain bike from anyone… by the way, what is it with Aussies and being rad at turns?!?!
Joe: It's a tough call but Connor's is honestly a top two segment I reckon. I've always been a Connor fan ever since he was in juniors getting buck wild on flat pedals and I've managed to film him once outside of racing for a Maxxis piece we did over there in Adelaide a couple of years back, so being able to go somewhere as rad as Retallack with him was always going to be good. Finn Iles was gutted because he called Retallack just after, but you snooze you lose I guess haha. If you know Connor, he comes across as a pretty mellow dude that keeps himself to himself, fully letting his riding do the talking. His section is basically all killer no filler, because from literally the first shot to the last all week he was going ape shit.
[R]: Where did you guys film his section, it kind of looks out in the middle of backcountry Canada perhaps? 
Joe: A little slice of heaven on earth called Retallack lodge, which is basically a backcountry setup outside of Nelson B.C. They originally just did winter cat/heli skiing before they realized they could basically take all that knowledge to their summer program. It's basically a private mountain(s) with numerous trails going from full alpine ridgelines to fresh loamy downhill straight back to your front door. The lodge itself is this rad catered place, where all the staff are super down to earth and make everything as easy as possible, they honestly looked after us so well we nearly quit filming and took up jobs there. Outdoor cinema, night frisbee gold, heli biking, 3 course meals each night… it was too good. It's actually painful typing about it now. Huge thanks to Mike Kinrade and Matthieu Dupelle for making that one happen.
Aaron: When you're a young squid grom watching one of the many Canadian freeride movies, you can't help but dream of filming somewhere deep in the wild parts of BC (especially coming from the UK). Basically, after going to Retallack, we got the full experience handed to us. It's just such an incredible place to ride bikes. Forget the bike parks, this place is where it's at! Huge props to the amazing group of legends there, we had an all time week riding, filming, building and chilling. So sick.
Connor deserves special props as well for doing the entire week on a badly broken finger that essentially took him out for the rest of the season… what a hero!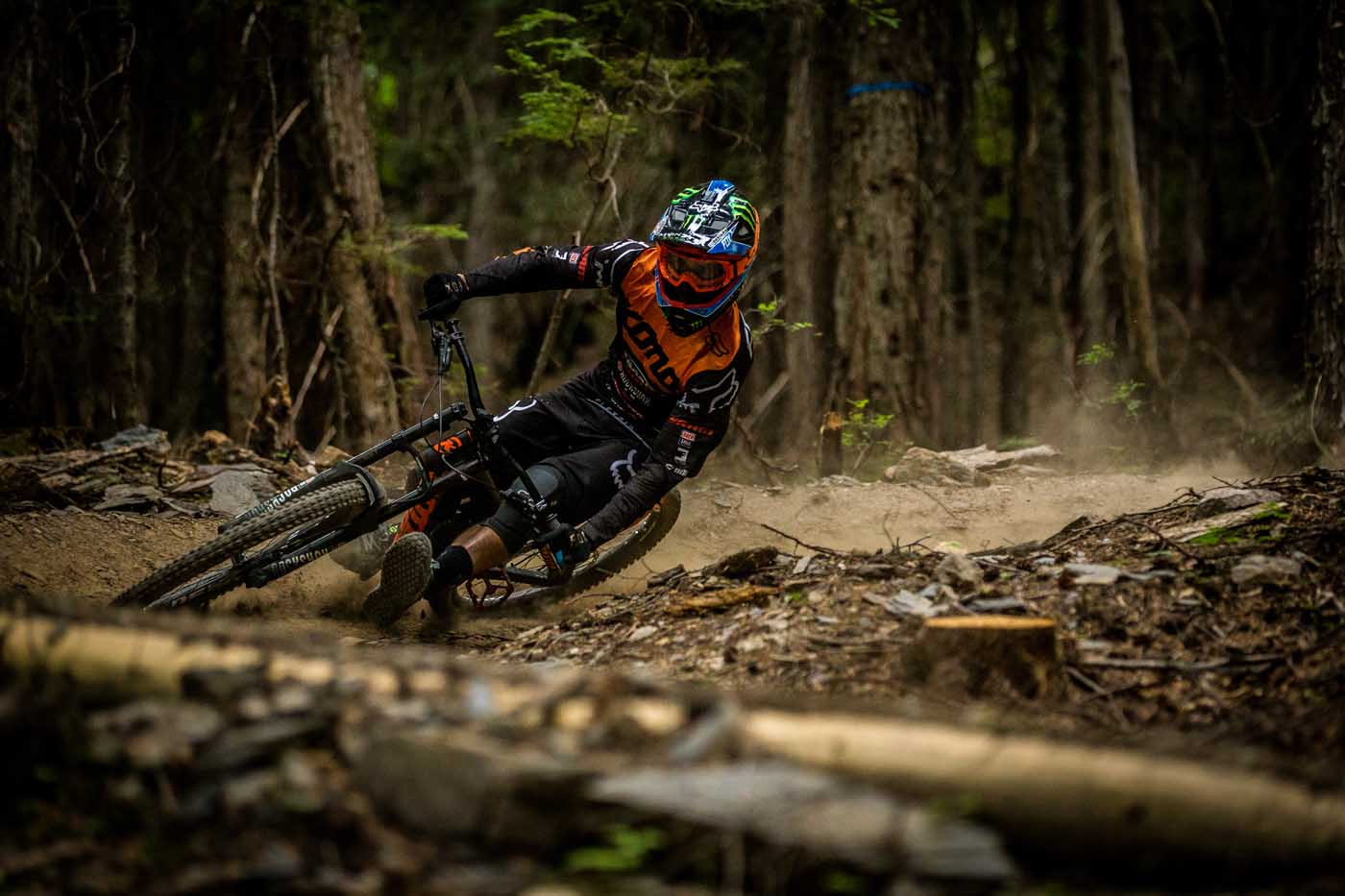 [R]: It takes a lot more than a busted finger to hold him back! As part of his persona were you also going to ask him to wrestle a Croc or maybe skin a couple of Kangaroos? Connor would probs be up for it by the looks of things!  
Joe: I reckon he's too nice to punch a Kangaroo, but I know he bloody loves Parmy's and farmers union, so we should have let him nail a few of them on camera.
Aaron: We were hoping to run into a grizzly or a cougar on the shoot so we could get those kinds of shots.
[R]: How many days did you spend on the ground capturing all his shots for his section? 
Joe: You'd probably be surprised but I reckon we smashed it all in 5 days, one of them being only a half day due to a crash. Connor was hurting pretty bad with his finger so we had to be pretty picky with what we shot and how much we could push it, because we literally couldn't have got more footage if we tried. I've never been to a place where every corner or section of trail is worth shooting. That one trail, Dorothy's is probably the fastest I've ever seen a human go around a berm, his section is basically a tutorial in cornering.
Aaron: Although we could have used 5/6 months at Retallack we had to make do with 5 days. You've also got to take into account "scouting" time when you arrive so that you know where to go to get the best shots. 
First day and first shot in Retallack probably ended up being one of the "pans and zooms" of the whole film; to be honest it kind of set the tone for the rest of the week shooting!
[R]: Was it pretty 'smooth sailing' during the shoots or did you guys get thrown some curveballs? 
Joe: I think the biggest curveball is just managing, booking and working out all the logistics before, during and after a shoot. That stuff takes a ton of time and some days just getting people up and out of the door is a big one. We've been lucky enough to have a ton of help from friends all over the world, I owe a special thanks to my girlfriend Hanna for coming out on a few trips and looking after the crew. Poor Mark Wallace though, two 6 week injuries, both requiring surgery in one winter… both a week or so before we were meant to fly. Third time lucky though ey!
Aaron: Most of the shoots were pretty smooth going. Connor's was a bit of a challenge with the finger, but he literally just put his head down and smashed it all week anyway. It was looking pretty sore by the last couple of days and it's pretty rad that he was able to battle through the pain. Other than that, we had a bit of an issue getting over to shoot Mark Wallace for his segment as he injured himself a couple of times when we were supposed to go, but we managed to get it done in the end! We couldn't really have asked for a better year to be honest.
[R]: Serious question, did you guys speed up the footage in any of his clips? Surely you must have! No human could hold onto a bicycle and rip corners that hard or hit some of those sections as wide open as he appears to!?
Joe: Speeding up footage is pretty much fraud I reckon, you just don't do it! I agree though, some of the cornering was so mad it does look fully sped up.
Aaron: If you have to speed up footage then you're doing it wrong.
[R]: Do you personally have a favourite clip within his section? 
Joe: I think it's the second riding clip in from the fisheye of him slapping a corner. It was literally the second shot of the entire shoot and it basically set the tone for the whole rest of the week…
Aaron: I've got two I think, the first video camera pans and zooms shot which I mentioned before and the drone shot on the alpine ridge with the backlit dust. Oh and the slapper shot from behind of the left hander on Dorothy's… I could actually list loads to be honest.
[R]: So where is the best place to grab a copy and check it out? 
For download purchase the film is available on iTunes, Vimeo on demand, Google Play, Xbox live and all the other usual platforms.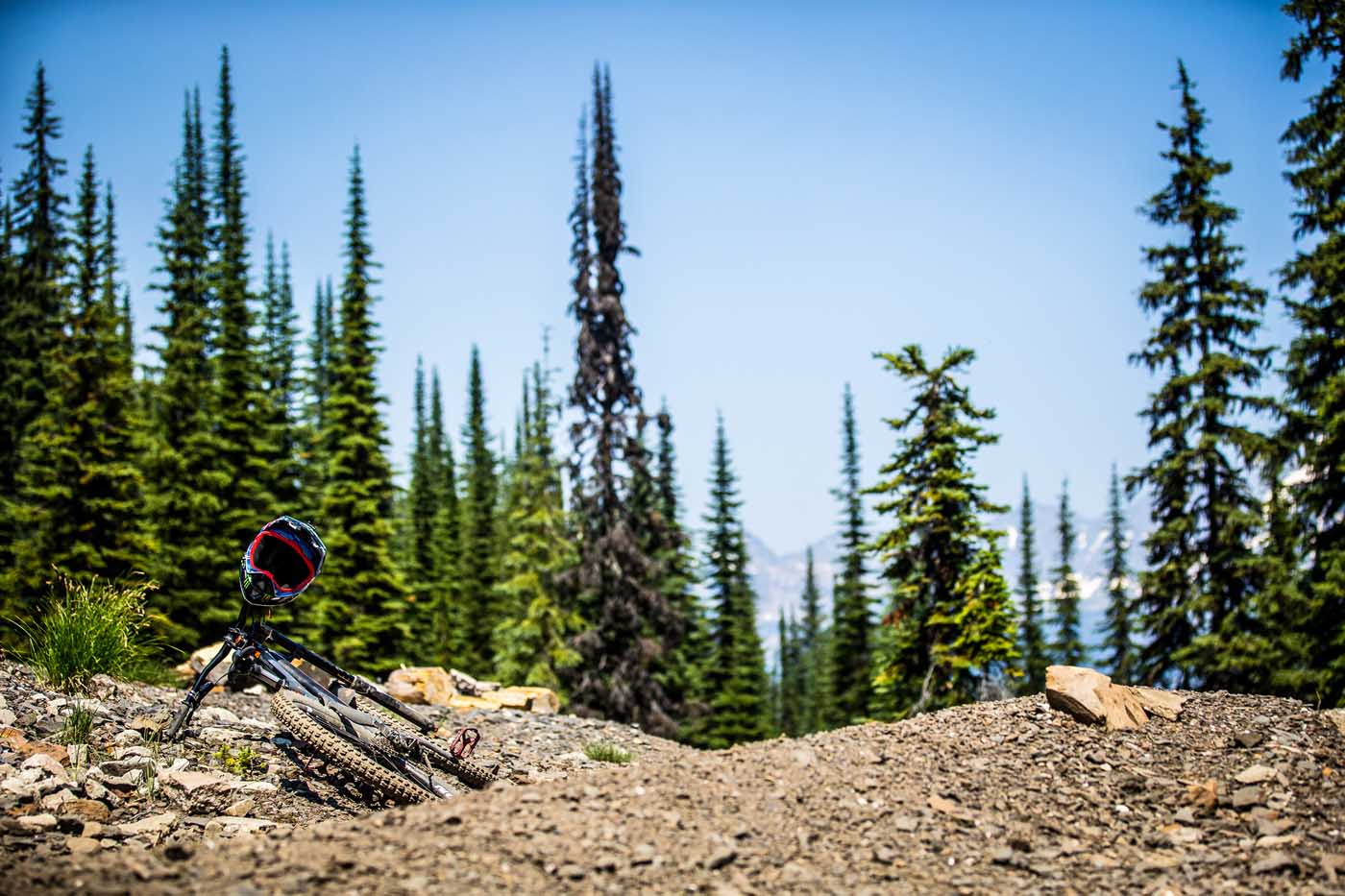 [R]: Any final words that you'd like to say to wrap this up or just "go out and watch the f*king film!"? haha
Joe: Haha yeah, please do just go and fucking watch it! We literally made this film for the fans of downhill and people who want something loud and fast to get them stoked to go out and smash some turns. Please just don't put it on Pirate Bay, help us out here, we're both skint after making this thing! haha
Aaron: Yea cheers to everyone who's been involved in the film. It's been a hell of a ride but I think it's been worth it! I also second the Pirate Bay thing, even though we've got Oscar winning levels of acting and riding we've definitely not got Oscar winning levels of budget, so please be nice! Haha
[R]: Cheers lads!
Watch Connor 'make it talk' right here.
You can read this in print alongside more premium MTB goodness in Issue 52 available here revolutionmtb.com.au/shop/revolution-issue-52