Last year (just before the world as we knew it shut down) [R]evolution teamed up with SRAM Australia and the Maydena Bike Park for an incredible, once in a lifetime contest.

 

The prize? One lucky [R] reader would be flown from anywhere in the country down to Tassie where they would get to spend a full day riding 1 on 1 with Sam Hill at the mega Maydena Bike Park, all expenses paid, plus the winner would even get their bike decked out with the latest gear from SRAM. 
Not surprisingly, as soon as the contest was launched literally hundreds and hundreds of entries began pouring in. Finally, a winner was plucked out at random and a young shredder from Brisbane by the name of Kasper was heading down to Maydena to go riding with the Champ.
As the reigning EWS Champion, Sam had already been spending a week training at Maydena as part of his final preparations for the upcoming season. He commented that Maydena is Australia's ultimate training ground and he tries to spend as much time as he can down there during the off-season. Boasting a massive 820 vertical metres of elevation and more than 62 amazingly crafted downhill trails catering for all different skill levels, as well as a ton of other trail riding on offer. All of which is open to the public 365 days a year, it's easy to see why this world class destination has rapidly grown and now has the reputation of being Australia's ultimate MTB playground.
This was Kasper's first visit to the bike park and when he arrived he couldn't believe how big the set-up was! Before they hit the trails the following day SRAM Australia's team of technicians gave Kasper's bike the 'pro rider treatment'. To match his SRAM AXS digital wireless drivetrain the lads installed a brand new SRAM AXS dropper post. In addition of course that also gave Kasper official entry in the '2 cables club' (meaning his bike only needed brakes cables and no extra cable clutter) which meant his bike not only performs amazingly but it also looks 10/10!
Early the next morning the stage was all set, the sun was shining, and Sam and Kasper loaded their bikes onto the shuttle for the first run of the day. Nealy 8 hours later Kasper couldn't wipe the smile off of his face. It had been a massive day of riding and Sam had been more than open to giving him heaps of pointers and advice. As the sun began to set Kasper, Sam and the crew from SRAM Australia made their way to the summit restaurant atop of Maydena for the ultimate dinner and to toast an epic day!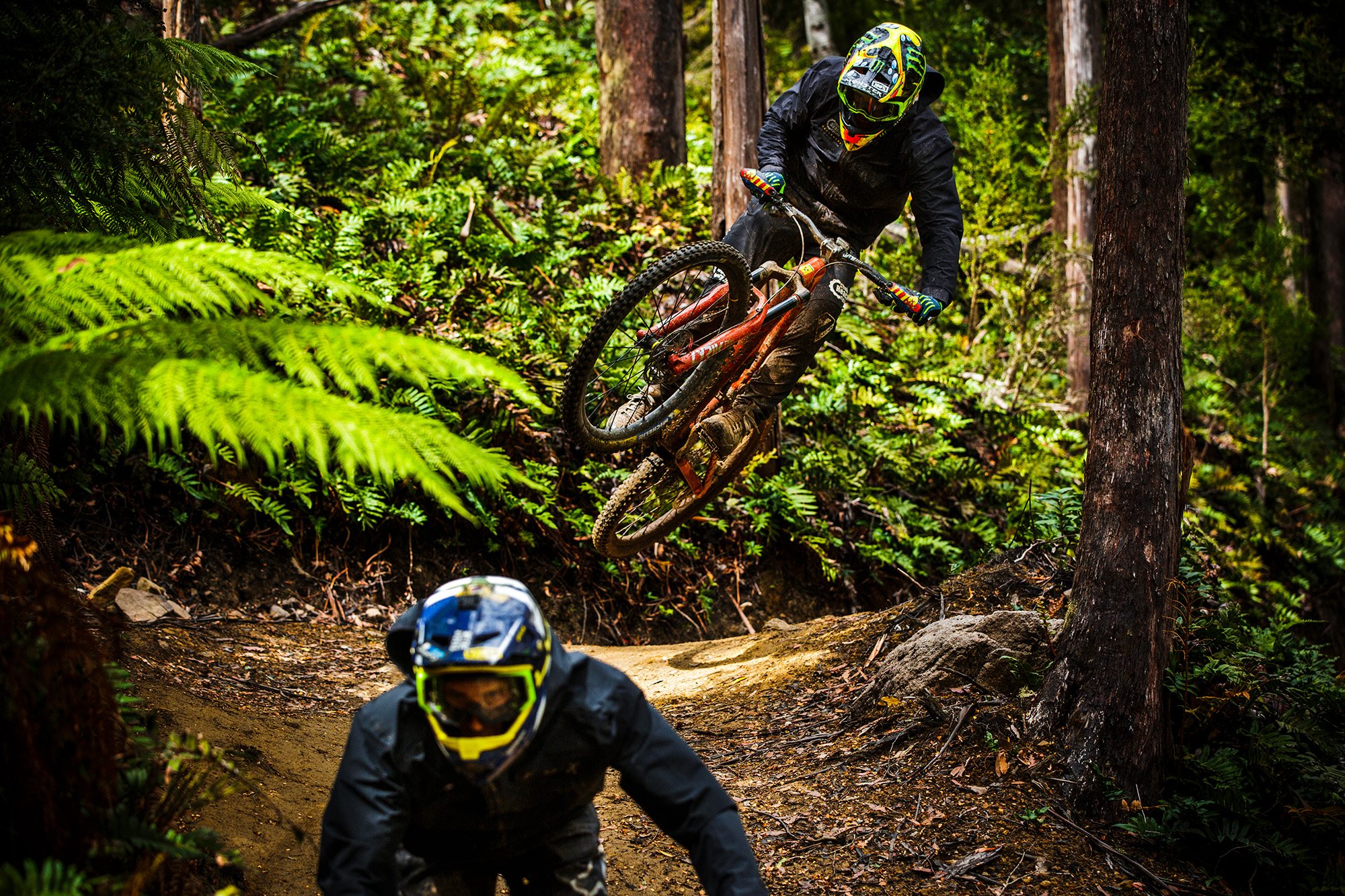 The next morning as we headed back to the airport to return home we caught up with Kasper for a chat about his trip…
First up; so you'd never hung out with Sam before, you'd never ridden Maydena before, and you'd never met the SRAM Australia crew before, that's a lot of firsts! Tell us a bit about your experience during the past couple of days?
It was amazing! Sam is such a regular and super nice guy. At the start I was a bit daunted because he is 'the Sam Hill' and getting the chance to be around him is crazy, but straight away he was super friendly and just really down to earth and just, yeah, he's a such a good bloke. The shuttle to the top of the hill is quite long, because obviously it's a massive mountain, and it was awesome being able to chat to him about all types of things as we headed back up after each run. It's cool how much of a family bloke he is too, hearing him chat about his kids and his wife, he's really just such a normal guy I guess at the end of the day.
That's cool to hear. How about when you guys rode together, what was that like?
Ah, where do I begin! On the first few runs, actually probably all day, I could tell he was just cruising so that I could keep up and we could ride 'together'. He stopped a bunch of times down the trails to show me little things and different lines and I was able to get different tips and what not, which was really cool. He even asked me to drop in first a heap of times and he didn't seem to mind following me through sections. That said, throughout the day there were a heap of times where we'd drop in together, he was in front, and it was almost like playing / watching a video game, within 1 second of us rolling he would just vanish away in the distance.
It's mind blowing how fast he is! Even in the corners and stuff, he doesn't touch his brakes. He's just, gone, out of sight!   
Haha don't worry mate I'm sure pretty sure all of your favourite pro races feel the same way about the way he rides! So obviously SRAM hosted you for the weekend and decked your bike out a bit, etc, what was it like hanging out with those guys?
Yeah they're such a good group of bloke's, aye! What was interesting was that you could tell pretty quickly and easily that Sam and SRAM's relationship was as if they were family rather than just a sponsor rider type thing. I was so stoked to have an AXS dropper post installed on my bike, that thing is amazing. It's super smooth and quiet and being totally wireless I was curious if there'd be any delay in actuation from when I pushed the lever on the handlebars, but nope, it's instant.
Plus you get to rip that extra cable out of your frame and throw it in the bin, so that's even better! Hey so you'd never been to Maydena before this trip, give us a bit of an overview about what the park in like?
Anyone and everyone reading this that hasn't been to Maydena NEEDS TO GET DOWN THERE ASAP! Haha. It's like Whistler but you don't have to travel to Canada. It's so much bigger and better set-up than I thought it would be. The town of Maydena is kind of quiet and off the beaten track I suppose, but then all of a sudden you arrive and there's a massive MTB bike park with the coolest set-up. It's got bike shops and a cafeteria and a bar and you can get awesome food and drink all day long whilst you're riding. It's massive so there's heaps of space to hangout and there's a ton of shuttle buses to take you to the top of the hill. We rode all day and I only managed to ride a small portion of the trails that they had on offer. I can't wait to get back down there again, next time it'll have to be for a full week or even longer though! [R]