If there is one brand that has always stood apart from the pack with their quirky, often 'out-there' and always innovative frame designs its Cannondale. Dating right back to the mid-nineties the American mega brand has been pushing the boundaries of mountain bike design and pioneering concepts that many would have thought impossible; take the Lefty fork for example!
However, having won over the hearts of riders from across the planet for several decades with their unique bikes, it is fair to say that in recent years Cannondale has quietly been fading off the radar of 'coolness' and were in desperate need of something new to put them back on the map… Enter the all-new Jekyll! One of the most synonymous bike model names in all of MTB, the Jekyll has had more than its fair share of outrageous frame designs over the years, and the first impressions of the latest version has stolen our breath. Just take a look at this thing, holy moly, what a f*king sexy looking beast!
Alright, lets break it down with some details that we know so far… The new Jekyll has an unconventional linkage driven, high pivot four-bar link design on one of the sexiest frames we have ever laid eyes on. While all of those words have been spread across press releases in the past two years, the Jekyll has some pretty serious party tricks up its sleeve, so every rider gets the perfect ride. 

With 170mm upfront and 165mm of rear travel partnered with a rearward axle path, there is no doubt the Jekyll will be a magic carpet ride on even the gnarliest trails. The Jekyll is going to hit warp speed while ploughing downhill on 29er wheels; riders will be thankful for every mm of that supple suspension. 
Cannondale has taken size-specific frames to the next level!! Not only do the chainstays grow 5-7mm on every size but, the suspension position and kinematics also change. Cannondale understands that riders of different heights have a different centre of gravity, and each size has different pivot locations, shock mountings and kinematics to suit each size rider's centre of gravity. Essentially, every rider's size gets as close to a custom-made bike for their size from a major mass-produced company. We are calling that a win. 

No point in having all that tech with outdated geometry. Cannondale has brought a conservative approach to the Jekyll's geometry, leaning more towards an agile ride. Sure, we haven't ridden it yet but, we know the 64-degree head angle, 450mm reach on a medium, and the 435mm stays will lead to a poppy, playful bike ready for techy, fun tracks. 
The pricing for a full carbon race rig is usually through the roof, but, somehow the Jekyll is quite reasonable.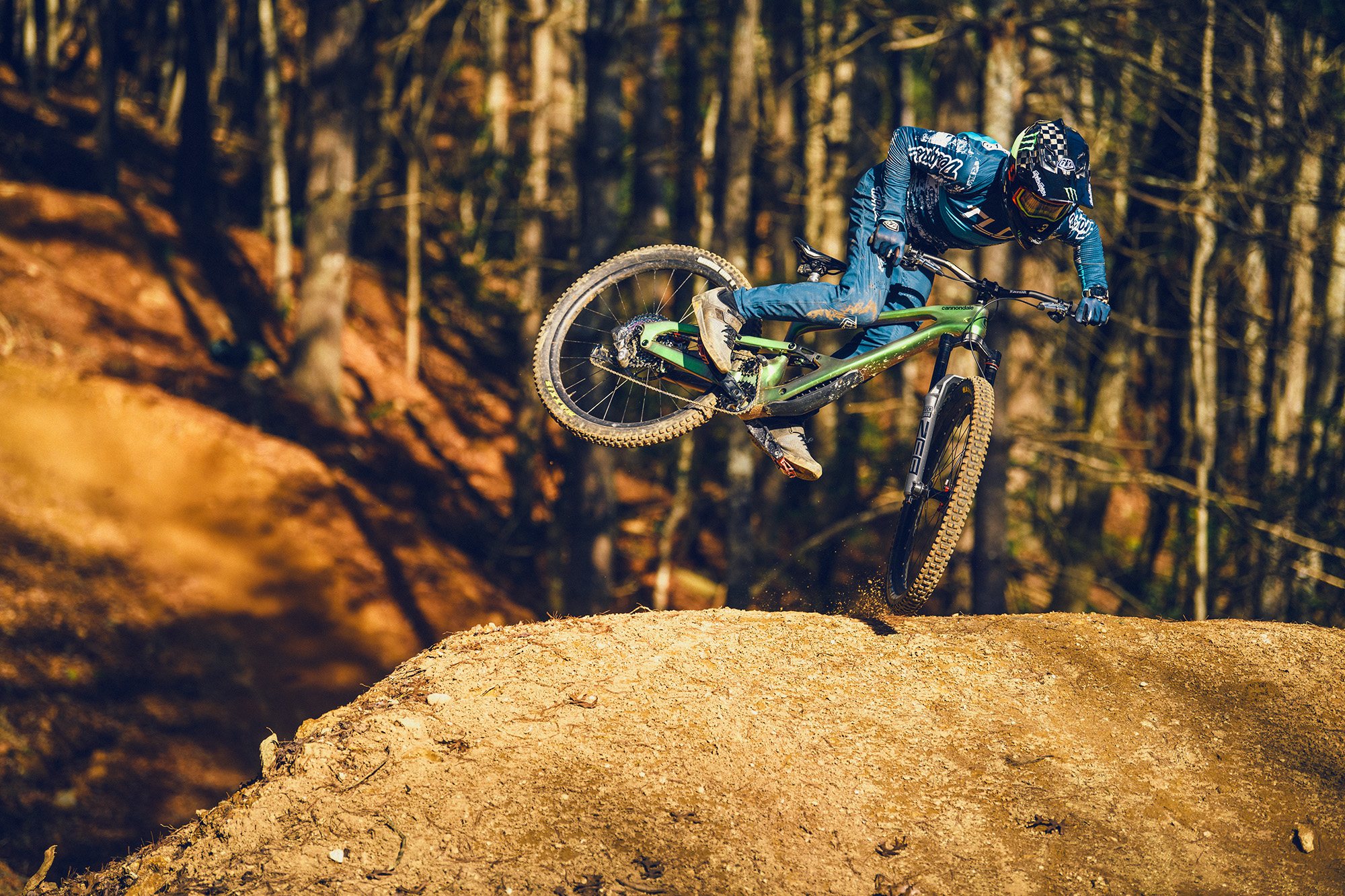 A pure race bike out of the box, ready for anything ahead in its path. The Jekyll has us excited because we know it is going to be extremely playful at speed. It will be hard to change our mind, and we are keen to throw a leg over this beast soon.