There are a lot of model names that have remained and evolved in different bike brands' line-ups year after year, but certainly no other single model has delivered as many outrageous and truly 'left of field' frame designs over the years as the Cannondale Jekyll.
Words // Blake Nielsen  Photos // Matt Staggs
This season, as showcased right here, the Jekyll debuts another entirely new frame design concept. As someone that has followed Cannondale's journey through MTB over the years let's start with your first impressions of this bike from when it arrived for review?
It is no secret that Cannondale have forever been the absolute pioneers when it comes to pushing the limits of MTB frame design and the all new Jekyll showcases exactly that. Turn back the clock a couple of years to the Downhill World Cup series when Cannondale had a prototype downhill bike with 2 shocks! We hadn't seen that for quite some years. The new Jekyll resembles the old with very similar frame lines and design characteristics, but only 1 shock… however the visual impact is still equally as striking. You can look at this bike from any angle and find it interesting, it has very Cannondale-esqe features in a super refined and beautifully effective package.
Couple that with some of the best finished paint that we have ever seen on a non-boutique bike and it's a ride that was definitely catching people's attention out on the trails.
Cannondale have always been known for their attention to detail when it comes to the finish of their frames. For example, they were one of the first brands to sand down the welds on their alloy bikes so that they appear smooth. Fast forward to today and this new bike, what is the finish detail like on the Jekyll's frame?
Being such a big brand, Cannondale could easily follow suit with its direct peers in the same price bracket on the "fit and finish" of their products. But this simply isn't how Cannondale operate. The paint job, finishing of the carbon fibre, hardware throughout the suspension linkages and fit of the whole frame is genuinely second to none. With such a strong heritage and a huge following it's not hard to see why Cannondale as a brand continues to push the limits of frame design. Along with this a super high quality finish does need to be present to truly appreciate the effort from a design and engineering point of view that has gone into this bike. For the Jekyll, being their flagship model and a model name that has been around since what feels like the beginning of dual suspension MTB's, every iteration is even better than the last!
Alright hit us with the key facts and numbers of this rig?
The Jekyll has come out exclusively as a 29er, it will be sporting a 170mm travel fork and 165mm of rear travel care of the high pivot, 4-bar linkage system. Our test rig was a medium and the key numbers are: head tube angle of 64 degrees, effective seat tube angle of 77.5 degrees, reach of 450mm and a chain stay of 435mm. An interesting thing to note is that the chain stay grows as the size gets larger, thanks to the proportional response geometry. This isn't the first time that this has been done but is something that makes a whole lot of sense and really should have caught on more than it has.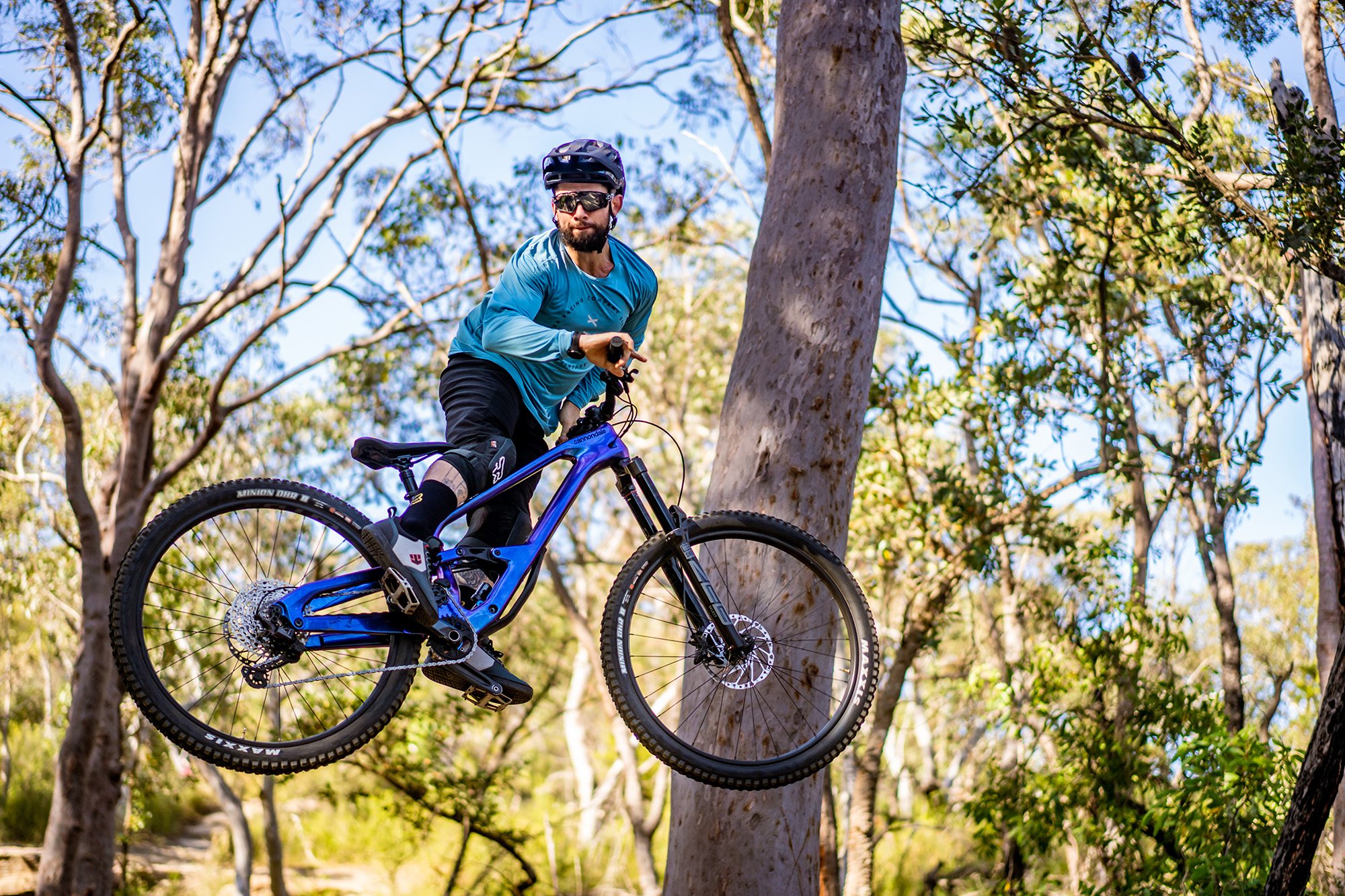 Alright so the bike arrived and you tweaked it in the workshop to your liking and then it was time to get it dirty out in the bush. What were some of the key points you jotted down in your trail notes after that first ride?
Who made my local trails so damn smooth? The super supple 4 bar linkage, coupled together with a rearward axle path and minimal chain growth thanks to the high pivot 'guidler', makes for a literal magic carpet like ride down the trail. Cannondale have done a fantastic job of making a long travel enduro slayer feel lively enough to be fun when you want it to be, but still super stable, thanks to a very low centre of gravity because the shock is mounted so low in the frame.
It's also appreciated early in the ride how light the bike is, being full carbon construction, it doesn't feel like some of the monster trucks in this category of bike.
If the placement of the rear shock were any lower on this bike it would probably have to come with a shovel as the shock would be buried under ground, tell us a bit about the suspension design that Cannondale have gone for here and how it all works out on the trail?
As unique as the design and construction is, it's not just about being eye catching, there is method behind the madness of each design feature. Labelled as the "Gravity Cavity", the rear shock sits inside of the down tube, incredibly unique and very cool. This enables what can be a fairly heavy component to be mounted as low as possible in the frame. The shock is driven by a 4-bar linkage, now this isn't quite as unique as the shock mounting, one very cool thing to note though is that the suspension kinematics differ slightly between the different frame sizes. Naturally a taller rider will have a higher centre of gravity and vice versa for a shorter rider. This will alter how the suspension behaves underneath each individual, so Cannondale have somewhat tailored the suspension kinematics to suit. This, coupled with the high main pivot and idler makes for a crazy supple ride, whilst still having a great leverage ratio for the type of riding that this longer travel beast is begging you to do!
How would you describe the personality of the new Jekyll? Are we looking at a rocket ship enduro race bike or would you label it more as a playful all-rounder, or something else altogether?
Although we are only talking of the Jekyll and no mention of Hyde, the actual bike does also wear multiple hats. With a lot of travel to play with, combined with such a light chassis and bang on geometry it's very easy to set this bike up for all day pedalling adventures and then tweak it a little to blast chairlift access DH runs until your fingers no longer want to operate. I would have liked to experience the bike with a bit of a different shock tune out of the box, I think that Cannondale may have missed the mark a little on that front. This is easily remedied however and not a reflection on the way that the linkage system itself actually operates. The Jekyll has always been a super capable bike, the new version is a true Swiss Army knife that's for sure.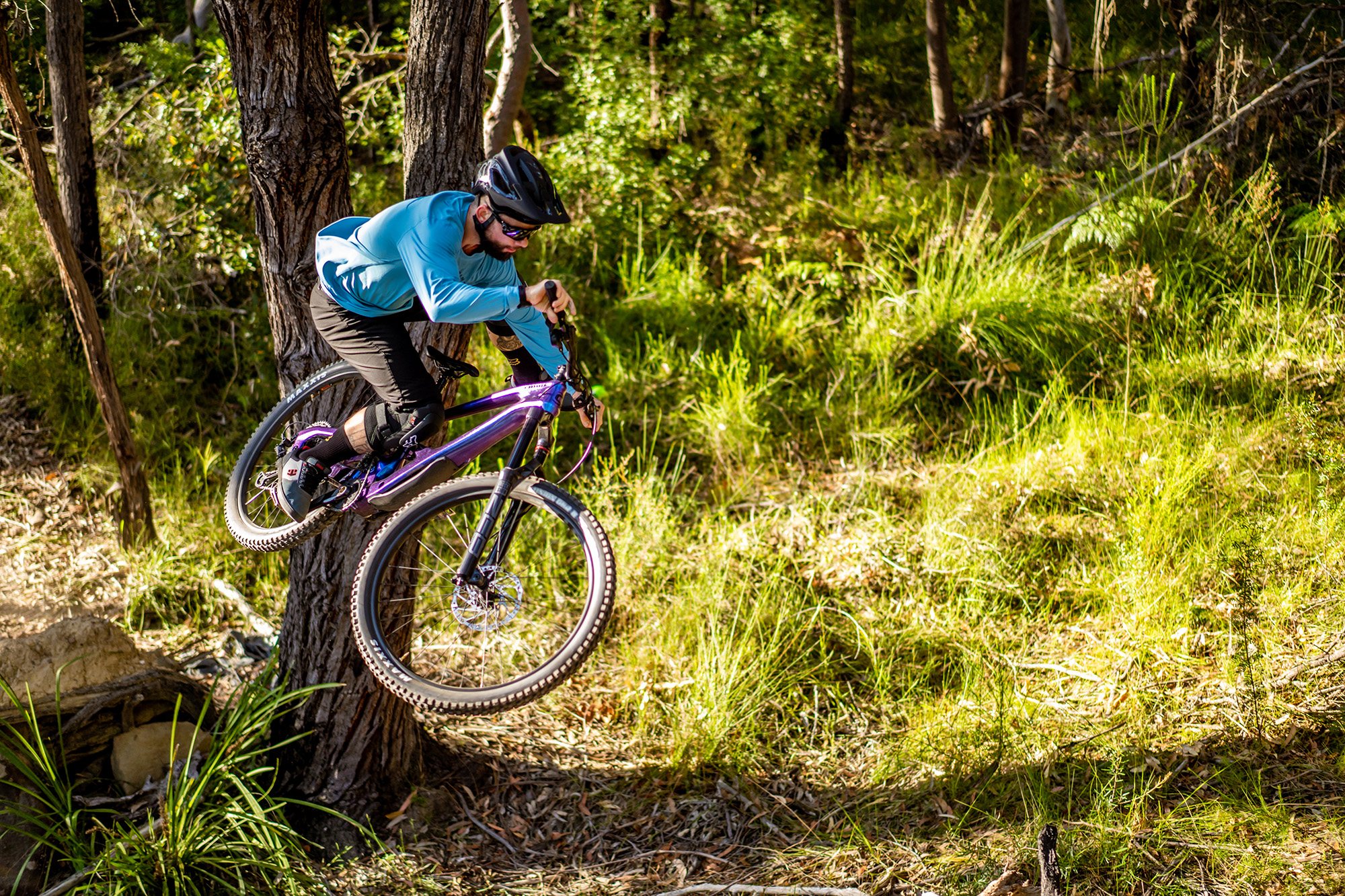 'Bang for your buck' compared to similar options from other brands how does this mid-spec Cannondale stack up with its $6899 price tag?  
Cannondale is part of a huge parent company that own multiple bike manufacturers, so they're buying power is huge. This is how Cannondale have managed to have a complete bike with such a quality frame for such a price. We genuinely didn't believe the pricing when we got wind of it, we thought this has to be US dollars not Aussie, right?! The current state of the industry does mean that all bikes are selling like proverbial hot cakes, however the value of the overall package is second to none.
I don't think there is any other bike in the price bracket that could come close to the refinement of the beautiful bruiser.
Specifications
Frame // Full carbon front and rear
Travel // 170mm front, 165mm rear
Frame sizes // S, M, L, XL
Wheel size // 29'er
Spec // RockShox Zeb Select fork, Fox Float DPX2 Performance Shock, Shimano Deore drivetrain, Shimano Deore brakes, WTB 30mm rims, Maxxis EXO+ tyres.
Price // $6899
Browse // www.cannondale.com