Aaron is an Aussie lad that calls Adelaide home. A skilled rider in his own right, he and TB have been good mates for a long time, but that isn't how he came to be a professional mechanic on the roster of one of the very biggest race teams in all of MTB. Aaron's skills on the tools and his dedication to the craft is what eventually landed him where he is today.
Troy Bosnan's mechanic from the Canyon CLLCTV Factory Downhill Team
For us, fans of the sport, World Cup DH races are super exciting and watching the action come race day is the best thing ever. But have you ever wondered what it takes 'behind the scenes' for the rider's bikes to be perfectly dialled and ready for that one final run down the hill? Well in this article we're going to show you. In Aaron's own words, this is how it all 'goes down' at the races as he walks us through his day-to-day happenings which took place at round 2 of the 2021 UCI MTB DH World Cup in Les Gets France.
Les Gets is a race I always look forward to. France as a country that really knows how to host a good event, the fans are always super stoked and the tracks are always gnarly! Les Gets as a town is insane, it's a bike mecca and has people flocking to it from all over Europe so it always makes for an awesome atmosphere.
Race weeks for me generally start off in the same way week in week out. We will show up to a race event Monday morning, usually teeing up our arrival with our truck driver and are ready to set up the race truck as soon as he rolls into town.
Once the truck arrives at a race venue it's all hands on deck to get it set-up and transformed into our pits. Realistically it takes anywhere from 3 to 6 hours depending on the weather. We have to spend quite a bit of time on ladders and wet roofs, so being careful is key, we have had some accidents before and have been lucky, so we have for sure learned from them! Our team has got setting up the truck down to a fine art given that we're doing it week in, week out, throughout the season. There's usually at least 5 of us doing the build and pack up, all 3 mechanics, our physio, our truck driver and sometimes even the riders might lend a hand if the weather is good and they haven't got training to do.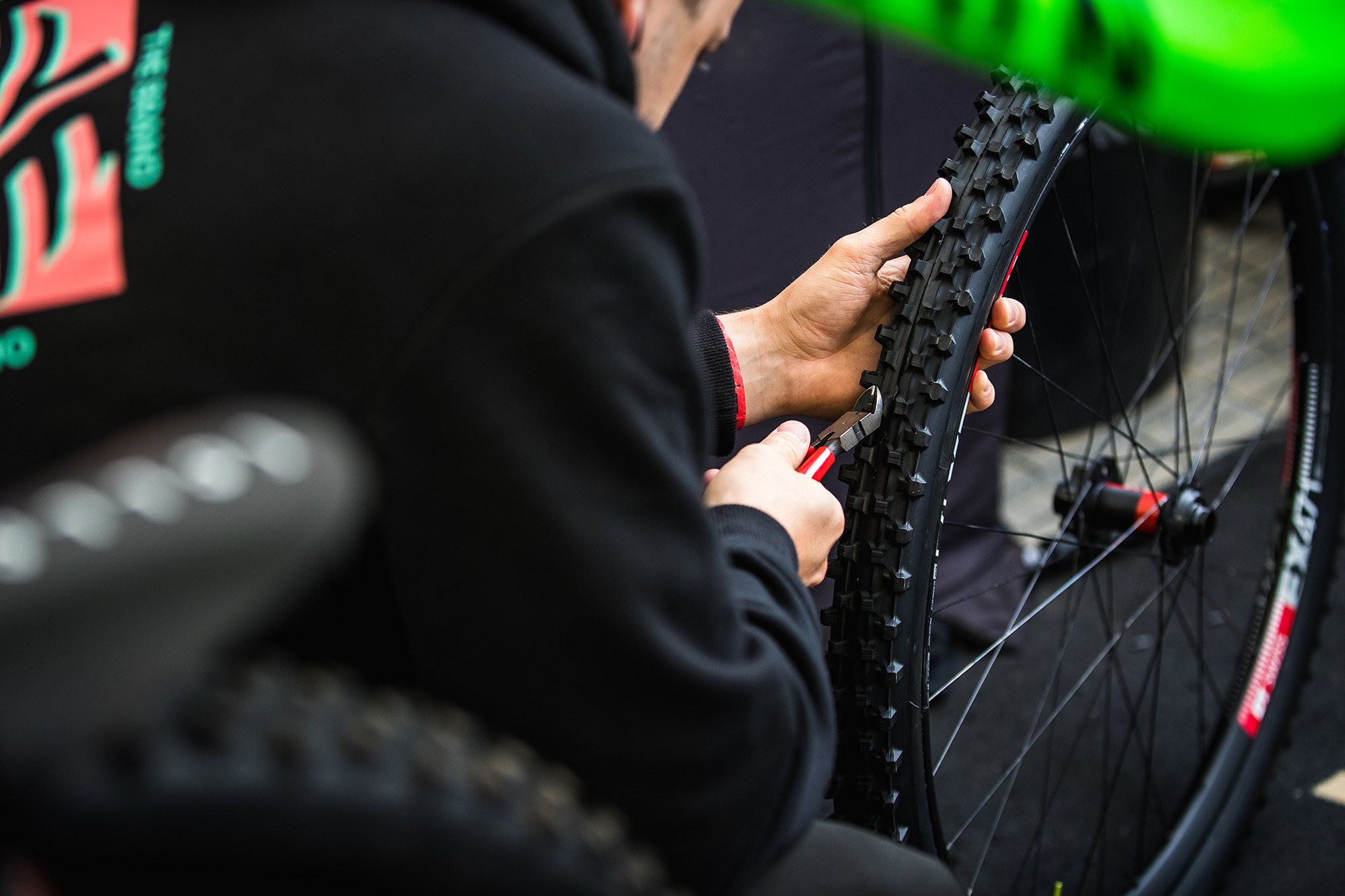 Les Gets is a super cool race venue, being a massive European mountain bike destination there is a lot of hype around the world cup. We had heard of track changes and the potential for tricky weather conditions which will make sure everyone on their toes from the beginning of the week. Unfortunately, this particular week the weather turned sour as soon as truck setup started with heavy thunderstorms, always a super fun and tricky situation to be in (not!). Dry setups usually take us roughly 3 hours, but setups in lightning storms get pretty gnarly and end up taking up to 5 hours to get everything setup.
Yeah we're lucky to have a pretty awesome race truck, and it sure is big! We have a full size kitchen up front, with a lounge area and heaps of storage cupboards, rolling into the hallway we have overhead storage, a coffee machine (my personal favourite in the truck) a few storage cupboards, full size shower, my bedroom/dungeon up top of the hallway and Lukas bed on the side of the hallway. From there we roll into the workshop area, washing machine, suspension bench, drawers full of parts, bike hanging/storage area and our third mechanic Jeffs bed is tucked up above the workshop! we have plenty of storage outside as well underneath the main floor of the truck to keep everything neat and tidy.
Once the tent is up, the three mechanics get our living situation dialled in the truck, set up beds and make sure we have everything we need for the week ahead. From there bike prep gets ticking, puzzling on tyre choice, and making sure we are ready to get cracking first thing Tuesday morning to be ahead of the game.
At the races I sleep in the truck. All of us mechanics do, so we get zero personal space for weeks at a time. Ha, it's super fun when your away from home for half the year living on top of and working with the same dudes all the time… haha! It's not actually that bad though, we have a pretty sweet setup.
The next day rolls around and the bike work is top priority. The race bike gets stripped down to a bare frame and the job of replacing or servicing anything that needs to be sorted gets underway.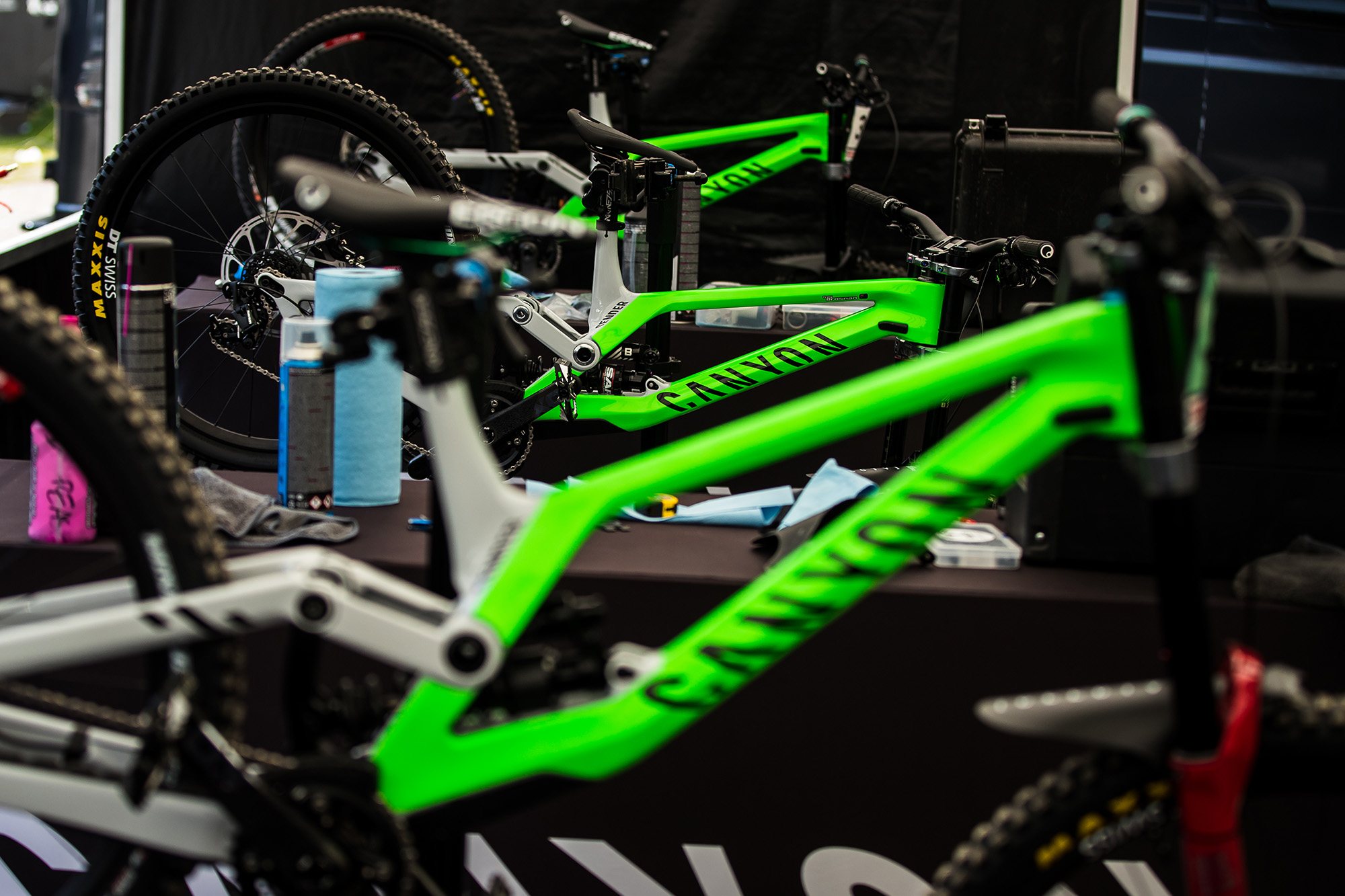 Troy's race bike most of the time stays on the truck and travels with the truck between races. We try not to thrash it too bad between races if there isn't a frame swap due to colour change etc to keep it fresh. So will ride our data acquisition bike or another setup we have, however the suspension from the race bike stays on whatever bike troy is riding, when you ride a downhill bike day in day out you can feel any difference in setup, so we use the same suspension to keep it consistent.
We are lucky enough to be one of the few rider/mechanics on SRAMs Blackbox program, so the suspension gets pulled off and I get the fun job of riding my E-scooter over to the SRAM truck and give it a once over with the service crew, at the same time having conversations about how we are going on the racing side of things, how we can improve products for end consumers and of course how we can go faster in the future. Once this is all done and dusted I'm back in the race truck prepping the rest of the bike, making sure there is no bolt left untouched and that everything is working as intended.
Troy doesn't need to run a brand new frame at every race. We are lucky enough to have a frame that is incredibly structurally sound, so we really only ever do frame swaps if there has been a mega accident and the frame has been damaged from a crash, or if we do a colour change. We generally do 2-3 colour changes a year plus a world championships frame, so roughly 4 frames a year barring any major dramas. We do of course carry spare frames and spare everything for Troy on the truck at all times so if ever anything comes up we can deal with it.
On a good day we will knock off at about 6pm on Tuesdays, everything is generally pretty sorted by now apart from tyre mounting and hub prep, so we chill for the evening knowing its going to be a long week of bike washing and prepping ahead.
Settings wise we do change quite a lot of things from track to track. We have different fork/shock tunes that change, different wheel sets with spoke counts/gauge, we obviously change clickers and pressures, bar heights and front centre length depending on what the track is like whether its tight corners or straight flat out charging! We then also go through plenty of parts as well dependant on the conditions, etc. Basically we keep the bike running 100% at all times so if anything needs to be swapped out it will be and if there's anything we can improve on to gain performance then for sure it'll be done.
Wednesday at a world cup is a super exciting one for mechanics, you are able to leave the tent and get out and explore a little bit. For me Wednesdays involve a fair bit of media work, interviews, lots of bike photos, and a couple of bike checks with different websites to get the fans stoked! Once all the media routine is done and dialled, the team gets together and goes for track walk. Lucky enough the hike down Mont Cherie is amazing, with mint views from the top of the race track, sometimes you have to stop and think where you are and what you are doing, so you don't get caught up in the mundane work side of things… believe it or not it still happens, even when you have a job like mine. The track in Les Gets looked incredibly promising, fresh loam sections and gnarly steeps get you pretty fired up from a mechanics perspective, it's always a fun challenge to get a bike setup quickly for different race venues, so having a new track is something as a mechanic we look forward to.
My favourite part of a race weekend is practice day one, this is where you can make or break a race, and it's the most "mechanic' part of my job for the week! My least favourite is pull down, everyone is so tired by this point and the emotional roller coaster you have been on for the week is savage, so you just make it happen really and get out of there as soon as you can and then it's straight onto the next one. 
Once the track walk is done the tyre chat is deep, being around for a while now you can tell how a track will form over a weekend, we sometimes get the job of modifying tyre treads to suit different terrain, this can be done on dry tyres, intermediates or full mud spikes depending on conditions. For Les Gets cut spikes was the order, the fun job of mounting several sets of tyres, getting your cutting snips out and cutting late into the night is something a mechanic bares, but it would be a lie if I said I enjoyed it. Once that job is done a few tins of Stiegel get cracked and the mechanics and manager plan out the next few days as much as we can.
The part of the bike that we 'go through' the most would be wheels for sure. When the riders are out on track figuring out lines on track sometimes they come up short or in a slightly wrong pocket, this can cause damage, nothing you can't ride, but at the level we are at you need to be consistent with how the bike feels regardless of it taking me more work to make it happen.
Thursday morning is a good one, our junior Jakob Jewett shows up still panda eyed fresh out of bed. We are set for a chill start to the day until the other 3 riders show up later in the morning. I'm pretty much head barista and breakfast sandwich maker on Thursdays, making sure the boys are fed and caffeinated is almost as important as remembering to pack spare sets of grips. Our chief junior mechanic Lukas Grauel is a champion, he runs the show for Jakob and long haired Australian wonder boy Kye A'hern, so it's a big balancing act and for sure we all help each other when help is needed, washing bikes, mounting tyres, lacing wheels it's all a team effort and we all make sure each other are dialled coming into practice. Once junior practice is finished, the elite riders get firing. Practice for us rolls around at 10.15am, so pre practice checks start around 9am, this entails going over everything you have done the previous days and doing your final settings check to make sure the clickers and pressures are on point.
My tools generally travel with me between races. I pay for and supply my own tools and like most mechanics on the circuit I like having my box laid out in a very specific way. It's probably fair to say that I am pretty damn attached to my tool box! Haha
Once practice begins, this is the time I can sit down and gather my thoughts for the next run, make sure I have our other tyre option pressure checked and ready to go, and from here out we pretty much run the motions of making sure everything is dialled throughout the day. Mechanics have lunch on the fly, prior to timed training starting at 3.30. Timed training doesn't mean a hell of a lot over the course of a weekend, but it does prove helpful when we get sector times, keeping in mind a lot of times the top riders stop on the side of the track. Troy was feeling good and took the win in timed training, so that was a massive plus for us and carrying confidence into tomorrow. Practice finishes and the riders head back to the accommodation for physio work and to chill, this is when our day gets moving on another level, we get the tunes cranking and crack on with bike work late into the evening. Lucky for us the products we use are amazing, so it really is being finicky and making sure nothing is left untouched coming into Friday morning practice prior to quali.
Friday rolled round pretty quick at this race, everyone was stoked on the new track, all the riders were hauling and we were seeing all kinds of carnage happening on the internet so always makes for a fun day in the pit. Pretty much the same deal goes down today as practice day, drink coffee, prep the bike, check the pressures and clickers and off we go. We for sure have a bit of extra pressure on quali day, you must make sure you have at least one set of new wheels, new tyres, with prepped hubs and a couple of other tricks we do to make sure things roll smoothly. Plus, another set in the same situation with a set of different tyres, in this case dry's. Set up on another wheelset in case someone changes their mind on what tyre they want to be on for quali.
To be honest we (Troy and I) don't actually spend a hell of a lot of time together during a race week. I'm usually working crazy long hours and we don't have the same accommodation (I stay with the truck whilst the riders and management hire a house or hotels). So our interaction is usually limited just to a coffee in the morning, chatting about the bike between practise runs, and occasionally we'll join them for dinner. Other than that he's got his job to do and focus on and I have mine so we just get on with it and lock into race mode.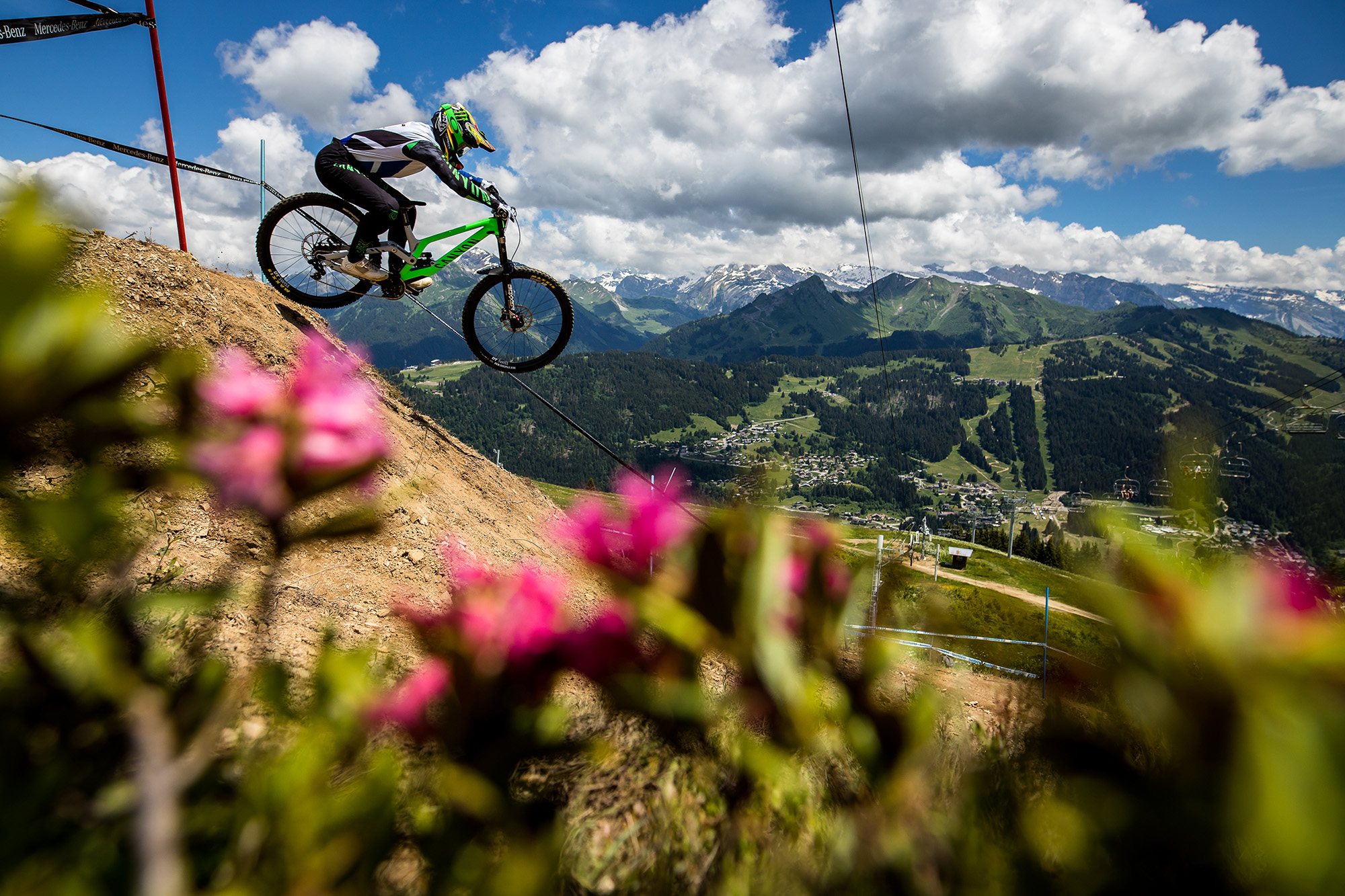 Practice to quali is generally pretty pinned, we pretty much turn around a race prepped bike in an hour, keeping in mind qualification has points attached to it at world cup races, so these are super important to maximise the 50 points available, in case it comes down to the wire at the end of the season. Part of a mechanics role over the weekend is to head to the top with the racer for any timed run, so we carry spares in a backpack, riders extras (gloves, goggles, spare gloves, spare goggles, leader's jersey if you are lucky) a turbo trainer, a spare set of wheels, trainer bike, umbrella and even a sandwich for Lukas so the man can have lunch between seeing his riders off down the hill. To say its an epic walk/ride to the gondola and getting on a gondola/chairlift with this amount of stuff is a mission, lucky for me I have a legend of a rider that helps me out, but I still need to get it back down the hill. Up the top of the track we set up a warmup spot to get ready for the timed run, I make sure watches are synced to the UCI timer, there is no delays and that the timing chip is on and secure.
As a mechanic you follow your rider into the start gate with the necessities to get the job done, gloves, goggles and water (sometimes you can even see us on the tv! Hi mum)
This is the point in the weekend you are super calm, you know you have done your job right and he is going to get down the hill and do well. Unfortunately, things did not quite go to plan on this timed run and the big man took a large tumble and had a DNF on the time sheet, not quite something you want to see as a mechanic on live timing up the top not knowing what has happened to your rider! Lucky this time he was ok, took a big digger and got a front flat so had to nurse it down the hill. At world cup races the top 20 riders are protected, so lucky for us we are still on the line for the big show, so the prep for race day begins. On this occasion the quali crash caused a fair bit of damage, both to Troy and the bike, so I got cracking on repairing everything on the bike and servicing to make everything trouble free for the race.
At a race I eat most meals in the truck. That way we can avoid any form of bad food from restaurants or bars, also, at the moment, covid has for sure thrown a spanner in the fun side of the job. Our manager Gabe is a killer chef, so he smashes out the burritos on the regular and that way we are all stoked and it doesn't take us 2 hours to get to a restaurant eat and get home. Our diet as mechanics in France isn't ideal I'll be honest, lots of cheese, bread and burgers – you know, all the delicious stuff that'll make you fat before you know it!
Saturday is a bit of a tense day, the mood is for sure different in the pit even if no one cares to admit it, its time to throw it all down, so long as everyone has done their job properly, things usually go to plan and you come out the other side stoked on the week passed. The day pretty much rolls the same as quali, but instead of having an hour turn around from practice to having to head up for timed run, it turns around in about 5 hours, it is a long 5 hours of prepping, concentrating and making sure everything is millimetre perfect on the race bike. The riders usually head back to the accommodation, chill, watch some tv, have some lunch and get their minds in gear. For mechanics it's a little different, we drink some more coffees, do about 15 more bolt checks than you need to do, and make sure you are packed ready to go to the top when things come to the wire. We head up roughly an hour before drop time, on this occasion we got to see one of our collective team members, Tahnee Seagrave take her first win aboard a Canyon, so that was a special moment for sure. We headed up with high hopes and knowing that things could tick over very well today.
We went through the same motions as quali, timing chip, pressure checks, time checks, ready to go. Les Gets world cup was strange, dropping earlier on than most of the heavy hitters due to the quali crash was for sure going to be an advantage with rain forecast for not long after our drop time, Troy was followed by eventual race winner, Thiabaut Daprela, who took advantage of the calm before the storm and put down a solid run. Troys times were on or there abouts Thibauts pace, until again he didn't pop up at a split he should have, this is about time as a mechanic you sit down in a quiet area and hope everything is OK. When his time popped up it's a massive relief, your rider has had an issue but is continuing on the journey, that's for sure a moment that on one hand is devastating knowing you will drop the #1 plate and the race, but at the same time is bittersweet because at the end of the day you know your rider is OK.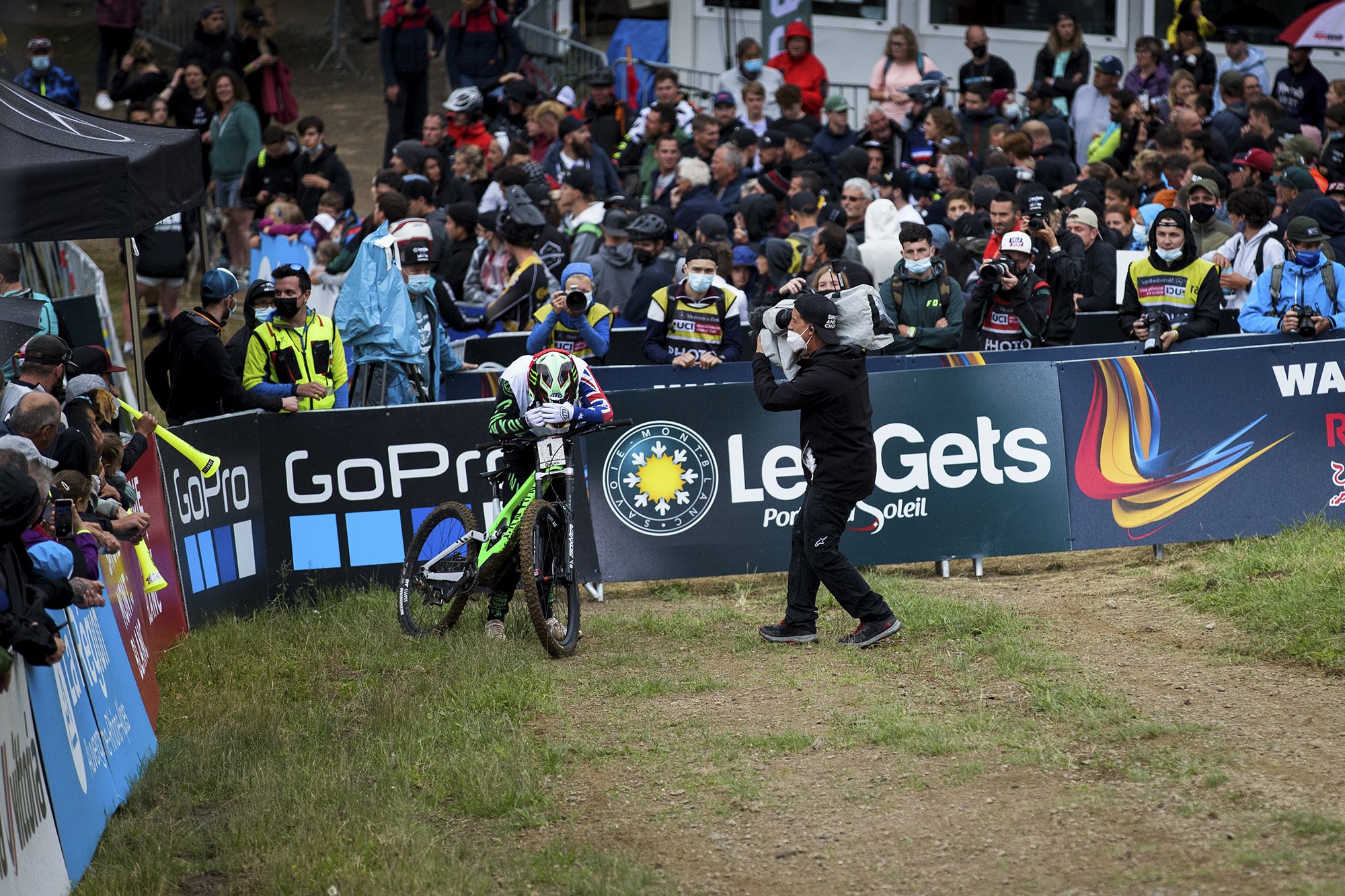 For sure my job comes with a lot of stress. There are a lot of factors at the races that make it super stressful for mechanics. But, just like riding a bike you just have to be comfortable and confident in what you are doing and it will be sweet! At the end of the day you can't really get to this position if you are a shit mechanic or rubbish at your job, so you just keep doing what you're doing and everything should work out fine!"
Straight away after any race week Troy, Gabe, Fabien Barel and myself sit down and have a debrief about what we could have done differently. When you come away from a post-race conversation feeling positive and that you couldn't have changed anything, it's a good sign you are on the right path and to keep doing what you are doing.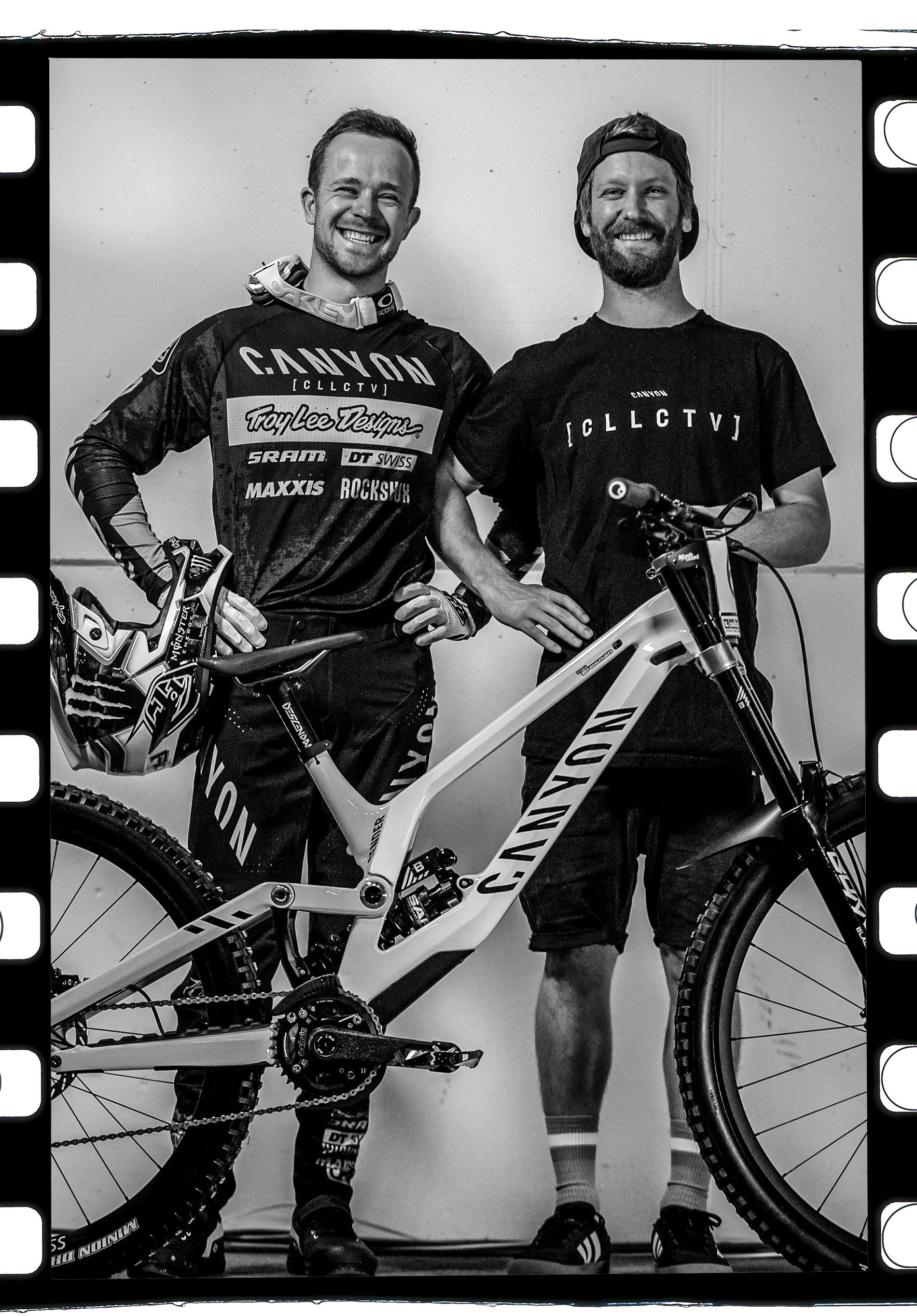 We pour our heart and soul into going fast and being consistent, we can work with that, have some beers, and look forward to the next race! [R]