In the quest to blur the gap between e-MTB's and regular mountain bikes Trek set out to create the most 'natural handling' lightest and quietest pedal assist MTB imaginable. And here it is, the Trek Fuel EXe. We've been riding this bike for the past couple of weeks and we are extremely impressed with how unbelievably well it rides!
Taking a quick look at the bike's key facts and figures before we dive into the tech stuff, all Fuel EXe models feature the same full carbon frame and motor package. The bike is a 29" exclusive (although we've been told that you can run a 27.5" wheel without needing to change anything on the frame) and it sits with 150mm of suspension travel up front and 140mm in the rear.
Whilst the bike does have a 'high and low' setting that you can switch between in order to customise the handling of the bike to suit your personal taste, as standard it comes with a 65 degree head angle, 77 degree seat tube angle, nice short 440mm rear chain stays and a comfy 485mm reach (on the size large bike that we tested). All in all Trek have done a nice job with the Fuel EXe's geometry package and the bike certainly slots right into the 'trail' genre rather than pushing up into a more 'enduro' style of aggressive handling.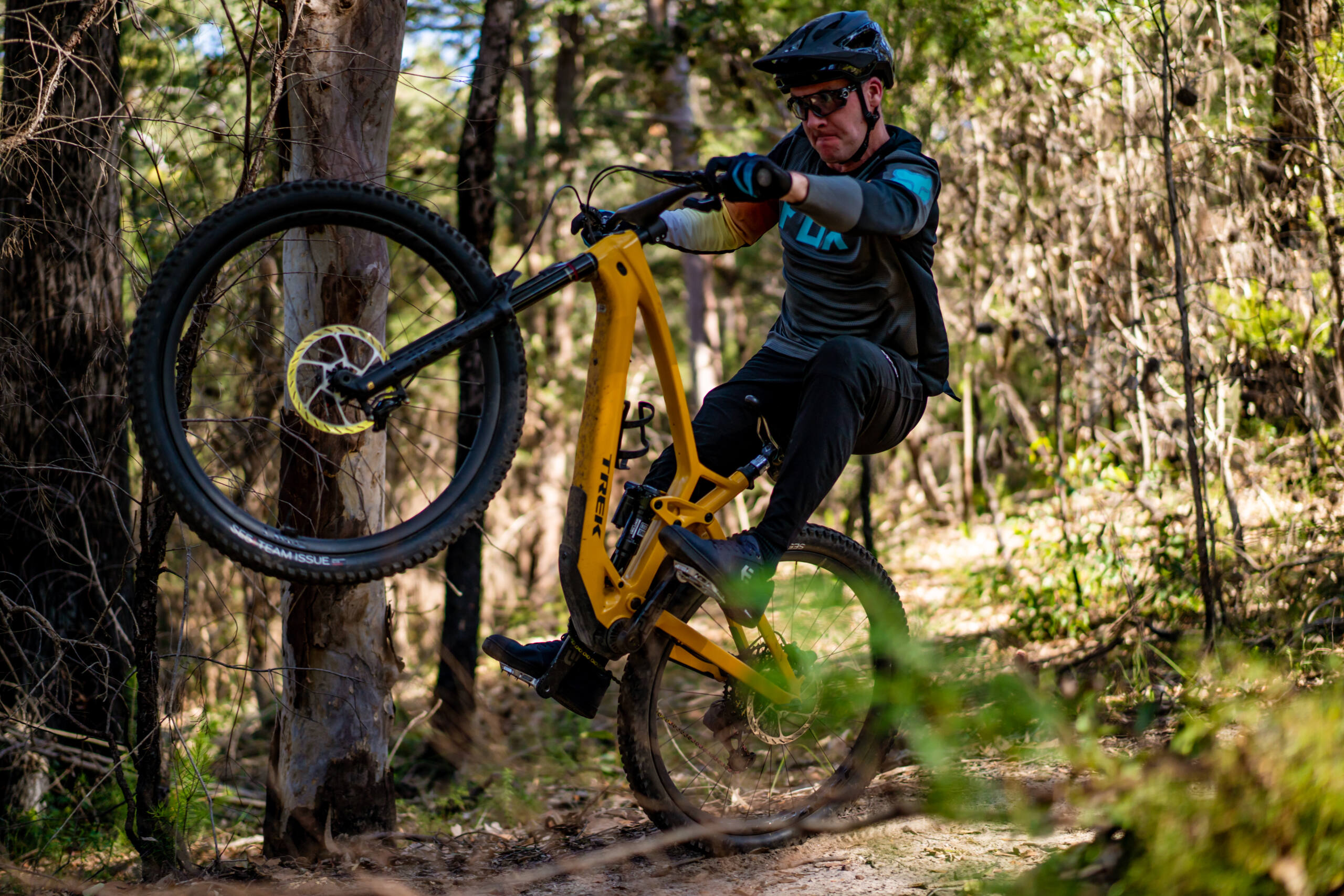 Now of course there is a lot to unwrap and talk about this bike but perhaps the most significant feature that really sets the new Trek Fuel EXe apart from the competition is its motor. Trek has partnered with German robotics manufacturer TQ to develop Fuel EXe hand-in-hand with their new HPR50 motor. The motor unit is extremely compact, it's smaller than the chainring, which makes it practically vanish into the bike. As does it's light weight at just 1.8kgs. Inside the tiny engine casing is a unique design called a harmonic ring pin transmission which puts out 50Nm of torque in its highest power setting. It's level of assistance, or power, is aimed at being the perfect balance of not being overwhelming and not being underwhelming. The TQ motor is by far the most quiet motor in all of e-Biking. And the other massive advantage that we discovered when riding this new TQ motor is that there is next to no friction on the rest of the drivetrain.
Quite literally you can pedal this thing with the motor turned off and it feels just like you're pedalling a regular MTB.
Fuel EXe is equipped with a 360-watt hour battery that provides plenty of power for two to five hours of riding. The battery is neatly concealed in the downtube and can be easily removed for travel. From flat to fully charged in 2 hours! Also, the battery can be removed in seconds simply by removing 2 bolts and without dropping the motor.  For those looking to ride further and longer, a 160-watt hour Range Extender fits neatly inside the bottle cage and can be added for an easy 40% increase in range.  
Another thing that we really like about the new Trek is a lovely display screen that has been mounted flush into the toptube. It allows you to see, at a glance, all of the key info you need to know about your ride including battery percentage, speed, etc. The display also features a single button turns the system on and off, and toggles through riding screens.
The sleek display pairs with a small and discrete handlebar remote that features two buttons to allow riders to toggle through support modes and access.
We talked before about how quiet the motor is. Mechanical noise is rated on a scale called Tonality and TQ worked super hard to make the motor as silent as possible. Now you might not think a quiet bike makes much difference but out on the trail I tell you what, having ridden plenty of e-MTB's and always hearing that constant often loud whirring noise coming from the motor, when that noise is taken away and you're left with just hearing the sound of the trail and your tyres, the experience is so much nicer. Think of it like back in the day when all mountain bikes used to suffer from chain slap. On every rough section of trail we all had to put up with the noise of the chain bashing up and down, it was horrible and actually quite distracting. Then one day SRAM and SHIMANO came up with clutch systems in their rear mechs and all of a sudden the noise of chain slaps vanished – which instantly made the experience of riding so much nicer. Well, this is the same type of thing.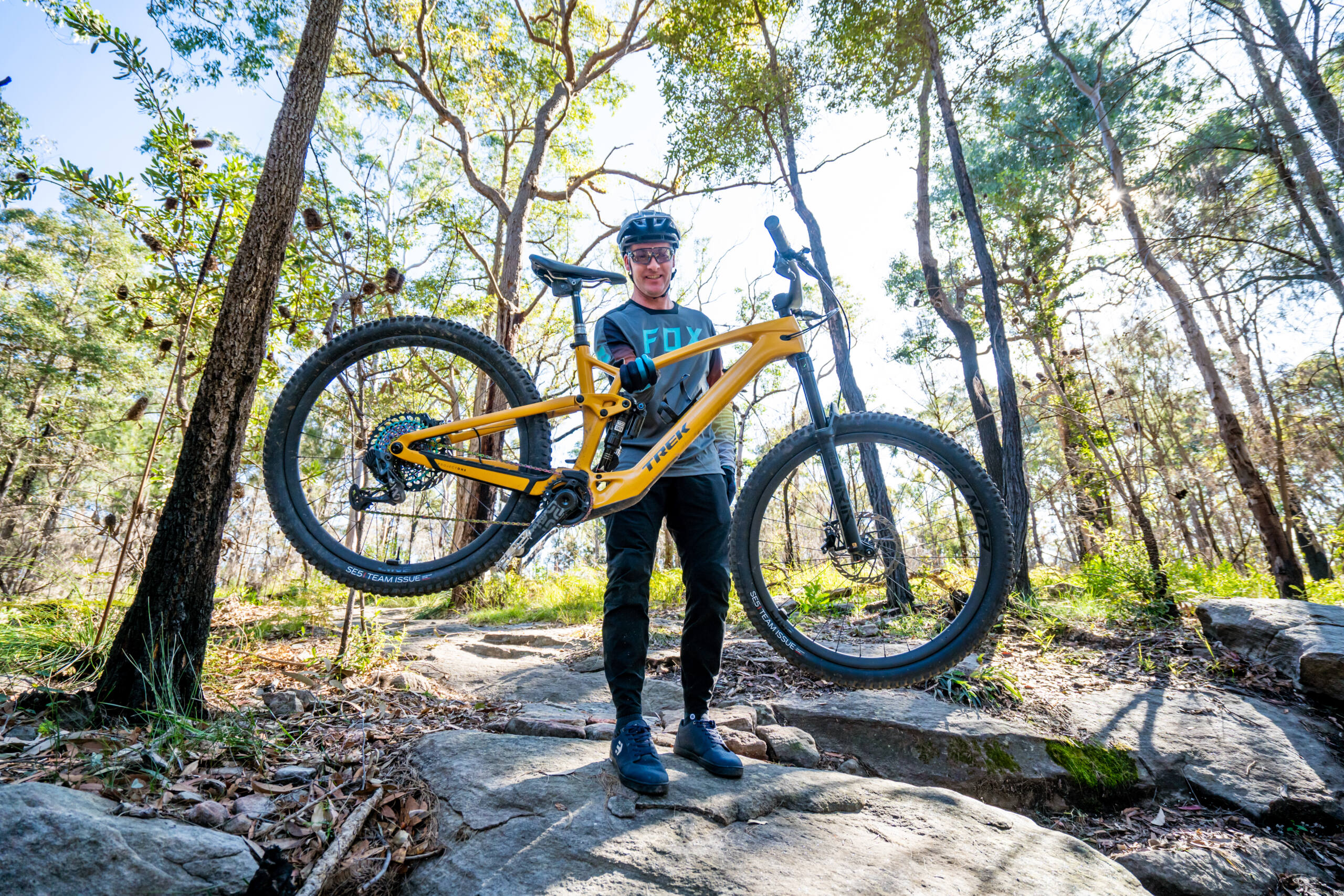 We think that the aesthetics of this bike are pretty exceptional. When you see the Fuel EXe in the flesh you'd agree that it is quite possibly the most 'non-eBike' looking e-MTB ever made. Its tiny motor vanishes right into the bottom bracket area and the Fuel EXe's narrow downtube gives away no clues that it's housing a battery. There's even a 'gap/hole' in the bottom of the downtube where the body of a standard e-MTB motor would usually be located. And the integration of the rest of the e-Components have been really cleverly designed so that they blend into the bike without clutter or distraction.
In terms of how the bike handles whilst you're razing around out on the trails, it pretty much feels like you're riding a standard 'acoustic' trail bike. Obviously, when you start pedalling, yeah, you can feel the assistance gently kick in to take the sting away. But because the bike is really light and perfectly balanced, as soon as you stop pedalling there's no lunge forward as the momentum and mass of the bike shifts. You'll also find that you don't have to brake as hard in order to slow down. And when you roll the bike in and out of corners it requires much less effort than you'd be used to coming off a 'standard' full weight e-MTB. Another thing I really like about this bike is that I could bunny hop it up and over rocks and logs, which is something I've never been able to do on a e-Bike. The bike's short 440mm chainstays certainly play a role in how easy it is to the pop the front of the bike to jump and manual and hop the bike around, but it's overall lack of mass also plays a key roll. And I tell you what, it sure is nice being able to throw the bike around on the trail just like a non-eBike. But at the same time you get the benefits of having the power and assistance for all of those up hills and long seated grinds.
I guess you could say that riding the new Trek Fuel EXe is a bit like having your cake and eating it too!    
Final word
With so many brands no jumping in on the action there can be no denying that this 'new' genre of super lightweight, mid-powered, mid-size battery equipped e-MTB's is becoming the fastest growing category within e-MTB. And having ridden a few different 'SL' style e-MTB's now we totally understand the appeal; the trail experience they offer and the overall handling of the bike is so much closer to that of a regular MTB but you so still get pretty much all of the sugar sweet advantages that e-MTB's offer which essentially means you can ride more trail each ride without being totally exhausted. Up until this point it's probably fair to say that Specialized have been the class leader of this new category with their Levo SL, a bike that we've ridden a lot and really loved. But now with the arrival of the Fuel EXe, we actually think Trek have raised the bar and put themselves at the top of the pile!
One thing is for certain, it is an exciting time to be a mountain biker and to have access to more and more incredible handling, super fun, lightweight e-Bikes.
KEY DETAILS:
Full carbon frame
29" wheels
150mm front travel, 140mm rear
Smallest and quietest e-MTB motor on the planet
50Nm of max engine torque delivering 200% max assistance
360Wh internal battery
160Wh range extender battery aftermarket
Adjustable frame geo
65 degree head angle
Short 440mm chain stays
Comfy 485mm reach (size large as tested)
Aussie models and pricing