Flowing bike trails, perfectly-sculpted berms, rock gardens, jump trails, single track, and even a mellow uphill that somehow leads you to an elevation of 750m where it's the view – a stunning 360-degree panorama taking in mountains, rivers and a lake – that takes your breath away, not the climb. It sounds like a dream.

A daydream two years in the making while you waited for the borders to re-open and holidays and adventures to start over. That place I just described, it's not from a dream, but it is a kind of paradise.
Photos // Cam Mackenzie
Welcome to Bike Glendhu. Opened in January 2020, this new kind of mountain bike heaven is to be found 10 minutes' drive from Wanaka in New Zealand's South Island, in the heart of the Southern Alps, and only an hour's drive from Queenstown's international airport. With 30 kilometres of trails graded from green through to black including a family loop, a scenic cross-country loop, challenging singletrack as well as a jump line, it's a mountain bike park for all types of riders from hardcore to newbie, weekend warrior to seasoned campaigner, young and old. And it's all even better if you're on an eBike. In fact, you'd be pretty hard pressed on a weekend to spot a muscle bike in these parts. Nor did that happen by chance. This wasn't a case of building a cool bike park, realising eBiking was getting popular and then deciding to ride that wave. Right from the start, and four years in the planning, this place was designed with eBikes in mind.
If you're already a fan of Tasmania's Blue Derby Mountain Bike Trails, you'll find a similar vibe at Bike Glendhu. "I spent quite some time exploring other trail developments and was really impressed by Blue Derby in Tasmania," explains Bike Glendhu co-founder John Wilson. "I loved the way you can build one trail that many levels of rider can enjoy."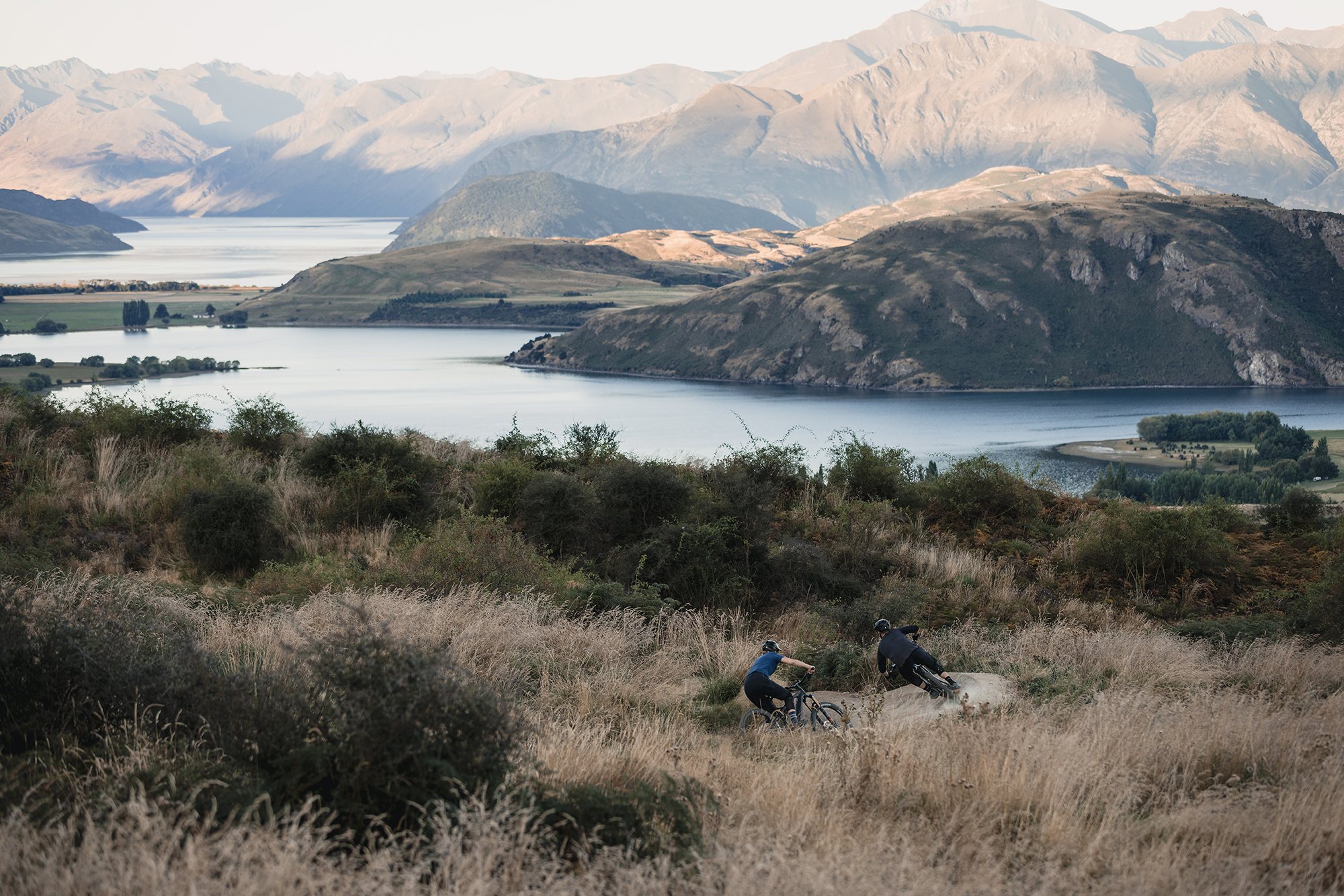 The spectacular view is one of many things that makes Bike Glendhu special. From the top of the park, you look out across idyllic Glendhu Bay and over Lake Wanaka. But first you have to get to the top and, here's the thing: there's no lift. And there I was telling you how Bike Glendhu is the type of bike park everyone can enjoy. Bear with me. "I wanted a site that had some elevation, where people could see a view," says Wilson.
That got me talking with John McRae, who's the landowner here. I knocked on John's door and asked if this was a place we could ride and get a view. It certainly had that. The existing track was too steep though, so we started looking at putting in a climbing trail, and before you know it, we were planning a bike park."
Specialist trail builder Tom Hey was brought on board to help plan and design the trails. The handyman behind some of the world's most famous trails and features, including the Crankworx slopestyle course, Tom is a big-picture thinker who demonstrates that the art of trail building is just as much about the climbs as it is about the descents. Right from the get-go the vision for Bike Glendhu was always to have a self-assisted ascent to the peak, Falcon's Nest. The park is set within 1000 hectares of outstanding natural landscape featuring rocky bluffs, streams and gullies, tussock grasses, the prickly native Matagouri bush and Kānuka trees. Building in full traditional shuttle access would have been difficult and expensive but, more importantly, no one wanted to disturb Mother Nature's already near-perfect canvas any more than truly necessary. Working alongside ecologists, the park has therefore been designed to work within the natural typography. The front face towards the lake needed to retain its rural alpine look meaning low impact trails are invisible from the valley floor.
So, riders were going to have to pedal their own way to the top but it would have to be manageable, especially if there was to be a charge for access. His team got to work and the result is a super-cruisy uphill which is more than manageable with a basic level of fitness. It takes around 45 minutes to power your way from the base to the summit and while that may sound like a long time, you'll hardly notice it as you meander your way up the gently graded trail through a series of sweeping switchbacks with no nasty tight corners or super steep pitches. You'll be enjoying the views of the Motatapu Valley and yarning to your mates and, before you know it, you'll be there.
I'll let you into a secret. Shuttles are actually available for private hire. In all honesty, though, by opting out on the climb you'll be missing out on some truly excellent riding. This is where the eBike  thrives. 
Bike Glendhu has a fleet of Bosch-powered Whyte bikes at the ready and they're exactly what you need to make the most of this amazing terrain. You'll double your laps and be smiling all day. For visitors to Wanaka that can't travel with their own eBike on the plane, this is a gamechanger. The fleet is not just your average hire bikes either. The Whytes were specifically chosen for their handling and because they can stand up to the demands of commercial use, backed by the reliability of the Bosch system. With 150mm of travel front and rear, Whyte's unique optimised trail offset geometry and a low centre of gravity Bosch Gen 4 motor, the E-150 S is a perfect match for the Bike Glendhu trails. Once you're done riding, your eBike will go back to a solar-powered charging station. Bike Glendhu is completely off the grid with no mains power. The base area is powered by 62 solar panels, which looks after not just bike charging, but heating, lighting and the café kitchen.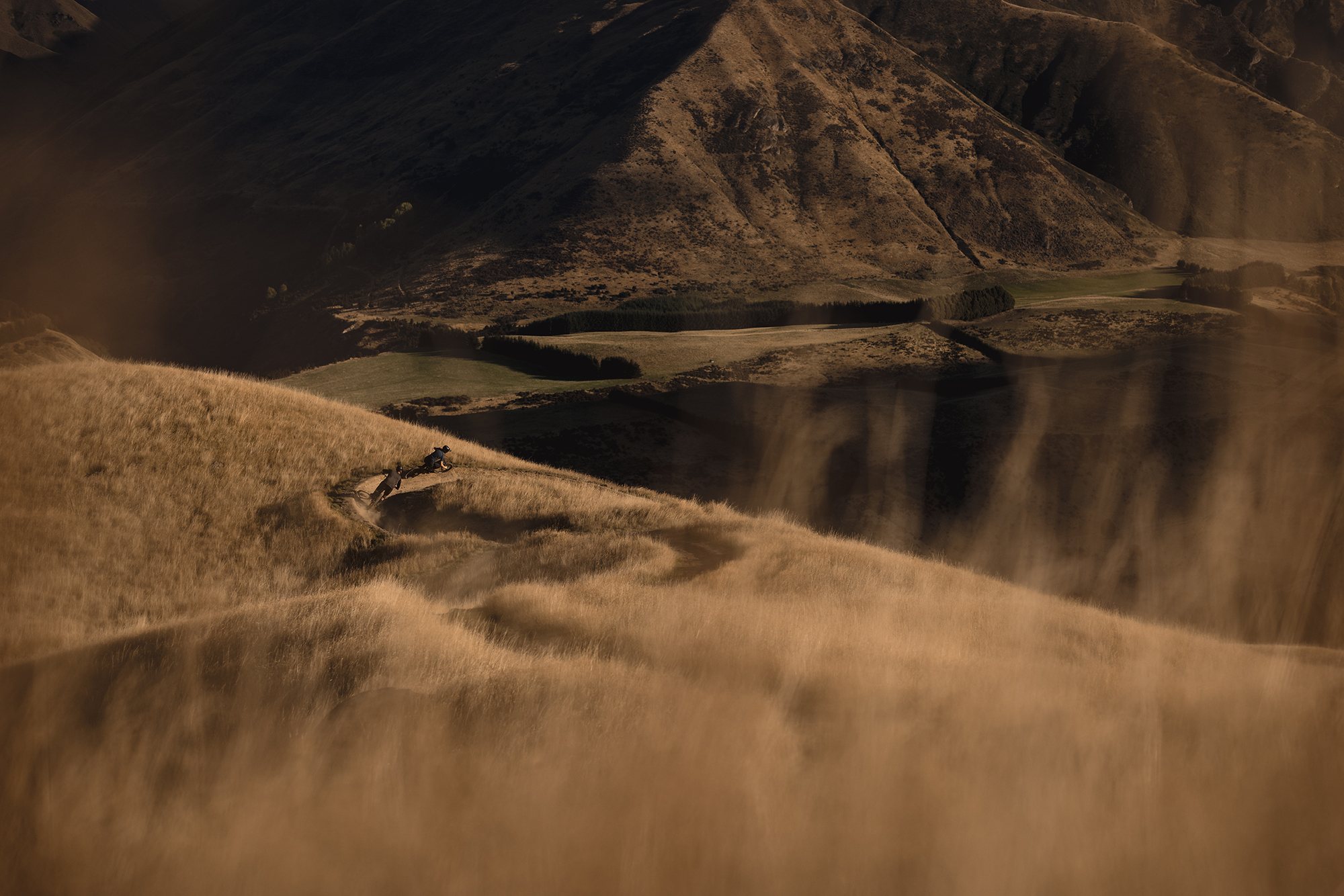 It's an impressive and efficient power and maintenance programme which is able to keep the entire eBike fleet charged and ready for use even with rapid turnovers to cover morning and afternoon rental sessions. Bike Glendhu partner, Charlie Cochrane, explains that the decision to go solar was not one purely of practicality, but one that fitted the ethos of the park. "We wanted to do it right. And if we could do it without bringing in mains or generators then we determined we would. There was going to be a set-up cost either way, but we did the calculations, and long-term, things look really good." The team maintains a strong focus on looking after the local environment by minimising waste, capturing and managing wastewater and reusing and recycling wherever they can. The solar scheme plays a big role by saving nearly three tonnes of carbon per year from being released into the environment. "We're not perfect by any means," says Cochrane, "but it feels really good when we can see everything is working and we're able to start understanding how much power we're using, when and why."
You could say eBikes have turned this place into a Shangri-La for visiting riders. The fact that Bike Glendhu offers something for everyone makes it a good spot to bring the family, and means a bunch of mates with different levels of bike experience or ability can still enjoy the experience together. While newbies enjoy cruising the Motatapu Blue Loop, more experienced riders can get stuck in on the black singletrack Methane Train or Dark Matter before meeting up back at the base area. Velo Café is the perfect spot for a well-earned après biking beer or perfectly-brewed coffee and a tasty bite. When you're done refuelling, those eBike fresh legs might even still be up to a session on the nearby pump track. Shangri-La describes "a remote beautiful imaginary place where life approaches perfection". Bike Glendhu is real alright and there's nothing more than a short flight between you and this eBike paradise. [R]