Schwalbe have become the go-to rubber for many riders across Australia thanks to their incredible performance on all kinds of Australian terrain, however they've at times been accused of wearing way too quick for the big bucks we shell out for the top end versions.
The heads of Schwalbe and their team of mad scientists lead by long time rider and head tread developer Markus Hachmeyer have finally responded to the call. Thanks to some massive investment in new rubber creation technology, they think they've solved the age old trade-off between grip, rolling resistance and wear across a much wider range than before. So, gone are the single, dual and triple rubber compounds Schwalbe MTB tires we knew, all now replaced with the new ADDIX formula.
Four new Addix compounds have arrived, each differentiated with a different coloured stripe running around the tread of the tyre tread to denote the compound profile in a full nod to moto tires. There's Speed (Red), Speedgrip (Blue), Soft (Orange), and Ultra Soft (Purple).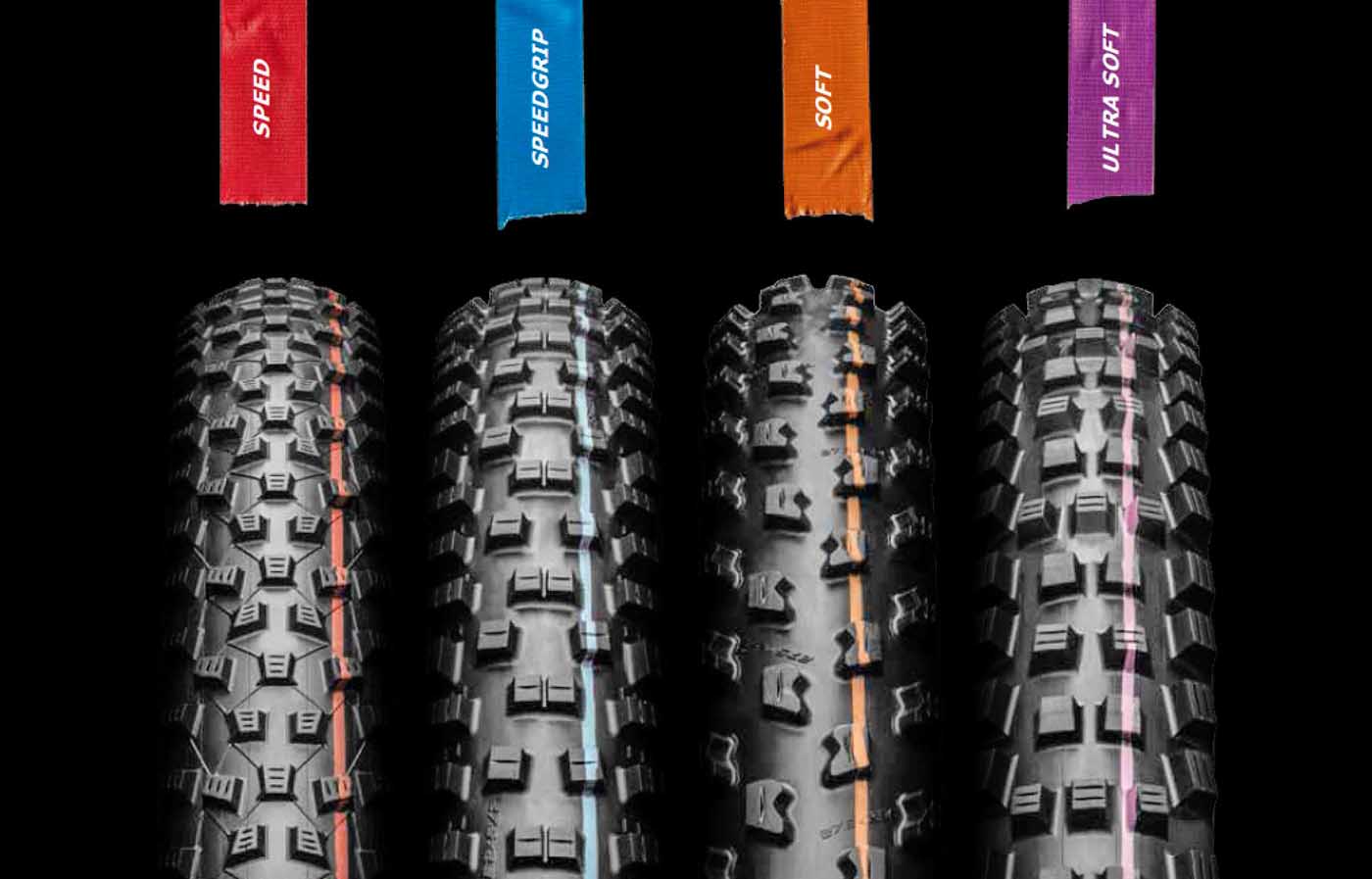 Addix Speed is for XC, and Schwalbe says it's the fastest-rolling compound the company has ever created. Tires using this compound include Rocket Ron, Racing Ralph, Thunder Burt and Furious Fred.
The Addix Speedgrip compound is all about all mountain and trail. So the much loved Magic Mary, Hans Dampf, Rock Razor, Fat Albert, Nobby Nic, Rocket Ron, Racing Ralph, Dirty Dan XC and Jumbo Jim tires all get the treatment.
Addix Soft is so enduro and also makes it's way into Schwalbe's highly acclaimed downhill tires. So here's where the biggest improvements in our eyes have taken place. Durability is reported to have been improved by 50%. Tires featuring the Soft compound include Magic Mary, Hans Dampf, Rock Razor and Fat Albert front. Being that we've shredded some of these models in record time in the past, this will have us looking closely at Schwalbe rubber once again.
Addix Ultra Soft is the super grippy rubber compound that's gravity-focused and is said to be ideal as a front tire for enduro and as a front and rear for downhill. No word on durability here, but lets just say these are high end race tires!
We'll be getting our wheels shod with some of this new rubber real soon, and will let you know our thoughts on the new generation of Schwalbe that may not only hook up like they're renowned for, but finally last on our harsh Australian trails….