Just like swallowing a couple of Panadols after a night on the beers, this little blue cylinder has saved us from some serious headaches! You see, here at the mag we get sent in heaps of different wheels and tyres to review and I can't begin to count the number of times we've nearly given up the will to live simply from trying to inflate tubeless tyres! Because we don't own a massive compressor the amount of times we've had to drive the local servo' in the middle of the night to use the bloody car tyre pump machine, often getting covered in splatters of white sealant in the process as we fumble to get the bloody thing to inflate. It used to be a nightmare…
Then at a race last season I noticed Jared Graves' mechanic, Shaun, using one of these bright blue Airshot cylinders to bead and inflate Jared's tyres. I asked Shaun what it was and how it worked, and he instantly began singing its praise. He reckons that his Airshot is one of the most practical tools in his kit and that he would never travel without it. With that, I was sold. All I had to do was track one down… Our buddies up at Pushys.com.au have them in stock and sent us one to test out. Since the day our Airshot arrived, we haven't had a single problem inflating a tubless tyre, first time, every time.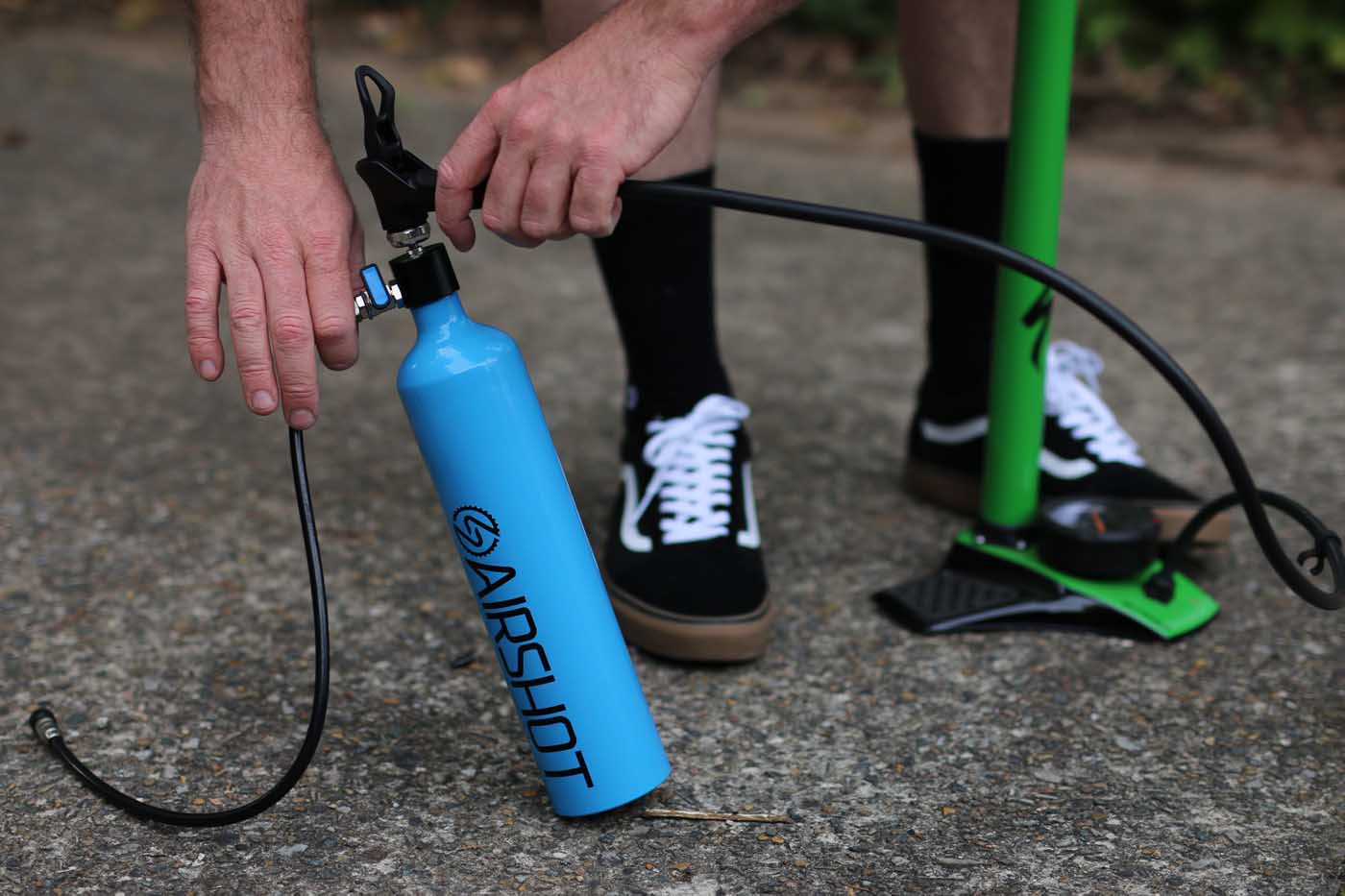 The system is simple, just connect a regular track pump to the top of the Airshot's blue cylinder, inflate to 140psi (160psi is the max pressure that the unit can handle, so we've been going just a touch under that and it seems to be the spot-on volume of air to fill 27.5" and 29er tyres), then disconnect the track pump, attach the Airshot's rubber hose to the valve of your tyre, relapse the black valve located up near the top of the cylinder, and a blast of air rushes into the tyre, sealing it in an instant. That 'pop' of a tyre as it beads on a rim would have to be the greatest sound in the world for any rider or racer in a hurry to fit tubeless tyres to any rim, right? ! Most of the time we find that the Airshot inflates a tyre with enough air that we don't need top it up afterwards with a track pump, but I suppose if you're using plus size tyres (haven't actually tried inflating one of those just yet) or a 29'er tyre with a really big bag, then you might need to add a few more jabs of air.
Everything about the Airshot's construction is quality. The fittings, the cylinder itself, you can tell it's well made, high quality stuff that will live for ages. I think at less than an $120 the Airshot is really good value. Especially when you consider that it'll be sure to save you many a night's swearing colourful words at your bike whilst getting covered in tyre sealant!
RRP // $119.95
Browse // www.pushys.com.au