The grin. The grin knows. The grin can appear anytime, when you press or twist too hard on the throttle, at the oh-so-serious work meeting, when you get a call from the mad mate from your murky past who tells you that they are in town, or when the late-night shots arrive. The grin knows. The grin is never wrong. The grin doesn't know what is correct or what is not, he or she just hides away, waiting for when emotion dictates its appearance. The grin arrives quickly and on cue when you sit astride the new 2018 Giant Reign Advanced 1.
Sure, in this case the grin may not be present when you hit the wrong side of a 50km ride, or base of the next long climb, but the grin doesn't care for such realities. The grin feeds on moments, moments of shredding corners, crossing up the front in wild and wide eyed moments, making the gap, looking back and gasping. This is what the new Reign is about.
2018 sees a newly re-jigged and re-engineered Reign Advanced from Giant. Featuring Giants own, "Advanced Grade Composite" (carbon fibre to you and me) mainframe mated to a heat treated ALUXX SL aluminium rear swingarm. Giant have, wisely in my opinion, stayed with 160mm rear travel, rather than go into even bigger numbers which would reduce the bikes overall scope of usage and less of an EWS contender.
The previous Reign, Giants first long travel Enduro bike with the 27.5" wheel format, came out with a ton of burly numbers which set a new benchmark for the brand and a standard of sorts for others to follow. However, all was not good with the design, despite its excellent big hit and bump absorbing abilities and crazy for its time geometry, the old Reign was a bit of a pig to handle, it sat low in its travel and required speed and gravity to get the best out of it.
Giant have invested heavily in racer and user feedback for the 2018 model as well as continuing and advancing its manufacturing techniques and evolutions from its shorter travel brothers, the Trance and the Anthem. The result is a big hitting bike which sits higher in its travel stroke with less squat and much improved sprinting and pedalling inputs. Admittedly, it's no XC race bike, but its climbing and accelerating capabilities will surprise you as they did me.
The current iteration of Giants Maestro system has been developed to accommodate the long travel Reign and further advance what is a proven system. One of the most noticeable changes to the system, both visually and in performance, is the use of the 'metric' sizing, trunnion mount rear shock.
The trunnion mount allows for a shorter eye to eye length, while also having the ability to increase the shock stroke of the unit. A longer stroke means the shock is not straining to work as quickly, requires less air pressure, runs cooler and is under less leverage pressure than a shorter stroke unit. Giant have increased the shock stroke from 57mm to 62.5mm while keeping the rear travel the same and in doing so have made the Maestro system, tighter and firmer, oh, and don't forget the one piece carbon rocker link firming up the whole quadrangle of the system.  The result is a rear suspension that is smooth and active, while remaining efficient and supple, all combined to not be too soft or overly influenced by pedalling. Nice!
The rear wheel movement is achieved through four strategically positioned pivot points attached to upper and lower links, which in turn connect to the complete rear triangle. The pivot placement goes to achieve a virtual single point of swingarm movement which gives a close to vertical wheel path through its 160mm of travel. The linkage positions are calculated to isolate squat and pedal kickback caused by rider weight, pedalling and braking.
This is all great in theory, but what does the grin care for theory? Very little. Stepping aside from engineering terms, science, marketing and CAD drawings, what's the bloody thing like? Well fortunately, it's all good!
The Reign Advanced 1 is dressed in a wild fluorescent green frame with all black parts kit, including black stanchions and piston of the Fox suspension units. It's striking to say the least and certainly doesn't promote any introverted character traits. Sit on the bike and the grin is inevitable, you know what you want to do, and this bike will let you do it, very naughty!
Build kit choice is way into the high end with Fox 36 Elite forks gracing the front with a Float DPX2 air can on the back. The 36 has high and low speed compression adjuster dials at the top of the right leg, with a rebound adjuster at the bottom. Each compression circuit can be fine-tuned by over 20 clicks which can be a good or a bad thing. If you know what you like and know what to do then perfect fork tuning is at your fingertips, if you don't, well, set everything in the middle and make notes of your adjustments on your shed wall until you get it right.
A downside to the 36 adjusters is that even though they are easily usable, there is a lot of adjustment to go through to go from quick to firm, making quick trail adjustments to suit the immediate terrain near impossible, you have to live with the 'set and forget' aspect of it which isn't necessarily a bad thing.
The Float DPX2 is a different story, once you've set your air pressure and sag you're away, with an easy to access dial on the right to flick through three settings from firm to soft in the compression cycle. Rebound is also on an easy to access dial on the left. I found myself using the rear shock compression adjuster frequently, partially because I tend to ride full out-and-back bike routes and circuits rather than doing shuttle sessions.
Moving on to the drivetrain. Again another big ticket set up from the team at SRAM. Descendent cranks fitted with an "Eagle" specific 32 tooth ring, with a lower MRP bash guard, drive the 12 speed SRAM Eagle GX cassette on DT Swiss E1700 Spline II wheels with 30mm inner width rims. Does it get any better? Possibly, again, for me I'd rather see 170mm cranks rather than the fitted 175mm ones which can be prone to rock strikes in overly enthusiastic pedalling moments.
The Eagle shifting was as smooth and accurate as anything I've previously ridden and, in my opinion, is a much better ground up design, with smooth size increments across its 12 sprockets unlike Shimano's rather clunky 11 speed cassettes.
As a downside, I'd personally prefer to have a 34 tooth up front to go with the massively low granny gear that the 50 tooth Eagle cassette gives you. I generally run a 32 or 34 on my 11 speed set up with a 42 tooth granny, so ratio wise I think having an extra few cogs on the front would be a bonus and reduce spinning out on long fast fire roads.  Having said that, with the rear shock set to mid or firm, pedalling the 32 to 50 tooth gear felt like it was capable of climbing up a ladder, all be it not very quickly.
SRAM also provide the brakes, using Guide RS 4 pot brakes clamping down on 200mm front and 180mm rear rotors. Serious stopping power with heaps of modulation and feel which took a few rides to get used to after riding the 'bang bang' rapidity of Shimano brakes. Perfect brake feel is a personal choice and the Guide RS certainly put you in the high end market which is hard to criticise.
Giant use their own brand Contact S, cable actuated dropper post, which I was at first dubious of after using hydro systems for so long. But worry not, this generation of dropper really takes some beating, providing smooth lowering and controlled return. The actuator switch, which I found to be able to be fitted either side of the brake lever clamps, sits neatly under the left hand brake and gives a positive and easy to find feel in all conditions.
Giant also use their own brand Contact SL 800mm bar which sadly, I just didn't get on with. The bars seemed to lack an adequate amount of rearward sweep for their width and just never felt that comfortable. Admittedly I've concluded that my ideal bar width is 780mm to the outside of the plugs, making the '800 plus a bit' a little on the wide side for me which may explain some of my perceived discomfort.
DT wheels work flawlessly with quick pick up and engagement at the freewheel regardless of load. The 30mm internal width rims gave an excellent tyre profile to the Maxxis High Roller II 2.4" rear and the, shall we say 'controversial' Maxxis Shorty 2.5 front tyre, both running tubeless beads and 60 TPI casings. Again, tyres are a personal choice and for me it's Maxxis all the way but the Shorty? Probably a reasonable choice in wetter climates but kind of sketchy on our loose over hardpack, dry terrain.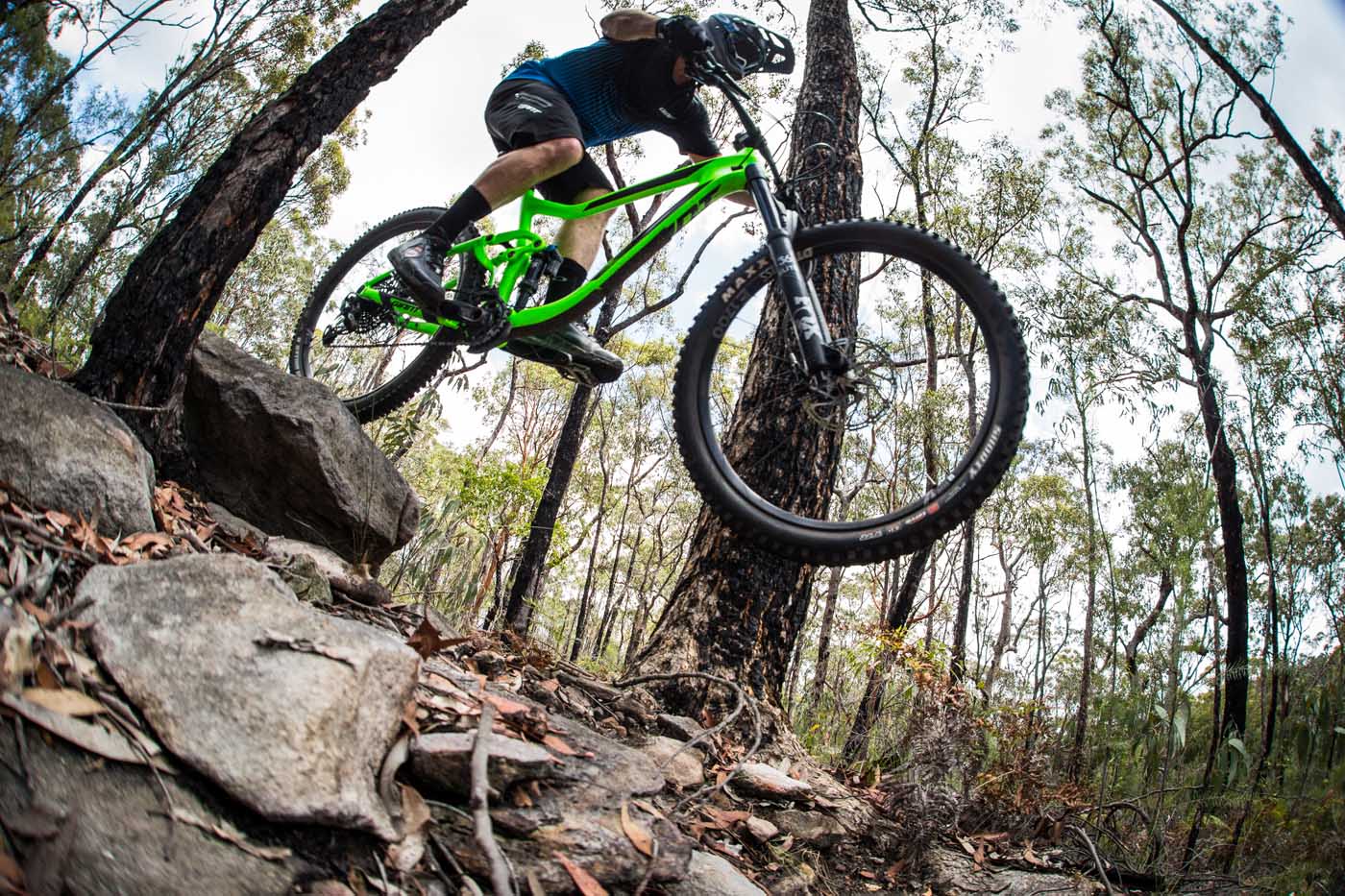 "This is a bike built for pushing your skill levels, it doesn't respond particularly well to just riding along, or just consuming miles for the sake of it. It wants to be leaned, it wants to be in the air, and it craves steep lines and loose flat corners."
So, was the grin satisfied and warranted? Oh yes. For a bike with so much big hitting capabilities, it's obvious that a great deal of race and performance focus has gone into the bike. The influence from the Giant Factory Off Road Team is ever present, which has made it much more lively and responsive than its previous incarnation and very much a quiver killer for most purchasers.
Our test bike was a large, which was certainly on the big side for me, with a top tube length and reach of 655 and 473 mm (an increase of approximately 15mm per size over the previous model). A 65 degree head angle, combined with a relatively neutral and upright 73 degree seat tube made for a long bike with a 1232mm wheelbase with a nice tight chain stay of 435mm. This gives an approximate front wheelbase of almost 800mm. Did I use the word 'stable' yet?
This is a bike built for pushing your skill levels, it doesn't respond particularly well to just riding along, or just consuming miles for the sake of it. It wants to be leaned, it wants to be in the air, and it craves steep lines and loose flat corners. The long front and short rear allow for last minute corrections to get back on line, back on the gas and back up to speed to happen seamlessly. In more DH focused situations, the Reign really shines and is more than capable of hitting the mark on most of the dedicated DH tracks we have on offer here on the East Coast.
The 2018 Giant Advanced 1 is definitely a bike to ride hard! Either alone out on your favourite trail or on the race track with mates. It's a bike that rewards enthusiasm and brings results when pushed, it'll provide post ride stories, frightening memories and will appease the gods of the grin, whom will be even more gracious and grateful of your efforts if your ride ends at the bottle shop! Cheers.
Reviewer // Adam Fernyhough
Photos // TBS
Frame // Advanced-grade carbon mainframe, ALUXX SL alloy rear.
Trave // 160mm front, 160mm Maestro rear
Sizes // S – XL
Spec // Fox 36 Performance Elite fork, Fox Float DPX2 shock, SRAM GX Eagle 12x drivetrain, SRAM Guide RS brakes, Giant Contact S Switch dropper post, DT Swiss wheels, Giant SL carbon bars and Truvativ Descendant stem.
Price // $6499.00
Browse // www.giant-bicycles.com