Ibis has a rich history of making iconic bikes over the last 36 years. From cutting edge cro-mo tubing to elaborate titanium frames and components, their current day carbon line up is a testament to founder Scott Nicol's ingenuity and passion for making epic bikes to go fast in epic places.
You, like me, may have seen the latest version of Ibis' Mojo tackling EWS rounds this season under the IBIS team riders. At present, they're the leading team, so we were keen to get on board the bike that's evolved their much loved trail bike, the Mojo HD3 into the enduro ready Mojo HD4 you see right here. The HD variant of the Mojo has some heritage of its own. Aside from the original cro-mo hard tails back in the long history of Ibis, the carbon dual suspension HD as we know it now, was conceived and developed with Brian Lopes. The original HD was a big step into a more gravity fuelled arena than Ibis and its Mojo had gone before. We got our hands on Brain Lopes' personal ride back in issue 18 and loved its big hit nature and epic traction. Four models later, things have definitely evolved and stepped up.
The HD4 is more of a gravity inclined bike than the much loved HD3. Just a quick glance of its low slung lines is a dead giveaway. Ibis have added length and raked out the head angle, making a large-sized HD4 with a reach 24mm longer than a large HD3 (455mm vs. 431mm) and 1.7 degrees slacker (64.6 vs. 66.6 degrees). The wheelbase grew as a result with a large 51mm, now sitting at 1,219mm vs. 1,168mm on the old, large-sized HD3. While those numbers may seem relatively small, they're massive changes when it comes to what a bike is capable of, especially when the speed picks up. Ibis have also ensured enough seat post insert to cater for the new generation of 170mm droppers.
That very identifiable front triangle has benefitted from big changes in layup, all in the name of a stiffer front end that goes where you point it. In addition, the HD4 gets new (bigger) upper and lower links and revised DW-Link V5 kinematics, which going on looks alone are much stiffer than the previous versions. Ibis call 30-40% stiffer. Interesting to note, the links are backwards compatible with the HD3 which will make current owners stoked. Fox's brilliant Factory X2 air can takes up the back end duty alongside their proven Factory 36 160 fork offering 153mm up back and 160mm up front (Note: this was an early build without colour coded stickers!). For those after more travel, Ibis assured us the frame was designed for a 170mm front end in mind. The increase in rear travel over its predecessor is accompanied by a slackening of the headtube, making the HD4 one of the slacker enduro sleds available. Thread-in junkies will be stoked to see a threaded bottom bracket, ISCG05 compatibility (with an adapter), and the HD4 is packing Boost spacing in the rear. There's also a polycarbonate down tube protector and a chainstay protector. Also of note is that this is an air only design, and yes, you'll fit a water bottle in the frame for those of you who like to add a kilo of stuff on your lightweight ride!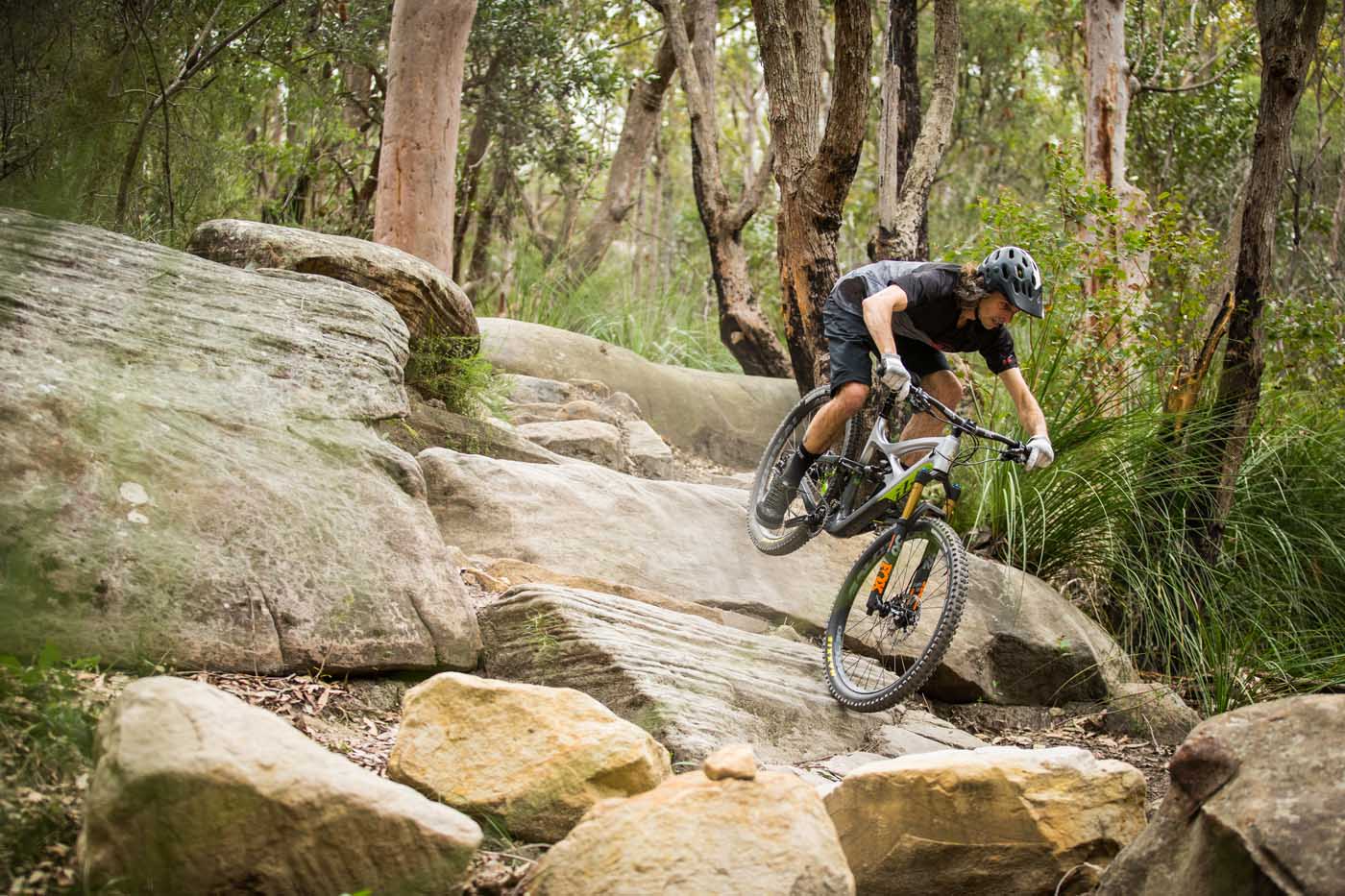 "Ibis have nailed the bigger travel while still keeping a somewhat lively feel, especially when you run the damping wide open."
From the first climb, the Mojo felt so easy to ride fast, and, well, just fast. Balanced and sat in its travel at 25% sag (where we found it to really shine), it felt poised and ready to hit big and small features alike, both under power and when the brakes were let off. The new DW feel is on the money, bringing together efficiency and a progressive nature that belies its air suspension. Ibis have nailed the bigger travel while still keeping a somewhat lively feel, especially when you run the damping wide open. Obviously drawing heavily from the EWS race team's feedback, the new geometry offers a mix of stability on steep technical  descents and corners. It's got some serious ability to keep traction, especially on fast, off camber lines and after sending it maybe a touch deep into a corner grabbing a very little bit of the XT brakes in the process… Simply keep it aimed where you want and the HD4 holds true, those wide Race Face Sixc Carbon 785mm bars can be laid over so far without a hint of the washout fear. Stock 2.5 Maxxis Minion DHF up front and a 2.3 Maxxis Aggressor on the back running on 30mm wide rims added to this confidence when traction was minimal. Being that Ibis has been on the forefront of the wide rim phenomenon since the get-go, the HD4 is compatible with 2.3 to 2.8 tyres, Ibis stating that the BB height remains about the same for all sizes once tyre sag is taken into account. Push the Ibis into big hit terrain and you'll be rewarded with confidence even off drops DH crew are sizing up, with 40mm more travel thanks to an almost bottomless feel on the back end. It's incredible how far single crown, air sprung trail bikes have come in the last years and probably why Sam Hill raced one in Cairns.
Of course what goes down, eventually needs to go up and for those of us without chair lifts, that means pedalling. That 153/160mm of gravity oriented travel is usually considered a hindrance once pointed back up, though if you've got the legs, the HD4 leaps at steep climbs, as proven by their EWS team. When the speeds drop and the corners tighten up. Yes, the HD4 is a much bigger bike than the earlier HD's and a bunch of similar enduro rides out there at present. That extra reach up front and laid back head tube can be a handful through tight uphill switchbacks, but nothing it can't handle with a little finesse, thinking ahead and a bunch of muscle. Simply put, the stiffer front end can be picked up and put where you need. Its ability to keep traction in snotty, loose uphills is phenomenal, partly thanks to the epic range on the XT M8000 11-46 rear mech and definitely thanks to the match made in bike heaven of DW link and X2 shock. Funnily enough even without the pedal assist setting. It has to be said, the HD4 isn't the most playful at slow speeds (most notable when running 30% sag), a trait that may lose a few trail riders not keen on pushing hard all day to keep the speed up. Though once it's rolling, Ibis have done an amazing job of making a race bred enduro machine feel fun on smaller trail features and simply eat up bigger trails and beg for more when at speed.
While it's a pure bred, race ready sled, the HD4 quickly became a favourite daily rider on my local trails. It has the ability to out pedal many bikes with less travel and a bunch less weight. That said, the HD4 ain't no heavy weight by enduro standards (our test rig came in just over 13 kilos depending on pedals). With most of the tests done locally and I have to admit, on short downhill sections (albeit as technical and awkward as you can get), my only regret is not being able to run a few days of lift assisted riding in the high country, as the HD4 is begging to be pushed hard at speed. In those surroundings, we'd love to ride it with a 170mm fork, jacking that BB up a touch and letting it roll. On bottom bracket height, while it rails turns like a demon and loves to jump, you do need to be mindful of your cadence in tech terrain as it's low. Real low. The 175mm cranks tagging a few too many rocks especially when tired. Cons? I guess my only real niggle on the bike would be the bars. They have flex, not bad flex, but flex aimed at keeping your hands/arms from fatiguing. So while this is becoming useful for those smashing long EWS stages, I did find it slightly unnerving hitting big features where a stiffer bar would give a bit more feel and dare I say it, faith in them. Personal preference here for sure, and one any dealer would happily sort for you on the spot.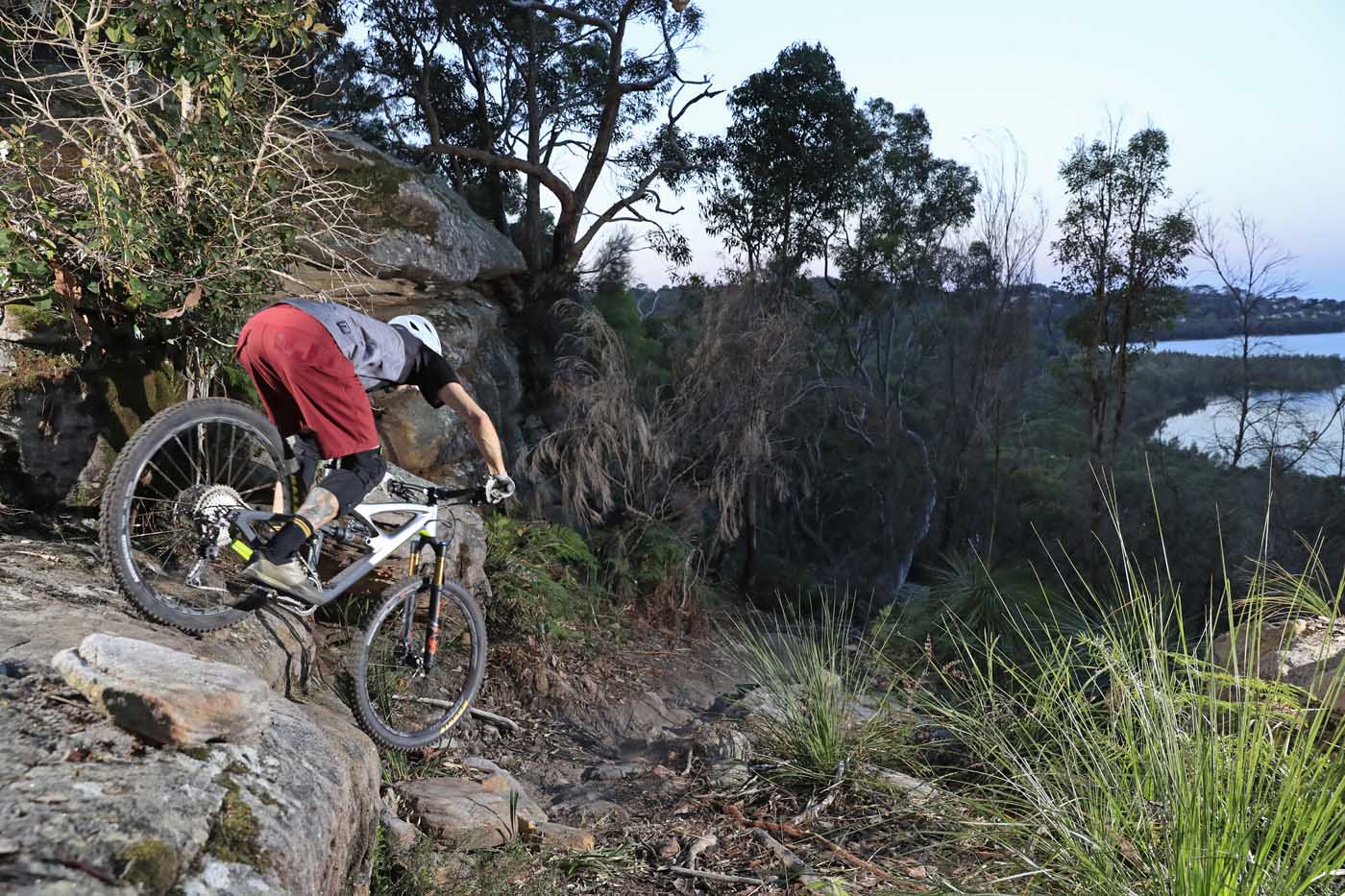 All up, the HD4 is one hell of a bike that's probably going to be more bike than many need day to day, but may just tick the boxes for those still trying to live the one bike dream. That being one bike to shred local trails, pedal out the weekly woes on an epic weekend loop, drop in from shuttles and hit the odd gravity/enduro event or day in the mountains. Moving inline with what riders are clamouring for lately geometry-wise, Dave Weagles latest and most efficient DW-Link, plus some well thought out additions including the boosted rear triangle fitting tyres up to 2.8, Ibis look to be on a winning formula with the HD4. It comes in two frame colours: Fireball Red and Anejo Silver and Lime and is available across Australia through Rowney Sports or of course Summit Cycles.
Words // Matt Holmes  Photos // Tim Bardsley-Smith, Tony Nolan
---
Frame // Full Carbon fiber monocoque mainframe and swingarm, 153mm rear travel, Dw-link suspension, boost rear axel sizing, 64.9º head angle, 27.5" wheels exclusive.
Sizes // Small / Medium / Large / XL
Spec // Our test bike had non-standard spec (although still very, very nice) check website or instore for spec packages.
Price // Complete starting at $8500
Browse // www.rowneysports.com