Whilst this could very well be the first time you've heard of the brand, Kellys are in fact the largest bike company in their homeland of Slovakia and they've been producing quality bikes for over 25 years.
Review // Will Mackie    Photos // TBS
Kellys are now for the very first time across Australia with distribution and full product back-up support through Ride Sports. The Theos EN 70 is the first Kellys bike that we've reviewed and as soon as it arrived at our office we could instantly tell that the brand knows how to make a well detailed frame. 
Clearly positioned towards riders that want to attack the trails, seek out those gnarlier lines and not have to hold back, the Theos EN 70 falls nicely into what we're calling the e-Enduro category. With a 170mm of travel up front, 160mm in the rear and pair of big burly 27.5+ wheels, this bike is surely going to have a big appetite for those sections of trail that really get your heart racing! 
The Theos EN 70 features a full alloy frame constructed from custom hydroformed tubes.  Of course, the heart and soul of any e-Bike is its motor and I was stoked to find that the Kellys is equipped with a Shimano Steps 8000, which is easily one of, if not the, best performing systems out there. When designing the Theos Kellys engineering team were mindful of wanting to keep the bike's mass as low as possible, for the best possible center of gravity, whilst also trying to achieve optimal geometry.
The Kellys 160mm of rear travel is delivered via a four-bar linkage system which provides good isolation of the suspension forces from pedalling and braking. If you look closely at the frame detail photos you'll notice that the lower rocker has been positioned right over the engine unit which allows the chainstays to remain relatively short, measuring at 460mm, which is a number that a lot of brands struggle to achieve. Whilst out riding the Theos' shorter rear end really does make lifting the front wheel a piece of cake and I found I could throw the bike around with relative ease out on the trails. 
Taking care of suspension duties is a RockShox Deluxe RT rear shock, featuring a Truninion mount which provides the bike's linkage and rear end with a high level of lateral stiffness, that you'll find really noticeable when you're bombing down those descents.
Up front a set of RockShox Yari RC forks provide 170mm. Whilst I would usually never say 'no' to upgrading to a set of RockShox's premium level Lyrik forks, I actually don't know if you'd need to on this bike as the Yari ate up everything I was able to throw at it without skipping a beat. Great performance indeed from a mid-level set of forks.    
Ah yes, which brings us to talking about the bike's impressive Shimano STEPS E8000 motor system. The 250W engine offers 70 Nm of torque and it feels very smooth to pedal regardless of the trail scenario. The system features 3 'power' modes; eco, trail and boost, all of which provide varying levels of power assistance whilst you're pedalling. Switching between the modes is achieved using a paddle lever located under the left-hand grip. The bike is powered by a 504Wh capacity battery which is mounted to the top side of the bike's downtube. LED's on the battery display the level of charge remaining in the unit.
We really were impressed with the part spec of this bike. A great example of that was the Shimano XT Di2 gearing. Electrically operated gear shifting is silky smooth, regardless of the load you're putting through the cranks. And, we found that one of the Di2's biggest strengths was when we rode in the rain and the bike got covered in mud, each gear shift remained effortless and perfectly crisp.
Personally, I'd like to see a lot more bikes coming spec'd with Shimano's Di2 trail drivetrains.
In terms of gear range the bike packs a large span of 11-46 rear cassette, and when combined with the pedal-assistance levels produced by the E8000 motor, I never once found myself running out of gears no matter how steep the section of trail I'd be attempting was.
Often the wheels that come stock on an e-trail bike can really let the bike's performance down. A weakness gets magnified when the bike has lots of travel. So, I'll admit, I was a touch nervous when I first spotted Theos' hoops. KLS rims is a brand I hadn't heard of before. It turns out they're Kellys own in-house company. The rims boast a lovely wide 38mm internal span and when teamed up with a set of Schwalbe Nobby Nicks 2.8" tyres, man, those things gripped to the trail like chewing gum latching to the sole of your favorite shoes! Combined with the 'Boost' Novatec hubs, these wheels proved to be super stiff. After a solid month of hard riding, with countless journeys across rock infested sections of trail, I am bloody surprised to report that neither rim appears to have any 'dings' or real signs of damage.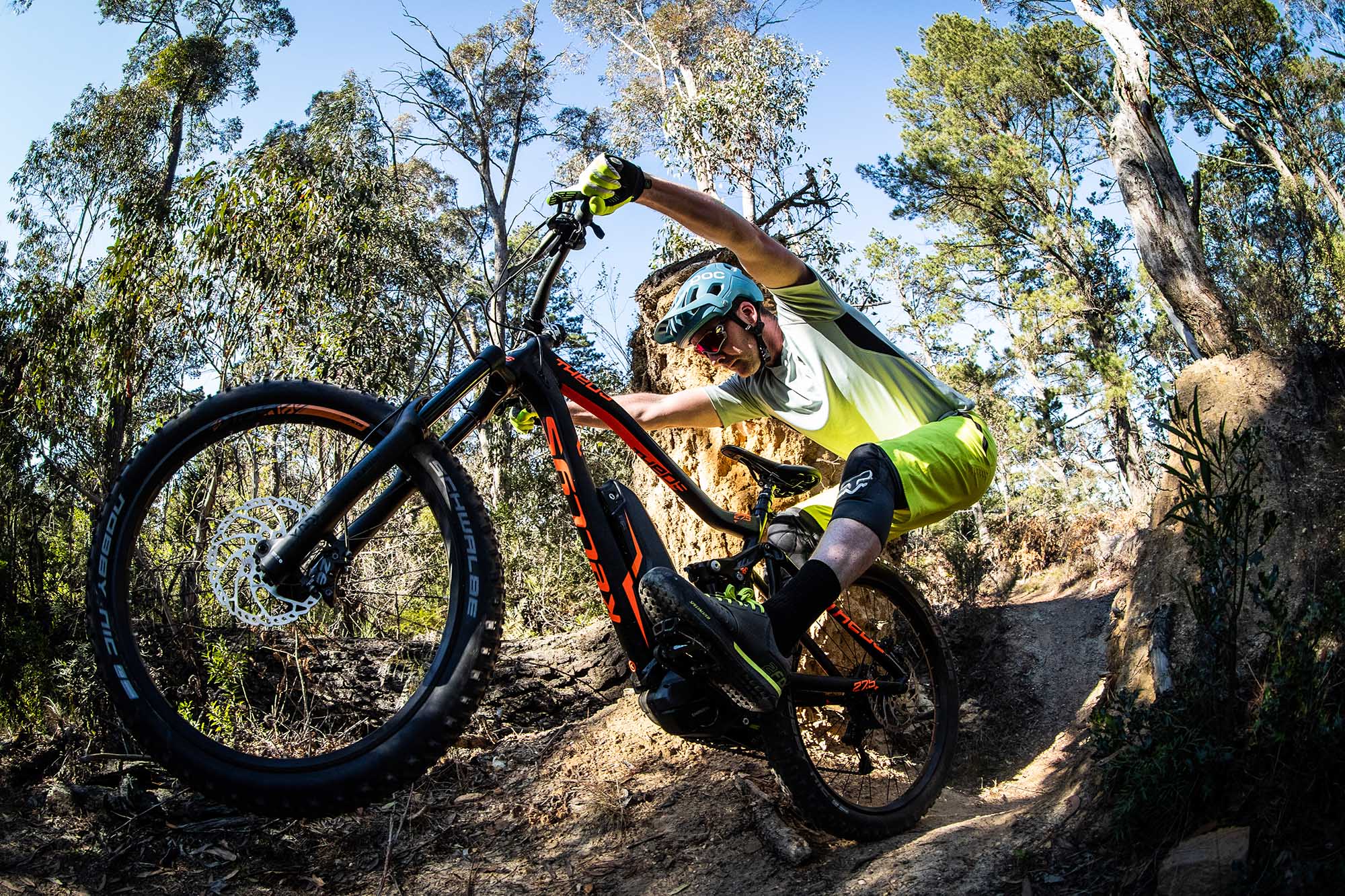 The Theos EN 70 ascends and descends with well-balanced characteristics. Personally, I always seek out the most fun (roughest and fastest) sections of trail whenever I'm out riding, and so the Theos' long travel was always going to cater to my liking. However, when reviewing a bike, I try and be mindful of the needs/wants of the 'average' rider and with them in mind I was interested to discover if carrying around all that extra suspension might detract from the bike's efficiency, especially whilst climbing? Pfft, no need to worry it turns out. With the power of the Shimano motor I never felt the bike was lagging or wallowing whilst I was pedalling towards the sky. If anything, the plushness of the bike's suspension actually helped on the climbs because it provided extra traction.
Apparently when Kellys originally launched this bike last year it actually came out with the name 'Thrill' but the company decided to do a name swap to Theos a short while later. Having now spent the past couple of months having fun with it out on the trails there's a part of me that wishes they never changed its name, Thrill really does sum up the ride character of the Kellys so well. For the money, as a total package you're getting arguably the best e-motor on the market, a very clean 'n tidy frame and a well thought out component spec. All in all, the Kellys never failed to put a big smile on my face each and every time I rode it. 
Theos EN 70 Specifications
Frame // Custom hydroformed alloy front and rear triangles, Four-bar link w'160mm travel via Trunnion mounted shock, Internal cable routing, Boost 12x148mm rear spacing.
Wheel size // 27.5+
e-Motor // SHIMANO Steps E8000 w' 504Wh capacity battery
Spec // RockShox Yari RC fork (170mm travel), RockShox Deluxe RT shock (160mm travel), Shimano XT Di2 rear mech and shifter, KS Lev dropper post, KLS rims w'Novatec hubs, Schwalbe 2.8" wide Nobby Nick tyres, Shimano Zee w'203mm rotors, RaceFace bar and stem.
Weight // 21.2kg
Available Sizes // S, M, L, XL.
Price // $8399.00
Browse // www.ridesports.com.au