Let's not beat around the bush; you know it, we know it, we all know it… Everything new that Norco releases at moment is rad!
Born and breed in the backwoods of the Canadian high country, Norco bikes have developed a very good reputation for delivering the absolute goods when it comes to mountain bikes and why wouldn't they? The shredders from Norco Bikes have been at the helm of MTB since pretty much day dot.
Words // Scotty Prendergast   Photos //Matt Staggs
Suffice to say when they released their all-new Range model, the crew from [R]evolution was absolutely chomping at the bit to throw their leg over this trusty new steed and see what all the hype was about. In what has become a growing trend amongst shorter travel bikes, the high pivot concept has been a welcome change to an already proven Range platform. It has been on the rumour mill for a while now, and it was probably time considering we haven't seen a drastic change to the Range model in about 4 to 5 years. The legends at Norco were kind enough to swing us a brand spanking new C2 model to get our insights on what we think of their all out, aggressive, enduro style trail slayer.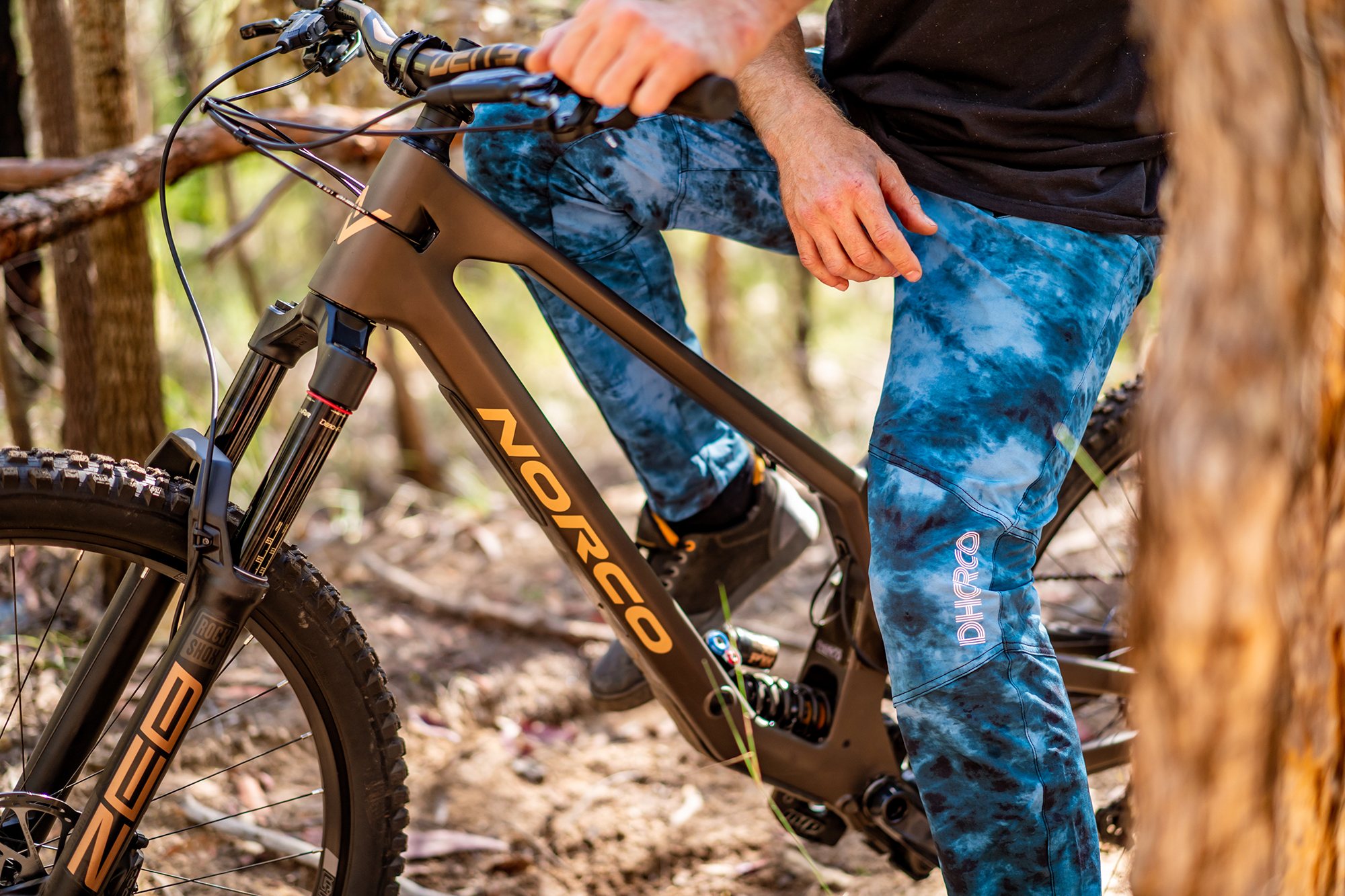 Okay so give us the low down on what the 'Range' is all about? 
This is a very burley bike and is Norco's flagship aggressive enduro/free-ride bike which pumps out 170mm of travel up front and 170mm of travel out back. As we mentioned, our particular test bike is the 'C2' model which sports a full carbon frame and a price tag of $8599. In addition to is lovely carbon frame those dollars are going to get you a nice selection of components.  The front end is supported by the all-new ZEB ultimate fork from Rockshox and an X2 coil from FOX takes care of the rear end. This bike runs 29-inch wheels front and rear and a high virtual pivot suspension design. Some other notable components include, DT Swiss 350 Hubs and E13 LG1 EN Alloy hoops (30mm Inner Width). Maxxis Assegai Front tyre, Maxxis Dissector Rear tyre, SRAM GX Eagle 12 speed drive chain, SRAM Code R brakes with 200mm rotors, Deity Ridgeline Alloy bars, 25mm Rise, 800mm Width. Alloy Stem (40mm) with a 35mm Clamp, TranzX Dropper which will vary in length depending on your size of bike and an Ergon SM10 Enduro saddle to keep you comfy.
Norco offer the Range in a number of alternative build spec options depending on what parts you like, and the style of components you prefer.
Far out that sounds pretty cool, alright give us what we've been waiting for. What is the go with all this gossip we hear about the high pivot linkage design? 
Alright, without delving into a nerd compilation of tech talk let me lay it out in laymen's terms. It works bloody good! Rather than stick with a four-bar link and vertical shock mount design, the new design comes with all the new mod cons of a high pivot. There are 2 main benefits with this design being a rearward axle path under impact and the lack of chain growth. In short, the axle path prevents the rear wheel getting caught up on square edges and gets out of the way of trail objects faster. The lack of chain growth prevents pedal kick back due to an idler wheel which sits in line with the main pivot. In short, the lack of chain growth provides more progressive, supple suspension performance. In basic terms your bike will remain consistently active over a variety of terrain, under braking, or pedal load and will maintain momentum over trail chatter, which in theory will make you ride faster and provide a more composed bike to handle.
These handling characteristics can also be attributed to Norco keeping the centre of gravity vey low with the shock and linkages mounted at the lowest point of the frame.
The linkage itself rotates around a press-fitted bottom bracket with very neat alloy link. The leverage curve of the rear end is better suited to a coil shock which is why it comes stock with a coil rather than and air shock. One thing we should also mention is there is a common trend within the MTB community with conversions of current bike setups to mullet style setup with a few slight adjustments. Whilst that may work with some bikes the Range has specific angles and suspension kinematics designed for this bike and it really is best suited to staying a stock 29'r front and rear. Dropping a smaller wheel in the rear end wouldn't enhance the performance and handling of the bike. Some other cool features are the added frame and linkage protection, chain guide, bash guard and there is also plenty of room for a water bottle along with a mount for a tool kit and spares. There is even a shuttle pad protector mounted to the down tube to protect your frame whilst cutting hot laps in the ute. 
Cool! So, what type of rider and have Norco tailored the Range to suit?  
OK, well as indicated by the numbers above this is the more aggressive brawler in Norco's line-up. If you're after more of your trail fix and want something that is light, nimble and easy to pedal you would lean towards their 'Optic' model. If you want a bike that is really designed as their all mountain, own and maintain one bike sort of deal then the 'Sight' may be the bike for you. But if descending is your game and you want a bike that you can still pedal to the top of the hill then the 'Range' is for you.
You don't have to be a pure downhiller to enjoy the Range but if you're the type of person who likes to explore the heavier elements of MTB then this sucker is defiantly the bike you're after.
Some other notable elements we should mention with the new Range is its built with their 'Ride Aligned' geometry. This is something we are seeing more of with a lot of bike companies in the sense that they are adjusting the angles of their bikes depending on what size bike you ride. We tested an XL which comes with a 63-degree head angle and a 77.25 degree seat tube angle, but these angles, swingarm lengths, wheelbase, etc will all vary depending on the size of your bike. In short, you are kind of getting a custom size and fit for your height and weight. Not only that, due to the changes in size and angles your bikes suspension kinematics will also vary with size which provides the rider will the ability to adjust and customise their bike for optimal performance. This concept is damn cool and just shows how much Norco care about their riders and how much they want their customers to experience the best performance out of their new whip.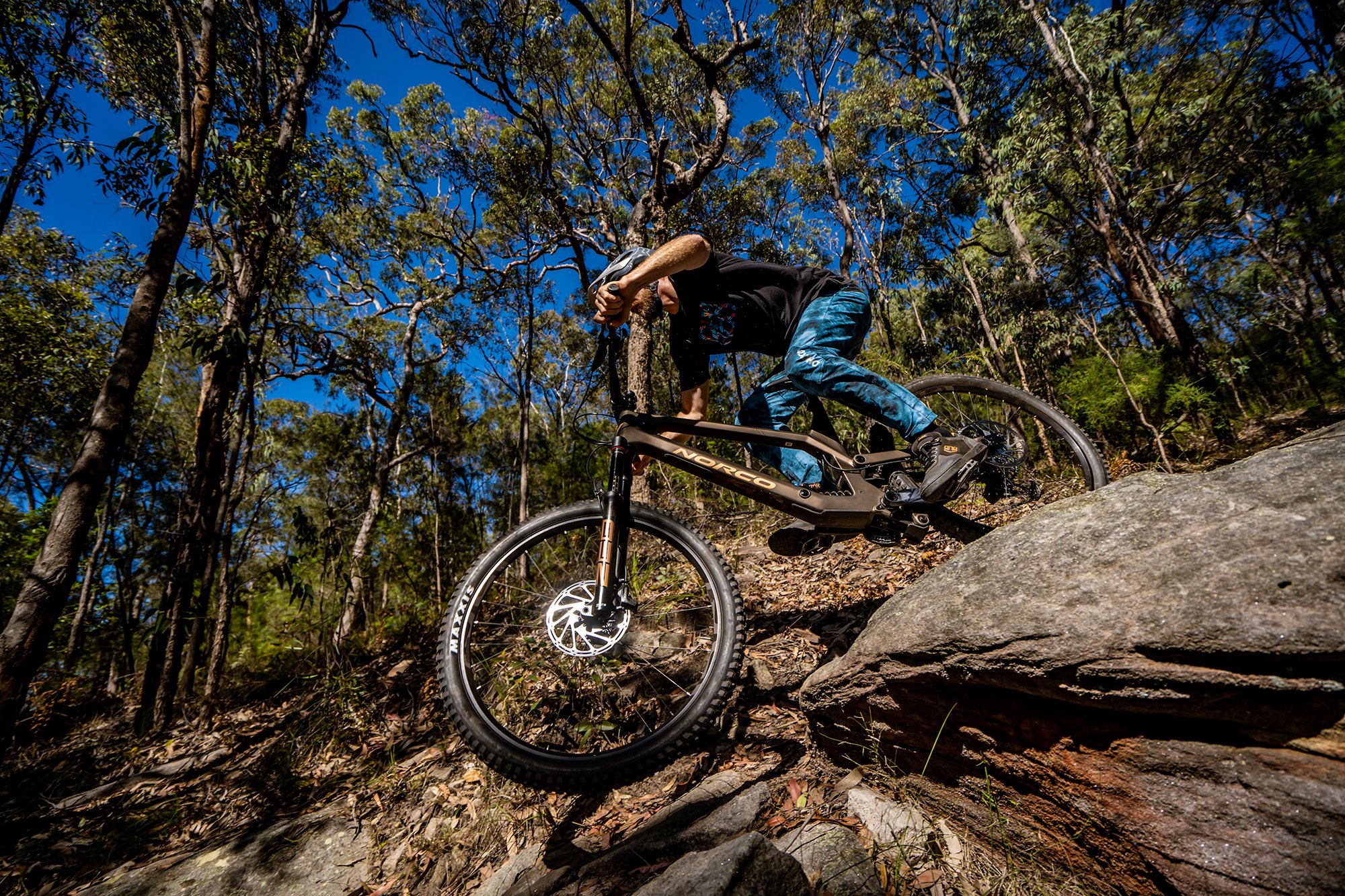 Alright let's get digging into the trail notes, how does this big brown beast actually perform? 
As you're all no doubt aware the crew at [R]evolution come from a very gravity orientated background. So, when we get a bike like this, we're always exited to hit the downhills and punch out some shuttle runs. Trust us when we say we have bombed a heap of hills aboard this steed, but before we get to that, what we did initially is take this sucker out for a 30 odd KM XC ride. I know what you're thinking… but we really wanted to get a gauge on how well this bike pedalled and climbed for a big rig and to be honest it was pretty good. Fair to say this is no XC bike, it is more of the type of rig you sit and spin up climbs and undulations, you have to be a little more patient when climbing, but for the type of bike you could literally go do a downhill race on, the Range pedalled and climbed remarkably well. 
How did the sucker go down the hill you ask?
Well, as you've probably worked out it went f#@king awesome! We've got to give it to the crew at Norco because we absolutely love this bike on the way down. Literally our first big descent aboard this rig we were like 'Holy Sh*t!' It was like riding a mini-DH sled. One thing you really notice is how well the high pivot design works, the rear end is super supple, the bike really maintains momentum well and it just ate up the heavy terrain, at times the rear end felt bottomless. The bike as an entire package is extremely comfortable to ride, it remained really composed over a variety of terrain which transferred a lot of confidence to the rider. One notable feature we found whilst riding this bike over multiple shuttle runs was that we were a lot less fatigued due to the composed nature of this bike. This bike cornered very well and produced a lot of traction to the tyres below, it was stable in the air and remarkable nimble to manoeuvre for a big hitting 29'r.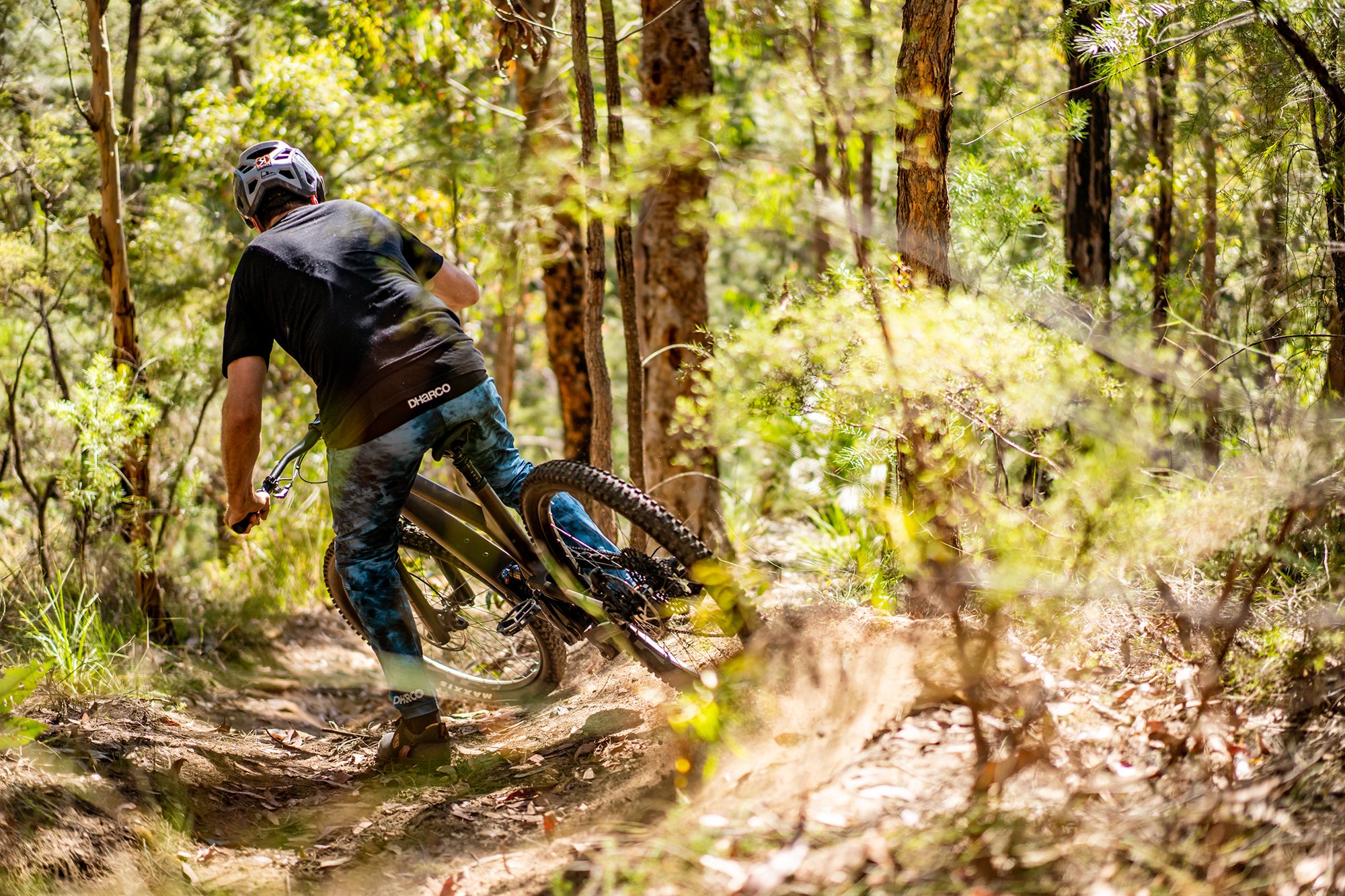 Well, that's about it, there's not a lot more we can say about this rig as far as performance, one thing we will say that as far as bang for your bucks goes, it would be hard to compete with the value for money of a Norco.  All the crew at [R]evo HQ loved this bike. It looks good, it rides amazing, and is built by a company that have paid particular attention to detail in providing a bike that will give the rider the best riding experience. So, people, if you want a heavy hitting trail slayer, a bike that is 100% going to put a smile on your dial, with all the added mod cons of the world of MTB, then maybe you should consider getting yourself an all new Range from Norco. As we've discovered over the past couple of months, this is a bike that won't disappoint! [R]
SPECIFICATIONS
Frame // Full carbon
Travel // 170mm front and rear
Wheel size // 29"
Components // Rockshox ZEB ultimate fork, Fox X2 coil shock, SRAM GX Eagle 12 speed drive chain, SRAM Code R brakes w' 200mm rotors, TranzX Dropper, Deity Ridgeline alloy bars, Maxxis rubber.
Price // $8599
Browse // www.norco.com