Praise the battery lord, Transition Bikes have finally entered the e-MTB world and their debut offering, the Repeater, looks bloody sensational!
It's pretty clear to see that Transition are going all in with their first e-Bike, giving it a full carbon frame (exclusively, no alloy frame option) and they worked closely with Shimano to develop the option of having 2 different factory turned engine map options in order to change the output of the EP8 motor. 
Truth be told we haven't had the chance to ride or even check out a Repeater in the flesh as the first models are still yet to touch down here on Australian shores. The good news on that front is that we believe that first batch of Repeater's will be landing in Oz within a few weeks, and we have been promised an exclusive ride review right away. Pricing is still yet to be fully confirmed however we've been told the entry level spec (still with the same carbon frame and EP8 moto) will be right around $12,500. So, stay tuned to us for plenty more coverage on the Repeater and in the meantime here's the official press release from Transition Bikes: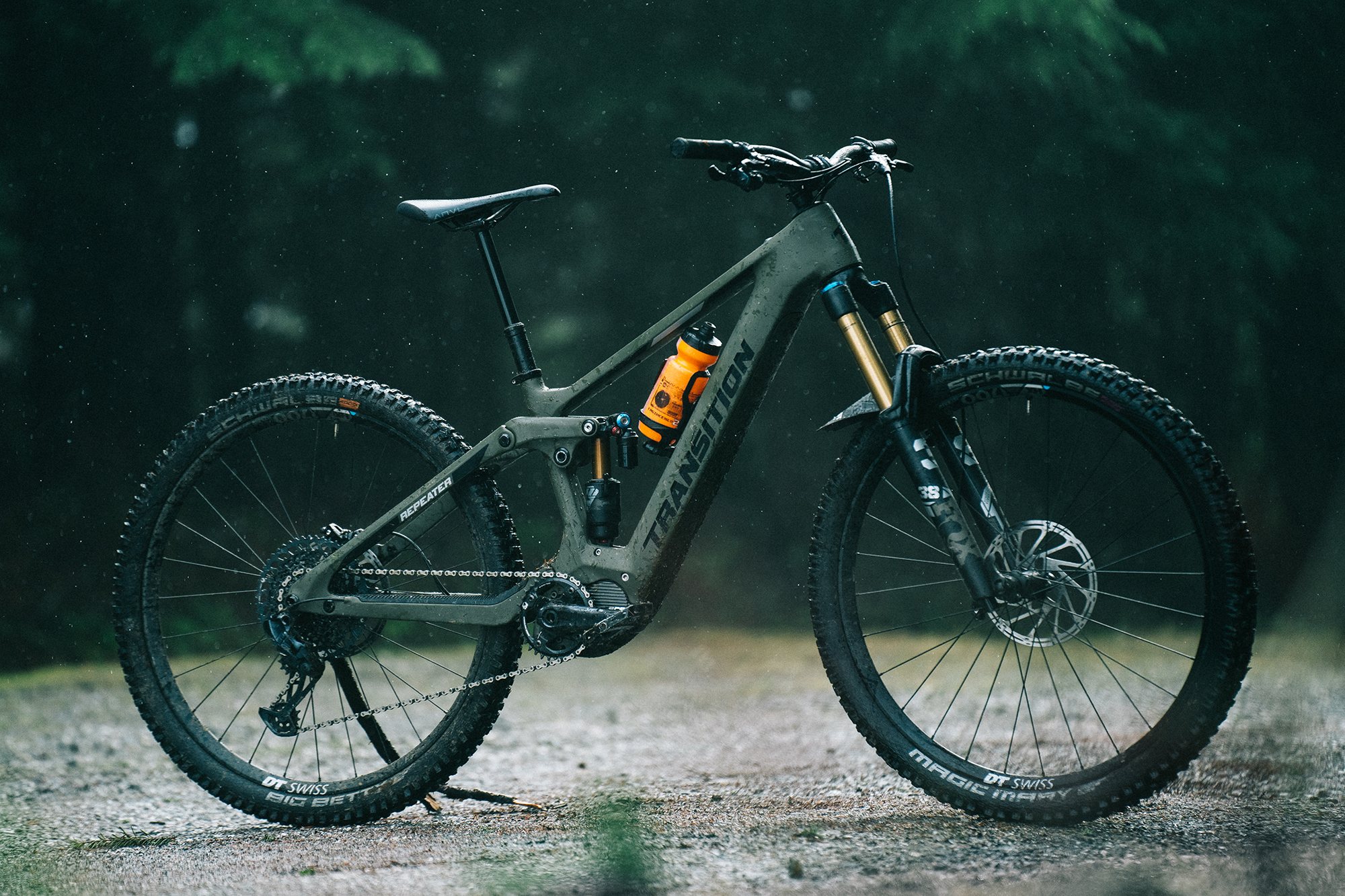 Buckle up and get ready to charge, the Repeater is down for anything.
With 160mm travel, 29 inch wheels, the Shimano EP8 motor system, and a 630Wh battery, you can maximize fun on the ups and the downs. Whether it's a quick rip after work, ditching the shuttle truck, or just the pure joy of exploring that you are after, the Repeater loves it all. Like all of our other beloved bikes, the Repeater has SBG geometry and our GiddyUp suspension, so you'll feel right at home the moment you turn on the power. 
The GiddyUp suspension system is designed to behave intuitively across a broad range of setup. Because, we get it, sometimes you just want to grab your bike and GiddyUp, without checking your setup. When you do, it will always feel good.
The GiddyUp suspension layout provides 160mm of travel from a 205 x 65mm shock, and is tuned to work correctly with both air and coil. Riders are able to add or remove volume spacers in the rear air shock to suit their individual riding style and there is plenty of bottom out control with air or coil shocks when things get rowdy. Compared to our other GiddyUp bikes, the Repeater has a slightly lower leverage ratio to offset the added weight of the motor and battery, this allows you to run normal air pressures in the rear shock. 
With nearly 26% progression and an E-bike specific version of our GiddyUp suspension kinematic, the Repeater has an excellent balance of support and small bump sensitivity. The Repeater suspension is tuned for maximum traction that enhances both descending and climbing experiences, while delivering a bottomless ride feel.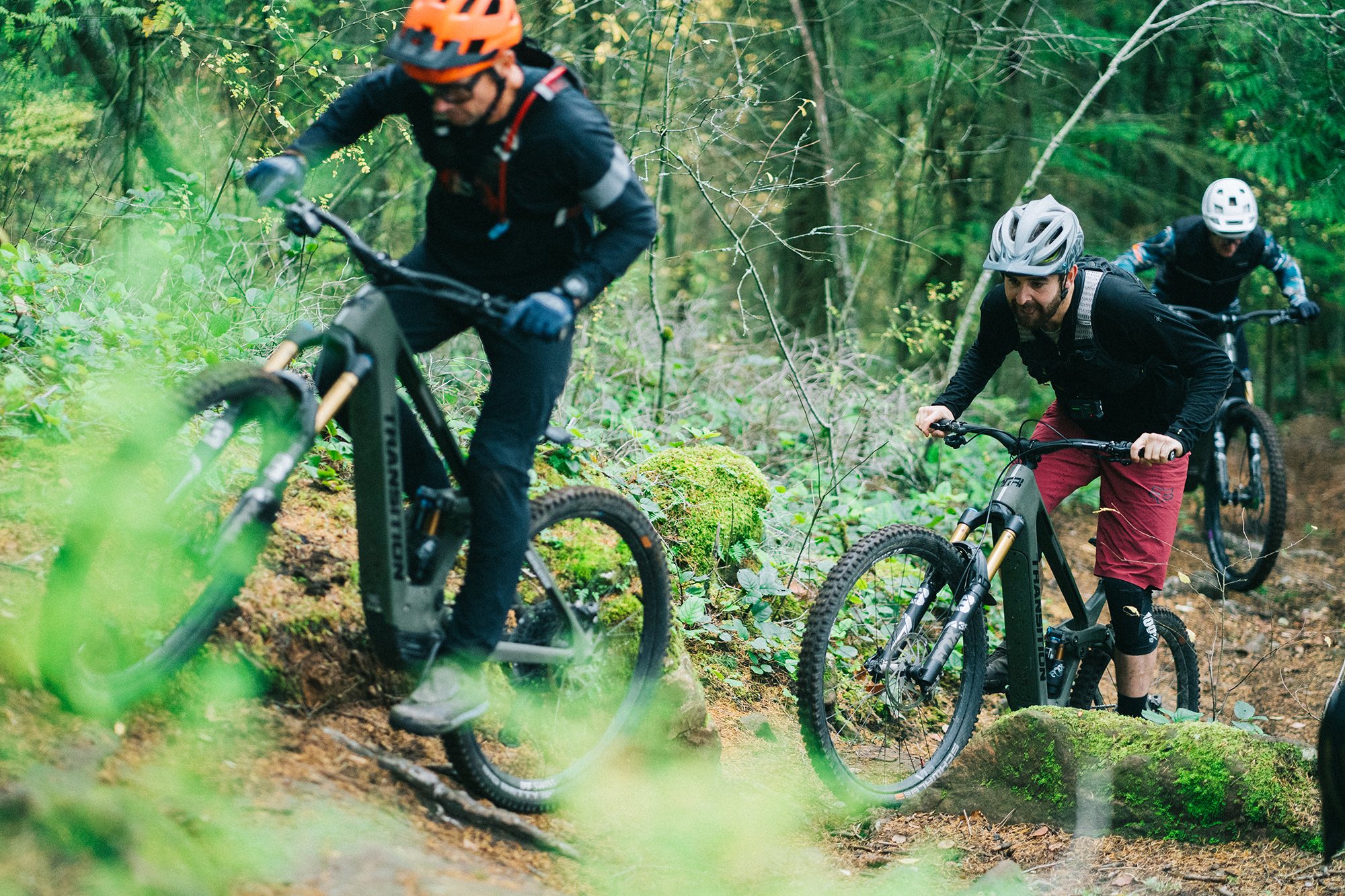 A suggested sag range of 28 – 34% allows the rider to tune the feel of the bike; from a firm and snappy jump and slash mode, to a more supple and active full on party mode. Wherever you end up, you can focus on the trail without remotes, levers or knobs. Just grab your bike and GiddyUp.
The Repeater comes equipped with a Shimano EP8 system that delivers 85Nm of torque, 250W continuous power and 500W peak power. All build levels come with Shimano's top of the line full color display, making it easy to tell which mode you are in with a quick glance.
The Shimano 630Wh battery is easily removable with a 4mm allen wrench so you can easily swap to a spare for increased range, or get more laps while your other battery is charging. The full Shimano system means there are no custom wires, plugs or proprietary chargers, so you can find replacement parts anywhere and even borrow a charger from a friend.
The EP8 motor comes pre-tuned by Transition with two profiles to maximize battery life and give you the best ride experience possible. Profile 1 is focused on giving you a powerful but natural ride feel in TRAIL mode, leaving BOOST for when you really need it, and making ECO more usable on the trail. Profile 2 is focused on range, helping you go as far as possible when distance is what you're after. Riders can easily modify the characteristics of ECO, TRAIL, and BOOST modes in both profiles via the Shimano E-Tube app. The Shimano EP8 system was designed specifically for offroad use, offering seamless integration, plenty of power, and options to customize the feel of the motor based on your preferences.
Key Details:
Full carbon frame
160mm travel front and rear
29" wheels exclusive
Shimano EP8 motor
630Wh battery
2 motor map profiles
SBG geometry
GiddyUp suspension layout