Specialized have launched a new version of their popular Ambush 'enduro style open face' helmet. But before we get stuck into that let me begin with a precursor; up until yesterday the original Specialized Ambush had been one of my long-standing favourite helmets.
I actually attended the launch of that helmet when it debuted back in 2015 and I remember thinking at the time that the Ambush seemed ahead of its time in terms of design and fit/function. I was an immediate fan and since then I've actually owned a couple of them over the years and one has always been in my personal helmet rotation. And right up until yesterday I didn't really think an open face helmet could get much better? That was, until the Ambush 2 arrived at the office and when I compared it side-by-side with my well-worn original model I was actually shocked at how much smaller and less refined the old model appears. It was immediately obvious that Ambush 2 has been completely redesigned from the inside out, and apart from its name it shares absolutely no resemblance whatsoever to its predecessor. The Ambush 2 boasts an ultra-modern appearance and feels incredibly safe and confidence inspiring to wear.
So, what's new about the Ambush 2?
Literally every part of this helmet is brand new. It boasts an extended coverage shell which lends itself perfectly to enduro style riding and riders that want to maximumise their level of head/face protection before you have to go adding a chinbar. The Ambush 2 feels great in the hands but most importantly I found that it sits very comfortably on your head. It features plenty of strategically placed vents including an absolute monster sized vent centred right at the front of the helmet. Additionally, to further encouraging plenty of airflow into the cleverly designed visor which features 3 large vents that line up perfectly with vents underneath located at the front of the helmet.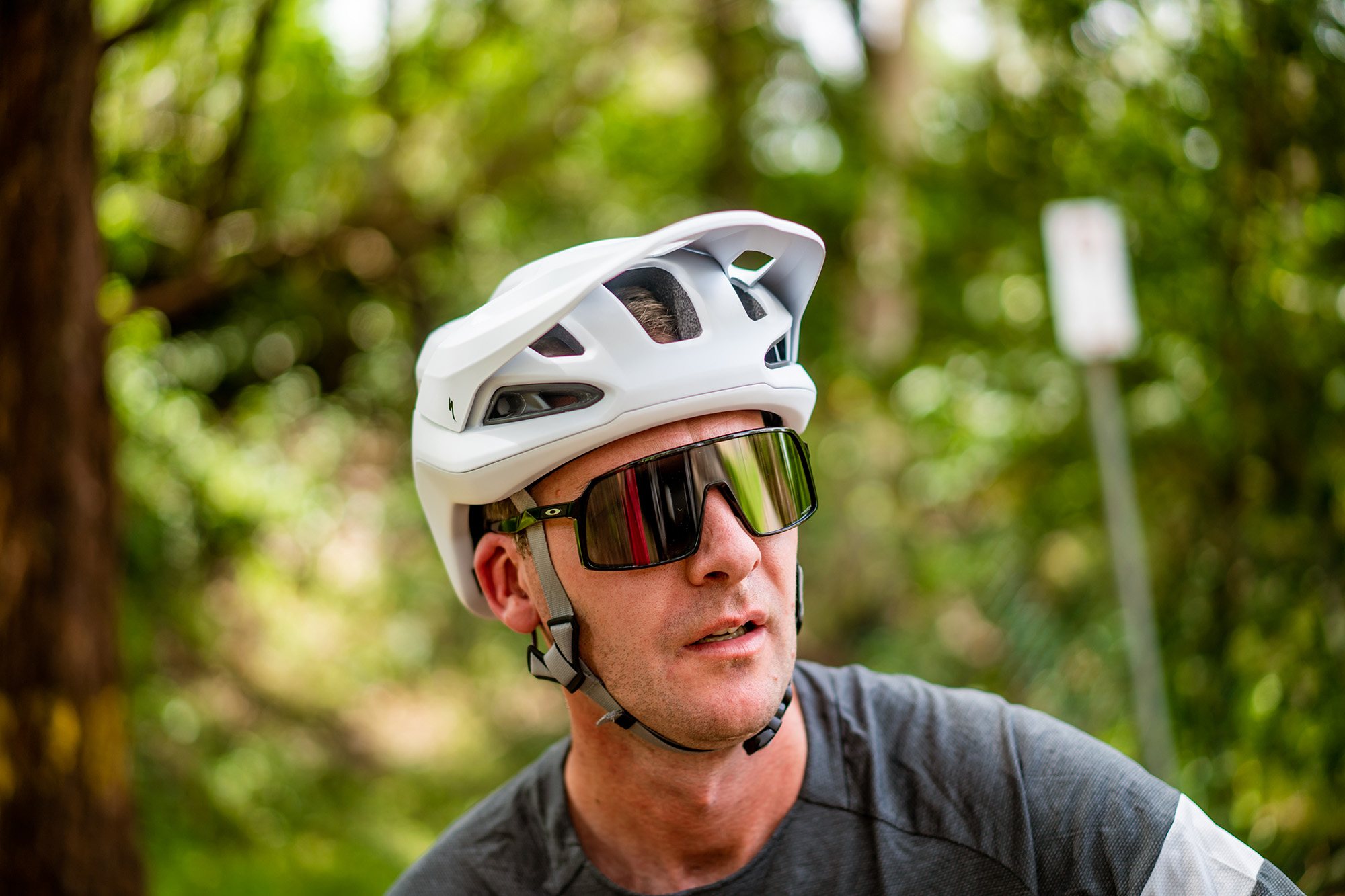 Is there anything else 'trick' about the new visor design?
Continuing the trend of 'everything is bigger and better about the Ambush 2 compared to the original version' you will notice that the new visor is nearly twice the size of the previous version. Interestingly Specialized decided to fix the visor in a set position which means it can't be adjusted up or down. Whilst we noted the visor is held firmly in place and there's no noticeable movement or 'flex' due to wind etc whilst riding, it is worth noting an additional safety feature of the helmet is that the visor has been designed to instantly break away from the helmet in the event of a direct impact. The large overall size of the visor doesn't visually look too big or out of place on the new helmet and we did notice that it offers great sun protection due to its generously proportioned peak.
Lets talk safety…
Of course when it comes to choosing the right option to protect your brain and skull a helmet's safety performance is literally everything. Recognised around the world as 'the' gold standard in helmet testing is the Virginia Tech safety rating scale. The new Ambush 2 helmet scored a Virginia Tech safety rating 5-stars which is the highest rating possible. So in short, there's nothing short about the level of rider safety that the Ambush 2 offers. A few of the helmets key safety features is the built in MIPS liner, which will of course assist with minimising rotational impact injuries. The Ambush 2 also utilises something Specialized describes as "strategically optimised dual-density EPS foam throughout the entire 'inner' of the helmet which those extra large venting channels are carved into.
What is the overall 'fit' like?
One of the things I loved most about the original Ambush was how well it fit my head and was held in place thanks to something Specialized called a 360 retention system. I am pleased to note that fit of the Ambush 2 feels every bit as good as the old one, if not even better. The new lid incorporates Specialized's Integrated Fit system and adjustable Tri-Fix splitters, which the brand says create a highly customisable fit, as well as an unrestricted view of the trails. The fit of the helmet is adjusted via an index dial at the base on the rear of the helmet.
Anything else worth noting?
Perhaps not surprisingly given how much bigger the overall size of the new helmet is over the previous generation the Ambush 2 does weigh nearly 100 grams more than the old model. It now tips the scales at 360 grams (size large shell) however it doesn't feel at all heavy in the hands or to wear. What it does feel though is very comfortable, well balanced and confidence inspiring that it's going to do a stella job of protecting your head if (and probably when) you have an accident out on the trails. And finally, a sweet design addition for riders that wear glasses/eyewear whilst riding is that the Ambush 2 has eyewear storage 'slots' built into both the front and rear of the helmet which are easy to access and do a fantastic job of holding your shades whenever you don't want to wear them.
When will the Ambush 2 be available in Oz?
Right now sunshine. Head on down to your local Speshy dealer or jump onto their website for further 'deats or to grab yourself one today.
KEY STATS
Dual density EPS foam throughout
MIPS SL liner
ANGi crash sensor compatible
Eyewear storage 'slots' front and rear.
Integrated Fit system
5-star Virginia Tech safety rating
Shell sizes: Small, Medium, Large.
Weight: 360grams
Colours: 5 options to choose from
Aussie RRP: $280