If you've been keeping your eyes on [R]evolution of late you would have seen our introduction to this new, all-out enduro shredder a little while back. We were a little tight lipped back then about this bikes performance as we just hadn't spent enough time on this beast to give all you cool cats our insights into the performance of this new bike from Pivot. So, let's back track a little shall we, and start from the beginning.
Words // Scotty Prendergast  Photos // Matt Staggs
You've all got to admit it right?! This bike looks like it is on absolute fire! Needless to say, when we first dragged this hot piece of machinery from its cardboard coffin, we were super exited to get this sucker together and see what all the hype was about. Just looking at the aesthetics alone, if this bike was half as good to ride as it looked then the test team at [R]evolution headquarters were in for a real treat. 
This whip is the fifth instalment of the super popular Firebird model which has evolved into what we have today, in comparison to their previous model the Firebird has had a rather large overhaul as far as look, linkages, shock mounts and frame design. With that said, what Pivot have done is refine a lot of little things with this bike which has provided some rather substantial gains over its predecessor.
Yes, we admit it, this particular bike looks absolutely amazing! What type or rider is this bike designed for?
Well, it's no secret that this bike is designed around Pivots EWS enduro race team. That alone sets the scene that this weapon is an enduro race bike. Anyone who has anything to do with the Pivot crew and their race team would know that their people have developed a reputation for stretching the limits of what you can do on a bike, they definitely like to explore the outer realms of what is possible, therefore they need their bikes to keep up with their need for speed. However, just because this bike is designed to be a race bike, doesn't mean it won't suit any rider who enjoys the more aggressive elements of riding, but wants a bike which remains something that you can still pedal to the top of any climb.
If that sounds like your style, then the Firebird may be the bike for you.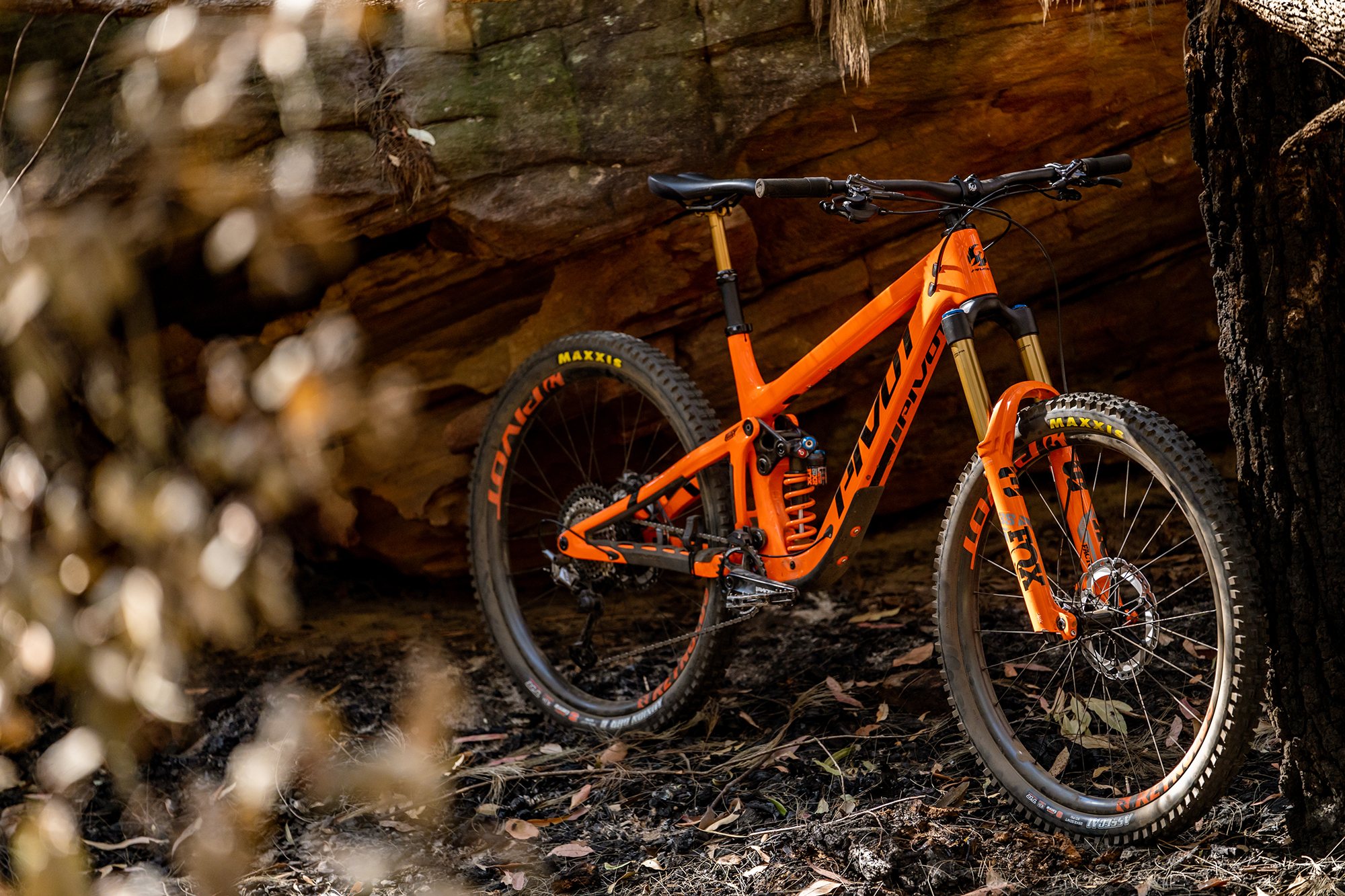 Cool, can you give us a bit more detail on specs and frame design? 
Righto, compared to last model, the new Firebird has been updated with a lot of geometry changes, it has a longer reach, steeper seat tube angle, and a flip chip to adjust your geometry. The head angle is a full degree slacker and another cool little feature is the chain stay lengths vary depending on what size your bike is. This bike comes stock with 29-inch wheels front and rear, along with a full carbon frame which boasts
165mm of rear wheel travel and 170mm of travel up front. The Firebird is also available in a number of different build options depending on what components you prefer, or you can buy a frame alone if you're chasing a custom build. The bike we tested was the team build which came with some spicy components, some of which include, Fox 38 Forks, Fox X2 coil shock, Roval Carbon Hoops, Industry 9 hubs, Race Face Cranks, Shimano XTR rear mech, Shimano XT chain and cassette, Shimano XT shifter, Shimano XT four piston brakes and Fox 170mm transfer dropper post.
You mentioned the custom chain stays, tell us a bit more.
Well, there is a little more than just that, sure Pivot have followed suit with the industry trend in longer and slacker bikes but for a specifically built enduro race bike there is an added level of adjustability which in effect provides the rider the unique ability to really customise the style of this bike to suit their riding. What Pivot have done essentially is try and create a similar package across all their sizes, so each rider is going to get the ability to customise their setup and optimise the performance of their bike no matter what size bike they ride. In short, you are kind of getting a custom fitted bike.
The complete stock models all come fitted with 29-inch wheels. However, the Firebird has the ability to run the mullet setup with a 27.5-inch rear wheel and the angles can be adjusted via the linkage flip chip. You can even run 27.5-inch wheels front and rear as Pivot supply a 17mm lower headset cup which will negate the drop in bottom bracket height from getting too low with the smaller wheels. In other words, you can set it up as a full race bike, a free ride park ripper or something in between, whatever your flavour the Firebird has got you covered.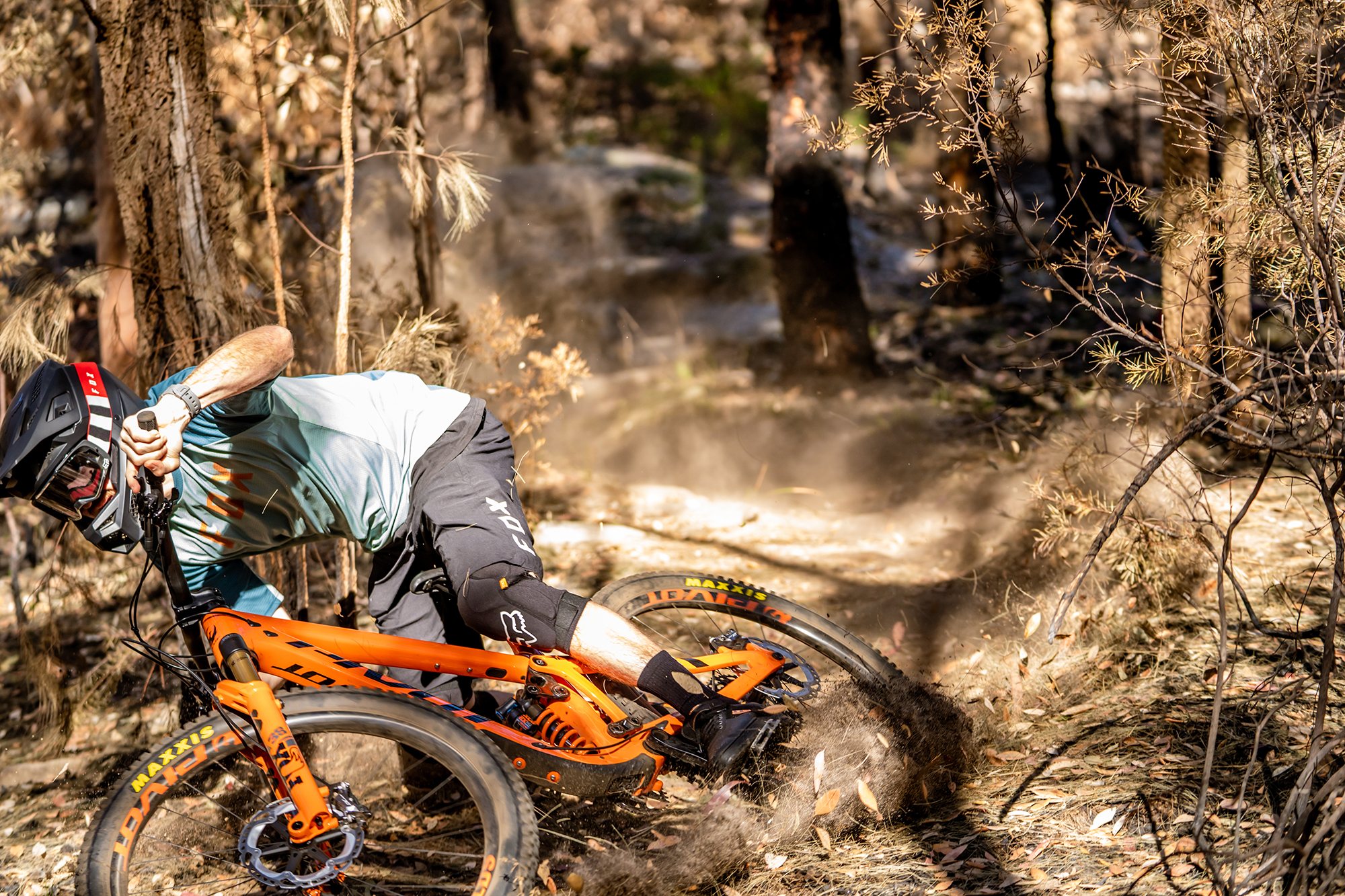 Wow that sounds cool, what about the changes to the frame and suspension linkage?
When looking at this bike the most obvious change to the Firebird frame design KW-link suspension system is the vertically oriented, trunnion mounted, rear shock. This system has aligned with their other models being the 'Switchblade' and 'Trail 429'. There are some obvious benefits to this style of linkage with the added room for a water bottle which was a bit on an issue previously. Some other notable features are in the attention to detail Pivot have paid to its custom moulded frame protection around the chain stays and rear linkage area, this is to keep all the grit out of your linkage bearings and protect your frame. There is even a neat little tool mount under your top tube which also has added frame protection. Pivot have also decided to run SRAM's universal derailleur hanger on its new frame, this makes complete sense and is also fast becoming a common thread with a lot of bike companies as removes the need for the industry to have a million variants in derailleur hangers.
A universal option makes it a lot easier for customers to replace their hanger if required as most bike shops will keep them in stock.
As indicated above there are no drastic changes with this bike but there are a lot of subtle changes throughout this entire platform. All these little changes have completely changed the dynamics of the suspension kinematics and how this bike rides in comparison to yesteryear. The KW-link is essentially designed to provide an initial rearward axel path like the concept of a high pivot. What that means is you have a suspension platform which is solid under pedal load for maximum power output yet remains super supple under light and heavy impacts, there is plenty of mid stroke shock support which also attributed to the Fox suspension platform. The rear wheel axel path is designed so it doesn't get hung up on square edges and it helps the bike maintain maximum momentum through all the rough stuff. It is also designed to remain consistently active whilst pedalling and braking. In short, this bike is going to perform better and be faster!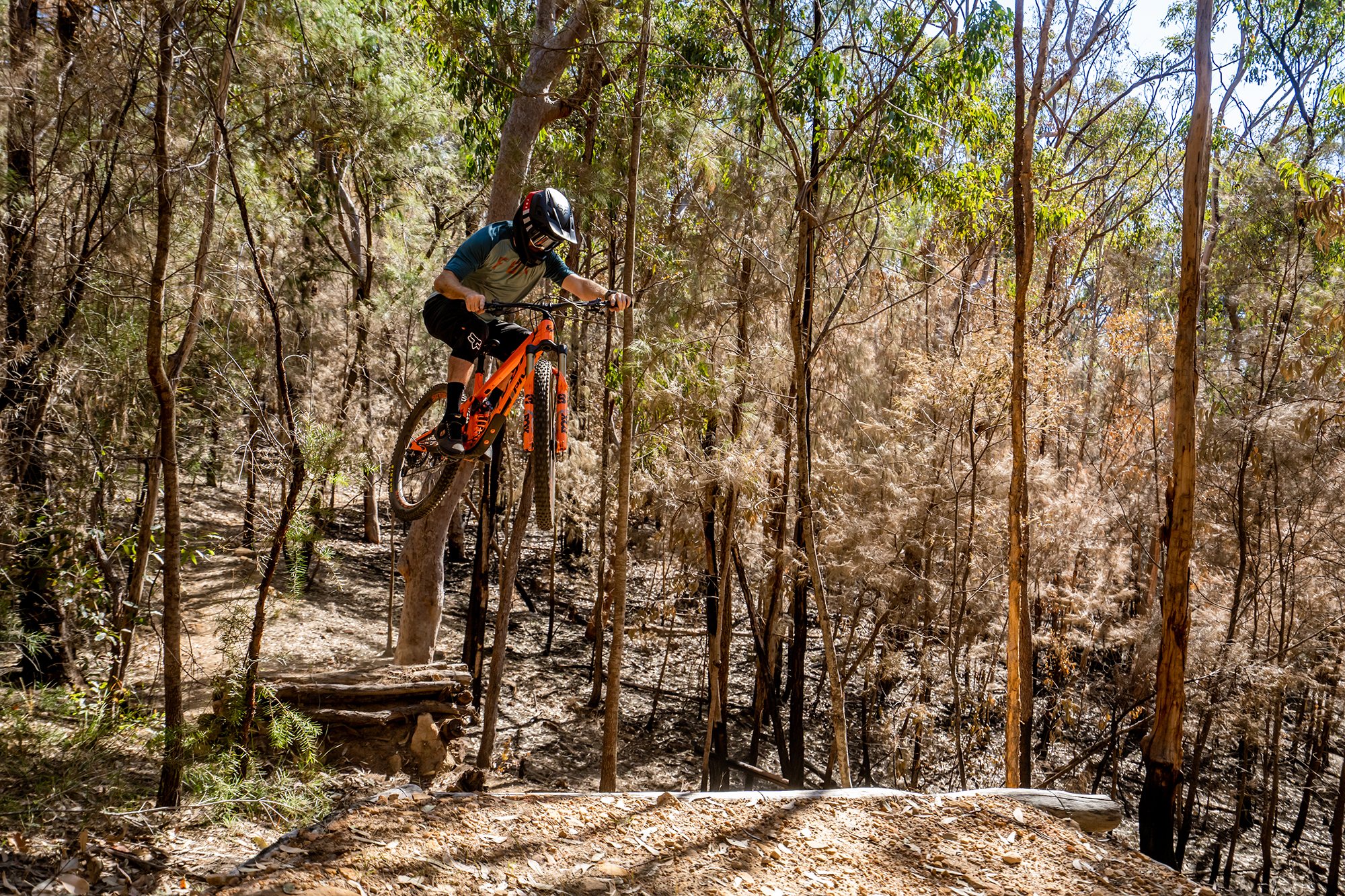 Sounds like a real weapon, give us the low down on the skids and wheelies! 
You got it! Let's start by saying the entire crew at [R]evolution was damn impressed with this bike from the onset. The bike itself took a little longer to set up initially as it has a really refined package, once we had the setup dialled you could tell why this is their flag ship enduro race bike. With a whole 2 degrees steeper angle on the seat tube to counter the slacker angles elsewhere, this bike climbed remarkably well for big hitter. It is also really light weight, so for all of those climbs and trails between descents, this bike pedalled extremely well and at times felt more akin to a trail bike. We found it had all the added mod cons for your all-day enduro missions but if you just want to go punch a few DH runs the setup really stayed the same. As indicated above it took a little bit of mucking around with our stack height, tyre pressures, suspension settings before we had this bike feeling amazing, but once we had it sorted this bike had an uncanny ability to put a smile on our dial. 
OK, I know what you're thinking, how did it descend?
The answer is, good! Really bloody good to be honest. We punched a heap of time doing shuttle runs and DH laps aboard this rig on some damn heavy terrain and this bike ate it up. The Firebird was really nimble through corners, it tracked extremely well through light chatter right up to the heavy terrain. It has a roomy cock pit area and the bike itself was easy to wriggle around and transfer your weight. All the elements you want a bike to do, it did really well. It maintained momentum well, jumped, cornered, and pedalled fantastic. And yes, this rig is sure to turn some heads on race day. There was nothing about this bike you could dislike, the only thing we found was the carbon hoops were super stiff and provided a lot of trail feedback.
Some people like that predictable feel and some people prefer a hoop which may be more malleable with the trail surface, at time the hoops made the bike feel a little skittish, however one thing for a carbon rim these suckers were tough as nails, we beat the absolute shit out these wheels and they came back for more and more, so I guess it was a bit of a trade-off between feel and performance, because as far as reliability goes they were 10 out of 10.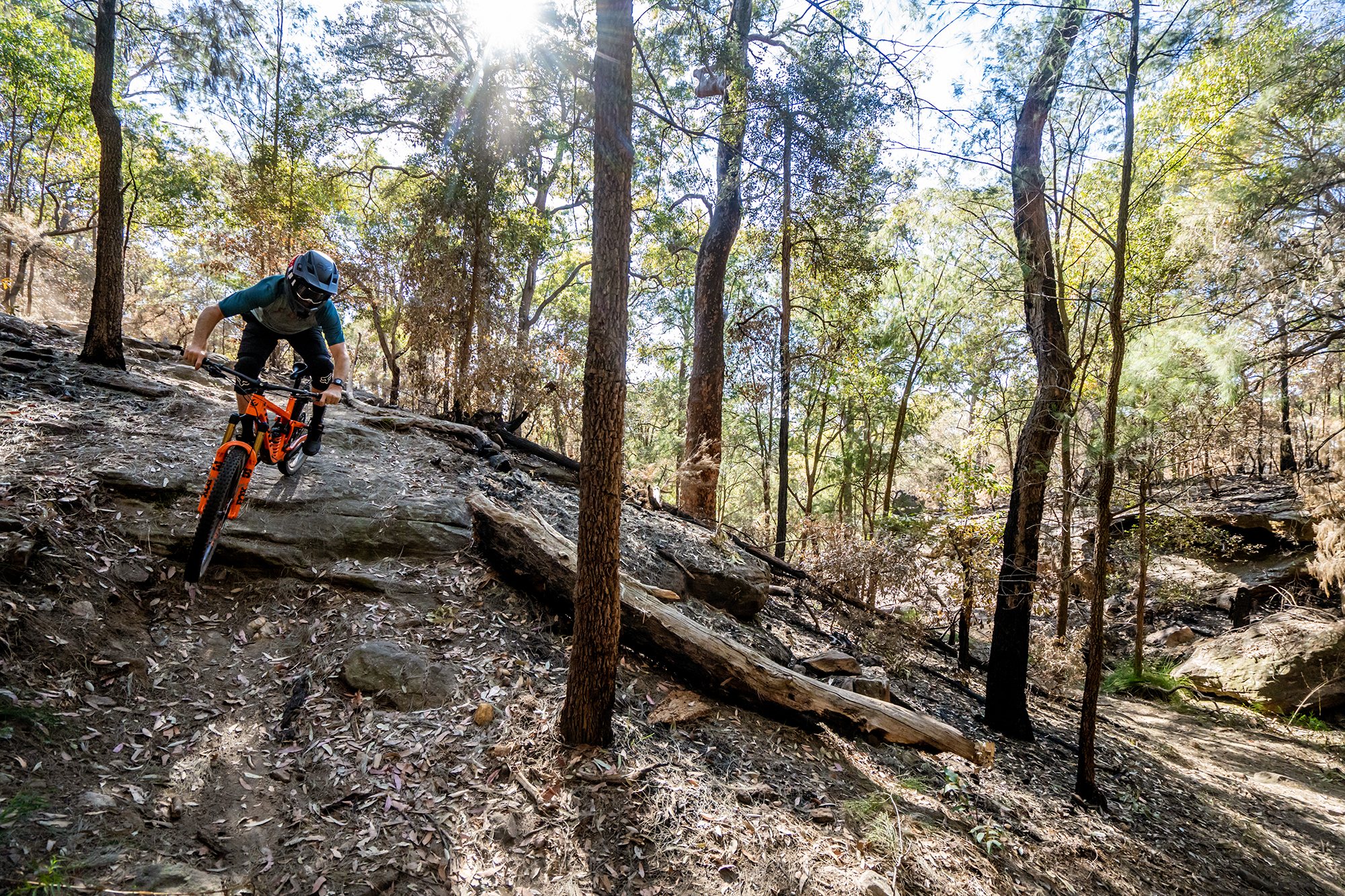 To wrap it all up for you shredders at home, if you want a really nice and reliable boutique whip that is on the beefier side of things then this is it, you don't have to be racing the EWS to enjoy the bike. As a matter of fact, you could invest it a couple of bits and pieces like a 27.5 inch rear wheel, head to Whistler, New Zealand or Maydena and cut a million park laps, smacking jumps, berms and booters. The following week you could set it up and head out for enduro some racing or just pump shuttle runs with friends. The Firebird is going to do it all for type of rider who considers themselves a gravity junkie, not to mention the fact its pretty much custom fitted for your size. Overall, we thought this bike looked cool and it rode amazing. So, punks what are you waiting for, if you want a bike that's going to set your world on fire, go get yourself a brand spanking new Pivot Firebird. [R]
SPECIFICATIONS
Frame // Full carbon
Travel // 170mm front, 165mm rear.
Wheel size // 29"
Components // FOX Factory 38 fork, FOX Factory Float DHX2 coil shock, Reynolds carbon wheels, Fox Transfer dropper, Shimano XTR drivetrain, Raceface cranks, Shimano XT 4 piston brakes, 800mm Oneup carbon bars, Pivot Stem, Pivot Grips, Maxxis Minion tyres front and rear.
Price // $15,499
Browse // www.pivotcycles.com.au