Completely redesigned and built from the ground up, the 2022 Firebird is Pivot's out and out enduro race weapon.
Now, before we get into the ins and outs of this beast, we must warn you we're still a little tight lipped about the performance of this bike, what we will say is we've only had this bike for a brief period, and we are currently putting this bike through the ringer on long term test review. What we will say is our initial impression of this bike has been nothing short of impressive. So, whilst you pack of shredders are whipping the drool from your chin, we might as well run you through the finer details of how this beautiful piece of machinery came about.
Photos // Matt Staggs Words // Scotty Prendergast
You're right this bike looks like it's on fire! What else does the new Firebird have going on?
Obviously, this bike was built around the Pivot ESW Factory Racing Team, with that said, for those of you who love to explore the outer realms of MTB badness, or you just want a super nice piece of MTB eye candy then this sucker is for you. The mad cats from Pivot Bikes and their riders have developed an impressive reputation for taking on the more technical elements of riding, this has transferred into high quality bikes and bike design for their riders who won't settle for sub standard equipment. The previous Firebird was a super good bike so it must have been difficult for the Pivot Bike engineers to improve on an already proven platform. But according to the crew from Pivot Bikes they have stated they have "tweaked a lot of small things that have resulted in some pretty massive gains."
Sounds radical, tell us more!
Ok, we'll give a bit more of the low down on this new whip, keep in mind we only just got our claws on this thing, and we won't go into too much detail on the performance of this bike just yet. The geometry of this bike has all been stretched a little, it's longer, a little slacker, the seat tube is a little steeper, but the bike has been designed to have a balance between stability, handling and nimble characteristics.
In simple terms this bike is going to be more stable at high speeds but still corner and handle all the technical riding a lot better than its predecessor.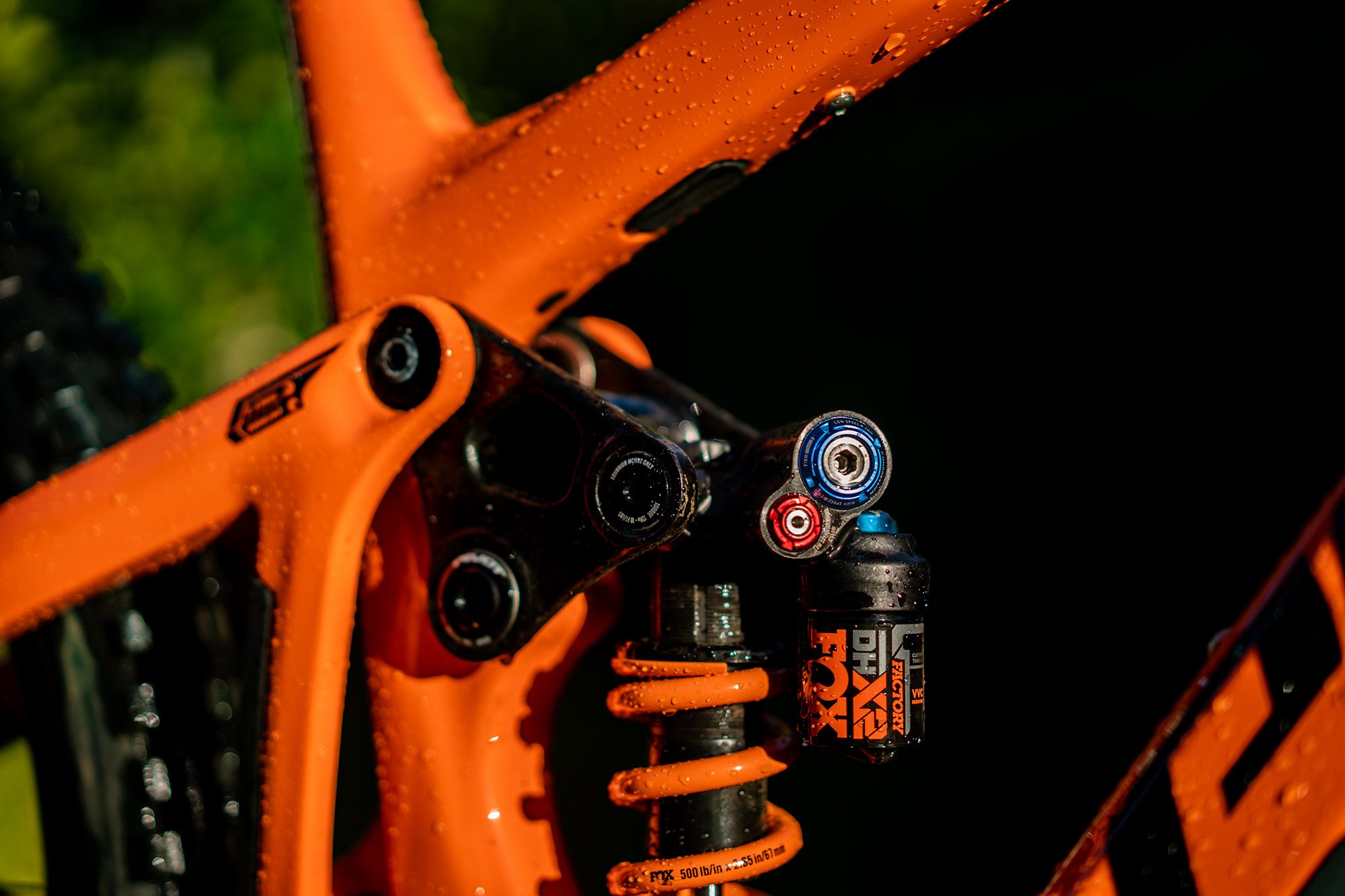 New linkage yeah, what's the go with that?
As you may have already noticed the Pivot Switchblade, Trail 429, and the Mach 6 suspension setup has a linkage is similar, so I guess it was inevitable the Firebird got a revamp and went with the vertical metric trunnion shock mount. The DW-link is designed to provide more efficient pedalling yet still have supple, progressive suspension under load and braking.  The linkage in the Firebird however is said to have a longer lower linkage and kinematics are designed to suit more aggressive riding with a more rearward axel/wheel direction under hits. In other words, this axel path is designed to get out of the way quicker, get less hung up on edges therefore making your ability to hold momentum through the trail chatter a lot easier. This bike has a nice low standover height, plenty of room to run a long dropper, it has a nice roomy cockpit area, and it has plenty of room for a water bottle. Pivot bikes have even tucked in a nice little tool mount under your top tube for some spares parts and tools.
I guess by know you guys have seen the photos, well to be honest when we got this sucker together, we were damn pumped at how this bike would be to ride, based on looks alone it's hard to deny this bikes aesthetic appeal.
Tell us a little about the build options?
There is a bit of variety with the builds depending on what you like. We were lucky enough to be sent the team build which boast FOX Factory Float X2 Air or DHX2 coil shock. We got the coil shock with our test bike, which is complimented with a FOX Factory 38 forks up front. The bike itself comes blessed with 170mm of travel up front and 165mm of travel out back, the fork has a 44mm offset and there are options for the FOX suspension 'LIVE Valve' design. There are also options for SRAM/Rockshox builds and frame alone depending what budget you have in mine. Some other cool kit which came with the bike we tested included a Fox Transfer dropper, 800mm Oneup carbon bars, Pivot Stem, Pivot Grips and Reynolds carbon wheels. This bike also comes stock with Maxxis Minion tyres front and rear, yet Revolution have moved to Maxxis control tyres with all their test bikes which is why the stock tyres are not photographed with this bike. You can check out the reason why the Revolution Test Team went to a control tyre in another article within this mag.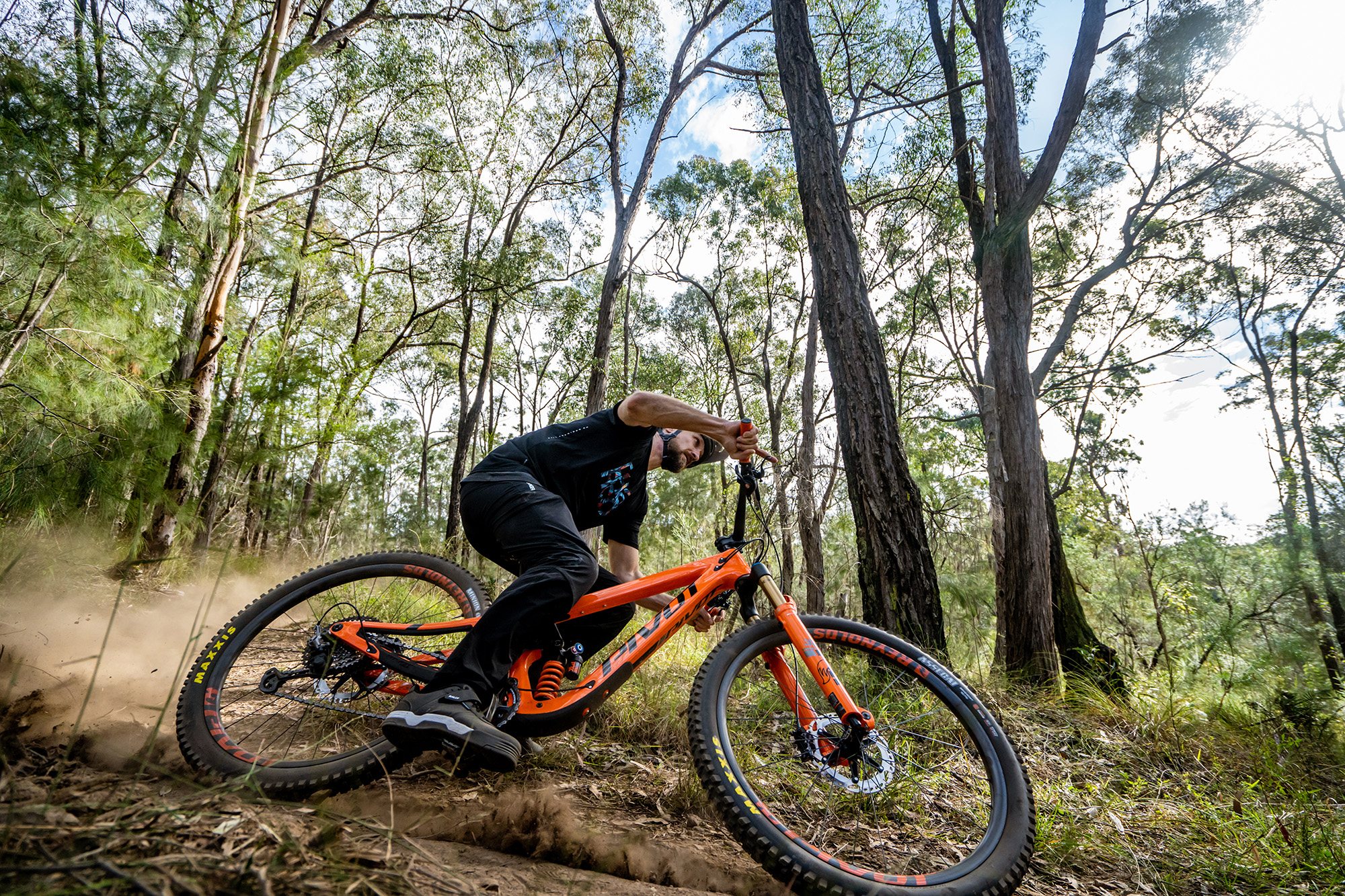 All up this thing looks like a very neat package?
Correct! One thing Pivot Bikes have done with the Firebird is pay particular attention to frame protection.   All the protectors on the Firebird are really nice, anywhere you may get a little rub or impact around the frame or rear chain stays they have custom fitted little moulds everywhere to ensure the safety of your whip. They even have a little protected where you can mount your tools under the top tube, so they don't rub. This bike also runs internal cable routing making the bike super neat and quiet.
Ok so how does this sucker ride?
Well, we've probably said enough, we don't want to keep you guys hanging but to be honest we haven't had this bike for long enough to give you guys an in-depth review on all of its finer points nor have we hit enough trail to give you all proper insight as to its performance and durability. What we will say is we have been coming home from our initial rides with a smile a lot bigger than the one we left home with. So Punk Rockers, stay tuned to the next issue of [R]evo for our thoughts on the all-new Firebird. Sneaking suspicions suggest so far is, this thing is going to be epic!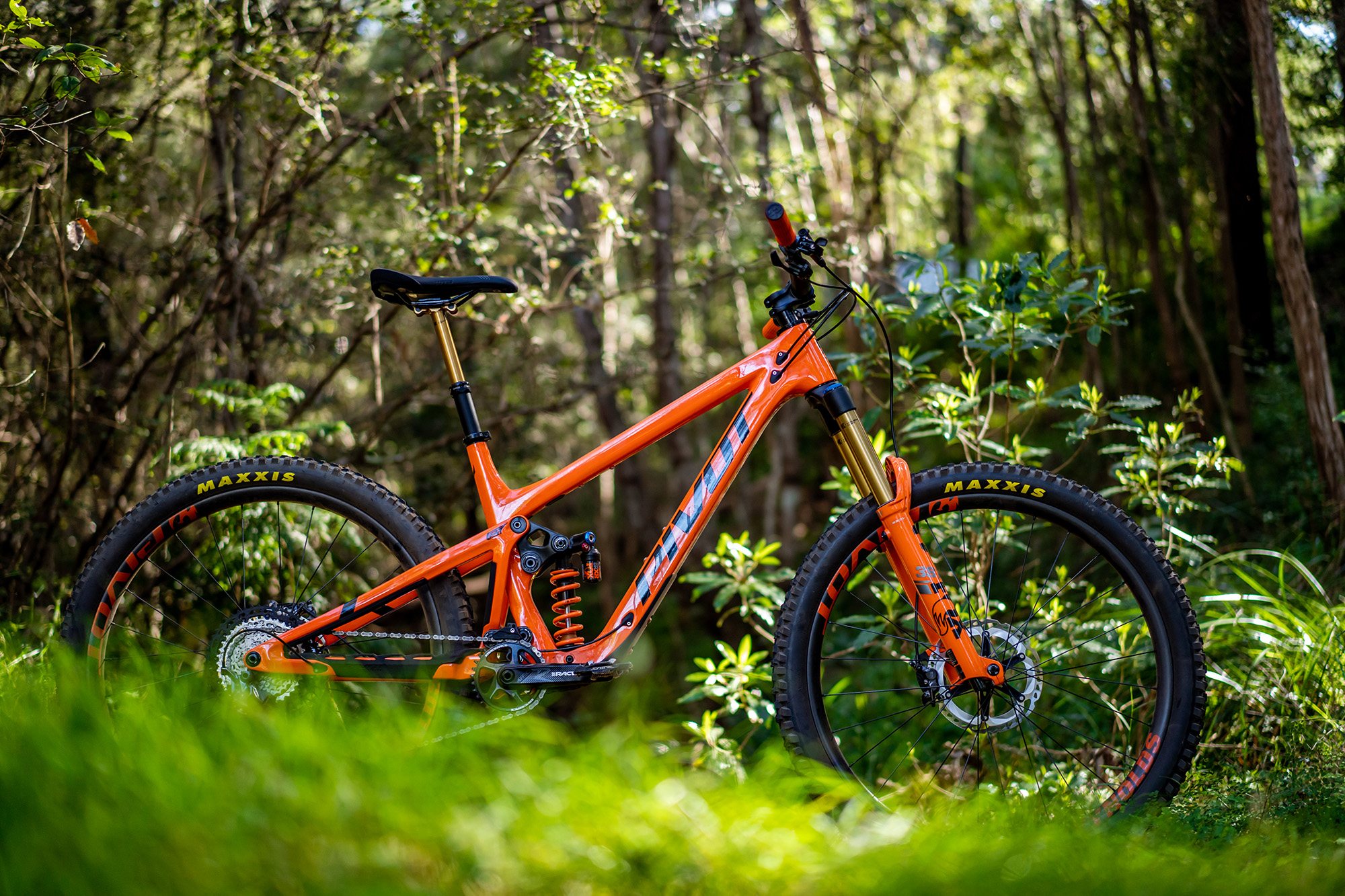 To check out the various spec options of the all-new Firebird and to browse the entire new season Pivot line-up, head over to www.jetblackproducts.com