We have road tested literally dozens of bike racks over the years and none of them come close to matching the hand crafted quality, clever engineering and all-round burliness of this new rack from Shingleback Off Road.  The 'Sport' rack is the most recent addition to the brand's range and it represents a significant milestone for the company.
The rack showcases a lot of very unique design elements which combine to create perhaps the most modular and versatile bike rack we've ever seen here at the mag. The 'Sport' allows you to carry 4, 5 or 6 bikes, and it can even securely carry snow and water-skis/boards, meaning the Shingleback Off Road 'Sport' is far more than just a bike rack, rather, it's a rack that the family will be able to utilise all-year-round to transport gear for all of your adventures.
Whilst most vertical bike racks on the market are only made to carry standard mountain bike wheels, one of unique things about the Sport rack which further sets it apart from the bunch is that it can be fitted with built-for-purpose wheel inserts which allow the rack to securely carry road bikes, gravel bikes, BMX bikes and kids bikes. This racks clever design still doesn't even end there though, being mindful that modern MTB's are longer and bulkier every year, Shingleback have 'future proofed' their latest rack to utilise a telescopic centre post which can be raised up and down dependant on the size of the bikes that you're planning to carry whilst ensuring that each bike's rear wheels are elevated away from the road whilst traveling. Furthermore, the rack use extensions bars which will accommodate bikes of all shapes and sizes that exist now, and with the allowance of bikes to grow even longer. It's probably fair to say that if you pick yourself up a Sport rack you'll also be making an investment for the future!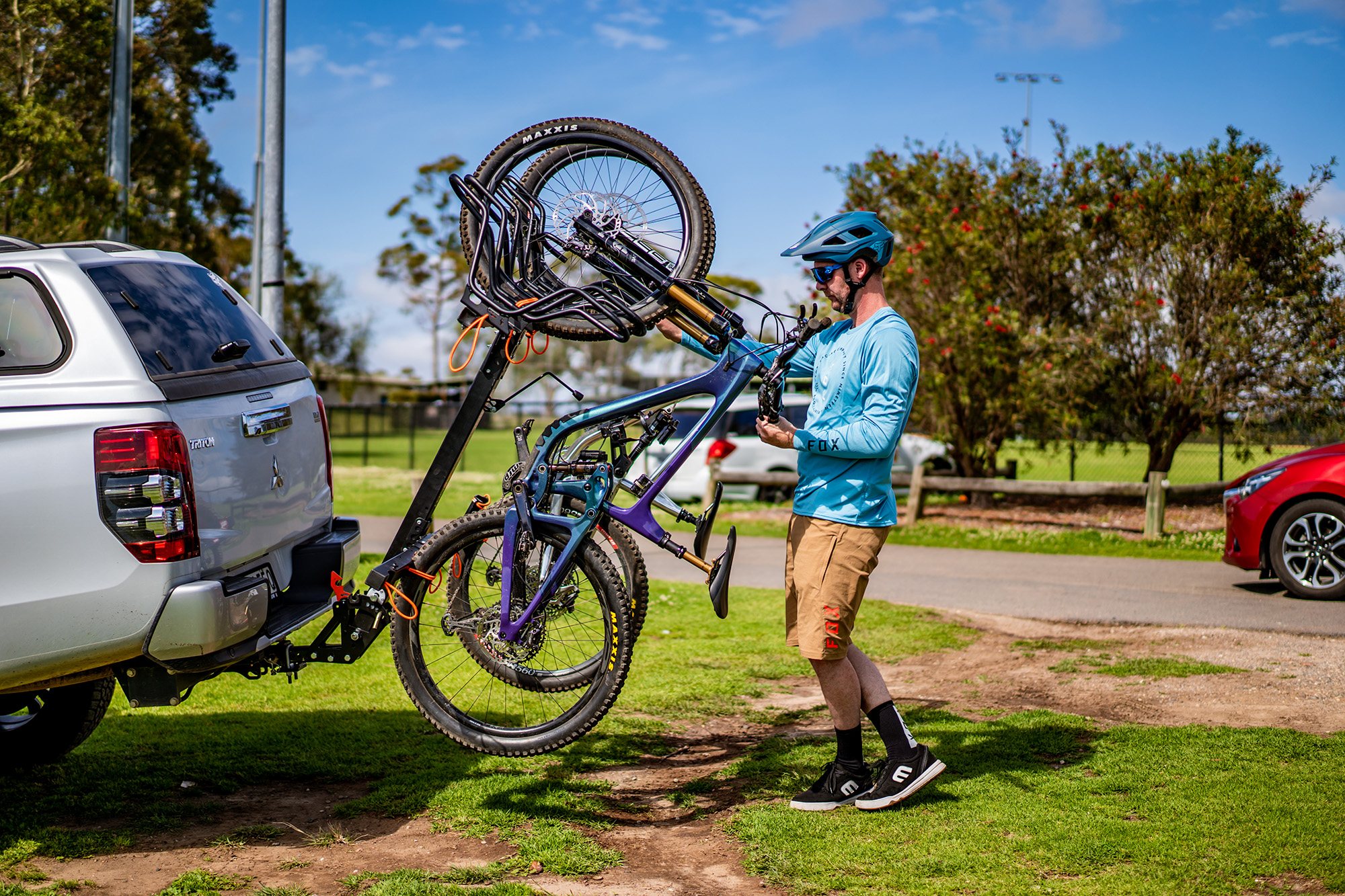 But guess what? We're now 4 paragraphs into the review and I haven't even told you about the feature that I reckon you're going to love most about this rack. Lets be honest, loading and unloading a rack is never easy. Bikes are usually pretty heavy and they're usually awkward shapes, and they're often covered in dirt, etc too so you really don't want to attempt to lift them above your head if you can avoid it. One of the things that the clever team at Shingleback Off Road Sport pride themselves on is that their racks are designed for the entire family to be able to load/use; even mums and kids. That said, the key feature of the Sport is that the entire rack uses a 3-stage tilt recline, which means you don't even have to lift the bike's rear wheel off the ground in order to easily load said bike onto the rack. Another bonus about the tilt recline feature is that it allows for direct access to the boot/back of the vehicle whilst the rack is fully loaded with bikes and gear.
The recline mechanism has been extremely well designed and engineered making it very easy to operate but also to ensure that there's several fail safes in place so that the rack won't and can't recline when you don't want it to, whilst your driving, etc.
Loading bikes to the Sport rack is incredibly simple, you simply place the front wheel up and into the rotational top cradles, and the rear wheel then lines up neartly into the scalloped lower bar and held securely in place using Shingleback's iconic orange bungee cords. Pedal fastening straps can also be fitted if you're planning a particularly long trip or trekking across bumpy terrain.
As we mentioned, this rack is all about superior quality and that all begins with the raw materials. As a company Shingleback Off Road are passionate about supporting Australian industry as much as possible. All of the steel used in their racks is Aussie made steel and even those awesome orange bungee cords are made right here in Oz too. All of their racks are welded and manufactured at their factory down in Victoria, and that is also where they're assembled, packaged and freighted to customers across Australia. Quality guarantee isn't just a catch phrase at Shingleback Off Road, they even go so far as to have their racks independently certified.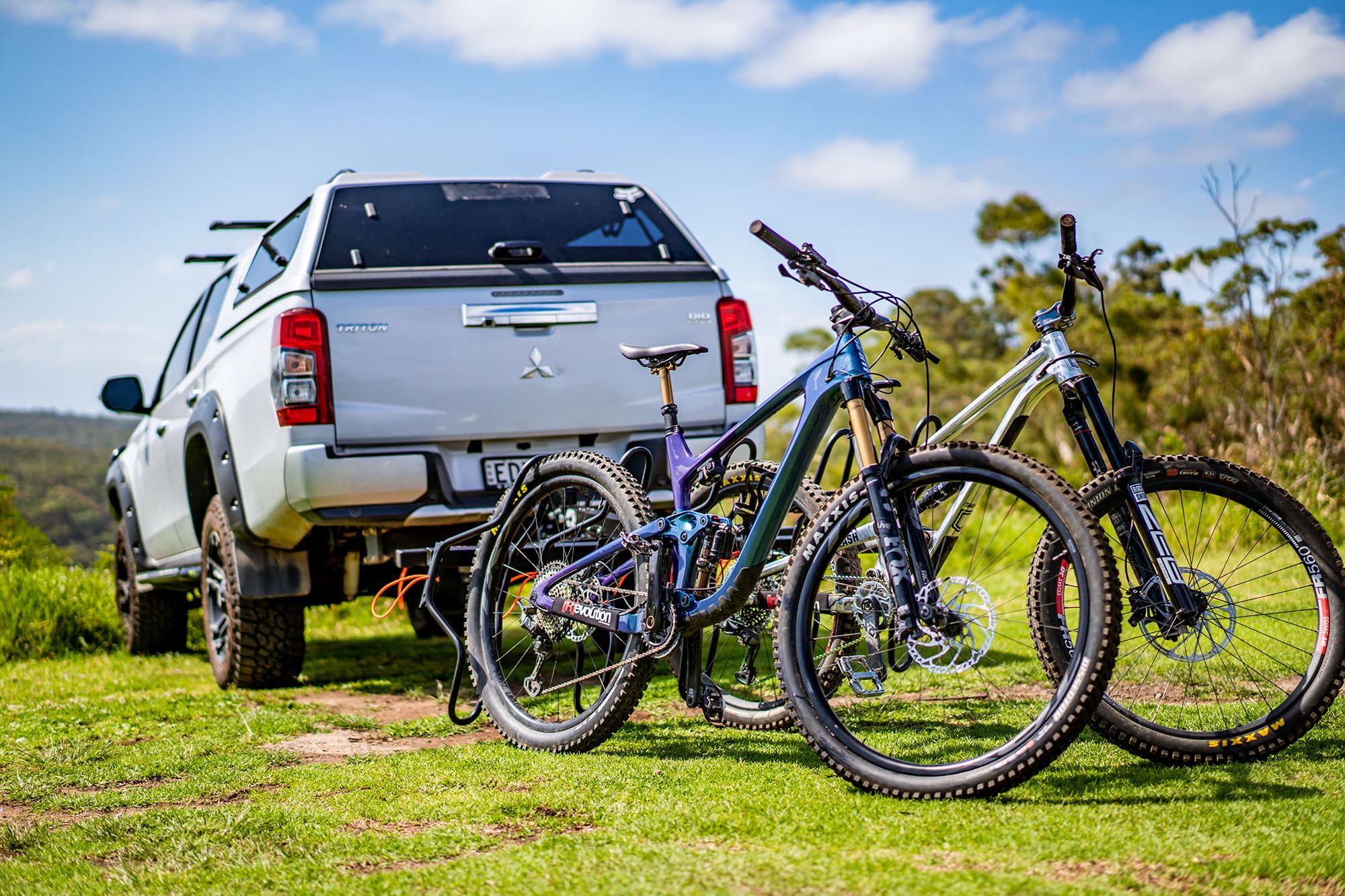 RRP: From $1990
Browse: www.shinglebackoffroad.com.au