When Sam Hill made the switch to Michelin tyres a couple of seasons ago it instantly propelled the French tyre mega brand right back to the forefront of the MTB game. Obviously Sam's racing domination since then speaks volumes about the performance of that crucial item that connects his bike to the trail beneath.
It had been 20 plus years since we last rode Michelin tyres and we were certainly intrigued to find out how their latest generation of MTB rubber handles? At the start of Spring our buddies over at BikeCorp (Australia's Michelin distributors) sent over a set of Wild Enduro's for us to review. Here's how we got on…
When we unpacked our new tyres the first thing we noticed is that they feature a distinctly different tread pattern from one and other. The Wild Enduro family include specifically designed front and rear options. They're available in 27.5 x 2.4" or 29 x 2.4" versions. We tested the 27.5" model and as soon as we fitted them to our test bike (30mm internal rims spacing) we could tell that they appeared a little more on the slender side compared to the widths of a lot of the tyres we've become used to of late. That said, we didn't want to 'judge the book by its cover' and assumed that the Michelin's were too narrow before we'd given them a chance out on the trails. As it turns out, we had nothing to worry about. Their 2.4" width felt right on the money and the amount of grip that they boast was very impressive.
The Michelin Wild Enduro 'Front' is a mean and aggressive front tyre with wide knob spacing and as the name suggests, this tyre is perfect for the enduro or aggressive trail rider who wants a burly front tyre. The side knobs are well pronounced and broadly spaced, with an abundant ramp to support the shoulder, thus providing loads of cornering support under aggressive riders. The centre knobs, arranged on two alternating rows, have two ramps that optimise rolling resistance but still stay firm under braking.
The Wild Enduro Rear on the other hand features a much tighter tread spacing and the rubber nobs themselves are quite a bit smaller than their counter fronts which are found on the 'front' version. This tyre is designed for high speeds and to suit aggressive trails. After the very first day of riding/testing, which just so happened to be a full day of shuttling laps down at the mega Maydena Bike Park, I found that both the front and rear tyres seemed to offer excellent braking bite, as well as great cornering abilities.
And that gave me a ton of confidence to get off the brakes and trust that the bike wasn't going to 'slide out' and leave me laying on my back like a turtle wondering what happened?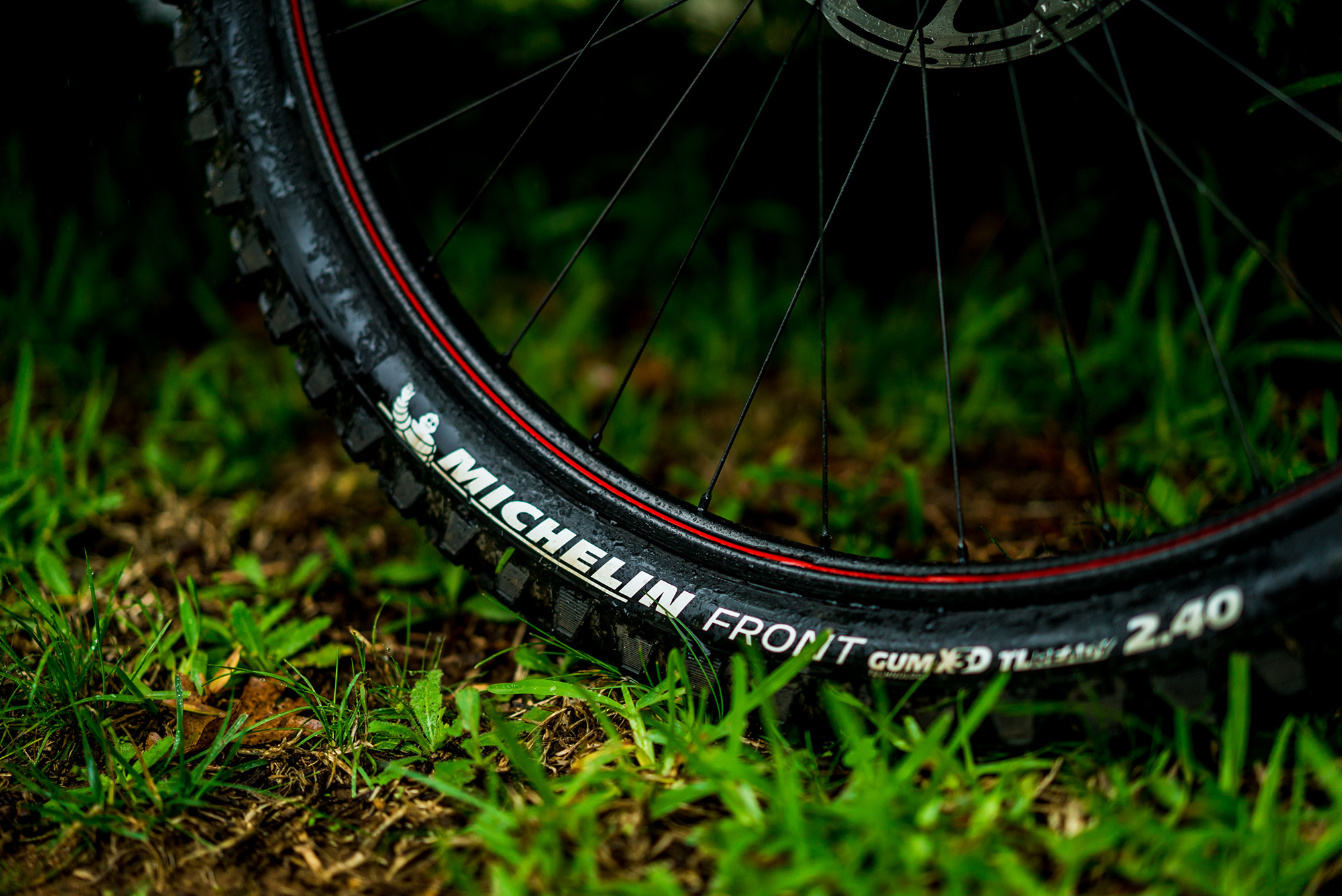 Construction wise both tyres utilise a rubber compound that Michelin call 'GUM-X3D'. This rubber compound is in fact made up of 8 different types of rubber. The body of each of the tyres is made up of 3 layers of canvas, maintaining their intended usage toward heavy riding, but each layer is formed by a lighter 60TPI weave, with the intermediate layer being a higher density. The sidewalls on the Wild Enduro tyres are reinforced from bead to bead, and alongside a pair of anti-snake-bite strips that line the beads, the sidewalls feel plenty sturdy.
Perhaps the thing we like most about the Michelins is how predictable they feel in all trail conditions. From bone dry to sloppy mud, the Wild Enduros provide a ton of trail grip. Hey, it might have been 20 odd years since Michelin were last ruling the MTB world with their tyres but it certainly seems they rapidly heading back towards that mantle.
Price // $99.95 a piece
Browse // www.bikecorp.com.au