Time for Giant to take back their Reign.
Okay, right'o, is this just the same 'ol Reign but with bigger wheels bolted on? Heck no! Right, what's new about the 'new' Reign 29? When Giant began working on the Reign 29 project their R&D team pulled out a fresh piece of white paper, sat down with their racing team, and started from scratch. The Giant Off Road Racing team wanted a more confidence-inspiring ride, with efficiency for the liaisons, and that could handle the mayhem on the way down.
How much travel is that Maestro Suspension design packing in the rear? We're talking 146mm of silky smooth travel. And of course, because the bike features the larger 29'er wheel you get that bonus 'feeling' of the bike having even more travel than it does. Maestro suspension provides a plush ride through all stages of travel due to its linear leverage curve. Thanks to this leverage curve both coil and air shocks can be used depending on what you feel is best. The 4 point linkage system creates a false (virtual) pivot point that enhances efficiency by counteracting pedal forces in order to reduce pedal bob. All of this magic sits low in the bike to lower the centre of gravity and increase stability. In short, more speed and control in a simple package.
Does it feature a slack head angle / reduced fork offset combo as we saw on the new Trance 29 last year? The Reign 29 now comes with a 65-degree head angle, which may not seem way out there like some but, remember 29ers don't need to be slack to roll over stuff. Giant was one of the pioneers in using fork offset to affect steering feel way back when they introduced the second-gen 27.5 Reigns. Because the Reign is designed to inspire confidence while enhancing stability, they have of course specced a short (42mm) offset fork. This will increase the trail, slow down the steering response while reducing the flopping feeling of your front wheel and increase the ease of weight transfer.
Go on, give us a run-down of the rest of the bike's geo!
While head angles have got slacker, seat angles have got steeper. The Reign 29 comes with a 76.8 seat angle, one of the steepest on the market to centre your weight while climbing. Somehow, even with all the linkages, Giant has managed to achieve an impressive 439mm chainstay. That is almost as short as most 27.5 wheeled bikes and not far off the 26-inch bikes of days past. In the trend of stability, the frame has also gotten longer, boasting a 455mm (size medium) reach measurement for more room to move around.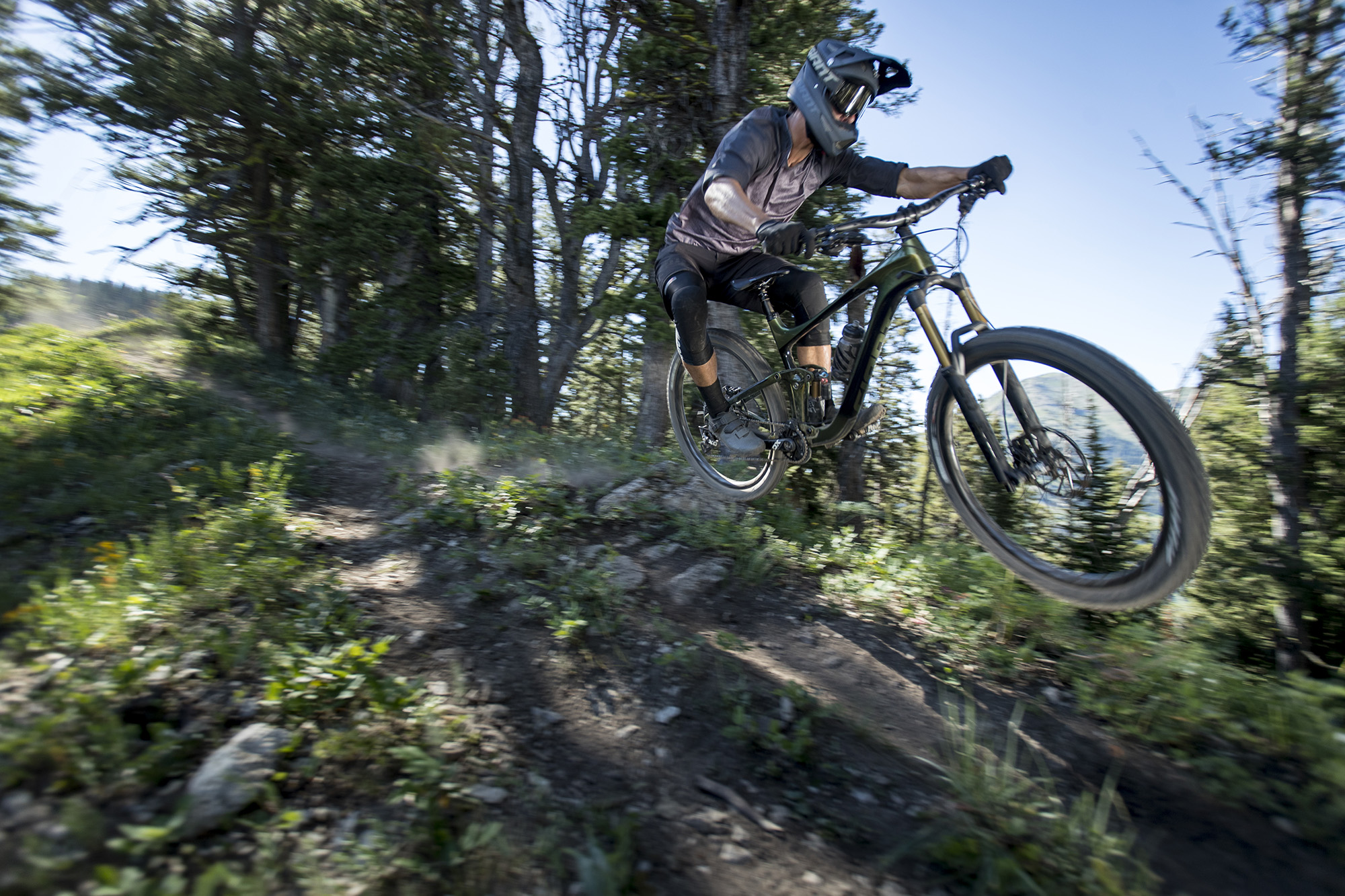 We've heard that there's also going to be an 'SX' model in the range, what's the go there? The SX is a beefed-up version of the Reign built for riders looking at a more "park" or "downhill" style bike. With a 170mm fork up front the head angle changes to 64 degrees for more steep ploughing. Forgoing the air, it has a Fox DHX2 coil on the back ready to smooth out any trail put in front of you. Because Giant know the riders on this bike will be hammering the living shit out of it they have made the frame out of their infamous ALUXX Alloy to increase the durability on the shuttle rigs and trails.
What are we talking in terms of frame material options? As per usual Giant offers two main materials for their "Advance" and "Normal" frame options. The "Advance" option is constructed from Giants Advance Forged Composite Technology. Giant have woven individual strands of carbon to create a unique carbon matrix. This carbon "Matrix" is bonded using Giants proprietary resin in a unidirectional sheet. This technique allows Giant to customise the tune at every point on the frame by laying sheets in certain directions. For example, there are more long strands running across the down tube to increase lateral stiffness under power. ALUXX is a 6061 Alloy that is custom extruded and Hydroformed to create the unique bends and shapes in the Giant's frame. These shapes and extrusion techniques make Giant frames some of the stiffest yet lightest frames on the market. 
It's claimed that the Reign 29 has racing in its blood, does that mean Giant's Factory Offroad team played a role in the bike's development? The Giant Team have had a huge influence on the bike and its geometry. The bike was originally supposed to be a shorter travel frame with a shorter stroke shock, much like it's little brother the Trance. My bet is that was to reduce weight while increasing stiffness. The truth is, this bike is going to be pummelled for up to 15 minutes at race pace by some of the worlds best. We all know Josh Carlson is going to push this bike way past its limits, and a short-stroke shock won't cut it. It didn't provide them with the consistency and reliability they require to race at the top level. If they can push it that hard, it's going to handle anything we can throw at it.
Key Details
29" wheel exclusive
Full carbon & full alloy frame options
146mm Maestro rear suspension
160mm front travel
Progressive geometry with reduced fork offset
Boost hub spacing
Trunnion mount shock w' carbon rocker on all models
4 frame sizes, S-XL
439mm chainstays on all sizes
493mm reach (size large)
'SX' model features increased fork travel to 170mm, slacker headangle @ 64 degrees
Reign 29 Aussie Pricing
Reign Advanced Pro 29 '0' // $10,299.00
To learn more about the full Reign 29 line-up and to find your local Giant dealer head to www.giant-bicycles.com/au