Monday mornings have never been so hard! A massive night of racing that showcased just how epic the World Championships are when 'putting it all on black' can take the rainbow jersey, especially when at the prestigious Mont Sainte-Anne venue. 
Loïc Bruni made history by winning his fourth world title in five years at the UCI World Championships in Mont-Saint-Anne while Myriam Nicole stunned her rivals by winning the rainbow jersey to cap a dominant weekend for French riders in Canada. And we can't forget Kye A'hern, who joins a list of Australia's greatest downhillers who've nabbed the Junior World Championship.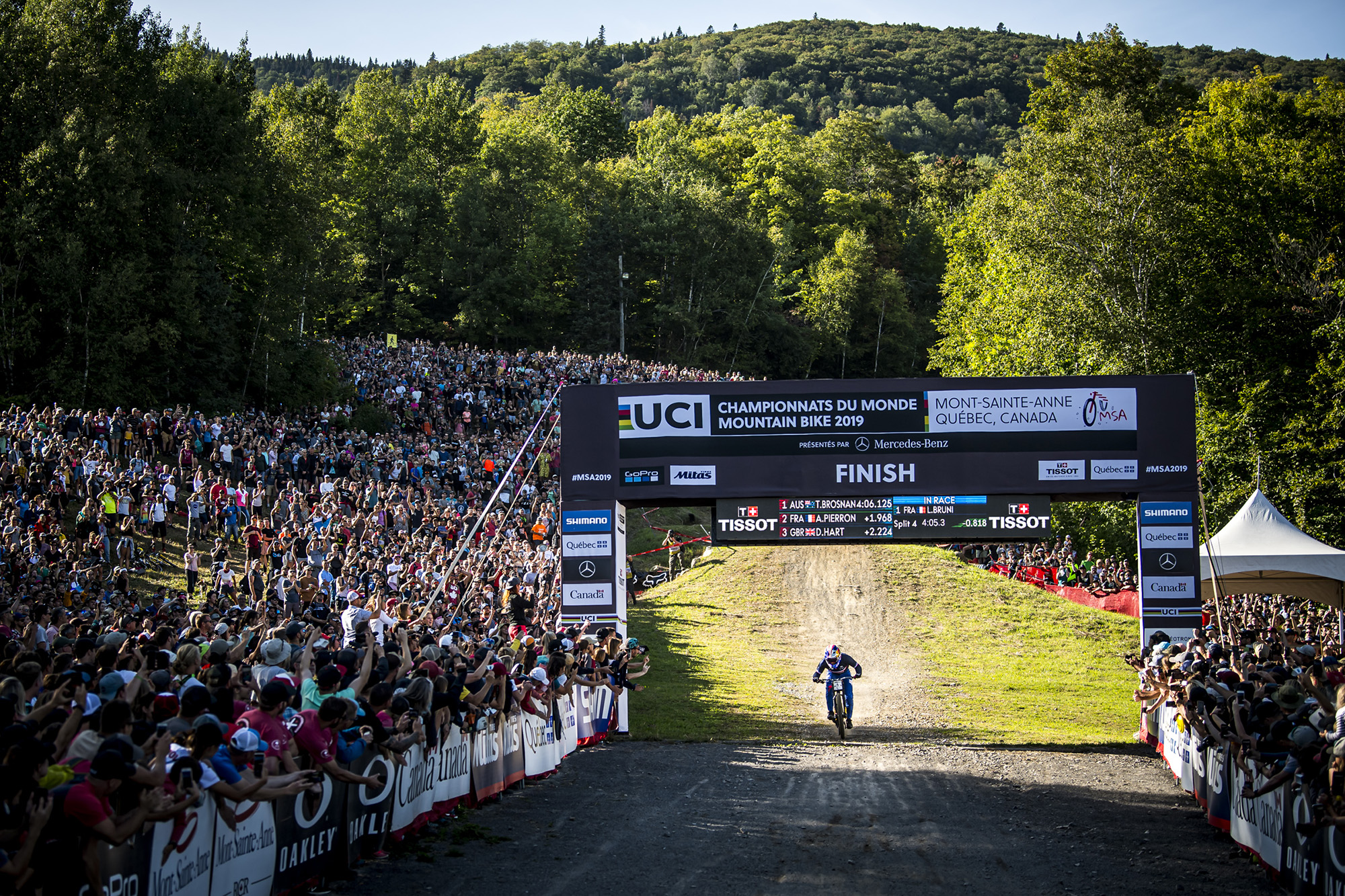 Bruni has now won the world title four times in five years and is only the second rider ever to win three in a row, cementing himself in the record books. The Frenchman, at only 25 years old, was the last man out the starting gate and attacked from the get go in a bid to beat a time that seemed unbeatable from the incredibly fast Troy Brosnan. His World Championship win in 2010 as a junior  a massive boost to his confidence on what is one of the most prestigious events in downhill history.
Troy dropped the hammer on what is one of the most epic downhill tracks on the planet with speed, power and precision, everything considered, every part of the track used to generate speed, smashing all the previous riders times in a run that on any other day would have ensured gold. It seemed unreal to be watching Loic's run, up at splits, absolutely riding past the edge for every sector of the track, over 70km/h through one section that everyone else was just breaking 60km/h, somehow crossing the finish line in 4:05:455 to spark wild celebrations in the realisation he'd just gone fastest, just beating Brosnan, by the sweet FA margin of 0.581 of a second…  Three in row, world championships that is! We've been asking ourselves all day, what does it take for Troy to beat Loic?
It's turning into one of the biggest rivalries in MTB history, yet one with so much mutual respect. Whoa. Just phenomenal riding form those two, not to discount any of the riders racing, but these two just have something so above and beyond. Jack Moir scored a solid 18th place, followed by Jackson Frew in 32nd with Mick Hannah and Connor Fearon (flat tire…) back in 39th and 40th place. The Zwar brothers put in a solid effort representing the Aus flag and Dean Lucas brought pure fire to the course, up at multiple splits, but took a huge hit in the rock garden trying to gap a section. Gotta say, his bar hump chainless over the finish jump was epic…
"It is so hard to explain. I just crossed the line totally exhausted. It is insane. I didn't really know what to do so I just attacked, which I don't do so often. It was a bit of a struggle, but we put it together today. It was crazy. I didn't have much pressure, I have done it before and it is only a bonus if I did it again. I was nervous, but just went for it."

Loic Bruni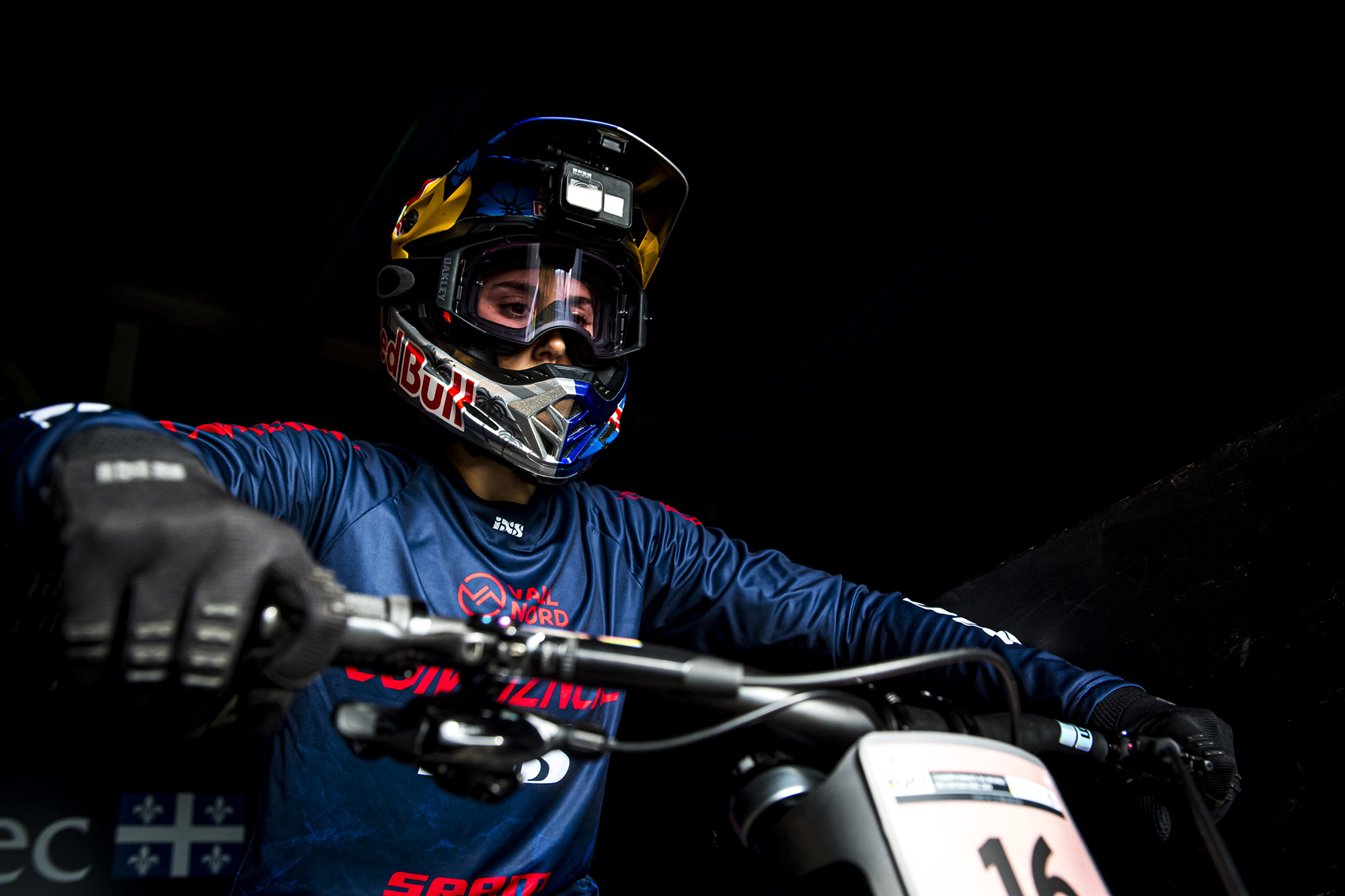 Myriam Nicole had not raced in any UCI World Cup events this season after badly breaking her foot in April and having surgery to repair the damage followed by four months of rehab. Despite her lack of competition in 2019, she sent down a blistering time of 4:53.226 early on in the final to put herself firmly in the hot seat in what Rob Warner dubber the 'greatest comeback since Lazerus!'. Tahnee Seagrave, herself returning in her first race back after shoulder surgery in June, also showed no signs of rustiness and pushed Nicole the closest to claim silver, just one second behind. Marine Cabirou completed the podium in third followed closely by Tracey Hannah in fourth. Tracey had some huge crashes in practice, her Instagram feed letting us know she held off in favour of focussing on the World Cup overall. What ever the case, Tracey will always be the champion to us!
Watch the two winning runs right here
Introducing the new Junior World Champion: Kye A'Hern
What can we say sans being able to watch his run!? His speed would have seen him in 27th place, or the third fastest Aussie on the day. Historically speaking, Aus juniors who win World Champs seem to go on to big things. Just sayin!
Check out what Kye A'Hern 🇦🇺 had to say after riding to his first World Title! 🌈 #MSA2019 @CyclingAus pic.twitter.com/L9AydvA45q

— UCI MTB (@UCI_MTB) September 1, 2019
Junior Aus women did well too, Cassie Voysey came in 7th. Massive healing vibes go out to Brook McDonald who's undergone spinal surgery after a huge crash. No word on how it's gone at this point, but as one of the toughest riders on the planet here's to hoping he's back on two wheels very soon!