The two time MotoGP World Champion has long enjoyed mountain biking as a hobby. However, this past summer Casey's fondness for trail riding has exploded into a full-blown passion. Whilst his primary job as the test rider for Factory Ducati's MotoGP Race Team demands the lion's share of his attention, Casey still manages to devote a lot of his time to riding and tinkering with his beloved fleet of mountain bikes. Now, as he sets his sights on potentially entering his first mountain bike gravity enduro race, [R]evolution Magazine headed to Queensland to catch up with Casey at home and out on his favourite local trails.
Before we go much further let's outline the history this story. First, let me tell you something about Casey; he has an amazingly technical mind when it comes to bikes (both with and without a motor); and he conveys that technical information on a bike's riding behavior and his requirements with amazing articulation.
As a result of being deeply in-tune with bike set-up characteristic, Casey will only ride the bike and components that he feels perform best. He is always searching for the ultimate performance to match the riding conditions. Be it a smooth asphalt Moto GP race track, or a loose rocky single track down a mountain side. Casey studies every detail and obsesses with fine tuning…. And this is how Casey's SRAM relationship started many years ago.
During his MotoGP career Casey was supported by Specialized who provided him training bikes. Yes, complete models from Specialized's MTB line-up each year. Casey being Casey, often refused to settle for a stock set-up where he felt it lacked performance; from there he started researching and trialing various MTB components.
Besides making his MotoGP bikes go fast and slow down, one of the most critical areas of a MotoGP bike's performance is the suspension. During his MotoGP career Casey worked with countless engineers which resulted in Casey's detailed understanding of suspension behavior and how it affects a bike's riding characteristics. So, when riding his Mountain Bike, it was perfectly natural for Casey to play around with adjustments to his front and rear suspension. Sometimes he'd find a setting that worked, and sometimes not. Through this method of trial and error, he formed the view that one Mountain bike suspension brand was far superior than any other brand in the marketplace. That brand was Rock Shox, and Casey has been a diehard fan ever since. Case then discovered various other products in the SRAM range, such as SRAM's Guide brakes and Reverb dropper posts. Through that product association the relationship grew organically, and now Casey is a full SRAM athlete. For our recent trip to QLD we were joined by technicians from SRAM who were taking the opportunity to build and tune two brand new bikes for the champ.
Casey loves his mountain biking but let me tell you, he is not just some punter that putts around the trails for fitness. His speed, style and skill could easily be mistaken for a pro mountain biker. In fact, if he entered a national level race tomorrow, we reckon he would be a legitimate podium contender. But more on that later. First, let's start getting to know Casey.
Can you begin by telling us a bit about how you got into MTB?
Well I had been road cycling ever since I was a teenager. It was great for my training and I really enjoyed it, but as you know it is getting sketchier out there on the roads. I really discovered mountain biking when I moved to Switzerland back in 2008. I was fortunate enough to have some really great single track loops right at the back of my house. I'd go out and blast laps for an hour and a half, hour forty-five, with some really nasty climbs and then be rewarded with some great technical trail back down. I loved it. And from there my trainer and a couple of friends started doing some mountain biking adventures at various places across Switzerland. Some of the best mountain biking ever and I got hooked. I did have to go away from it for a few years after that though because of some issue's with my back and a few other things with my body. But more recently since we've been living back here in Australia I've been really getting into it again and it's great.
Having watched you rip down the trails these past few days, and your speed and style on the bike, it's hard to believe that you haven't been a mountain biker your whole life. Obviously you have spent your entire career on two wheels and big engines. When it comes to mountain biking you are the engine. Explain to us a little about the feelings you get when you're out riding trails? 
I really enjoy the challenge. Believe it or not a big part of riding for me is pushing myself as hard as I can. I love riding up hills, hurting, pain all that sort of thing. The fitter you get, you get to a point where – not so much that everything comes easily, but after a while you reach a certain point of hurting through digging deep with everything you've got in the saddle and then it all just clicks. And when your get to that point you just want to get out there and put yourself in the (hurt) locker every day! Challenging and pushing yourself to dig deeper and go harder out on the trails. So I love that whole aspect of riding.

Although he's still only 31 years old, you'd be forgiven for assuming that he was much older than that due to how recognizable he has been for such a long time as one of the world's fastest motorcycle stars. Casey retired from the sport of MotoGP four seasons ago. He made the decision to stop racing whilst he was at the height of his career, whilst he was still the fastest man on the grid. The level of fitness and physical stamina that it takes to be a MotoGP rider is out of this world. Since he left racing Casey has always maintained a phenomenal level of fitness. He is a pure athlete that commits himself to a gruelling training schedule. He isn't just regular 'fit', he is what I'd call hyper fit.
Oh, so is that where your interest in XC racing comes from?
Yes, I really love following my XC racing. When I first started getting into mountain biking, I really enjoyed watching XC World Cups and that side of the sport. But since then Enduro has come on to the radar in a big way for me. It really looks like the whole package, you know. You've still got to ride up the hills and it is going to hurt by the time you get up there, but then you've got to turn around and put together the perfect downhill run, then ride to the next stage, and so on. I like that, it seems like the ultimate form of racing.
Well this leads me into the big question then, might we see Casey Stoner racing some local Enduro MTB events in the future?
I would love to go and do a couple of Enduro events. Just to see what they are like and what they are about. You know you can watch those races all you want online, but until you go out there and actual race one, you'll never know. There seems like a great local enduro race scene here in Australia and one day I would love to race my mountain bike.
That's really exciting to hear. When it comes to competition, we've certainly got some talented athletes over here as well.
For sure, you know there is some massive (mountain bike) talent out there. I really respect those top guys for what they are able to do on a bike and what they've managed to achieve in racing so far. I would really love to get the opportunity to ride with some of the guys just to watch and learn from them. 
You and TB (Troy Brosnan) are quite close, yeah?
We are. We've known each other for a long time and I am a massive fan of Troy as a rider.
Has he given you any MTB pointers?
Ha, no, no pointers or anything. Last time I was over in Adelaide we went out downhilling. He put me on one of his old race bikes but I was almost too scared to ride it because it was one of the bike's that he's holding onto.
One of his old race bikes?
Yeah, a bike that he raced world's on one year. I was like "I'm not going to risk dropping this bike. I don't want to put a scratch on it".  So anyways that day I just watched him float off into the distance as I cruised down the hill a long way behind.
Ha I don't know about that, I reckon you're being modest mate. I remember chatting with him about you and he reckoned that when you two go out riding together, you're able to stay on his back wheel the whole way down the trail!
Ha ha, that might have been towards the end of the day! You know, I love watching him ride. He is so smooth, does so many awesome things on the bike and I know it is possible for him to achieve a lot more than what he has done so far and so I am really looking forward to the future.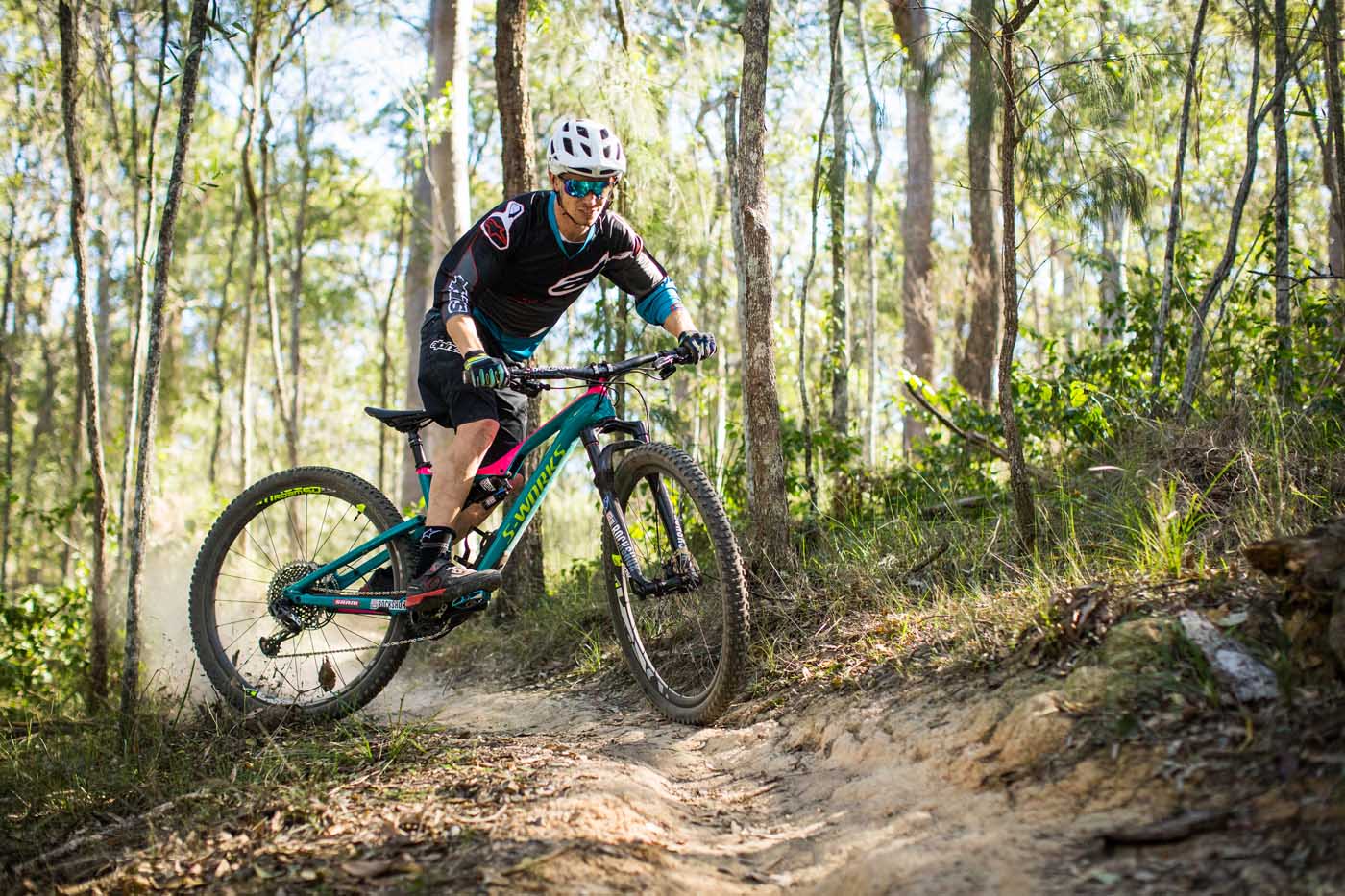 I know one of the things you really enjoy is following MTB racing online, World Cups and the EWS, you know a lot about the top riders and the various race tracks. From everything you've learnt as a fan, what is your take on the mountain bike racing scene?
Very relaxed. Compared to the racing world that I've come from. Especially with Enduro and DH, because the riders aren't lined up on a grid against each other, instead they're racing the clock, so it is the course versus them, rather than them versus each other. Because of that, there doesn't seem to be so much of the cut throat competition. Even with XC racing, I am sure there is a bit of argy-bargy and there is a few aggravated racers from time to time.  But in general, professional MTB racing seems a lot more relaxed as a sport and I think there is a lot of appeal in that alone.
"As far as my favourite type of trail, I am kind of in the middle of a lot.  You know, you go to Whistler and ride A-Line and it's just amazing fun with all those jumps and it's such a long run, but it's quite a smooth trail. But then on the other hand, I also really love more natural trails. Steep and raw, gnarly with big rocks and rooty litter everywhere, the kind of trails where you have got to be kind of clever and just let the bike pin ball through some sections and at other times you have to really attack"
How have you found 'normal' mountain bikers to be when you're out riding?
Again, really relaxed. You get out on the trails over here and the majority of people are happy and having a great time. Admittedly the first couple of times I went riding on the local trails around here I guess I found myself going the wrong direction a few times… I'd be going down a trail where a rider was climbing trying to best their Strava time or something and I got a few angry looks as I got off the trail to let them pass, ha ha! No, everyone I've met whilst mountain biking has been awesome. Everyone is friendly, everyone talks to each other. It's a nice community.
One of the things that stuck in my mind from chatting with Casey as we hiked back up the trail between photo 'runs' that day, was that he actually enjoys riding new trails 'blind'. He prides himself on being a fast learner and quickly adapting. He reckons if he timed each 'run' his second run down a new trail will record the same time as if he rode the same trail 20 times over. A valuable skill he no doubt honed during his impressive motorsport career.

 

 
You've ridden all around the world. Describe your ultimate trail?
That's a tough question… As far as my favourite type of trail, I am kind of in the middle of a lot.  You know, you go to Whistler and ride A-Line and it's just amazing fun with all those jumps and it's such a long run, but it's quite a smooth trail. But then on the other hand, I also really love more natural trails. Steep and raw, gnarly with big rocks and rooty litter everywhere, the kind of trails where you have got to be kind of clever and just let the bike pin ball through some sections and at other times you have to really attack. For me it's the same way I am with my music. I don't just like one type of music, I like several, and it is exactly the same with mountain biking.
I am surprised to hear that, considering your background of racing MotoGP, I would have thought you'd prefer smoother, flowy trails. It's interesting that in fact you get more excited for the rougher, gnarlier sections of track?
Well you see for me the gnarly bits on a mountain bike trail are like really fast cornering in MotoGP, you know. Those really fast turns are what I enjoyed most. I loved tracks with corners where I could slide the bike into a corner, when nobody else could, or they didn't have the confidence to do it. I'd step the rear end of the bike out going through a corner doing 250+ k per hour at the apex. I loved that aspect because I knew other people could not do it. No matter how much they tried they just couldn't do it. So I really like the more gnarly, fast, rooty sections and things like that because I know those sections are what make people check up a little bit. I guess I like the mental challenge of it. If you just focus and ride within yourself, but ride 'tight' then something (bad) is usually going to happen. However if you ride loose, but focused, then you know normally things come out (good). Does that makes sense? I just get a bit more enjoyment out of that because it's a challenge I suppose rather than just all the smooth easy stuff.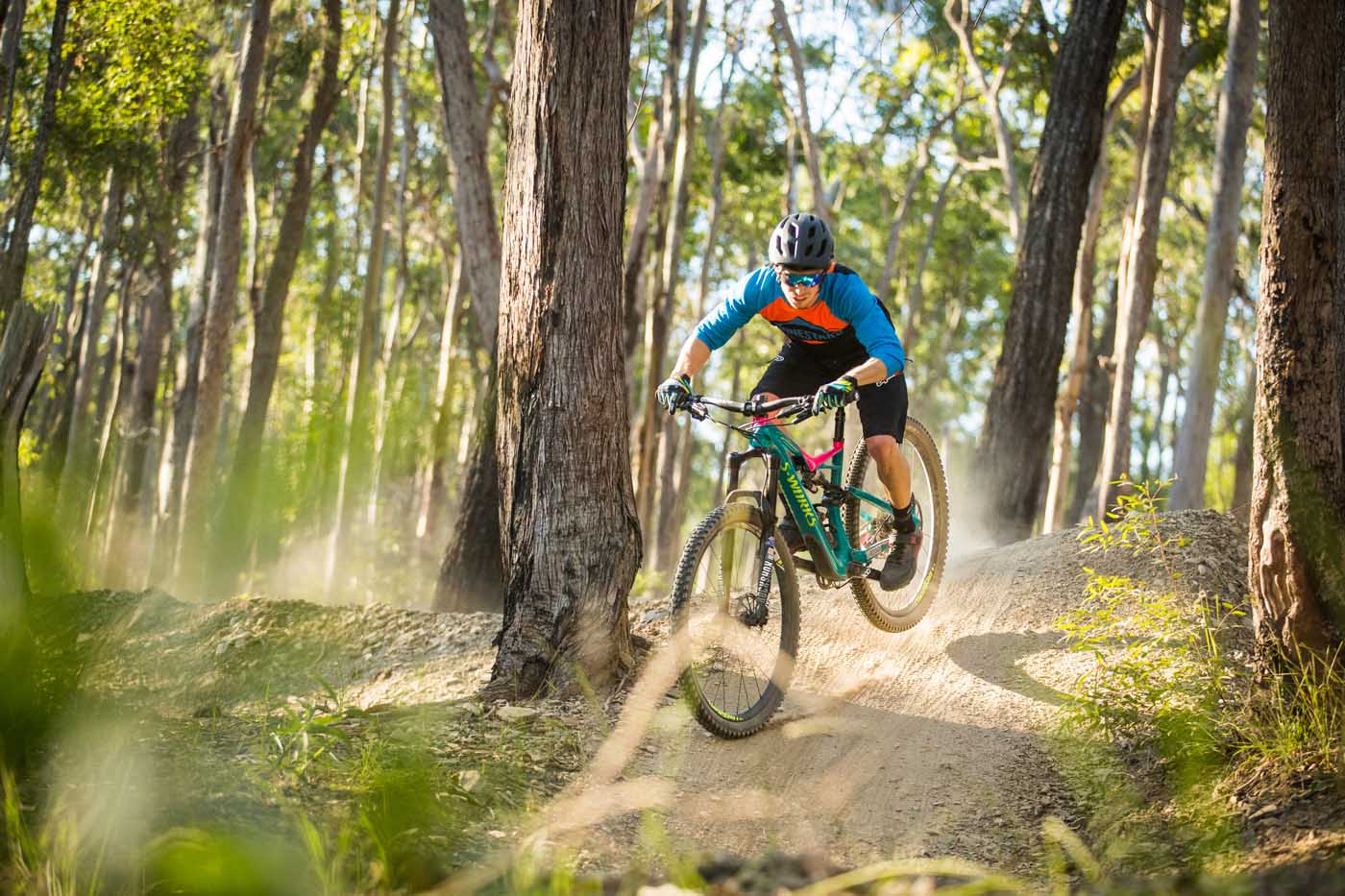 So finding your absolute limits and riding literally right on that edge is when you are at your happiest?
Yes, very much so. I mean I am a massive advocate that there is no such thing as a limit.
What do you mean by that?
You know, people say stuff like, 'I made the perfect corner' or rode 'the perfect lap' or things like that, and it is utter junk! There is no such thing as perfection. Even the best machines of today's age are .0001 out.   
True.
So my point is, you can always get it better. One way or another.  You can go faster in or faster out…
No limits. The search is always there…
Exactly, that search is always there for the rider and that is something I've always enjoyed. I have always enjoyed pushing a limit and doing something (on the bike) that other people didn't or couldn't. But with that said, I'm mountain biking these days, I'm not doing what was my profession, so I do always have to be a bit in reserve so I don't crash my mountain bike and get injured.
That would piss Ducati off.
 Ha ha, it would not be good.
Okay let's go back for a second and talk more about you potentially racing mountain bikes one day. It's crazy to think that you've only really gotten serious about riding MTB's this year. Watching you out on the trails today during our photoshoots, you're already at elite pace. Could you ever see yourself dedicating yourself to having a proper crack at this sport and racing?
I don't really know. It would be great if we could do something, and I guess we'd just have to see how it went (racing) but at the same time right now I've got a lot going on that I'm involved with… I wouldn't say this (mountain biking) is just a hobby to me. It is much more than a hobby to me. That is a really bad word to describe it in my opinion.
It seems a lot more like a passion. The way and the amount that you talk about mountain biking. About bikes, the riders, the amount of time you dedicate to working on your bikes' set-ups. Clearly you're very, very into it.
For sure. I think it comes back to the aspect of being on two wheels. For me it's always about trying to put things together to go faster. It's like I said, it is pushing the limits.
So have mountain bikes essentially given you a fresh set of challenges? By that I mean, in your career in moto you essentially achieved it all as far as winning and pushing the capabilities of the motorcycle. Where now with MTB you're still on 2 wheels, but it's a very different game. Every corner, every berm, every rock and root on every stretch of trail is totally unique. Does that excite you? 
In my life I like to stay driven. There are always challenges that we can find in the things we do, if you push to do it as well as you can. For me, I really like to think about things. Rather than just, you know, go riding and get to the bottom of a trail, and think "yeah that was fun". For me I have got to put it all together out there and when I feel that I have put it all together when I get to the bottom of the trail, I'm like, "okay that was good!''.  But until then, I'm like, "yeah well that was average."
You're constantly analysing, dissecting.
Casey: Yes exactly.
Maybe a slight bit of OCD coming through there?
Ha ha, I have got a bit I suppose of OCD when it comes to stuff like that. But at the same time, I do not 'need it'.  It is something that I look out for. It isn't as if I think, 'I have to be this way and think about things this way otherwise I am not happy'. I just enjoy the challenge in finding that right balance point on the bike when I ride. Always experimenting with little things. Like my body position, my stance whilst I ride a certain section and how that allows the bike to handle through that section.
Trial and error through repetition?
Yes, and when you finally find it, when it 'clicks' in that one corner, you then have to replicate that corner after corner. But the corners are always changing. So I really enjoy that aspect of riding. 
Can I ask you, as far as the 'rush' you get on a mountain bike when you're bombing down a steep trail, is that a similar kind of rush that you get when you're swinging off the back of a MotoGP bike hurtling down the main straight at 350kpm?
No it is not anything like that. MotoGP bikes, they hurt. They are scary. They hurt just to ride them, let alone crashing. Physically to ride laps they destroy you. You do four laps on one and you come back into the pits going "oh shit, I've got another 55-60 laps to do today" and you are just… destroyed! They're painful things to be on. And they are scary, their power, their braking and if you miss a braking point because your eyes are going through their sockets and physically can't deal with the G-forces…
So when you are on a GP bike you (the Casey Stoner) are actually scared?
No matter what anyone says you have got to be scared to ride a MotoGP bike. If you are not, then you are going to crash all the time. It's that fear that keeps you under control. That is what adrenalin is, basically, in my opinion. It's fear. So if you don't get adrenalin out of it you are not scared and you need to be scared. 
That chemical reaction within.
Exactly, that is fear to me and it is how you control it.  That is why when you crash; so many riders get really affected by the mental aspect of the crash. Saying 'oh I don't want to do that again', and so then they are too scared and they can't control it in their mind, in their brain.  And you have got to go out there and tell yourself, 'okay that's a mistake I made, I know how not to do it again', and everything will be alright.  So you go back out there and I'll knock 3-5% off that corner knowing okay I'll build that one back up, but the rest of the track I know what I am doing and know what the bike is doing, so, get back to it.  So I was always a little better than other people at recovering from a crash, whereas other people if they crashed it took them a few sessions or another race weekend to come back up to it (the speed).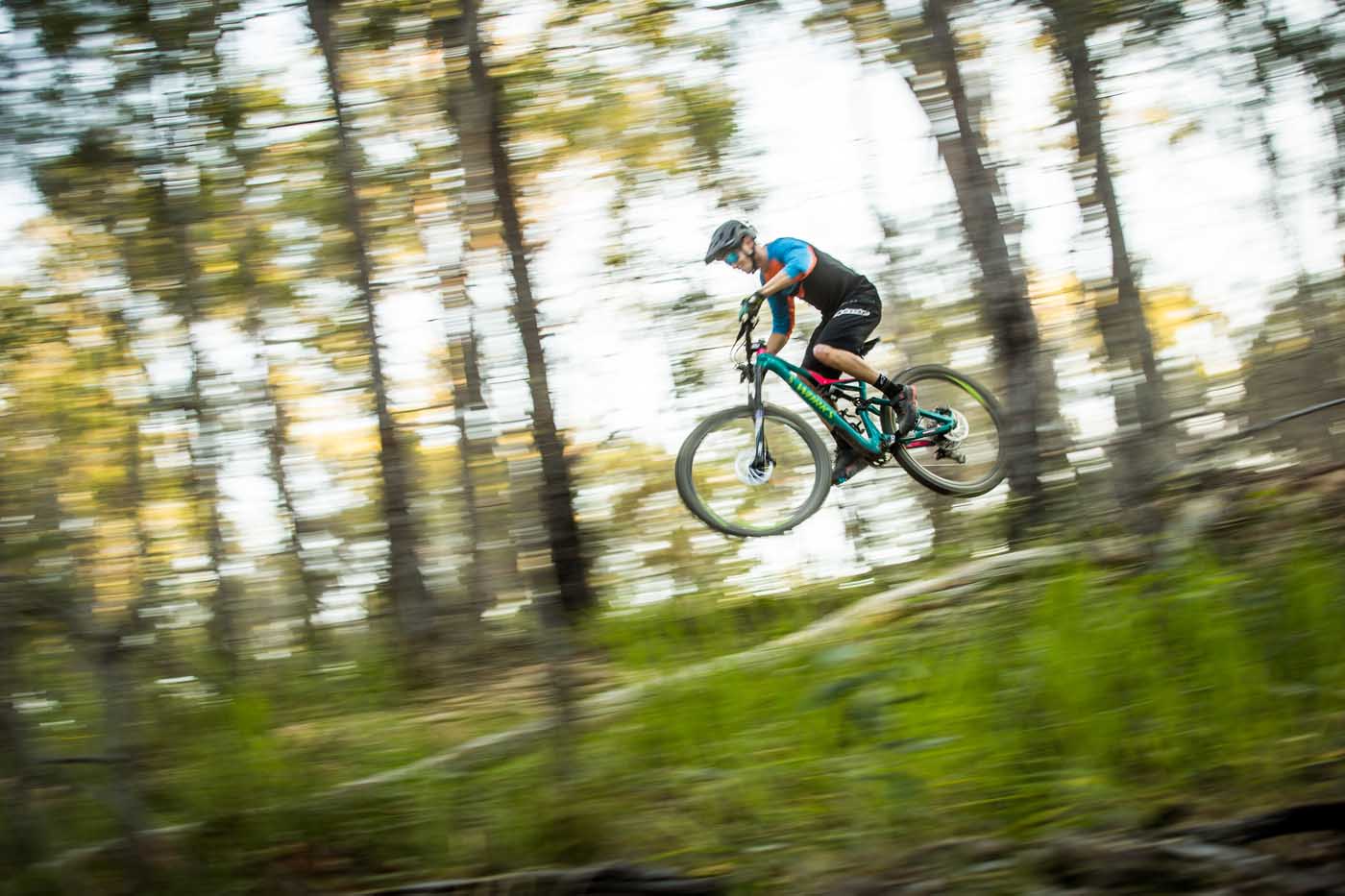 That is one thing that I've really 'gotten' from you whilst hanging out these past few days. When it comes to bikes you have this hunger that drives you to understand exactly how and why the bike performs the way it does. How and why a certain component behaves the way it does. And then when you're able to identify each of those elements, you set out to improve it, perfect its performance, your performance?
Something that I have looked upon for the last three or four years, since retiring (from racing MotoGP), is realizing that racing a bike is not just about your natural talent. It is about how you approach it as far as your mind set. That is again something that is controlling you and you need to be in control.  So for me, analysing every aspect is just making a choice to understand and become better. Not being scared of a corner just because you crashed there. I believe you can't just run off 'feelings'. You need to be calculated. So it is the same with the bike set-up and things like that.  You can't just go, 'my bike doesn't feel right'.  Okay, why doesn't it?  Think about it, you know, put your mind into it a little bit more.  With everything, you have to be analytical but then at the same time, don't get too involved in it, and don't get too wound up in it. Otherwise it won't be fun.   
We mentioned earlier that Casey had just built a pair of new bikes. He'd opted for a super sweet new Specialized Stumpjumper, which will serve as his all-mountain machine and a Specialized Epic which Casey will use to blast out endless cross country miles. Each bike sports a unique, fully custom spec list. Each component was hand-picked by the man himself.

   
Okay Casey, let's talk about your bike and run through your set-up here?
Casey: So this is a brand new bike that we've just finished building. It's a 2017 Specialized Stumpjumper. I have been running a Specialized Camber for a while now and I was extremely happy with how they ride. I loved the position it put me in and love the way that bike rides in every aspect. With this new bike though I wanted to run something a little bit more 'all mountain' capable, without going too far away from the Camber, and so a Stumpjumper was the natural choice to step up to.
When you talk about Enduro racing, this is the same bike Jared Graves races the EWS on.
Exactly. And knowing that we can run a longer travel fork in the front end, so it's a 160mm fork now in this set-up, it gives us that extra 'buff' and extra comfort, but essentially with a very similar ride feel as the Camber that I was on before.
Fork choice, you've gone with a Rock Shox Lyrik rather than a Pike. Is that to give you a little more front end stiffness?
I did a lot of research before picking the part for this bike. I spoke to a lot of people, I read a lot of reviews, and from that I was able to form my own opinion. Originally I was planning to put a Pike on there because I wanted to keep (the bike) as light as possible, because obviously I'm quite light myself and wanted to use that to my benefit. However by running the Lyrik instead, I'm getting the extra confidence knowing that it can take the hits and it is a little bit stiffer and I prefer a more direct steering rather than a little bit softer. And really the weight difference between the two forks is very little.
One of the unique features of Rock Shox forks is that they utilize a 'token' system in the air chamber which allows you to alter how progressive the fork ramps up through its travel. Have you experimented with running different amounts of tokens in there?
Oh absolutely. I've spent a lot of time on that. Right now I'm running three tokens in this fork. That is also actually the same number of tokens that I am running in the Rock Shox RS1 fork on my Camber right now. I just prefer it (the front end) ramping up a little bit more towards the end stroke. I lose a tiny bit at the top of the stroke as far as small bumps and extra firmness but I prefer that, I set a direct steer.  I like knowing what it is going to do and that it is not just going to fall through the stroke and be too far down in some corners.  This keeps it up a little bit higher.  It also keeps the angle a little slacker and that makes it a lot better for me.  When you need it to work it is a little bit higher up in the stroke and you have got more to play with.

Throughout his career Casey has always placed a high value on brand loyalty. However he was quick to point out that that has nothing to do with him choosing to run Rock Shox suspension. He could run any brand of suspension that he wishes, he just feels that Rock Shox perform the best.  
You're certainly pretty switched on about your set-up! So we've got 160mm up front, 140mm in the rear, and these are 29'er wheels yeah?
Yep.
I know you've spent a lot of time working on your cockpit set-up as well. How wide are your bars?
They're trimmed down to 740mm right now.
Is that what feels comfortable to you or is that just the width that you've heard or read that you should run?
No, I never go off what other people recommend as far as cockpit or positioning or things like that.  I have had a fair bit of experience with cycling in general so I know what I need to be in the right positions.  But you know this is a little bit more like dirt bikes I suppose…  I just don't like running wide bars.  Number one; you have more trees to contend with and half the trails out there have nice narrow trees that will very easily clean you out if you are just not right.  This way I can turn in around trees when you have got corners around trees. You can get in and around them a bit easier as well without as much bar sticking out and for me I am a smaller guy so a smaller frame.
Speaking of which, what height and weight are you actually?
I am 172 cm and about 62 kg
 So would you say that your suspension is set up maybe a little on the firmer side for someone your weight, or….?
Oh 100% yes, it is set-up more on the firm side.  I am still playing around a little bit with the rear shock because I don't want it too firm so that it starts to kick me over the front because I am light and so it is a little easier to push you forward.  But the front end, like I said, it definitely won't run into the travel as much as maybe some other people run it.  I don't like the feeling of the front of the bike being down in the stroke, you have sort of got no more to play with.  And then once it gets down in the stroke you also have no more real plushness, it gets very hard and firm.  People don't realise that, you think running a soft fork gives you plushness but it actually doesn't.  It ramps up so far in the bottom that you actually get a stiff fork'
A harsh edge.
Yes exactly.  So being a little stiffer actually gives you a little more play in that mid stroke and towards the bottom of the stroke you actually get a bit more plushness.
This is something we were talking about earlier, your understanding of how suspension behaves is kind of uncanny.  I don't think I have ever spoken to a mountain biker that has been so in tune with how their bikes handles. And you seem to really enjoy developing your understanding in that regard. Since being on a mountain bike, has it presented you with a fresh opportunity to explore performance through different set-ups and using components?
Yes, and I guess getting the opportunity to work with Dylan and the rest of the team at SRAM has really sparked that even more as now I get access to so many cool and different parts. Where in the past it was like I got what came on my bike and only had access to limited selection parts outside of that. But now we can actually play around with things a little bit, you know the volume spacers, and working with guys like that who put us on the right stuff, you know with advice like I said, the decisions I made on the fork.  Seeing how big a difference everything makes with every little step we do.  You know, say for instance when you are out on the trails, lots of guys will do this but then I will flick it to either hard or medium or pedal just to change the feeling of the rear. I do this to see if I prefer it putting a bit more weight on the front going through a turn rather than having the rear sagging out through the corner and opening up the steering, and that will let me know if I need to put a bit more pressure in the rear to keep it over the front.
Yeah right, so pretty much every time you are out riding, you are constantly analysing what is happening with the bike and kind of processing your thoughts in ways of how can we improve this or what you are trying to achieve with the set-up?
Casey: Very much so.
Let's talk about your brakes, what are you running?
I've got SRAM Guide Ultimates on my Camber and on this bike I've been using the brand new Codes. These things are unbelievable. It feels to me almost like having ABS.
What do you mean by that?
Well normally (mountain) bikes have a bit too much bite in the brakes. They lock up too easily. You know, it can be quite hard to modulate them.  Whereas with these, especially with the rear, I can go in and have a certain amount of rear brake pressure on, but the wheel still rotates, and it will help me suck through a tighter corner as I know the rear doesn't want to break away.
Ha, I've never heard it described like that before, but it totally makes sense.
And you just feel like it loads the whole bike through a corner because it is not trying to be sketchy and break little bits and pieces and so it is almost like an ABS, It is still braking heavy but it is not wanting to bite and grab as quick and when you do need it in the bike, you just put a bit more pressure on it and it does what you want so…  I have been over the moon with these new brakes for sure.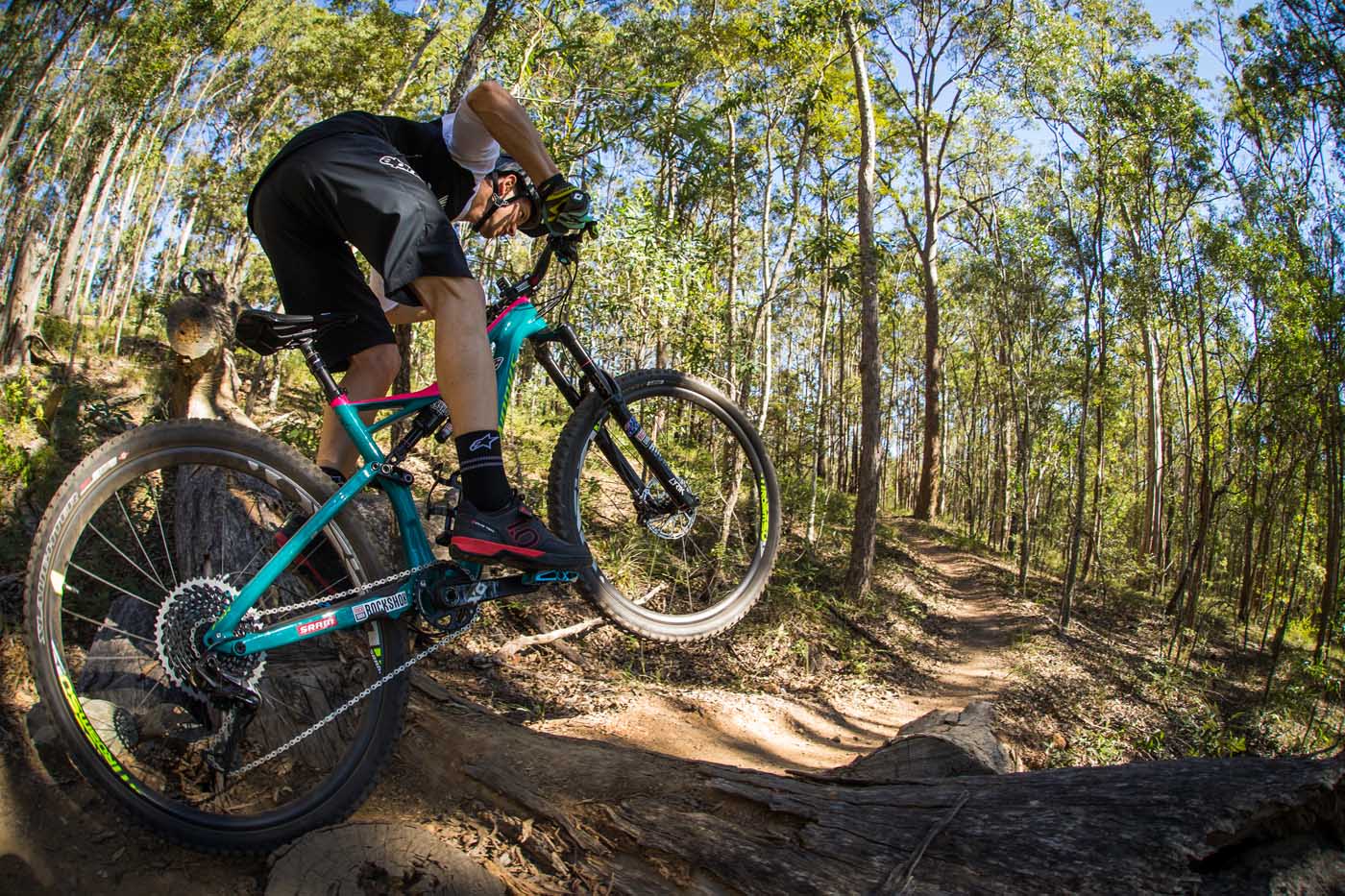 I've got to ask, how did you develop this ability to articulate so well how a bike is behaving?
That is something that goes right back to the very beginning of my career. As a rider we're always working with our race engineers to get the most of the bike's performance. And early on when I was quite young, I actually I had a couple of engineers who didn't want to hear what I had to say and that really effected me. And then the following season the team brought on a fantastic engineer who was really there to try and coax out the information from me because I had gone quiet. And so at that point I started to realize exactly what kind of information was useful and basically how to explain every last detail of the bike. For instance, every corner on every track share the stages; there is the line leading up to the corner, your entry, your middle and your exit. You have to break it down into small sections and be able to recognize how you want the bike to work, what feels comfortable for you, or what is not comfortable. And from there the speed just comes naturally. That's how I've always ridden.
So you do all the mechanical work on your bikes yourself? Not being shy of the tools, is that something which again has come from your career racing motorcycles?
Yes. I would have loved to actually get to work on my MotoGP bikes but it wasn't possible. I enjoy learning about how the various parts of the bike operate and know how to service them. With modern day mountain bikes, it's so easy to put volume spacers in the rear shock, and tune the front, it is incredible that the home mechanic can really do so much in their garage.
Have you played around with a Shock Wiz on your suspension?
Yes I have. I actually used it the first time not so much to set the bike up, instead I put the Shock Wiz on once I had the suspension set to where I thought it should be, as I was really interested to see where the Shock Wiz would tell me that my settings needed to be from that point.
And, did it suggest changes?
[Casey grinned as he answered] I was just one click of low speed compression off! Otherwise my settings were bang on the money. Everything else was right in the middle of the recommended range. That was the first time I had used a Shock Wiz. What a tool and a great piece of technology. We will definitely be using it in the future to help dial things in a little bit more on each of my bikes. I will still first play around with my settings myself and try to get the front and rear end dialled from what I know and how it feels to ride. But then I'll fit the Shock Wiz and it will give me a greater understanding I think.
Let's talk about your drivetrain.  You have got the Eagle on there, the 12 speed.  How are you finding the range and what size chainring are you rocking up front?
I am running 32 tooth up front at the moment and for general riding and everything, I think 32 is perfect. You know, you don't need to use the granny gear very much but it is nice to have just to spin the legs out a little bit and take a bit of pressure off them if you are doing a long day's riding.  Quite honestly the range that it has and the lack of worry that you need to have.  You know, we did all this stuff today and I don't have a chain stay basically; I haven't put it on yet.
Whilst you wouldn't pick it when looking at him from a distance, Casey's body bares the battle scares and damage of a lifetime dedicated to finding the very limits of a motorbike. He certainly doesn't wrap himself in cotton wool and hold back when riding his mountain bikes, however he is realistic about the limitations of his body. For example, the range of movement in both of his ankles/toes, up and town, is literally just two or three inches. For sure this hinders his ability to circulate his cranks when pedalling, but like everything, Casey has managed to adapt and make it work.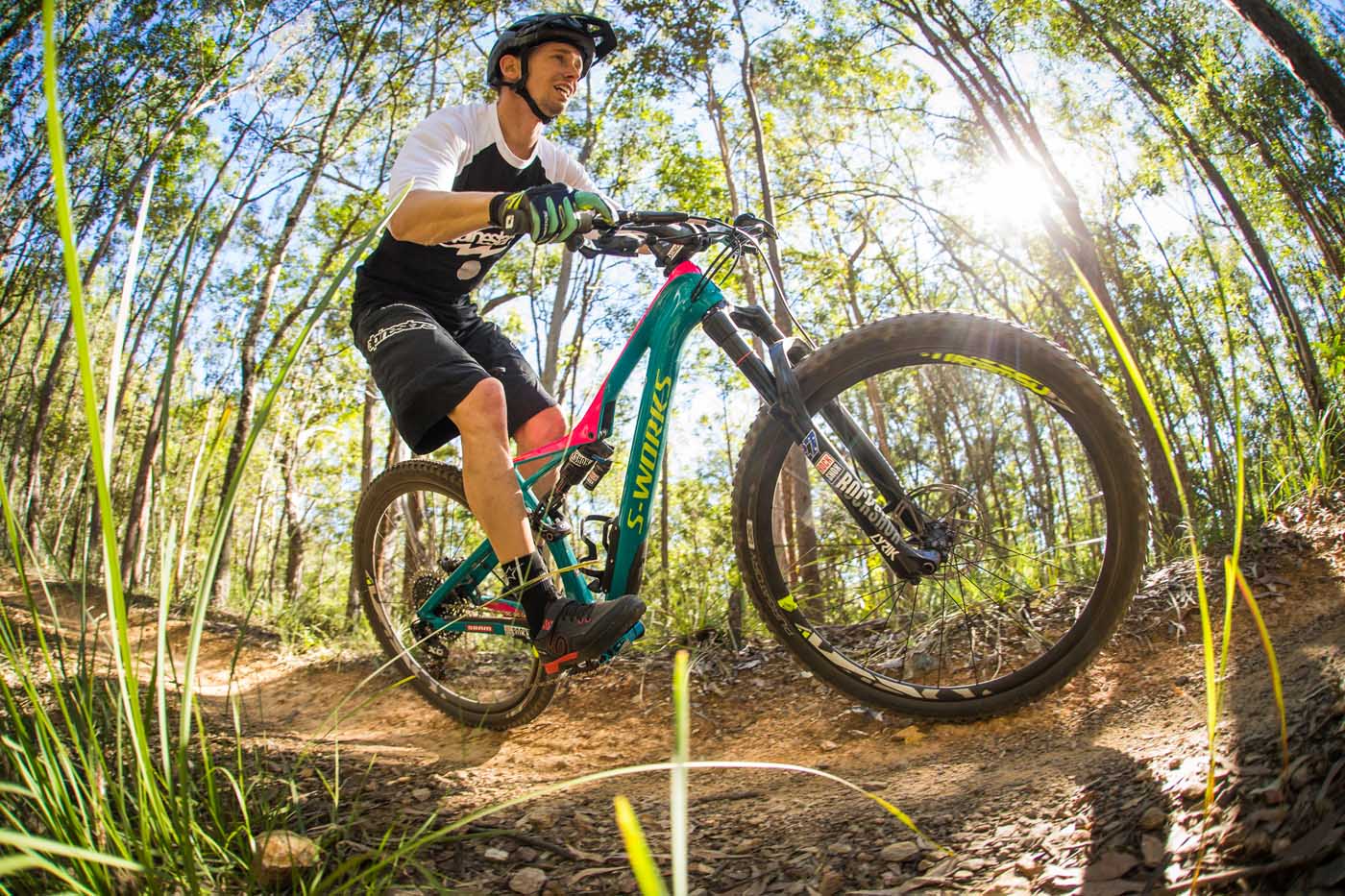 We chatted out on the trails earlier about your power output and you told me that you've been using a Quarq power metre to collect data whilst you ride. Have you found it useful? 
Definitely. It is more of a training thing, but because I have had a lot of problems with my lower back, we feel that we have got some major separations between the left and right side of my body sometimes, so I want to be able to recognize when it is starting to happen.  Sometimes it is quite hard to feel because your other leg starts over compensating so when I am training, if we are seeing a massive over compensation, it generally means that my back is about to go!
You run Crank Brothers clipless pedals on your bike. I would have thought you'd prefer flat pedals coming from motor bikes. Have you always been clipped in (on your MTB)?
Yes I've always preferred to be clipped in. I did try flat pedals when I went downhilling for the first time, but I got sick of my feet lifting off because I am quite light and I just couldn't stay connected to the bike, so I immediately went back to clips. I love being connected to the bike because then I can control it and steer it a little bit without feeling that I have to keep my weight through it.  I really struggle as well because I have busted both my ankles so many times.
Wouldn't it be fantastic if Casey does end up zip tying a number plate to the front of his 'Stumpy and entering a race one day? And if he did, I wouldn't be in the slightest bit surprised to see his name right at the top of the results list later that afternoon. Welcome to the world of mountain biking Casey – we're stoked to have you!