They say everyone has a secret that they hold close to them. At a guess we'd say Jon's secret is that he knows where the fountain of youth is hidden! The Sydney based, Giant Australia Off-Road Team backed rider has been representing Australia and winning National level races since the late 90's and arguably, somehow, he's currently in the form of his career!
What's even more remarkable about Jon's 20 plus years of eating podium pie is that he competes in pretty much all disciplines of MTB racing. One weekend he'll be racing XC at the World Champs up in Cairns, the following weekend he was racing a National Enduro down in Victoria. The guy's skillset and dedication is insane. Oh yeah, and on top of all that he's also just a regular family guy with a wife and two kids and a full time 'regular' day job. We recently caught up with Jon down at his local trails for a chat about how he keeps that fire in his belly stoked so high and what his plans are for the future.
[R]: Alright mate to get this kicked off how about you just fess up and tell the audience how the heck you've managed to stay so damn fast for so many damn years? There isn't one single other Aussie that has been attacking podiums for as long as you. What gives!? 
Jon: The thing that I put it down to is being interested in both the riding, the experience and travel and also liking other disciplines like XCM, XCO, Enduro, DH and even smashing it out on the roadie. I have raced all disciplines with varying degrees of success! haha 
Geez mate, do you even sleep? Obviously there are only 24 hours in a day, being a Dad and working a full time job, how on earth do you find time to train as much as you must need to? 
I normally train around ten hours a week, with a maximum of about fifteen. I try and make sure that when I ride its either totally for fun or for training and not mix both together. My wife, Alyce, is awesome and offers a lot of support for my riding and I respect that with 100% attention when I am at home to being a good Dad and raising the level of Dad jokes as much as I can. Everyone is a comedian at home so it's a tough crowd! haha
I was going to ask you about that, did becoming a Dad and having to learn to juggle that family/work balance effect your riding? 
I found that the change in the week of a new baby is obviously massive, It taught me a lot about patience and realising what you really find important time wise. I just got my focus on to keep the important things at the front of the queue.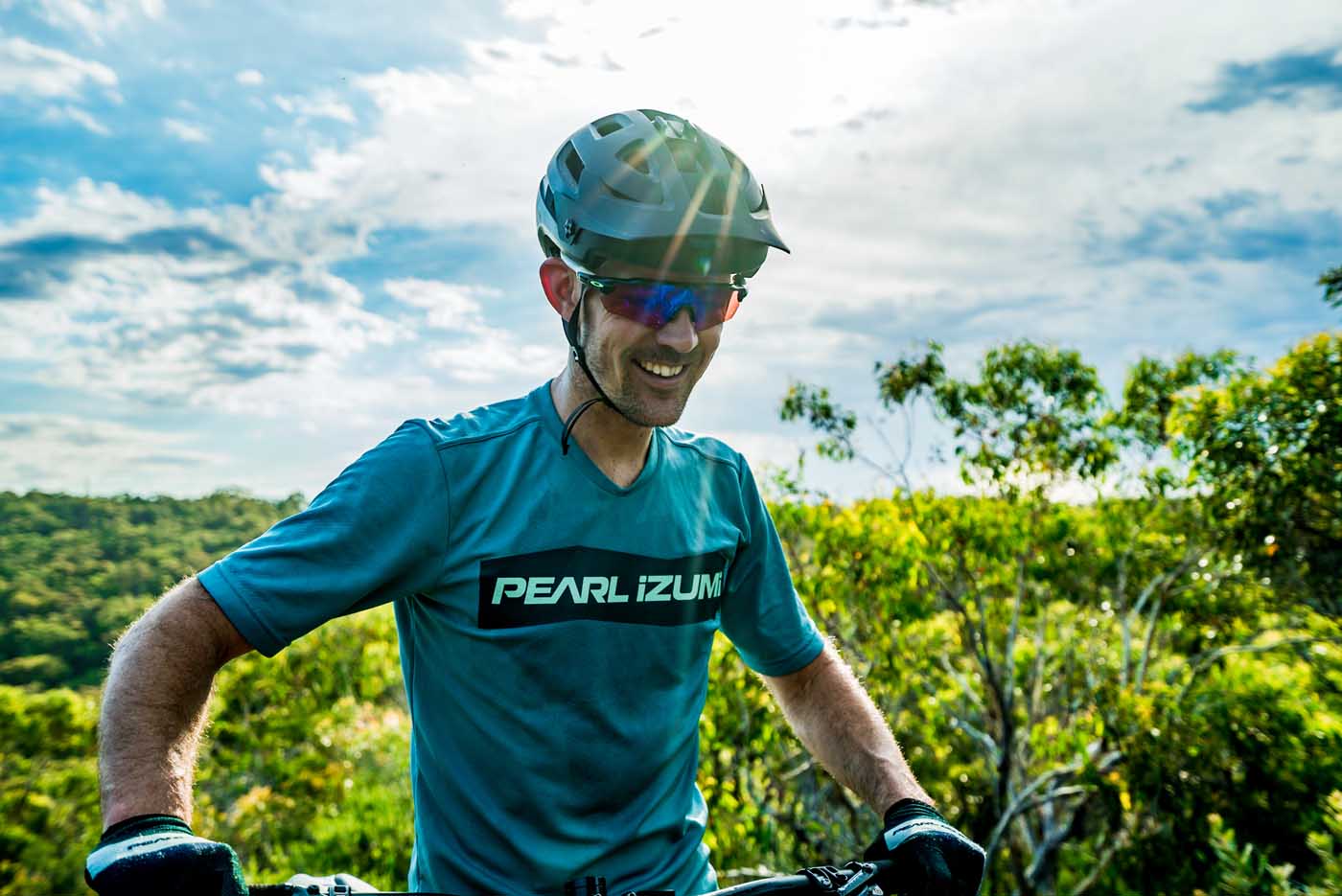 What are some of the things that you've learned about yourself throughout that process? 
Efficiency is the most important thing in many situations from riding and racing to work and time. I found it also really important to realise when you need to spend more time with family or friends and do so. Trophies are great but also easily forgotten. Family and friends may not be here forever. I try and make sure not to ever get to focused on riding because I don't want to burn out on it.
You guys call Sydney's Southern beaches home. What is the trail scene like down there these days? 
The local trail scene is pretty strong at the moment. Lots of trail riders and Strava bandits getting out there and smashing it. Our trails are pretty XC orientated and lately I have been thinking of how many locals have turned out pretty fast like, Rob Woods, Rowney, Josh and Matt Flemming, and Pez. All XC dudes but with great skills. That is really reflected on the local trails with proper tech XC stuff that you can't get through every single ride.
Judging by your social media it looks like you spend a heap of time on the road bike too, eh? Are there plenty of good training loops in that neck of the woods?  
Loving the roadie through Summer as it's a bit cooler and the coast roads down to the gong are great. Local roadie bunches are fast and offer good training on the door step. This year I'll be doing a few more pairs races with Trekky so I need to make sure I'm in shape. He certainly makes a few watts, so need to be ready to get some stage race leaders jersey with him.
You ride for the mighty Giant Australia Off-Road Team. It feels like you've been on Giant for ever – how long has it actually been? 
Ha, yeah, they have been fantastic support to me. I have been with Giant Australia for four years now. I was doing a lot of Enduro events with Michael Ronning and the Giant All Mountain Cartel and joined them for the season originally. I still ride with Ron-Ron and love getting up to the Queensland Enduro races. Honestly, I love riding the Reign, Trance and Anthem. They just work. Reliable, fast and nothing quirky geometry wise so I find it easy to jump on and ride fast. The e-Bikes are something I have been adding into my riding too. Easy to keep the skills up on the e-Bike with some rides down the 'Gong.
They sure are a lot of fun. So, which bikes do you have in your current crop? 
Currently I have an Anthem Advanced 29, Trance 29er, TCR SL disc roadie and just about to build a Trance-E with XTR….. Just frothing a bit to see what adventures I can get up to on it.
What size frames are you on these days? 
I ride the medium size frame on all the Giant bikes at the moment. Not being the tallest guy in the world I'm on the low end of the scale to ride a medium but they give me a longer top tube and wheel base, so its easier and more stable at speed which I like.
It's crazy how far the development of modern day enduro bikes has come, they're basically mini DH bikes that you can pedal up hills, right? 
For sure. The latest generation Reign with the coil shock on it is absolutely amazing. For most trails in Australia the downhill bike wouldn't be faster. I was thinking the other day about a '98 model downhill bike to a current Enduro bike – similar travel but now you can ride it everywhere and it's about 7kg lighter. Bike tech really has come a long way.
Speaking of which, when was the last time you rode an actual DH bike? 
Ha, last time I raced downhill was a National maybe 5 years ago with my buddy Brendan Moon, I think it was down at Thredbo.
"I have been floating the idea of having a go at the Masters World Champs on the DH bike. My wife isn't so enthused about the idea though so I'll keep working on it…"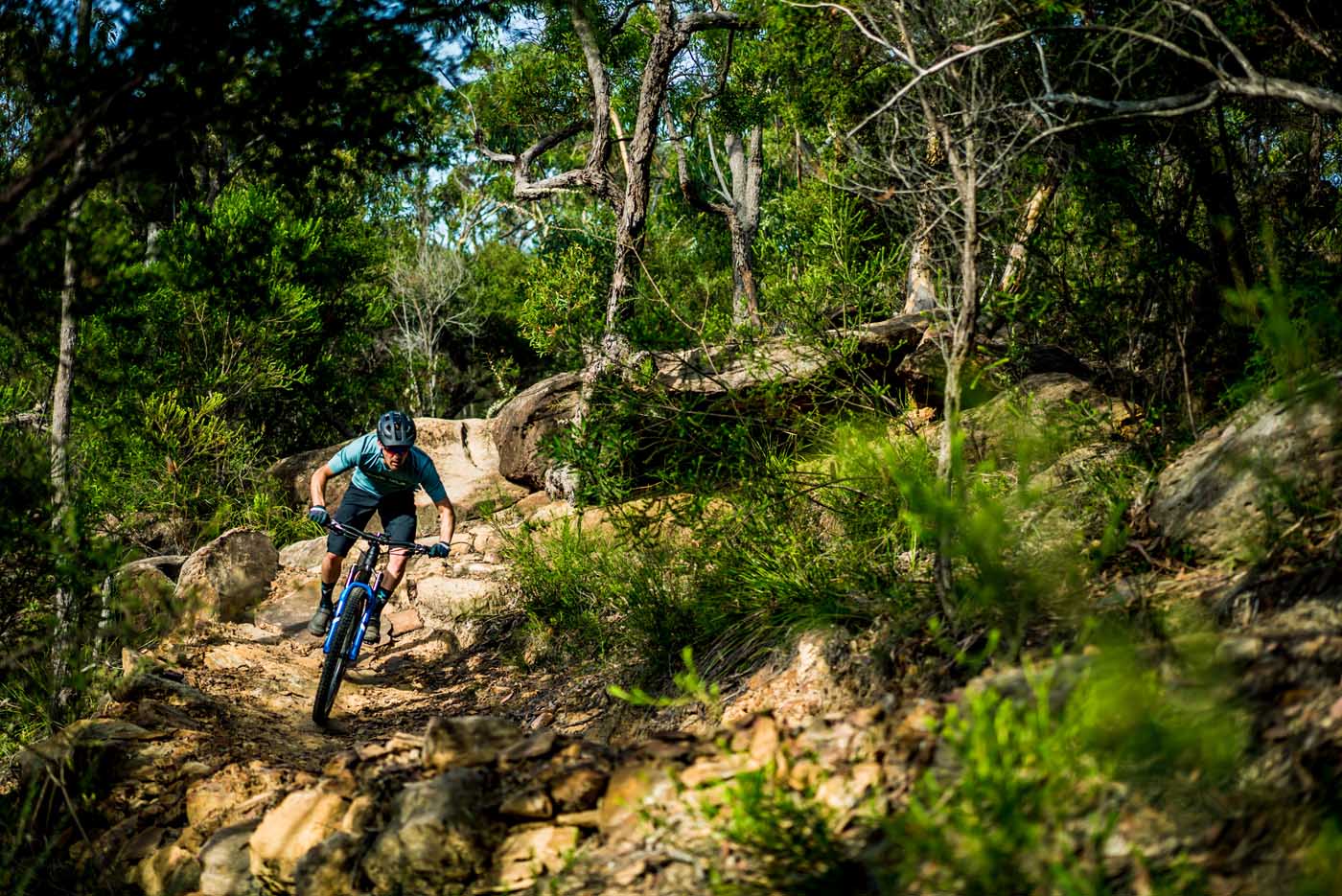 Haha that would be awesome to see you line up with a full face helmet and a walking stick! Hey have you spent much time aboard the new Trance 29? Those things are bloody fun and fast, eh? 
Yeah I have had my Trance 29 since the start of October and it's a hell of a lot of fun! It's  a pretty ideal bike for a lot of the local trails and stuff down the 'Gong. It's one of those bikes you just instantly feel good on. I have the new Shimano XTR 12 speed set up and trail brakes. So rad!
In terms of wheel size, are you a 29'er man or do you prefer the 'flickability' of 27.5" hoops?
29" is the preference for racing as it gives more grip and rolls over the small bumps better. I think the wheel size is pretty important for different riding styles. I feel like the 29er is faster but the EWS was won by Sam on a 27.5". So, of course, the argument will continue to go on and on…
Another major brand that has been in your corner for what seems like forever as well is Shimano. Tell us a bit about your relationship with those guys? 
They've also been great. I started working with Shimano through their brands Pearl Izumi and Pro Bike Components and began using more and more Shimano parts. Shimano's Australia office is local and I ride with the crew fairly often. They have provided me great support and experiences and overseas adventures. The Shimano and Pro parts work well in that they are so well thought out and reliable. I don't have any special parts that aren't readily available from the LBS, just look after them and they look after you on the trails.
How does that new XTR ride? I've been hanging like Ned Kelly waiting to get my hands on a test set… 
Easy, it's a ten out of ten from me! The drivetrain with the big range of 10 -51 is great, crank set up is easy to use and the brakes are super powerful. Yeah, the brakes are very impressive indeed.
For someone that rides and races as much as you do you must go through an awful lot of chains and cassettes, yeah?  
I don't go through that many actually. I use an ultrasonic cleaner for cleaning chains regularly and Smoove Lube and I generally change a chain / cassette every six months or so on the Anthem and TCR. Enduro bike is only the chain pretty much.
Are you handy with the tools? Do you work on your own bikes or take them to a mechanic to get stuff done? 
I have been working on my own bikes for ever. I can set them up and make tweaks as required.
At the moment which events do you look forward to most on the calendar each year?
This year I am looking forward to the three big Aussie stage races; Port to Port, Reef to Reef and Cape to Cape and getting over to Canada for BC bike race. I did want to do the Rotorua EWS round as well but logistically with family and work its looking like a bit of a stretch.
Since the very beginning of your racing career way back in the day you've always been equally as talented and competitive in cross country as you were in gravity events. Whilst most riders tend to only excel in one avenue, how have you always managed to be so competitive in the different  formats? 
I actually think I have always just been a mountain bike rider (some call it Enduro or trail). I definitely loved downhill a lot more than cross country in the early days, my parents were very supportive of my racing but really I think if I focused on cross country I could have gone a bit further with it. I can't thank my Mum and Dad enough for what effort that they went to, getting me to all the races and making impossible things seem achievable!
"Racing has changed massively. It used to be just XC and Downhill now there is, Enduro, marathon, 4 hour races, downhill, stage races and the traditional XC and short track too. I would get bored just competing in one style of racing and hanging out and riding with mates who races different disciplines is pretty important for me."
True that, where would we be without out parents, eh! So as you've grown older have you found yourself enjoying one formate over others?
I love riding Enduro and rowdy trails but I love racing stages races. If I could just go ride anywhere it would be on the trail / enduro / Trance 29 bike.
2019 has just kicked off, what are some of your goals for the coming year? 
Continue to enjoy riding and racing, win some races and do some different and new events. My youngest daughter Zarli is five and loves riding, so I am going to step up as chief coach for her at local short track racing. She thinks that most bike rides end with a trophy so that's pretty important to make sure she gets one! Also, figure out how to listen to the same song a thousand times so I can be more patient with Meika my eight year old daughter and her dancing. This is a lifetime goal though!
#Dadlyf mate! Cheers for taking the time to chat with us today mate. We'll have to do another article with you in 2039 because you'll probably still be winning MTB races then, right? 
Sure thing. I'll pop a note in the calendar!