With the E-Bike market expanding faster than my waistline over the festive season, it is with no surprise that Norco has decided to come to the party.

 
While a lot of companies have been fast to produce e-Bikes stemming off their regular bike lineups, Norco have been hiding theirs deep in the Squamish forrest, growing, improving, becoming a full grown beast. Through the development process they focused on it feeling as playful and capable as the rest of their line up. Norco understood that in order for them to make the Sight VLT a bike that lives up to their standards they would need to focus on the geometry, frame material, and componentry before worrying about adding a motor.
Words // Darren Mallard  Photo // Kane Naaraat
To make the bike handle like the well renowned 'Sight' Norco knew they had to make the bike as light as possible. To do this they made the front triangle and seat stay out of carbon. With the bike coming in at 22.3kg it is the lightest on the market but its still up there with Benders old Karpiel in weight class. By having the battery low inside the down tube (Shimano's first in tube battery)  and the rest of the motor components lower in the frame Norco have managed to keep what weight is left low and controllable while looking sleek. This new Shimano battery is also one of the biggest on the market with a capacity of 630wh, giving you enough power to ride all day before needing a charge. The only possible downside to this battery and its location is that it cannot be removed easily.  This might not be the biggest downside but you will run into trouble if traveling or heading out for longer rides that require a battery removal or for some people to lift onto transport.
The Sight VLT is equipped with the top shelf E8000 motor which should need no more explanation. It is a super reliable, slightly tuneable and effective in making you feel like you have the legs of a horse. While the motor can pull along in a high gear at a low cadence, it does prefer to be spun up a hill in an easier gear. The biggest gripe I have heard and can relate to is the almost "backwards" working of the assistance Di2 lever that controls the assistant modes. I think it would make a little more sense for the paddle that is easier to reach shift up assistance instead of down.  The great thing about the Shimano system is the customization available through Shimano's E-Tube software. You can even customize the way the three assistance modes work through your phone. While I have never really noticed it on other bikes the motor did seem to be rather noisey, it wasn't a big deal as I forgot about it after having too much fun.
The componentry has been selected carefully to make sure the complete build was night and light but not so light that it was going to fold in half after the first double you hit.
The bike on test is the VLT 2 model which sits in the middle of the range . The Sight VLT manages to remain composed yet nimble thanks to a well selected suspension package that balances durability with weight. The suspension package is good with a RockShox Deluxe in the rear and a Pike for up the front. The Deluxe shock is great on this bike, tracks well and never really felt overwhelmed. Both the fork and shock have been e-Bike optimized in the valving and provide extra dampening to compensate for the added weight.  If I was riding Thredbo, Buller or Maydena regularly I think a shock upgrade to a Super Deluxe for greater consistency on longer descents would be one of the first things I'd look to do. The Pike is a lot stiffer than the previous iteration, so changing direction was easy even through the rough stuff. The new Debonair air spring is supportive through its entire travel while providing amazing small bump compliance and a predictive ride.
The Groupset has been supplied by SRAM and is compiled of a NX Eagle drivetrain and Guide T Brakes. Now, while I understand why they are trying to keep costs down, I really can't understand why they would put an entry level trail brake on this bike.The Guide T brakes lacked in initial bite and the vague feeling levers left me in some precarious situations. The Guide T brakes are good on an entry level trail bike but it would be a lot more sensible to have a set of Guide E (Guide R Levers hosed to Code Caliper) brakes on a bike built to party as hard as this one. The absolute best and maybe most overlooked component on this bike is the shifter. Now you're probably asking yourself, out of everything why the bloody shifter? It is SRAM's e-Bike specific Single Click shifter, and as it's name describes, it's only one click up gears instead of multiple 2 or more clicks. Why have they done this? Well a common issue with pedal assist bikes is the riders forget that in trail or boost mode the motor can be putting more stress through the drivetrain than the rider feels. This leads to multi shifting while the drivetrain is under to much load, resulting in snapped chains. The shifter is a simple yet effective solution for the issue and it definitely saved my ass a couple of times when I went to slam up gears like the monkey I am!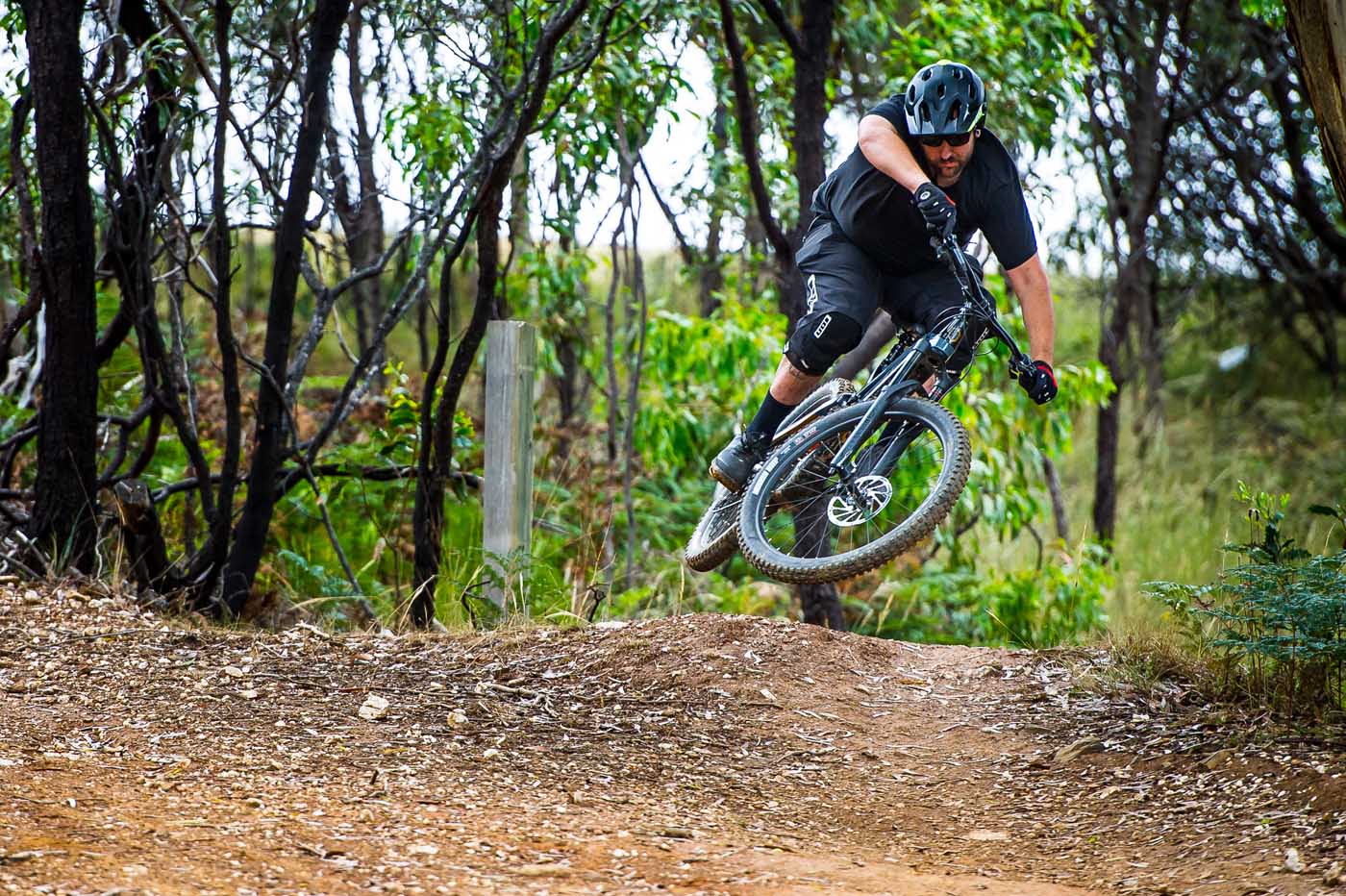 As I have hinted throughout this review I am a huge fan of this bike. It wants to be jumped, thrown into corners, and rides through the rough and technical with ease. Slow speed climbing is a breeze thanks to the centered riding position and balanced geometry. The short chainstays not only bring this bike to life on the downs but, flick the assistance mode up a notch and it absolutely transforms the climbing experience as well. This bike had me looking for any berm, lip or small gap I could find while heading up. I have ridden many Norcos in my life and they are known for their low bottom bracket heights, while this means they are stable at speed and through corners, I hit A LOT of things on the way up a climb I usually have no issue with. Norco have obviously noticed this as they did spec a 165mm crank on the bike instead of a conventional 170-175mm but, it could still do with a few millimeters of more height.
Norco have provided two different gauge of spokes on the front wheel as opposed to the rear. This isn't a new thing as people have been playing with spokes and tension for the last 20 years. The front runs a thinner gauge spoke to allow more flex and better traction. The rear has a thicker (visibly different) gauge spoke to compensate for the extra force of a heavier bike going through minefields. The rear hub also comes with a beefed up shell and bigger flanges to handle all the extra forces put through it. This translated to a super stiff ride that inspired confidence while hitting corners hard and landing jumps sideways. The one thing  I will say to Norco and every other company making E-Bikes is, stop putting flimsy tyres on these bikes. The Norco came with 2.6 Minion DHR/DHF tyres with an EXO wall.  I am stumped as to why companies are putting so much effort into frame and fork specs to make the bikes more durable but they often they'll skimp on tyre walls? While I could deal with it on the front, I would have to run obscenely high pressures in the rear to prevent any tyre roll while cornering or landing bigger jumps.
The geometry has been based off their ever popular Sight lineup with hints of their burlier Range lineup. While designing the Sight, Norco had the mantra of, it looks like a Sight, it rides like a Sight, but we put a motor in it . They have definitely succeeded in the looks department, if you were to see this bike on the trails it would be extremely hard to notice that is was an e-Bike and you would be looking hard because this thing is a beauty. With a head angle of 66 degrees, chainstay lengths of 440mm, 160mm travel in the front, and 150mm in the rear, you know this bike is ready to party harder than Jordan Belfort. It's not until you look from the top down that you realize the potential stiffness of the frame. With a huge "Coffin" shaped junction big enough to eat off at the head tube, a big fat carbon mounting point at the motor and huge bearings in the pivots, you can be assured that all that power is going through the rear wheel. A 75 degree seat angle and 470 reach (Size L) are not crazy numbers by today's standard but give this bike a centred ride position. Even though the frame is quite wide it isn't noticeable on the trail and the bike moves under you freely. Thanks to the short chainstays the bike felt surprisingly light and agile, it is only when you try to pick the bike up to manual or jump you can feel the extra weight of the battery. Somehow through all this sleek design and near perfect geometry, they forgot to add a bottle cage even though there is a huge amount of room in the front triangle, which is a bummer as it means you'll always need to wear a hydration pack. 
While the VLT 2 on test is the mid level spec and could do with some small upgrades,  it would be the perfect bike for a anyone wanting to get out and experience an amazing ride. Anyone that wants a higher performing package can easily do that by swapping out a couple of things or by simply getting the VLT 1 but honestly anything extra would just be a bonus. The bike is made to make climbing fun and the descents even better. At no point did I ever think I should be on something else. They set out to build this bike to ride like their normal Sight, in my eyes the VLT is now the bike they need to build the Sight into.
The Sight VLT inspired climbing, encouraged speed. Its geometry is dialled, it handles everything you throw at it and lives up to the strong reputation Norco has had for years.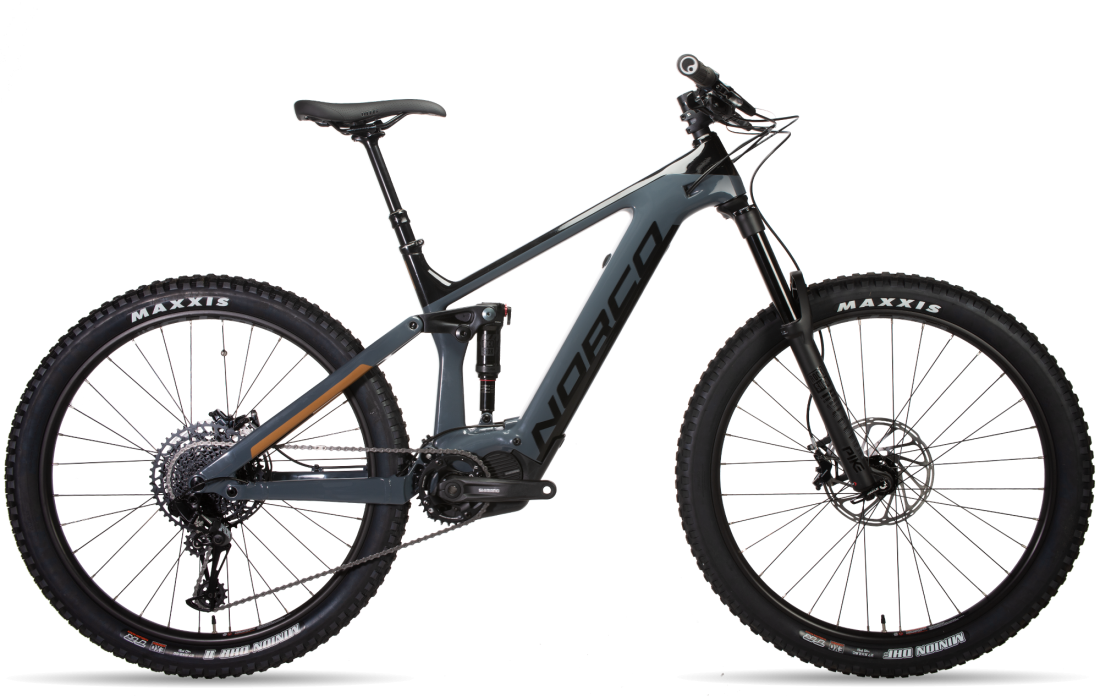 Norco Sight VLT 2
Frame // Carbon fiber front triangle, carbon seat stays, alloy chainstays.
Travel // 160-150mm
Wheel Size // 27.5"
Motor // Shimano STEPS E8000
Battery // 630 Wh
Spec // RockShox Pike RC E-Bike fork, RockShox Deluxe RT shock, SRAM NX Eagle drivetrain, SRAM Guide T brakes, WTB i29 wheelset, 27.5×2.6" tubeless Maxxis Minion tyres.
Price // $7,999
Browse // www.norco.com