Austria's Leogang Bike Park was the place for round three of the UCI World Cup Downhill, it's bike park home to racing for more than a few years and not without it's haters. Deemed too finely sculpted and lacking in technical depth, it was often written off by many as little more than a sideshow in a bike park. Over the years, though, that's gradually changed. Bit by bit, it's been recast, but amongst all the alterations perhaps the track's most notable asset – it's crazy high speed – has remained 100% intact. In short, when it comes to going fast on a downhill mountain bike, Leogang is a temple of speed, last nights epic racing action proved.
Junior's!
Kye A'Hern stomped his name on the top step for the second week in a row with an epic win in the bike park. . Vali Holl continued her domination of the junior women's field, winning by a 15 second margin, tailed by Nastasia Gimenez and Ottilia Johansson Jones. We're still hanging for fresh photos of Kye!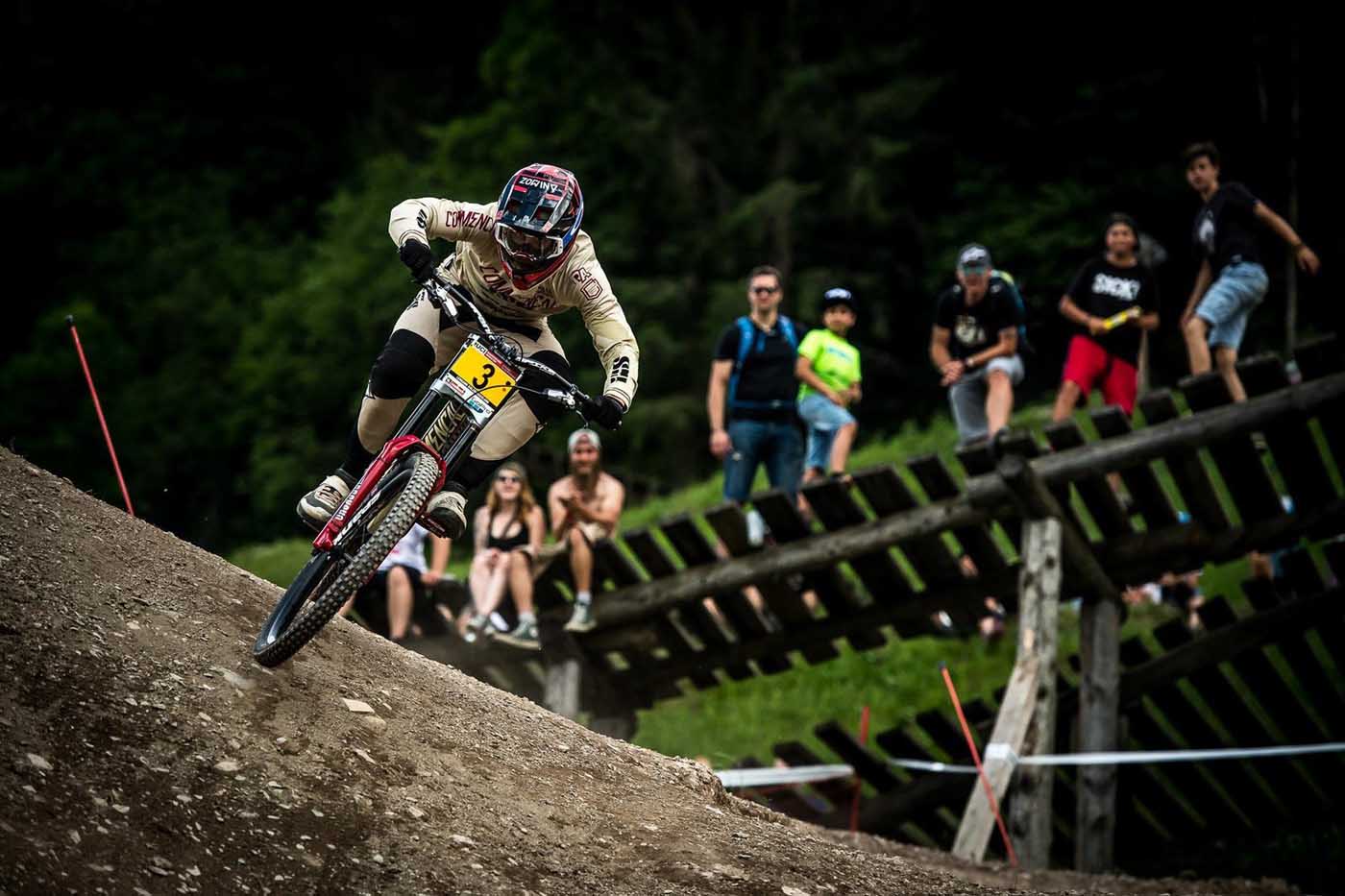 Men's Final
Rain clouds briefly gathered as the Men's class took to the track for finals, but thankfully it stayed dry on a warm day in the Austrian alps. There was also an increasing tailwind at the top of the course. This was looking like it would be helping the times tumble from qualifying the day earlier, but it proved to be the demise of a few riders on the super fast jump section. With the top 60 riders in what may be the closest split of times in WC history, racing was going to be wild. Very stoked to see Dean Lucas back on track, and a solid qualifying and finish (26th) is an amazing step forward after his huge bell ringer in Scotland.
American Charlie Harrison was the first rider to go faster than Luca Shaw's top qualification time from the previous day, but his stay in the hot seat didn't last long as Britain's Mike Jones upped the ante. Jones was then usurped by US shredder Dakota Norton, who stayed in the hot seat as a succession of riders, including Danny Hart and possibly the most styling rider on the mountain Sam Blenkinsop, failed to make an impression. His manual through the last jump up top was nothing short or wild.
Then it was Aaron Gwin's turn. The reigning World Cup champion had crashed heavily during his race run in Fort William, dislocating his thumb in the process. As a result, Gwin's qualifying run was his first fast one of the weekend – and it hadn't been a comfortable experience.
Gwin had no expectations going into finals, but once again he showed why he's regarded as the best racer the sport has ever seen. There was no part of the track that he didn't attack and his splits went from good to great, as seconds were cleaved back from Norton, thrusting him to the fastest time.
Gwin had the look of someone quietly confident that his time would be hard to beat. Troy Brosnan came down after a solid effort from Connor Fearon, and came close, but wasn't able to eek out the seconds to truly trouble Gwin's time, and was just under one second adrift at the finish. Laurie Greenland was also outside of the American's time at the finish, but slotted into second behind him.
Could anyone of the three French riders, Loris Vergier, Loïc Bruni or Amaury Pierron, knock Gwin off the top seat? Vergier and Bruni tried and failed, with Bruni somehow staying on the bike after getting seriously off balance in the new off-camber section on the very first corner of the track.
Then came Pierron. The laid-back personality of the Fort William winner away from the course belies his steely determination on it. Pierron and Gwin's times were closely matched in the top section of course, but the Frenchman nailed the Astiz root section to eat into Gwin's time. By the time the last split showed, he was faster than the American, and he peeked out a bit more time before the finish to cross the line half a second faster than Gwin, taking the lead.
Fastest qualifier Luca Shaw was the last man to go down, but his challenge came unstuck just after he posted the fastest time at the third timing split. The American slipped out on some roots and his race for all intent and purposes was now over.
They also knew that Pierron would be leaving Austria with the Mercedes-Benz UCI World Cup overall leader's jersey on his back. Pierron, on 503 points, has a 52 point lead over Gwin in the race for the overall World Cup title, while Troy Brosnan trails in third on 413 points.
"I just had to be flat out, it was super hard on the body as you are already smoked mid-race! To win two in a row is more than awesome. This is crazy, just a dream."

Amaury Pierron
Watch Amaury Pierron's winning race run below:
UCI DH World Cup Leogang Men's results
| PLACE | RIDER | TIME |
| --- | --- | --- |
| 1. | Amaury Pierron | 3m 10.991s |
| 2. | Aaron Gwin | 3m 11.499s |
| 3. | Laurie Greenland | 3m 12.146s |
| 4. | Troy Brosnan | 3m 12.305s |
| 5. | Loris Vergier | 3m 13.385s |
A crash in qualifying for Rachel Atherton put her in the unusual position of being very early down the hill for finals in Leogang. The British rider is used to being one of the very last riders to leave the start hut so when she came down early in the ranks, with seven riders still at the top, it was a mix up for the whole field.
Atherton hasn't won a World Cup yet this season, after an injury last season set her back, and a snapped chain in Fort William thwarted her finals run. It'd been a tough weekend for the Trek Factory Racer too, with a big crash in qualifying. Atherton was hungry for a win, though, and it showed in her riding.
Attacking from the start, she was clean and fast through the track, lighting the timing splits up green. Storming over the line with a massive 13 second advantage on previous riders, Atherton took to the hot seat for what was likely to be a long wait. Her race run was a full six seconds faster than Tahnée Seagrave's fastest qualifying run, which no doubt added pressure on the woman who'd be last to take on the course.
Relive Rachel Atherton's race run in full below:
As expected, Atherton held onto the hotseat unchallenged until Myriam Nicole, also starting further back in the field due to a qualifying crash, started her run. Looking exceedingly confident on the bike, Nicole was a mere 0.5 seconds off Atherton's time at split three.
Excelling through the roots and taking a tight inside line gained her a slight advantage, but as she approached the steep root step section towards the end of the track, Nicole nearly lost control. Hitting the section with too much speed, she ended up riding down on her back wheel, narrowly managing to keep on her bike. Coming across the finish line just 0.638 seconds back from Atherton's time, Nicole slid into second place.
"I made two big mistakes at the bottom so I'm really happy that I made it to the finish. I'm proud that I held on and made it to the bottom"
Myriam Nicole
Privateer Monika Hrastnik put in an aggressive looking run, but wasn't able to challenge Atherton or Nicole's times. She was followed by Swiss rider Emilie Siegenthaler, who initially started strong, but then appeared to be overshooting the jumps – suggesting that the tailwind at the top of the mountain was starting to affect the course. Both riders still put in times that could potentially put them on the podium, though.
Before the race, Australian Tracey Hannah remarked that her aim for this race was to move up on the overall and try to place third. Having started the year with a concussion, followed by a mechanical and a crash in Croatia, Hannah admits that her head still wasn't in the game for last weekend's race in Fort William.
As her run got underway, she wasn't attacking as much as Atherton, but was still pushing hard. Slowing down to avoid a tree in the woods lost her a lot of time, but as she crossed the line in third, Hannah was guaranteed a podium place.
Atherton looked on anxiously as fastest qualifier Tahnée Seagrave left the start hut. A dynamic rider, Seagrave was really attacking the course despite carrying fresh stitches in her hip from a crash in practice, but as she hit the jump section her run came apart.
Carrying too much speed she overshot a jump and ended up going off the course. Leaving the course and not re-joining it at the same place is cause for disqualification under UCI rules and it was clear that Seagrave's run would be under tight scrutiny from the commissaires as soon as she crossed the line. Her race run still placed her in third position, but frustratingly for her, the commissaires disqualified her shortly after the results were announced.
Atherton secured her first win of 2018 and her 35th world cup win. Being that it's over a year since she last won a World Cup, she was stoked with the result.
"It's been a pretty hard weekend, I've had big crashes. I'm happy to be in one piece. I never thought I could do it after my qualifying crash"
Rachel Atherton
The revised results saw Tracey Hannah move up to third behind Atherton and Nicole, Hrastnik in fourth and Siegenthaler taking the fifth and final place on the podium. The disqualification for Seagrave also switched things up in overall World Cup standings, pushing her 174 points behind Nicole, in third place. With Atherton's win, though, there's now just 10 points separating her and Nicole in fight for the World Cup overall.
UCI DH World Cup Leogang Women's results
| PLACE | RIDER | TIME |
| --- | --- | --- |
| 1. | Rachel Atherton | 3m 41.141s |
| 2. | Myriam Nicole | 3m 41.779s |
| 3. | Tracey Hannah | 3m 45.118s |
| 4. | Monika Hrastnik | 3m 49.597s |
| 5. | Emilie Siegenthaler | 3m 52.780s |
Thanks to Red Bull for the live stream, photos and results! You can watch the full replay right here.