The fresh Factory Race Team livery and spec of Josh's 2020 race machine combines to make this Giant Reign E+ one of hottest looking e-Bikes we have ever set eyes upon.
But is there anything else you can spot about Josh's new bike that is rather different? Yep, it's a mullet! Josh is running a mismatched set of super nice Giant TRXO Carbon wheels.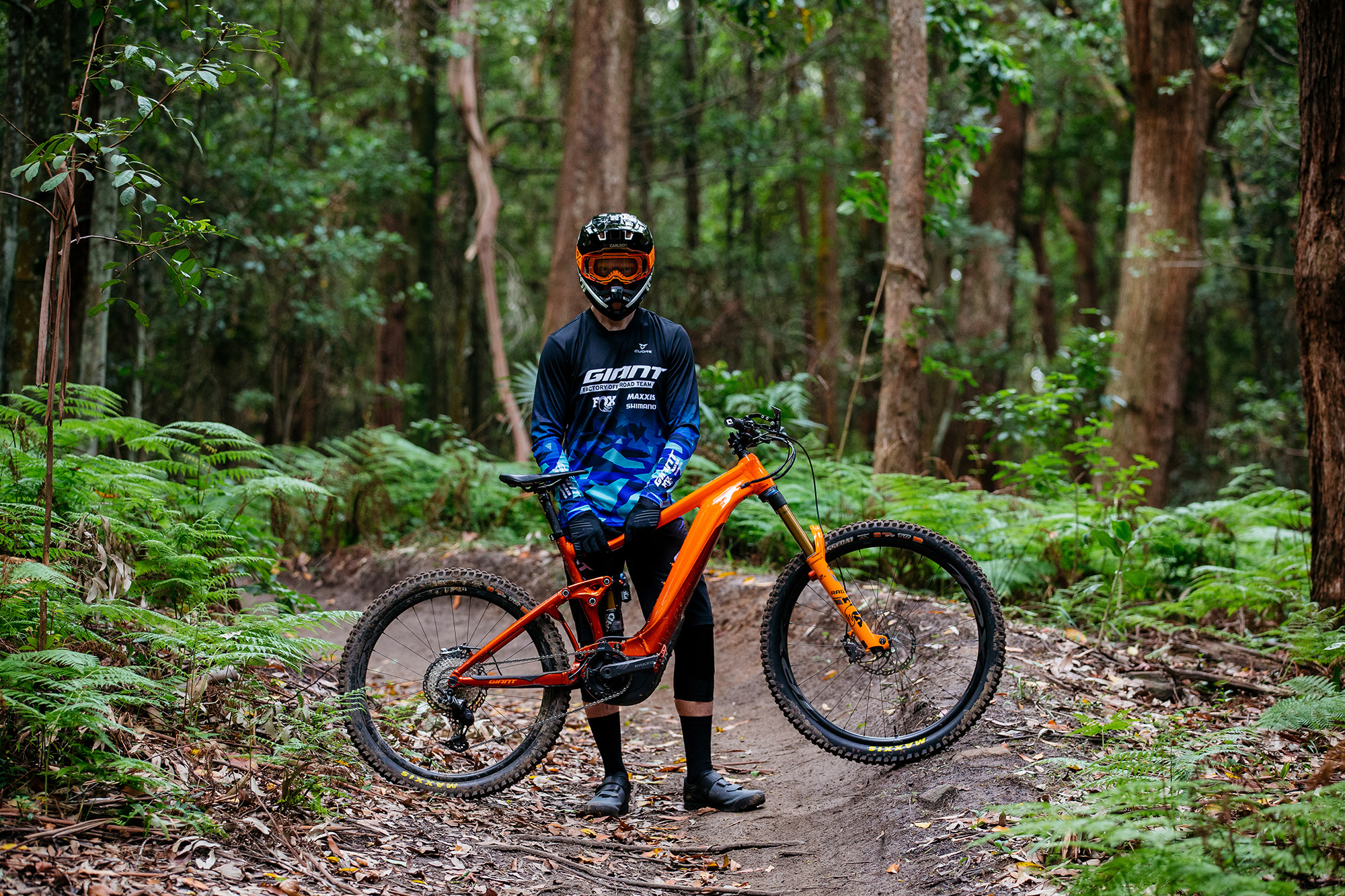 "I have been testing the 97.5/mullet setup with a 29er front end. We found that this set-up lifts the base of the motor up a little which increases the pedal clearance with the ground and also gives me a little more height in the front end and the bigger front end also makes the bike feel even better in the corners. It's a setup we will continue to test and evolve." 
This is the bike that Josh will be riding when he lines up against the world's best to contest the all new EWS-E Series (which will hopefully be raced later this year if all of this current craziness clears). To learn more [E]volution recently caught up with Josh for a chat about his set-up.
[E]: Mate, laying beneath the stunning orange custom livery are we talking an off the shelf frame or a custom?
Josh: It's a fully stock Giant Reign E1 Pro frame, exactly the same as customers can buy for themselves.
Is the Yamaha motor and all of the electrical systems stock as well? 
It sure is, the motor is in fully standard factory spec as well as all of the wiring.
There's been a lot of industry talk about different battery sizes in terms of the range they offer verses their extra weight, along with a bunch of other considerations. What battery size will you be lining up with during those EWS-E race weekends? 
At the moment I will be lining up with our standard 500wh battery. I can comfortably get 20'ish kilometres with 1000m of vertical climbing out of one battery on full power mode. Of course, I can push that out to 30km and 1500m if I ride more conservatively though.
Of course. On that point, with all of the different assistance levels/power modes that the Yamaha system allows the rider, what is your game plan going to be during those EWS-E race days in terms of which mode you'll use for the timed stages and will you use different modes for the liaisons, etc?
That will all depend on the trail. I hit my power button as much as I change gears on the trail. I'll back the power off when it's flat or high speed and then boost it up to full power when it gets really, really steep or tight.
It's another skill and technique I've had to learn while riding my e-Bike and something that has been developing more and more over the summer.
Tell us a bit about the suspension set-up that you're running here? 
I have the brand new 2021 Fox Suspension on there at the moment and I've been absolutely blown away at how good it makes the bike feel. That new 38 fork is a real standout as well, it just adds a whole new level of front end stiffness and it makes the extra size and weight of the e-Bike disappear underneath me. I am running a 160mm 38 Fox fork and the new X2 Air shock. I will also have the new FOX DHX2 Coil shock to test.
I know you tend to trial different frame sizes with your race bikes. Was that the case with your Reign E+ and what size did you end up settling on? 
I settled with the Large sized frame on the Reign E+. I preferred the shorter wheelbase and I am able to get some more weight on the front wheel for the really steep and technical climbs. The slightly smaller size feels perfect underneath me and makes it feel a little lighter on the trail.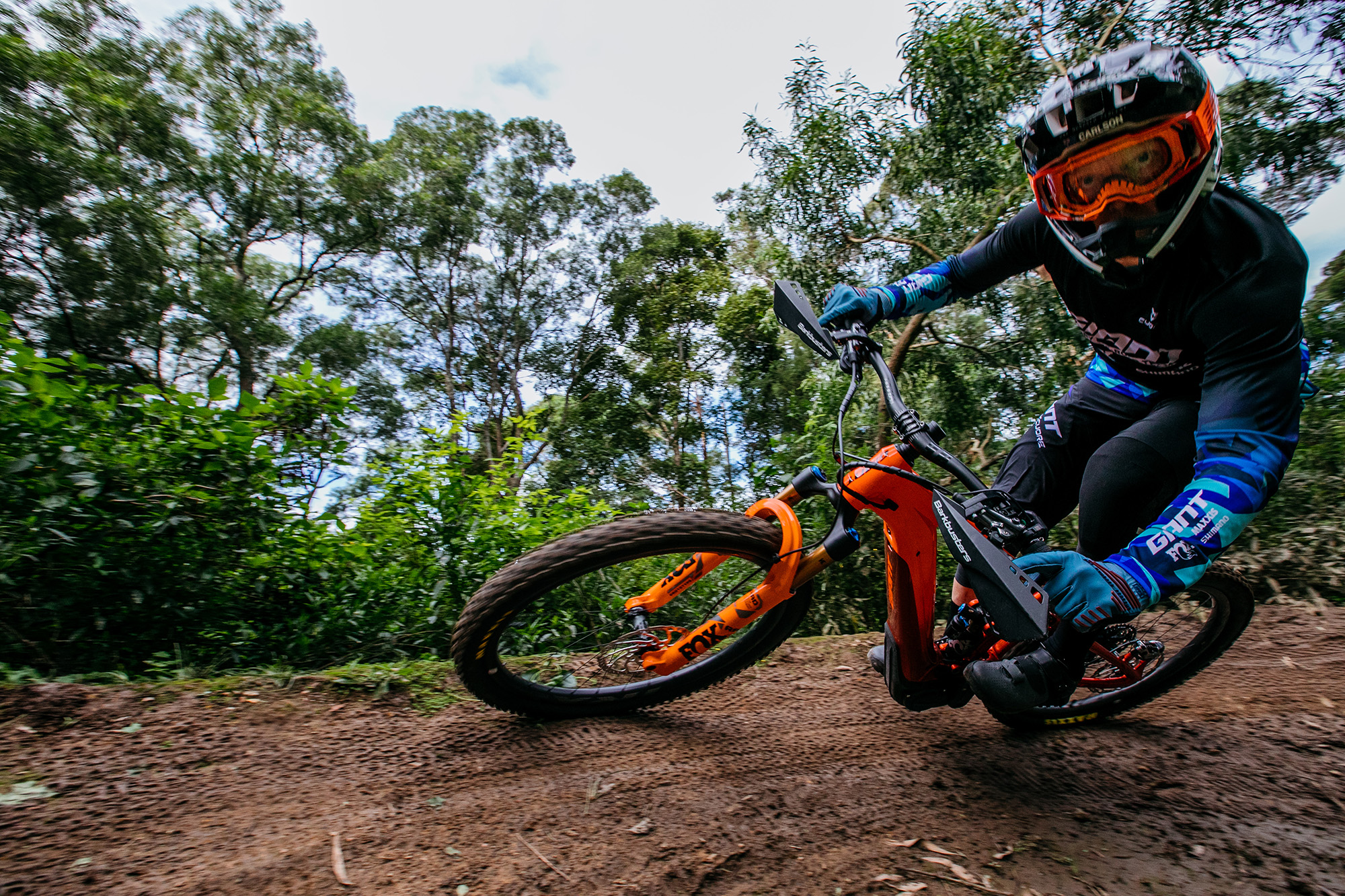 Have you found that tyre choice is even more crucial on an e-Bike compared to regular MTB due to the extra rolling weight and all those factors? 
Tyre choice has been a big factor. My DH Casing Minions or Assegais feel awesome on the bike, however it comes at the cost of not being able to reach the highest speed I can climbing. It is a compromise I'll have to be aware of going racing. I have been spending a lot more time on the DD carcase Minion tyres to be prepared for this as well as riding and testing a Cushcore setup in my wheels.
What tyre set-up are you planning to go racing with at this point? 
At this point I'll plan on racing with Assegai DD carcass tyres with a Cushcore insert. Cushcore has come on board with our team this year as a sponsor and I think it will be a crucial part of my setup considering the new EWS-E format.
In terms of your drivetrain and brakes have you had to mix-match your parts choice at all in order to best suit the extra punishment that the e-Bike will put all those components through on a race weekend? 
I've stuck with the standard XTR Brakes on 203mm rotors plus the XTR Shifter and drivetrain. I have changed to a mid cage XTR derailleur to keep it a little higher from the ground and protected as well as using a 45-10 cassette. I have swapped to an SLX Shimano cassette rather than an XT or XTR one. The added strength and stiffness of the SLX cassette gives me a lot more confidence under shifting and steep climbing. The added power and stress on the chain and cassette has been huge compared to my normal Reign 29. Now there is constantly 600+ watts going through the chain at its easiest point so when I put some proper power down myself, it's nice to have the stronger and heavier hardware back there to handle the load.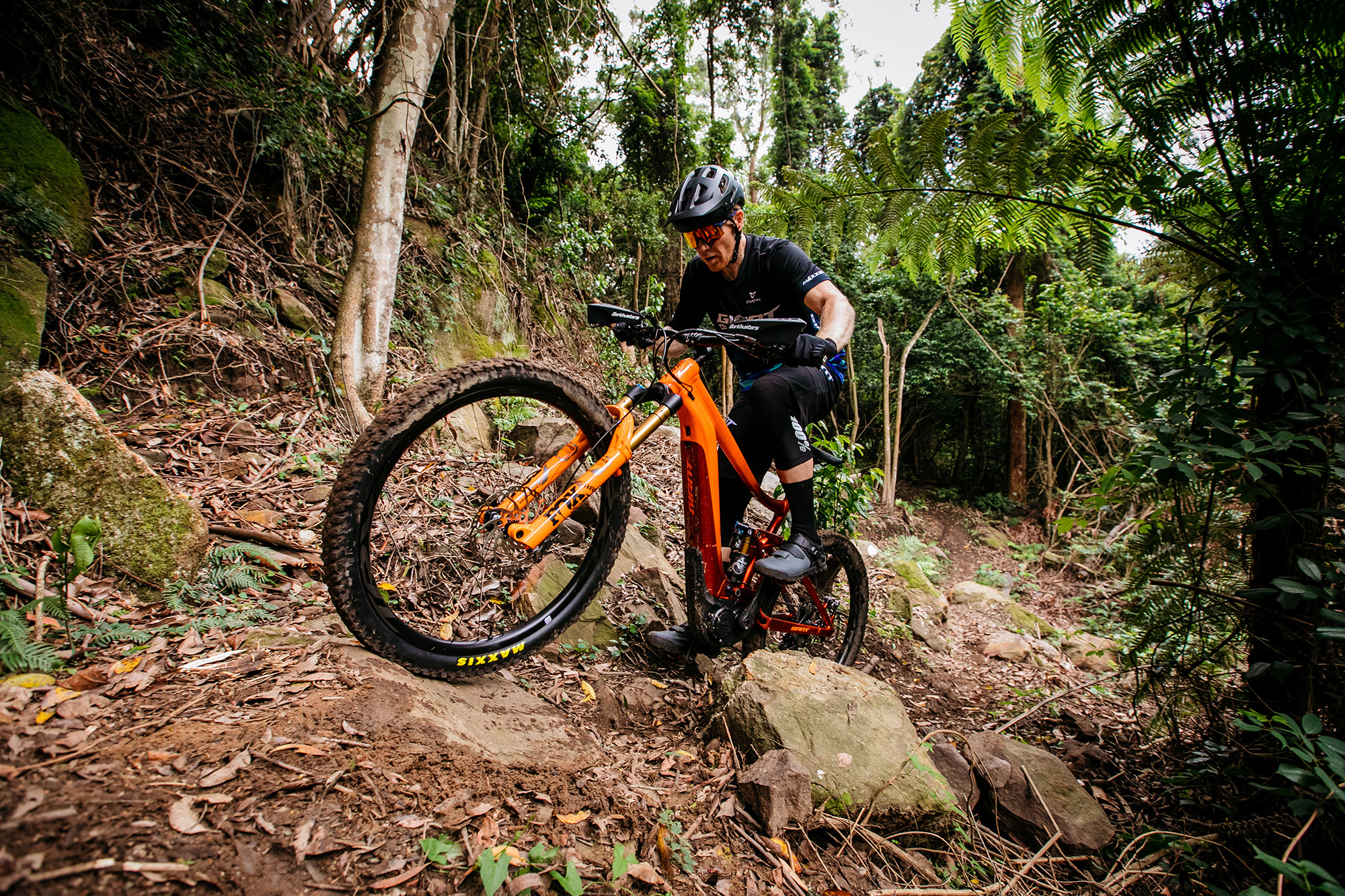 Obviously this whole elite e-Bike racing category is still in its infancy and riders like yourself are still playing 'trail and error' in terms of finding the perfect bike set-up and how to train and prepare for the races. Tell us a bit about that and if your approach has been different this past offseason as you get set to take on this new style or racing? 
My approach has been quite different to the past few years worth of preparation. I've changed my gym program to include a lot more circuit-based training rather than pure strength to improve my overall conditioning as well as help lose a bit of weight. I've tried to drop a bit of extra weight for the race season. From the end of last season to the beginning of, what was supposed to be, this season I was already down 5kg and hoping to lose another 2-3kg before the season starts. Weight isn't a massive deal at the moment but the lighter I can be, the more charge I can save with my battery and faster I can go up the climbs.
The way I've been riding has changed also. I have specific days where I'll use multiple batteries and get up to 80km of riding and close to 4000m of descending over 4-5 hours. I'll ride the same trails I used too but aim for 1000m of vert as quick as possible and then swap a battery out before doing it again and again in one day. Other days ill ride with the aim of squeezing as much out of one charge as possible while still using the motor but conserving as much battery as I can. Getting back out on the roadie has been a little bit more of a focus also to find my pedalling legs again and help with my cadence. There is a lot more pedalling on the e-Bikes now and as much as I need to be strong and technically good on the descents, I also need to be strong and technically good on the climbs.
Do you imagine right now that you'll be carrying anything different in your gear bag, for your bike or body, at those e-Bike events in order to ensure you make it to the finish line compared to what you'd regularly carry for a standard enduro or have you been training with the same gear? 
I'm expecting to carry pretty much the same amount of spares and gear with me for the racing. It is planned to come back through a pit area every hour or so for a 40minute pit stop so that will allow me to not carry as much food with me. Usually I'll take enough snacks and drink mix to last 3-4 hours which can be a lot of Honey Stingers bars and gels. But now ill more than likely take a full bottle of drink, a couple of gels and my spares kit. That will be an aspect that will iron itself out once we get racing.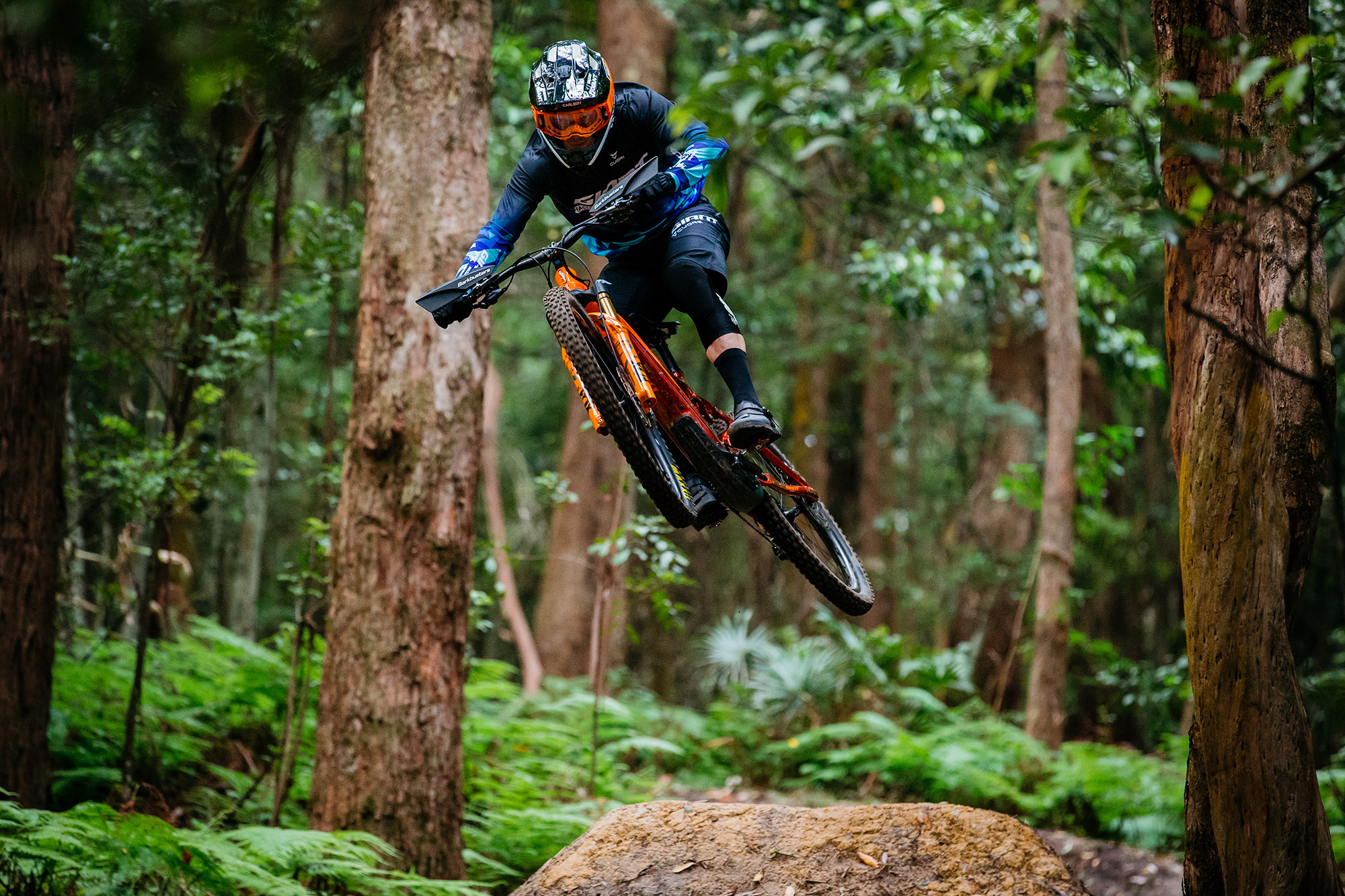 Final question; we know that a lot of readers that love their e-Bikes find it challenging to travel with their bikes on planes, etc, so given that you'll be racing in so many different countries later this year (hopefully if the season does in fact start up) how is the team planning to get your race bike to and from each of the events for you? 
It is a bit of a pain at the moment with travelling with your e-Bikes and a lot of destinations are working on having battery hire for when you get to where you are going. Places like Derby and Maydena both have these options. For my Giant Factory Off Road team and myself we are planning on having a race bike in every continent with spare batteries so I can have my exact setup at every round. Plus, it avoids the hassle of flying with the bigger bike and arguing with the check in people from the airlines every time about overweight charges or checking the batteries in as dangerous goods. It is possible to fly with your batteries, but it takes a lot of leg work on my end to have all the paperwork sorted and dialled before I get to the airport.
So I'll likely fly only with my gear bag and suspension to every race and my mechanic will have my bike prep'd and waiting for me when I arrive.
Cheers for the chat mate – can't wait to see you out there racing this beast one day hopefully soon.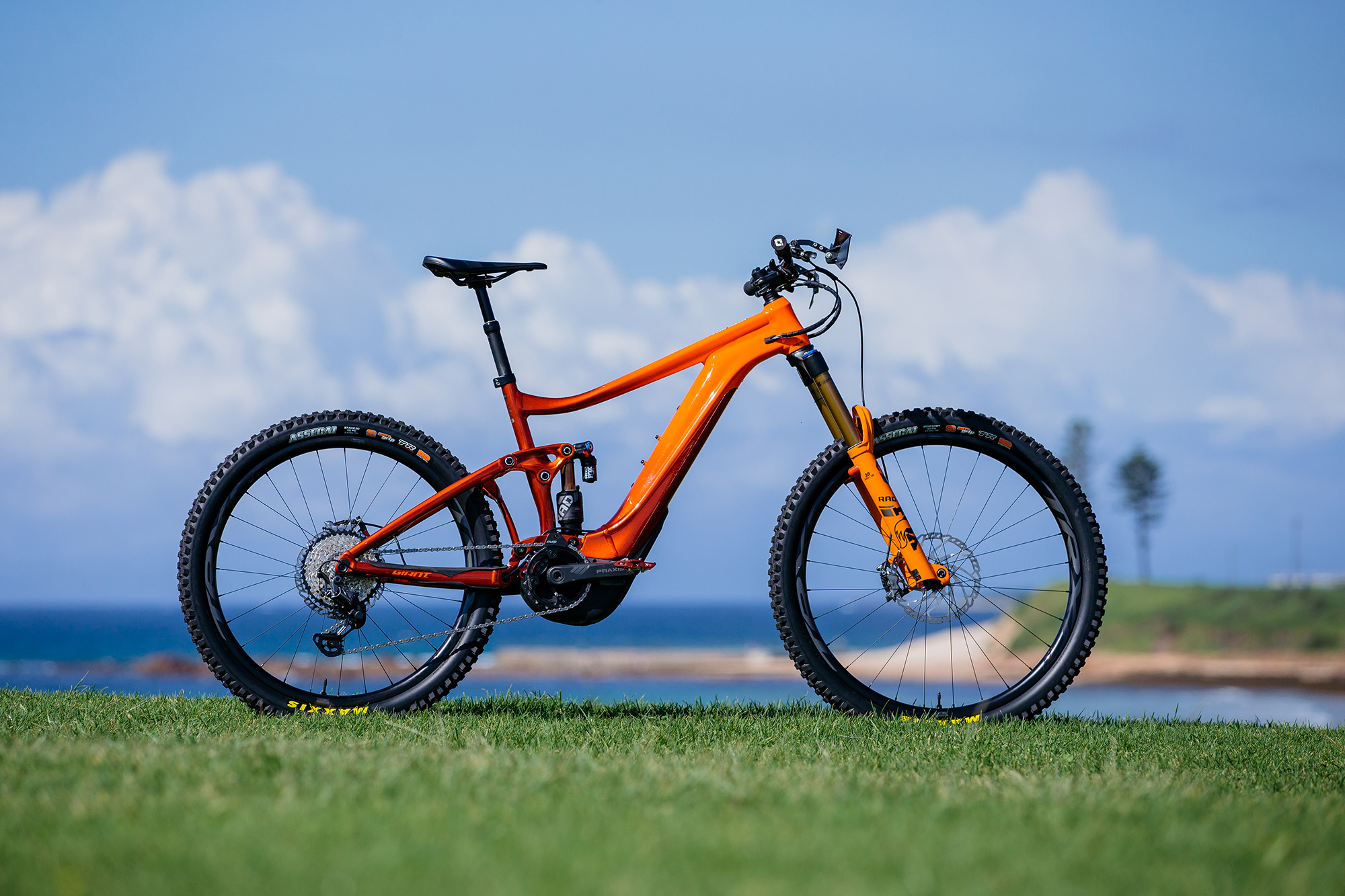 Josh's Spec details
Frame // Stock Reign E+ (alloy front and rear)
Size // Large
Motor // YAMAHA PW-X2 Giant
Battery // GIANT 500wh
Fork // FOX 38 160mm
Shock // FOX X2 Air
Wheelset // Giant TRXO Carbon
Tyres // MAXXIS DD ASSEGAI 2.5
Brakes // SHIMANO XTR
Rotor size // 203mm front and rear
Dropper Post // GIANT 150mm
Derailleur // SHIMANO XTR Mid Cage 
Cassette // SHIMANO SLX 45-10
Chain // SHIMANO XT 12 speed
Chain Guide // MRP
Cranks // PRAXIS Carbon
Crank length // 165mm
Pedals // HT T1
Bars // PRO 765mm 20mm rise Alloy
Stem // PRO 60mm
Grips // ODI Elite
Handguards // Barkbusters 
Photos // Wesley Lonergan.
Follow him on Instagram @wesleylonerganphoto