Located on the outskirts of Hobart, just a few minutes from the CBD and airport, the Meehan Range is a popular trail destination for locals and visiting riders.
In yet another fantastic development for MTB in Tasmania the local government recently announced that Dirt Art have been given the go ahead to launch phase 1 of planning to create a major new trail network, which will also include the construction of several onsite facilities. To learn more about what Tasmania's latest trail project will feature we sat down with Simon French from Dirt Art to get the lowdown on what's being planned.   
Photos // Matt Staggs  Rider // Jackie Schapel
[R]: To set the scene can you start by giving us an overview of the Meehan Range in its current form?
Simon: Sure, the Meehan Range has been open for formal mountain bike riding for nearly 15 years, which began when I personally submitted a proposal to the Clarence City Council to formalise the trails and create a mountain bike park back in 2005.  There were volunteer-built trails before that time, and volunteers continue to play an active role in building and maintaining the park. Today the park has around 20km of formal trails, with a number of informal trails also scattered throughout the network.  The trails are generally old school single track, with a smattering of machine-built flow trails. The current trails are a bit of a mixed bag, but are generally not extensively maintained. Signage is pretty poor at the moment, and the amenities such as parking are becoming very stretched with the current visitation.  
[R]: The project has been given the green light and is currently in the concept plan stage, how does all that work?
The state government in Tasmania runs an Expressions of Interest (EOI) program for developers to submit proposals for commercial development on parks land. We have used that pathway for the project, and it's the same pathway we used to develop Maydena Bike Park.  The project received its first stage of approvals in that program a few months ago, which allowed us to make plans public and begin developing our final design plans, before lodging our statutory development approvals. We have elected to undertake extensive stakeholder and public consultation given the existing public use of the area, which began as soon as we received the first stage of our approvals last year. So far we have held a public meeting (along with countless stakeholder and land manager meetings), launched an initial survey, developed and released concept plans, and are now undertaking consultation based on our project concept plan. The next stage for us is updating our plan and submitting our development approvals, which includes approvals from Tasmania Parks and Wildlife and the local council. We expect this approvals process to take around 6 months.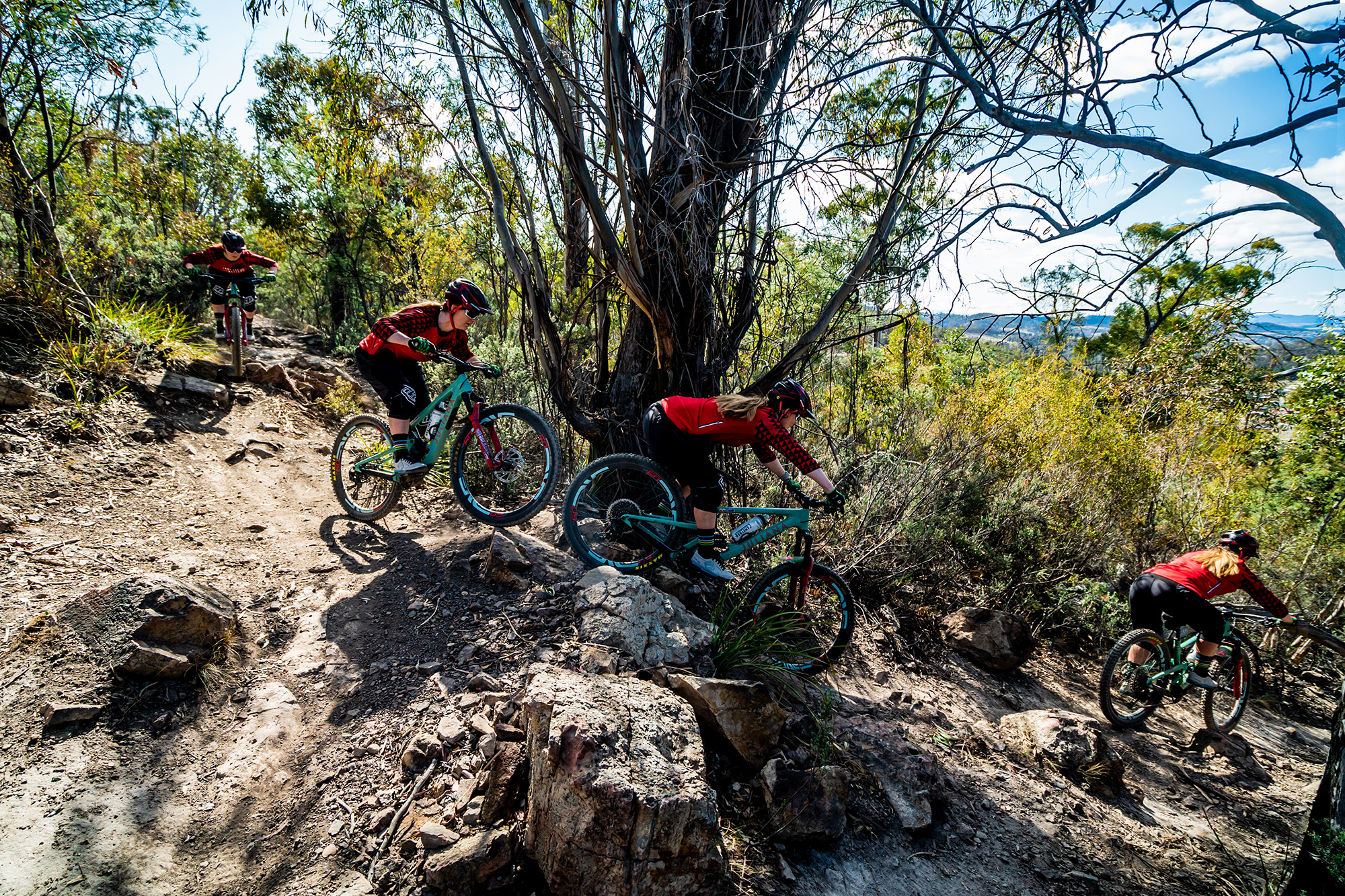 [R]: What is the grand vision of the trail network that your team is planning to create?
I think it's important to be clear that we aren't building a massive mountain bike destination here like we have at Maydena.  We are building a smaller, more focused park that will act as a 1-2 day stop for travellers and an awesome facility for local and regional riders. We are looking to create around 10 trails, with a total trail volume under 15km. These will all be descending trails, aside from one short climb, and will add to four existing descending trails that will be accessible from the uplift. The hill has around 200m of vertical elevation, so we are looking at shorter, interconnected descents. The Meehan Range is awesome for winter riding, in actual fact I think it rides better in winter than in summer, so we see this as a great synergy with Maydena where winter riding can involve some mud.  
The great thing about the model we have put together is that all the trails we are building (and the existing trails) will be handed back to the government when we have built them, which means they remain available for full time, free public use. The project will also involve our company investing in a new access road and car park, which will be free for the public. All in all we intend to invest around $800k in what will become completely public owned and accessible facilities. We will be relying on exclusive uplift provider access and exclusive use of the cafe site to help us recoup this investment. We believe it's the first time a model like this has been undertaken, but if it works (as we fully expect it to!), it is a great way for commercial developers to work with government to create great outcomes for local riders (more free trails), while building destinations that attract new visitors to an area. While the current rush of government investment in mountain biking is awesome, and we truly hope it continues for a long time yet, we believe in developing sustainable models for the sport going forward and that will involve the commercial industry. For us, we are testing this concept as a new way forward that won't work everywhere but it may help other sites to develop trails where government investment isn't so easy to secure.  
[R]: When are you hoping to start breaking ground on site and building new trails? 
We're aiming to be underway with construction late 2020, with an Easter 2021 target opening.

 [R]: What type of riders will the park cater towards? 
There are a couple of great more advanced trails in the area already, so we are focusing on a beginner-intermediate audience for the new trail development. We plan on developing a killer beginner trail that will cater for everyone starting with kids and absolute beginners. We will definitely have some awesome intermediate tech, jump and flow trails. The network is diverse and is designed to be non-intimidating, fun, fast and accessible in all weather conditions. The park will be a great gateway for our other facility at Maydena, which is much more focused on advanced-level riding. We are focusing this project on an urban audience, families and the after work or weekend warrior who wants to sneak in a 1-3 hour ride, but may not be able to commit to making a day or overnight trip of it at one of the state regional mountain bike destinations. While we are focusing on beginner-intermediate, we certainly aren't forgetting the advanced riders, with trails offering progression for riders of all abilities.  
 [R]: We understand there's also plans for an uplift bus service to be introduced? 
Yes! An uplift service is a major component of the project. We plan to run the uplift year round.
[R]: Another great addition to the park will be the construction of a cafe and bike store onsite. What is the vision for those key pieces of infrastructure? 
We are proposing to create a cafe, micro bike store, rentals outlet and workshop on site at the new proposed car parking area. The cafe will serve fast, fresh and healthy food, and the retail area will offer the basics but will not aim to compete with existing bike stores. We will have a full fleet of bikes (including E bikes), and a bike school/coaching service on offer. The cafe and shop concept has been extremely popular with riders so far, with many listing it at the part of the project they are most excited about. As with Maydena ,we will place a strong focus on serving only the best coffee.

[R]: For people reading this who would like to get involved, to learn more and potentially lend their support for the project, what do they need to do? 
Jump onto our web site at www.meehanbikepark.com and you can get an overview of the concept and check out the concept plan for the project. You should also follow our socials, where you can find us at 'Meehan Bike Park' on Facebook and @meehanbikepark on Instagram.