Forget about size, it's all about width. Or at least that is what some of the wheel makers out there would like us to think. Add to the mix a whole new range of 2.3 to 2.6 inch wide rubber for trail, enduro and DH use and it's hard to deny that wider rims and tyres are here for the long haul.
ENVE's already epic M70 wheel set has gone the wide treatment for 2016 with the release of their M70HV. The point of this High Volume thing is maximising your tyres' footprint through bigger volume and lower air pressure, allowing it to eat up the trail. Be it climbing, cornering or descending.
The M70HV comes in at 31mm wide internally before those hookless side walls fill out another 2.5mm on each side, which is somewhat less beefy than their skinnier non HV sibling whose sidewalls are thick (and after a year of pounding my own pair, I'd like to say the strongest sidewalls I've ridden). Couple this thinner sidewall with a lower profile and the HVs weigh only marginally more than the standard M70's at 1016 grams for two rims.
Finding this magic 31mm internal width was a trial and error process, with the Utah based company taking R&D on 'is wider better' seriously. CNC'ing molds constantly to perfect both inner and outer shapes, trialing new layups and of course riding the hell out of prototype rims in the surrounding mountains on as many of the new generation wide tyres as they could get their hands on. All in an effort to figure out the ideal width. One that trod the fine line between stiffness and weight while ensuring the best tyre profile. Their findings showed a point where the advantages of a wider rim diminished when using 2.5" tyres, support for the tyre beyond that magic 31mm internal width is minimal, but the increase in weight is substantial.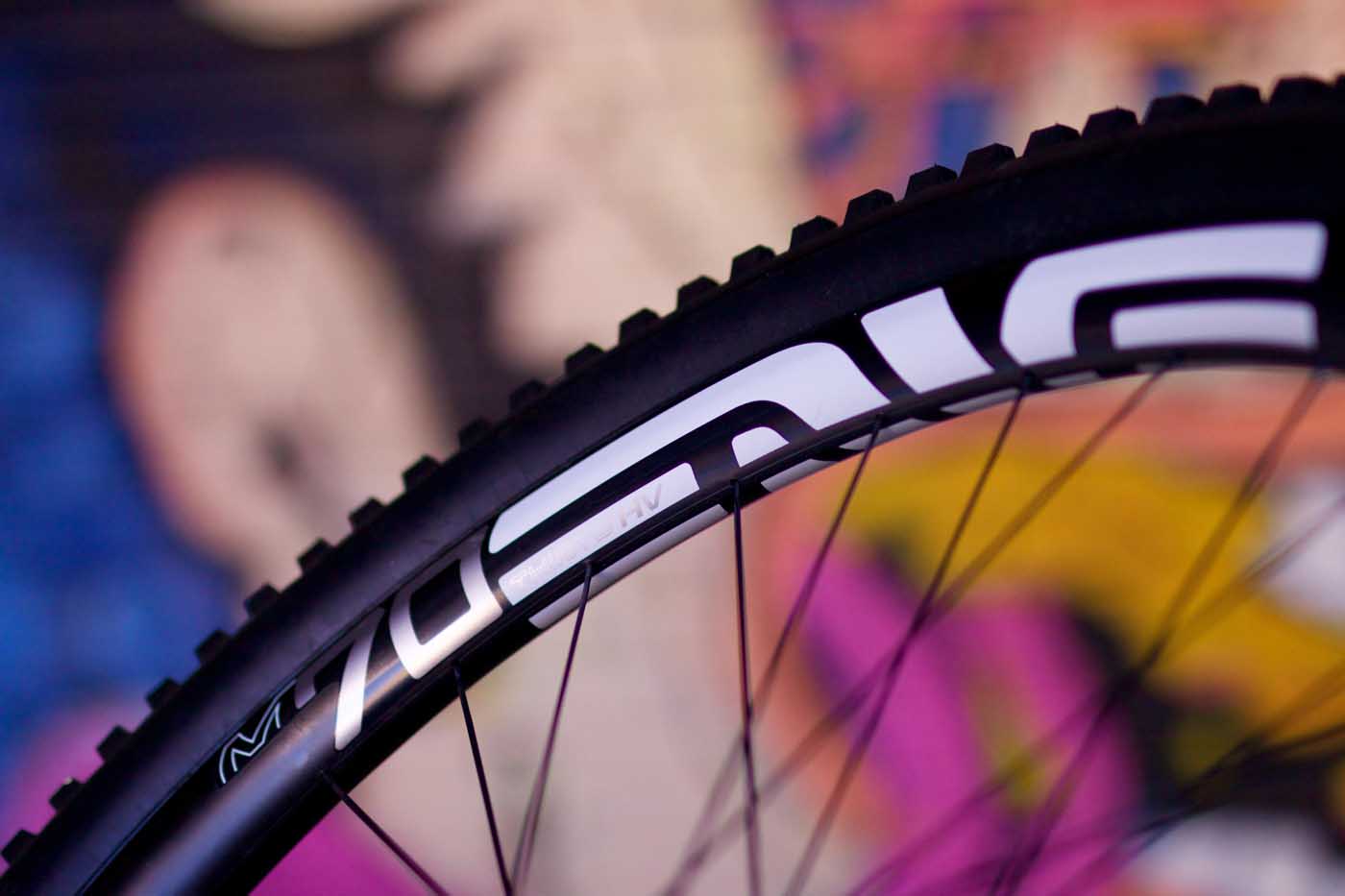 So beyond the physical dimensions, there's a lot more to ENVE rims than just a huge price tag. In short, ENVE does more than a few things that other carbon rim companies do. First up, that made in the USA sticker is there for a reason, ENVE's quality control is second to none. Speaking with their crew when out here in Australia let me know just how stringent that QC is. Second, they told the outer spoke holes rather than drilling them, which makes for a stronger, lighter rim. Why I hear you ask? Well, the downside of drilling carbon is that fibres are cut. Carbon derives much of its strength from those fibres remaining intact. So drilling holes through the fibres either means the rim isn't as strong as it could be, or they have to make the carbon thicker (and thus heavier) to make up for the loss in strength. Third, they run a hookless rim. This makes the rim stronger (since there's more material there), and as with the spoke holes, it means ENVE doesn't have to cut any carbon fibres by machining in a hook. While I know a few that claim all sorts of dramas with hookless rims, in a year on the narrow M70s I'm yet to lose a tyre, and seating a new tubeless set up is super fast. Finally, they've found a way to remove the bladders from inside the rim, which makes for a lighter rim that has a more uniform weight and strength distribution, plus theres no remnants floating around inside your big ticket rims.
M70HV's are available pre-built (you get a little bag with a signed card by both the layup tech and the wheel builder, mine was by Skyler) with your choice of DT Swiss or Chris King ISO hubs. While we're big fans of the bomb-proof DT's, a pair of anodised Chris King hubs does make the all American dream come true if that floats your boat. And should you think you can lace a pair of these bad boys to the required mega tension they specify, you can order rims.
So, is wider better? Well yes, If you're using a big bag tyre with a sidewall that can handle low 20's (psi).
An M70 HV rim will not perform as well as the narrower M70 rim without high volume tyres. There is a right tyre for the rim for the application, so a little research here is paramount. Is wider for you? Well that's a choice you'll need to make based on your riding and the terrain you ride. And last but not least, is an almost $4 grand wheelset for you? ENVE's remarkably lively ride quality and epic strength (backed by a crash replacement warranty) makes these wheels the best on the market for the all-mountain come enduro rider who doesn't mind a lifted week or ten…
Words // Matt Holmes
Distributed by // www.monzaimports.com.au