Carbon rims have polarised riders for some years now, and none more so than the somewhat mysterious ENVE. In many ways, they single handedly lead the charge into the carbon wheel era, especially when it came to downhill capable carbon wheels, introducing their M90 hoops back in 2010 off the back of not much more than a verbal challenge…
The result? Well ask Greg Minnaar, who has gone on to win a seemingly endless amount of races on ENVE rims. Most noticeably, three years straight on arguably the roughest track on rims there is, Fort William. While proudly displaying the Made in the USA sticker, design, prototyping, manufacturing and evolution of their product in-house is the MO of ENVE. A focused direction that has not only brought carbon fibre to the mainstream (though maybe through imitation in most cases) but pushed what's possible on a bike.
We caught up with ENVE's Jake Pantone, VP Product and Consumer Experience, to find out a little more about one of MTB's most innovative companies, their direction and more…
Story // Matt Holmes
Over the years, the dollar figure attached to your products has had some shaking their heads when 'similar' carbon products are available from other companies at much lower prices. It's here that the facts need to come out, not all carbon is created equal?
Exactly, I think the first misconception is that carbon is carbon. What people don't understand is that carbon products are only as good as the process used to make them and it's a process primarily performed by hand. All ENVE rims are produced in Ogden, UT at our new carbon specific manufacturing facility. But where the rims are made isn't nearly as important as why we have chosen to make our rims in the US. At ENVE, every step of our process is performed under one roof. We are unique in that our engineers don't just deliver a design packet to another manufacturer who figures out how to make the product, rather our engineers design the product and the process required to manufacture it. This is important because it allows us at ENVE to push the envelope further than others. We make more prototypes, sample test more product in the lab and in the field with world class athletes, and ultimately, make the most refined carbon rim structures in the industry. The price of our products is directly associated to our process and commitment to making the best products we can.
So, why make in house, in Ogden Utah versus a slick overseas factory to your specs?
To put this in perspective, our current M Series line required over 1000 prototypes to bring the 8 models in their multiple rim diameters to market. There is simply no way you can do that in a timely and efficient manner if you're outsourcing manufacturing. At the end of the day, making product in Utah allows us to maintain an intimate relationship with our products. If we want to test a concept for a new product, we can potentially go from concept to rideable product in a week, if we so desire. For ENVE, US manufacturing isn't about being nationalistic, it's about being dynamic and innovative.
How many are employed in-house designing, testing and laying up the black gold?
ENVE employs roughly 200 employees worldwide.
Now, the new M7 Series rims (and DH spec'd M9 Series rims) bring a truckload of advancements to the well proven M Series. Most notably more compliance and a new rim protection strip. Let's start with stiffness… What made you guys make the change? Disclaimer: I'm a fan of the 'apparently too stiff for some' M70's!
There is a lot to discuss here. Stiffness is a complicated topic as there are many factors to consider with "stiffness". The three main types of stiffness are vertical, lateral, and torsional. Vertical stiffness is often interpreted as compliance, and compliance is often associated with comfort. However, comfort can be achieved through several other factors such as laminate design, tire pressure, and suspension setup. Lateral stiffness delivers stability, straight line tracking, and cornering confidence. The introduction of boost spacing improved the bracing angles of the wheel build and afforded us the opportunity to make the current M Series line up lighter. Then there is torsional stiffness. Maximising torsional stiffness, means improved efficiency under acceleration. Our wheels are refined to strike a balance between all these factors while taking into consideration the feedback we receive from our professional athletes and customers alike. Ultimately, our M Series models are highly refined for the disciplines for which they were intended.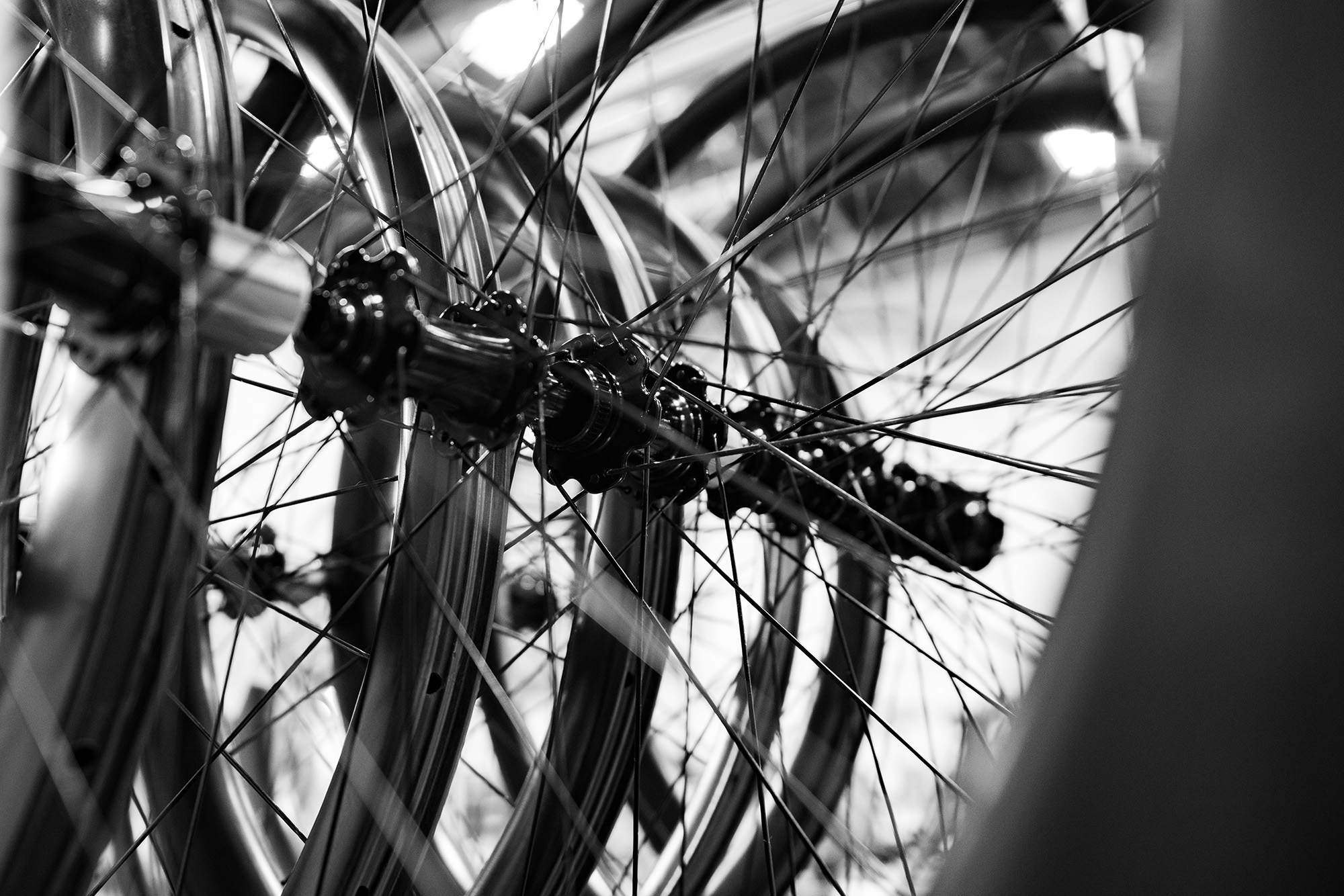 So while new lay-up and years of feedback and data has allowed for both compliance and strength, spoke tension has always been a big part of your wheel builds. What's the theory behind the relatively high spoke tension on a pair of ENVE's?
A decade ago there were many carbon rims with spoke tension limitations. These tensions were quite a bit lower than what riders needed. Early on when hub spacing was more narrow, the higher spoke tensions we could achieve with our moulded in spoke holes allowed for stiffer wheels. Today, flange spacing is wider and our spoke tensions are lower than they used to be, but tensions are optimised to deliver wheels that remain true, and won't prematurely fatigue spokes or nipples.
Talkin' spokes and tension, moulded spoke holes versus drilled and the upside down nipples?
Our goal is a maintenance free wheel experience. Moulded spoke holes maximise the use of carbon in our rim construction as it allows for a lighter and stronger rim structure. Additionally, the moulded spoke hole features a conical seat that matches the radius of the nipple and this allows the spoke nipple to articulate with the exit angle of the spoke to the hub flange. This results in longer spoke life. While repairing a broken spoke can be more challenging, ENVE rims rarely need to be trued and broken spokes are extremely rare.
Your new rim protection on the M7 Series (and up) rims takes your much loved hookless system to a new level. Both protecting those precious sidewalls and if I'm to believe the hype; 'eliminating' pinch flats? You haven't seen me ride obviously…
Riding is believing and at this point, we have many anecdotes from professional athletes to weekend warriors about how our Protective Rim Strip technology has eliminated the dreaded pinch flat and improved rider confidence.
So, heavy pool safety foam insert versus your strip?
Inserts and our Protective Rim Strip aren't really competing products. Our PRS eliminates pinch flats. Most inserts are ineffective at preventing pinch flats unless they are very high volume and high density which generally equates to being heavy. The most attractive aspect of a good insert is that it gives the rider the ability to ride with a flat and finish the ride or race. Our PRS eliminates the most common type of flat meaning rotational weight remains low and the rider is able to run the pressures, and tires they want. Inserts are proof that pinch flatting is a problem. As a rim and wheel manufacturer we solved the problem for ENVE riders and inserts aim to solve them for everyone else, but they come at a high performance cost of added rotational weight.
With Enduro and DH riding stepping up year after year, and suspension getting better and better, rims are obviously taking the brunt of much heavier impacts. Aside from your in-house R&D lab, how much input and data comes from your sponsored riders and teams?
We sponsor EWS and World Cup DH teams for the product feedback they deliver, the marketing and brand validation is secondary. Professional athletes take product to its limits and our product wouldn't be the best in the world without the data gleaned from these teams and riders.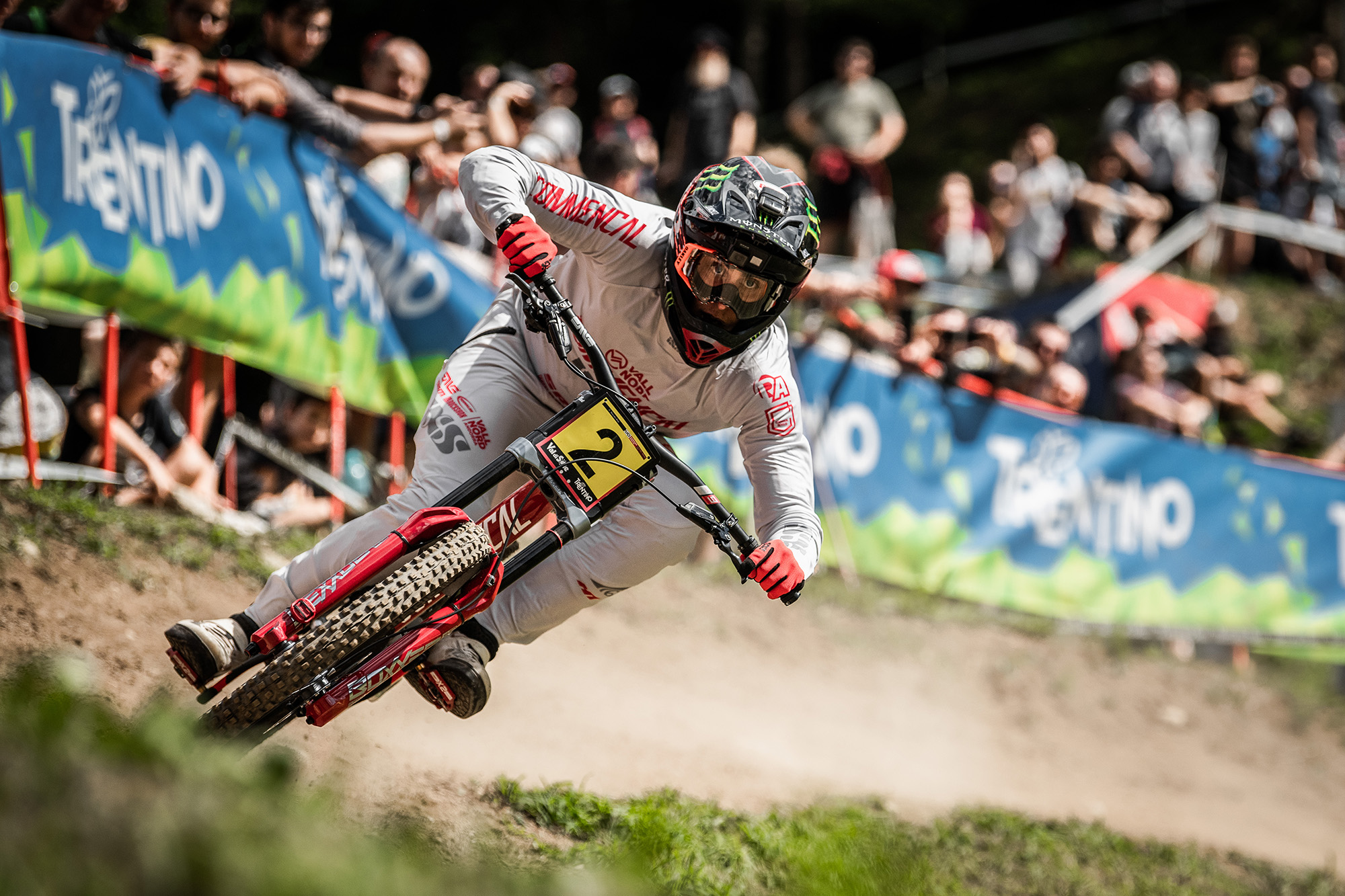 So almost 10 years on from introducing carbon fibre rims into World Cup down hilling, your current team partner is looking like taking the overall title, namely Commencal and the wildly fast (and stylish) Amaury Pierron?
The Commencal team has been an incredible team to work with. They are data driven and approached ENVE for a partnership based on our reputation in the World Cup pits. They love the product, and trust it wholeheartedly. The results speak for themselves and we are stoked to be on the top step of the podium again.
And for the million $ Q… Are Commencal using proto or custom rims we'll see in seasons to come?
Generally speaking, our professional athletes and teams ride the same product that we sell. As mentioned earlier, we use teams for product development and testing so that means they are frequently testing new concepts. I can say that all of Commencal's wins this season are on stock M930 and M9 handlebars.
Your original DH rim under the Syndicate back in 2010 versus the new M930? Any stats on difference in strength of the two?
The original DH rim took the same impact that our current M6 Series rims are required to take. The M930 is nearly indestructible. I say nearly, it of course can be broken, but it takes a very serious impact, usually tied to a crash. The Commencal team of 5 riders has broken fewer than a dozen rims this season at last count. In our first season with Syndicate, we saw somewhere around 70 rims broken with 3 riders. This however, was a massive improvement over the nearly 200 rims they had gone through in their previous season on alloy. Needless to say, we've come a long way since those days and the product has never been better.
I do like that you supply carbon rims and cockpit to a company that doesn't believe in carbon being a wonder material for frames! A good mix of materials in the right places from my POV?
In some ways it makes so much more sense. Carbon is a great frame material and it can reduce weight, increase stiffness, but if you're on a budget, wheels and cockpit are still the number one place to spend your money for an upgrade. We love that aluminium is Commencal's material of choice and given the choice between carbon frame with alloy wheels or alloy frame with ENVE wheels. Myself and everyone I ride with would choose the alloy frame with ENVE wheels every time, because that is where the performance is maximised.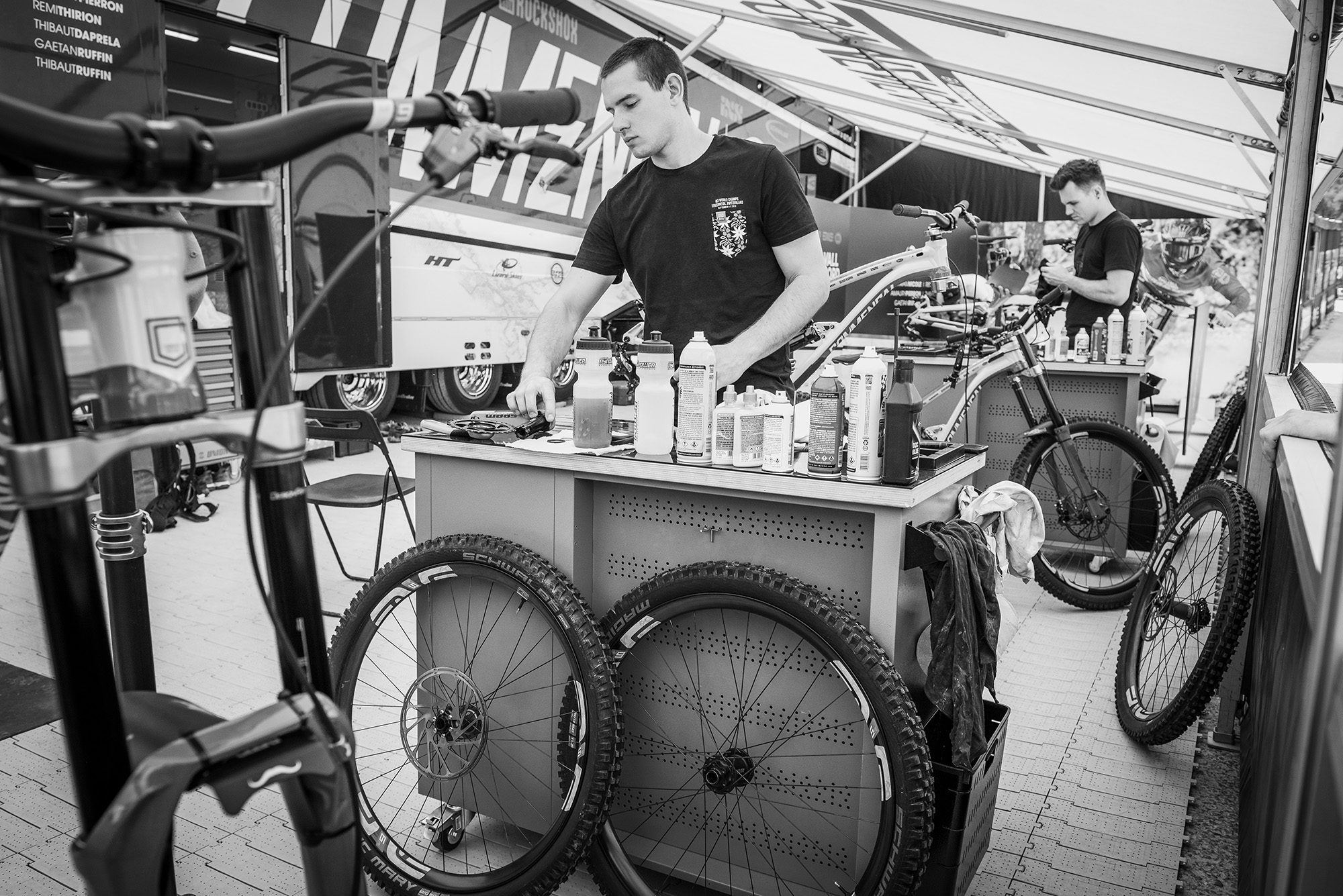 "We sponsor EWS and World Cup DH teams for the product feedback they deliver, the marketing and brand validation is secondary. Professional athletes take product to its limits and our product wouldn't be the best in the world without the data gleaned from these teams and riders."
A DH wheel and the demands on it don't seem that far removed from the demands of say an EWS race, though the 730 series wheels aren't just simply pared down DH rims, they're a whole different rim?
Honestly, EWS racers should be on M9 Series rims for many courses and stages. The M7 is a tough rim, but it isn't as tough as the M930 because the M7 Series wheels are designed such that pedalling them uphill is still enjoyable. If you're a professional enduro racer with a history of wheel destruction, the M930 should be your wheel of choice. If we have customers who are breaking M7 Series rims, we'll upgrade them to the M930.
#ENVEforlife and your new Lifetime Incident Protection is a pretty big statement to make, but off the back of pushing to make the fastest, most durable wheels and charging top dollar for it, it's definitely a big incentive to throw down the money knowing you've got the riders back, pretty much no questions asked?
We have always covered impact damage and done our best to provide customer service at a level representative of the product we sell. Our Lifetime Incident Protection is an evolution of our warranty and aims to reinforce that if you're an ENVE customer, we have your back and consider you part of the family.
I read in your warranty section 'exhaust pipe' damage? I'm so keen to hear what has happened to some rims outside of riding you've had to deal with! Top 3 extraordinary warranty requests?
Right! First, carbon products can melt if heated. Leaning your bike against a hot exhaust pipe or if your rear mounted bike rack is too close to the pipe, you can heat the rim up, soften the resin, and then the spoke tension will collapse the structure. So, mind the gap, and keep carbon away from hot objects. I can think of one wheelset that was chewed up by a dog, but most non-ride related damage usually involves a car. What is more impressive is the number of people who manage to ride into parked cars and only call to tell us this because their wheels come out unscathed and they want us to know.
So to finish it up, for someone that just knows their bike has wheels, what's the three main benefits to riding an ENVE carbon wheelset?
ENVE wheels will make you faster. ENVE wheels will give you more confidence, freeing you to ride faster. This is achieved through refined constructions that balance strength, weight, and stiffness as well as unique anti pinch flat technologies. ENVE has more options, so you can get a wheel that is purpose built for how, where and what you ride. The best wheels in the world (we're biased) are backed by the best warranty and customer service. We believe that the best warranty is the one that you never need to exercise, but if you are unlucky at some point in your ENVE journey, we've got your back.