Liv Cycling, the company dedicated to getting more women on bikes, recently teamed up with SRAM to create a 4-day in-depth bike mechanics course exclusively for women here in Australia
.
Utilising the Australian STU (SRAM Technical University) facility in Melbourne, the course was attended by women from right across the Aussie Liv dealer network. The initiative was sparked by growing numbers of women riding bikes, yet relatively low numbers of women working with bikes. Seizing this opportunity, Liv wanted to further support female riders both on and off the bike. It all sounded pretty damn cool and so to learn more [R]evolution sat down for a chat with the two people that were instrumental with bringing the concept to life; Caitlyn Hargreaves, the Australian brand manager for Liv Cycling and Lachlan McKillip who heads up the Australian STU.
Photos // Dom Hook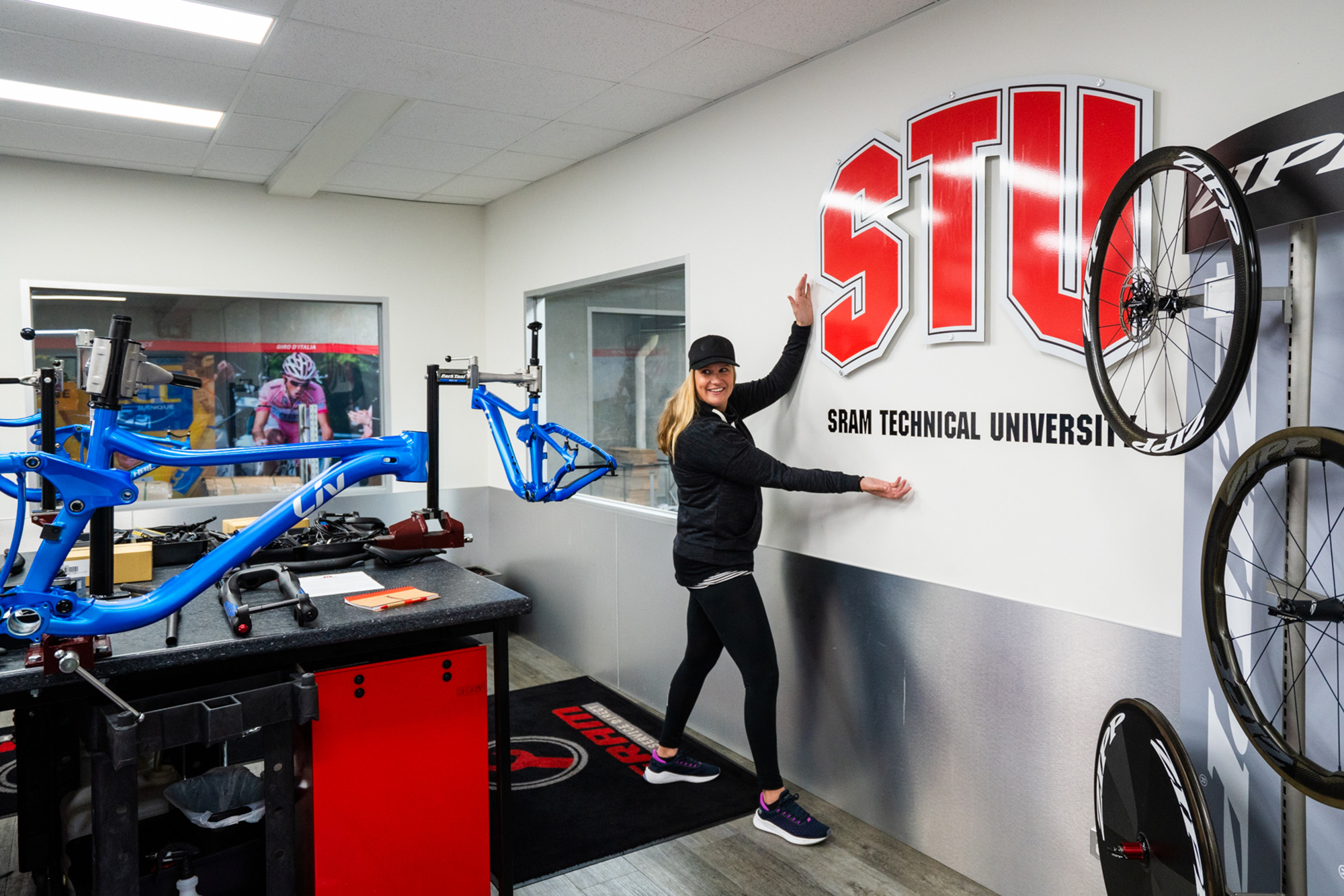 "Providing this course was important to us on so many levels. Despite an increasing number of women finding joy in riding bikes, there's a disproportionate number of women compared to men that are working with bikes. This initiative has given the participants a huge boost in knowledge and skills, and by being more visible in the workshop and the sales floor, they are role models to other women and young girls to also see bikes as a viable career path. Here at Liv, we do more than manufacture bikes for women. We're about making cycling more approachable and appealing. Creating a course like this means more women working in bike shops, female consumers feeling more comfortable in those spaces, and ultimately the more the sport will grow. Supporting women who have invested their livelihoods in the industry helps us and our retailers retain talented staff."

– Caitlyn Hargreaves Liv Cycling Australian brand manager
[R]: In a nut shell, what is STU and how does it operate down here in Oz?
Lachy: STU is SRAM Technical University. The goal of the courses we run are to educate store-based mechanics on how SRAM and RockShox products, work, can be maintained and service correctly. Essentially giving the store the skills to increase workshop revenue and knowledge. For this LIV course it was to equip the participants with the knowledge to build a bike from the ground up and build it to a level that it could be ridden on the last day of the course. Each mechanic had a LIV Hail frame and the only thing we had pre-installed was a headset. Everything that went back on was installed properly and even the suspension rebuilt.
[R]: It's a pretty incredible facility that you've got down there with the classroom/workshop and certainly the only one of its kind in Australia. How many years has the STU been operating over here?
Lachy: Yeah, the facility is pretty amazing. The STU program that has run globally for quite some time and for 5 years in Australia. We're currently midway through our 6th season of running courses and to date we've had just over 500 students through the doors down here. Hats off to Jimmy (my predecessor) and Dylan for setting it up – I feel what we have here is industry leading especially for Australia and makes the learning process that much better.
[R]: Did the woman's LIV course follow the same framework as the regular STU courses or was the program tailored?
Lachy: It's kind of a beast that just evolved to be honest, at first I thought most of the STU content would just translate over but the more I delved into a build the more I just realized how much stuff I just do without thinking. The course was pretty much custom for everything and creating the content took 3 long weeks on my end to create. The idea of the course was to have a bare frame in the stand and over the 4 days have everything completely rebuilt and installed again. Our regular STU focuses really on suspension, some drivetrain and brakes but this course had to go all the way back to start. Incorporating theory on things like torque wrenches, what greases or loc-tite to use, using bearing presses, the method for tightening rotor bolts, how to route cables through frames and even little things we take for granted like zip ties and making sure cuts on them are flush, on top of our regular content for suspension, brakes etc. In the end I feel the quality of the content was really deep and there wasn't anything that hadn't been touched on.
[R]: So, the participants were made up ladies who work at Liv dealers from right across the country. What are some of the things they gained from the course that they'll now be able to take back to their stores and utilize with Liv customers?
Caitlyn: We created this course specifically for women in our Dealer network who were working in sales and customer service roles, so taking on a mechanics course has given these ladies a totally new skill set. When we built up the bikes, they started as a bare frame, and along the way we bled the brakes, tuned gears and serviced the suspension, which was a game-changer for everyone in demystifying the more technical components of a performance dually. Now that they have that knowledge and confidence to give it a go, they're already back in store building bikes, out on the trails with customers fine-tuning suspension set up and planning local events to share their knowledge with their cycling community. It's a win-win for everyone.
[R]: How would you describe the culture and ethos of Liv?
Caitlyn: To put it simply, Liv is by women, for women. Everything we do is designed to make cycling more approachable and appealing for women, so that's the lens we apply when designing new product, hosting events, even the content we produce. Our brand founder, Bonnie Tu once said, 'if something doesn't exist for you, create it' and that's what inspires us to find new and creative ways of supporting the rider's journey. It's that same spirit that inspired our mechanics course. Luckily, we've got a pretty diverse group of ladies behind Liv, so there's no shortage of ideas to help push what's possible for the industry that little bit further each time.
[R]: What were some of the things that you covered across the days?
Lachy: So, day 1 we had the bikes broken down and then began by installing the SRAM DUB bottom brackets and followed that up by going in-depth with drivetrain theory and practical. Day 2 began with hydraulic brake theory and practical, followed by dropper post theory and practical. Day 3 was dedicated to suspension theory and suspension practical. We then kicked Day 4 off by completing the bike builds and then we headed out to the trails at Lysterfield for practical suspension session (token tuning) and an awesome group ride!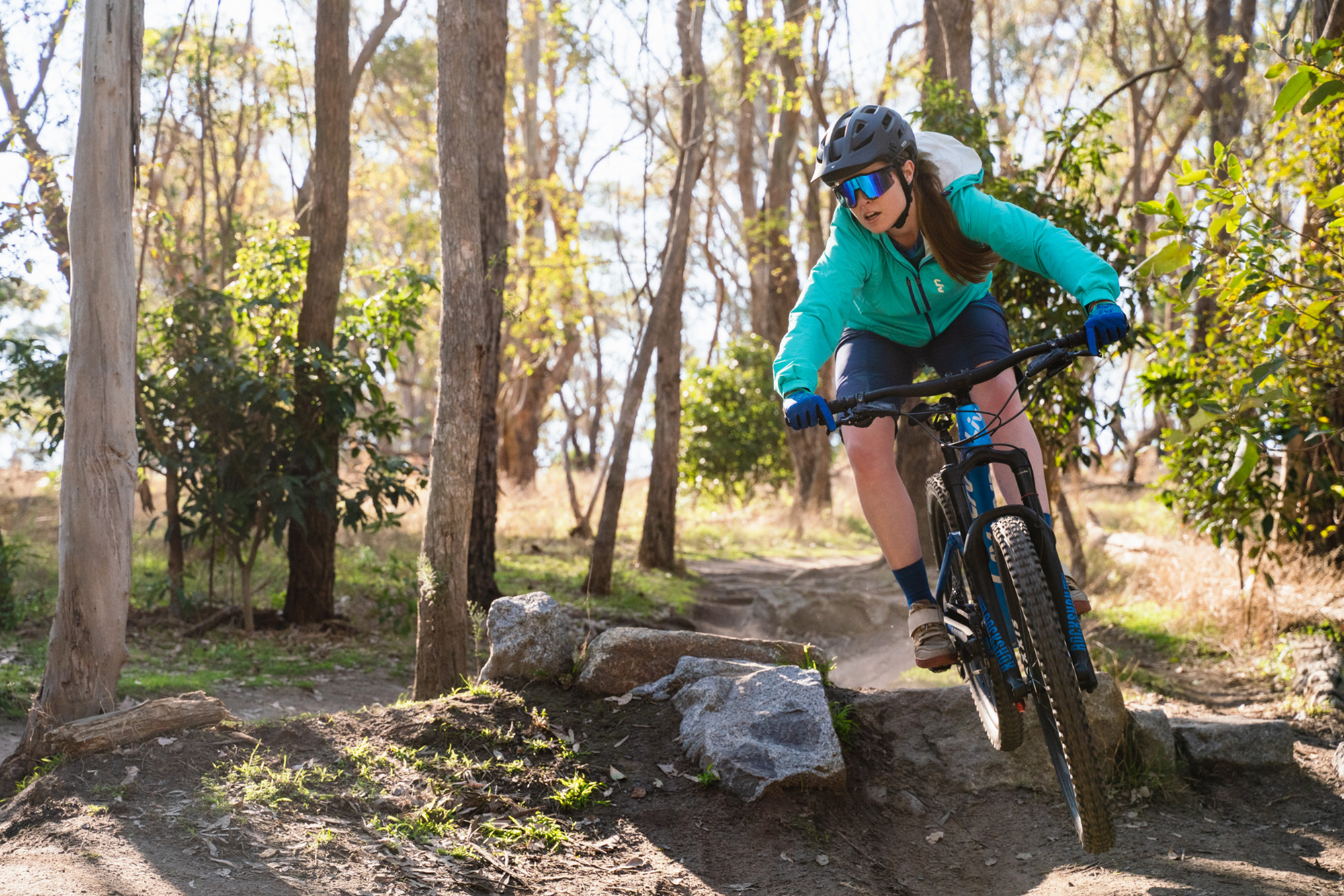 [R]: Hitting the trails on the final day aboard the bikes that you'd hand built and tuned during the course must have been a buzz?
Caitlyn: Such a buzz! We jokingly toasted post-ride to our bikes being in one piece, but honestly, there were never any doubts. Lachy at SRAM is an amazing teacher and knowing that we had covered every little detail instilled plenty of confidence (a torque wrench certainly helps too). It was so rewarding to ride the finished product, plus we had a couple of hours playing around with compression, rebound and tokens, which was cool to get that immediate feedback on the trails.
[R]: Having heard some of the feedback from the participants it's clear that all of the woman felt that they gained an enormous amount of knowledge and confidence from the experience. How cool would it be to see an increase in woman becoming bike mechanics in stores across the country!?
Lachy: I'd love to see more women in the workshop, we get a small handful a year through normal STU courses and every female student I've had is so passionate and detail focused it's so awesome to see. I feel it can be hard to put their foot in the door with their workshops though but I'd really stress to females in the bike industry to start asking your workshop staff to show you through key things like derailleurs, come and attend courses like STU or Tafe courses throughout the state. There's a wealth of knowledge around but it can be intimidating sometimes as it can seem like a boy's club. I feel a lot of mechanics are really happy to show anyone through ways to fix components, the big part is time and giving them a timeframe to do so. Most mechanics in a store are super time poor. I have to say a huge hats off to Katt for coming up with this idea, I feel this is the start of really great things for getting more female mechanics. It's great to see a bike brand like LIV pushing not only women on bikes but also women working on bikes and being in the industry.
[R]: With the initial course being hailed a success on all fronts is it possible that you guys will run more Liv/STU courses in the future? 
Caitlyn: 100% yes! The moment we started on this project we knew we were onto something special. Liv and SRAM have just locked in dates for an October intake, so applications will be open by the time this goes to print. We believe this is a big step in empowering and connecting more women in the Aussie bike industry, and hope it inspires the next generation. There were dozens of applications for the first course, and after such a positive response from participants, industry and riders we're eager to up-skill more staff and see where that growth takes us. Stay tuned!
Since launching as a standalone brand 5 years ago Liv has seen the positive impacts of how projects like their global ambassador program, events and informative content empower women. And best of all Liv have discovered that via the ripple effect the benefits generated from their programs often reaches far beyond those that were directly involved. By undergoing this training, participants already have plans to share lessons learnt with their community via local social rides, demo days and instore. Here at [R]evolution we're passionate about female readership and being able to document the rapid growth female trail riding that is currently taking place right across Oz and NZ, in our mind, are often some of the most aspirational articles we ever publish. We're stoked to be a part of this exciting scene.