From the brand that continues to lead the way in women's mountain biking we were excited to get our hands on their latest model for an exclusive in-depth review and it certainly hasn't disappointed! The all new Intrigue Advanced Pro 29 has been designed as a fast rolling trail bike which can eat up long climbs and still dominate rough descents.
Reviewer // Jackie Coulson Photos // Dominic Hook
It's a bike which debuts several new tech features for Liv, such as adjustable frame geometry via a flip chip and the bike is going to be offered in a size large frame option (in the past Liv's frame sizing has stopped at medium). The Intrigue Advanced Pro 29 also boasts a lovely full carbon frame and packs 140mm of front travel with 125mm in the rear. Here in Australia Liv are offering the new Intrigue Advanced Pro 29 in a choice of three complete spec levels with a starting price of $6599. For this review Liv were kind enough to send us over the ultra-top-shelf '0' model which comes with Fox 'Live' suspension and a slightly eye watering $11499 price tag.
Now, you don't need me to tell you that 2020 has been a rather crazy year filled with challenges. Adding to the list was the fact that our Intrigue Advanced Pro 29 arrived on our doorstep right at the beginning of Victoria's longwinded total lockdown which meant any meaningful trail time aboard this exciting new machine was going to be extremely limited, talk about a tease! However, as the restrictions began to lift we were able to begin clocking up hour after hour of trail miles on the big wheeled carbon Intrigue, allowing us to explore the bike's limits whilst discovering firsthand the bike's uniquely playful personality. So without further ado, let's dig into our trail notes and begin the review.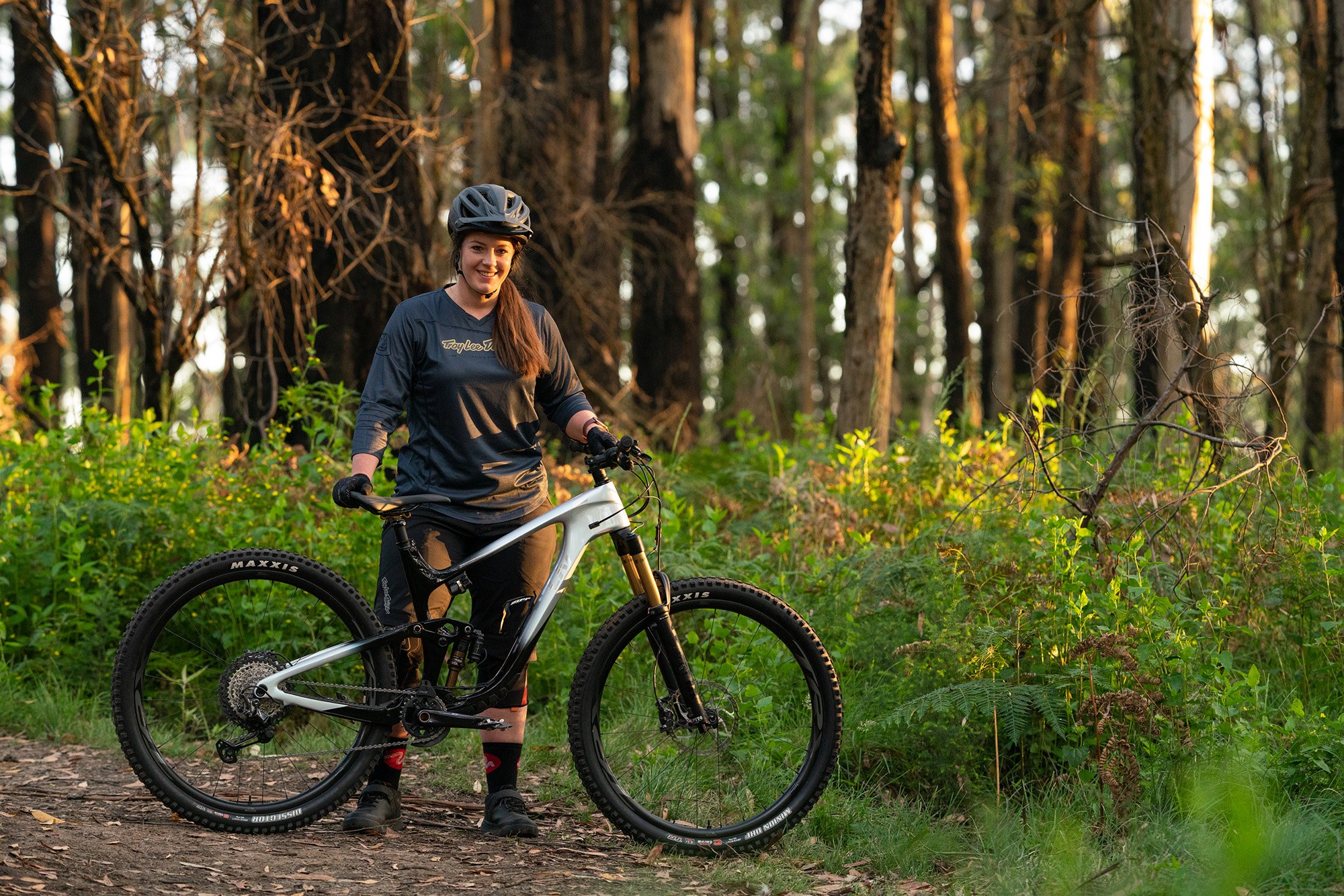 Okay Jackie so tell us about the personality of the new Intrigue Advanced Pro 29? First up, what type of rider is going to love this bike the most?
I'd say quite a broad spectrum of ladies to be honest. It's really going to suit the type of riders that like their bikes to be nice and easy to throw around, really comfortable and a geometry package which is going to let you get up those hills with ease and then have some serious fun blasting back down the trail, with plenty of confidence to let the brakes go! This bike really gave me the confidence to be a lot more playful with my riding ability and I felt that it allowed me to really push my limits more that I usually would.
The bike has been designed using Liv's 3F Design Philosophy, what's that all about?
Liv's 3F Design Philosophy stands for "Fit, Form, Function" which in a nutshell represents bikes specifically created and designed for women – by women! Let's break the concept down for you real quick; FIT: represents a whole bunch of different data and feedback of the women's body shape, including body dimensions, muscular activity and strength patterns specifically of a women's body combined, to make the bike "fit" the female rider better. FORM: represents the look and feel of the bike, not only making you feel good on the trails, but also to get you excited to get out there and fall in love with the bike as well. FUNCTION: combines not only a female specific frame design, but also the geometry and components to go along with it to complete the whole package – giving you the perfect fit bike straight out of the box and ready to hit the trails. (One of my favourites from this review was the new women's specific saddle, the 'Sylvia'. It's super comfy which feels absolutely the perfect fit for a women's body)
3F sounds like it covers all of the key arears. Okay so talk us through the key details and features of the new frame?
The frame has the ability to change up the geometry, with the new Maestro 'flip chip' feature, it allows you to change the angle of the head tube and seat tube, and also the bottom bracket height so you can customise your ride to suit you. It also has a new chain stay design and updated downtube protection. For me, these are both areas that get quite messy and scratched up so this is a great feature to have. Available in large (this makes me VERY happy in deed!) being 173cm tall, this bike fits me perfectly! I'm so excited Liv have introduced a large in the range, my next Liv will most certainly be Large for sure! Very stoked on this one!
Cool to see adjustable frame geometry introduced into the Liv range. How does the 'flip chip' work?
The flip chip allows you to change to bikes geometry, essentially giving you 2 bikes in one. Flipping the chip to the 'high' position gives you a slightly higher position on the bike, which I found was really good for climbing, and also lifts the bottom bracket in this setting too, so really good for getting over rocks and logs without scrubbing (and making that face expression when you hit something with the bottom bracket). Flipping the chip to the LOW position (and my preferred position) lowers your riding position and the bottom bracket slightly, which I found so much more comfortable with my riding style and allowed me to descend confidently and well balanced over the bike on steeper/rougher stuff. The flip chip allows you to really play the trail, anywhere, any time to suit whatever trail you might be riding, or your preferred riding style.
Which of the two settings 'high or low' did you prefer?
It was an obvious stand out for me. The low setting definitely suited my style of riding. I felt a lot more stable, in control and in a good attack position with descending (in the low setting). In the high position I just found it put me too high up over the front of the bike, and I wasn't comfortable, but a different story with climbing. I found the high position was really good for climbing it, really put me in the perfect position to be able to push through and up and made what is usually a chore – actually not so bad.
Do each of the spec levels share the same frame?
They do! So no matter what your budget is, you're getting a top of the line frame.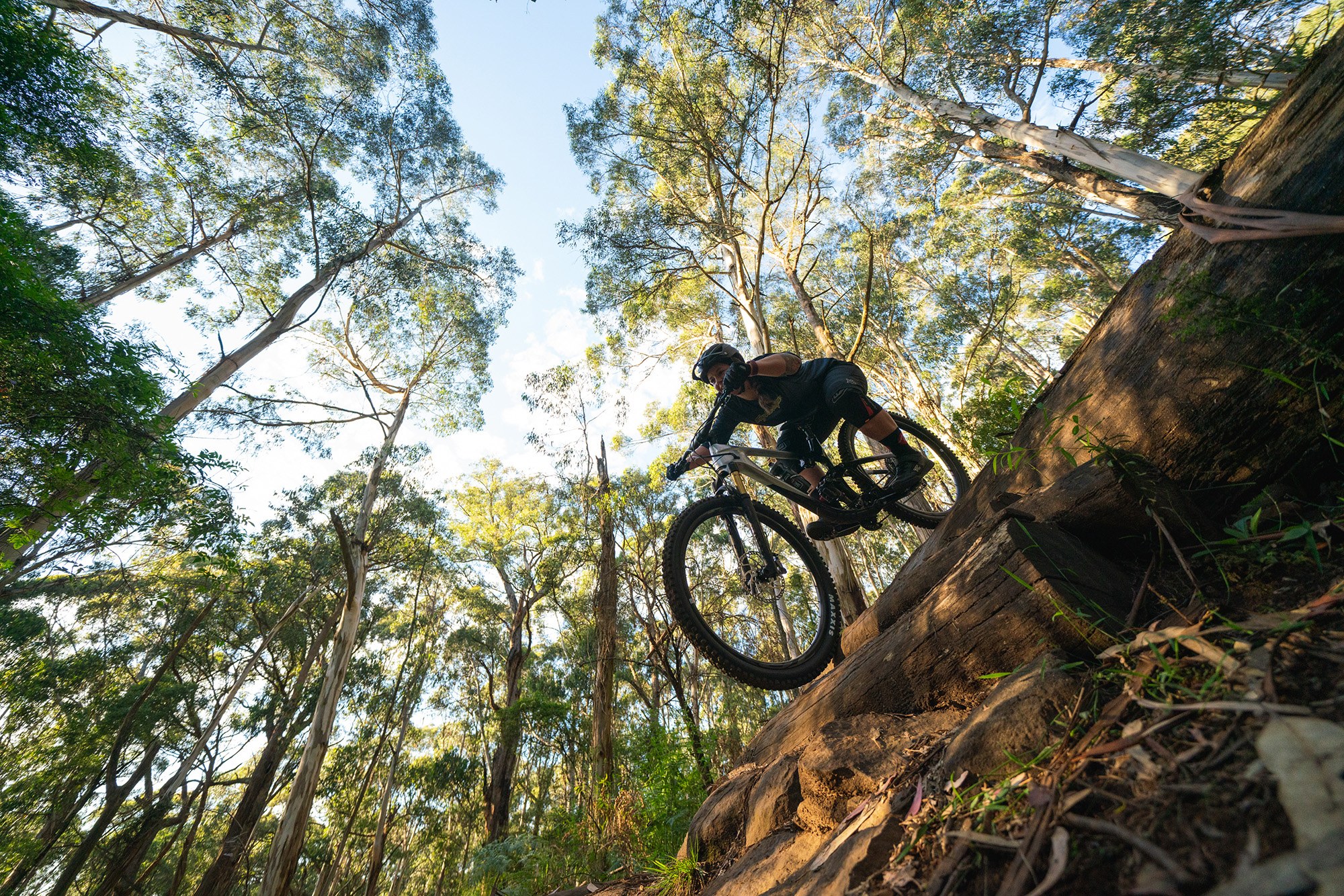 Component wise what does the top of the line '0' model come spec'd with?
It comes with Maestro custom tuned suspension by Liv – set by women, for women specifically, with 140 in the front and 125 in the rear, and 29 inch wheels making it the ultimate fun machine for descending and playing on the trails.
Fox 36 Factory Live Valve 140mm Fork – custom Liv tuned for women (Couldn't fault)
Fox Float Factory Live Valve Rear Shock – custom Liv tuned for women (Couldn't fault)
Fox Transfer Factory Dropper seat post with Shimano remote lever (Works well)
Liv Sylvia SL women's specific saddle (Loved this! So comfy for long rides)
Shimano Deore XT brakes and levers (Mmm, not my favourite 'feeling' brakes to be honest)
Shimano XTR Rear Derailleur (couldn't fault)
Shimano Deore XT cassette 10×51 and chain (couldn't fault)
Out on the trails, what were your immediate impressions of how the Intrigue Advanced Pro 29 handles after that first ride?
I immediately noticed the difference in frame size. I've always ridden a medium because that was always the biggest frame available, so I was itching to ride the Large. It felt amazing! I can't say I've ever ridden a women's specific mountain bike before that fits me more than this one did. The Large size was absolutely perfect for me (I'm 173cm tall) and the 29 inch wheels was the icing on the cake. Love it! That very first descent on the Intrigue really blew me away. I was hitting stuff that I've always either A. gone the 'B' line on, or B. Jumped off and walked around.
So to say I was pretty stoked is an understatement. I love the playful nature of it. The confidence this bike gives you is amazing, effortlessly glided across the really rough stuff, I was so impressed with how smooth it was over roots and rocks, literally mowing over everything in its path.
Travel wise the bike features 140mm up front with 125mm out the back; whilst you're riding does that feel 'spot on', 'too much' or 'not quite enough'?
For the trails I like to ride, the amount of travel was 'spot on' for me. As mentioned a little earlier, I was hitting things on this bike I would usually avoid – like really rough steep rock gardens, and drops/jumps. I really feel that Liv have nailed the custom tuned suspension for women here.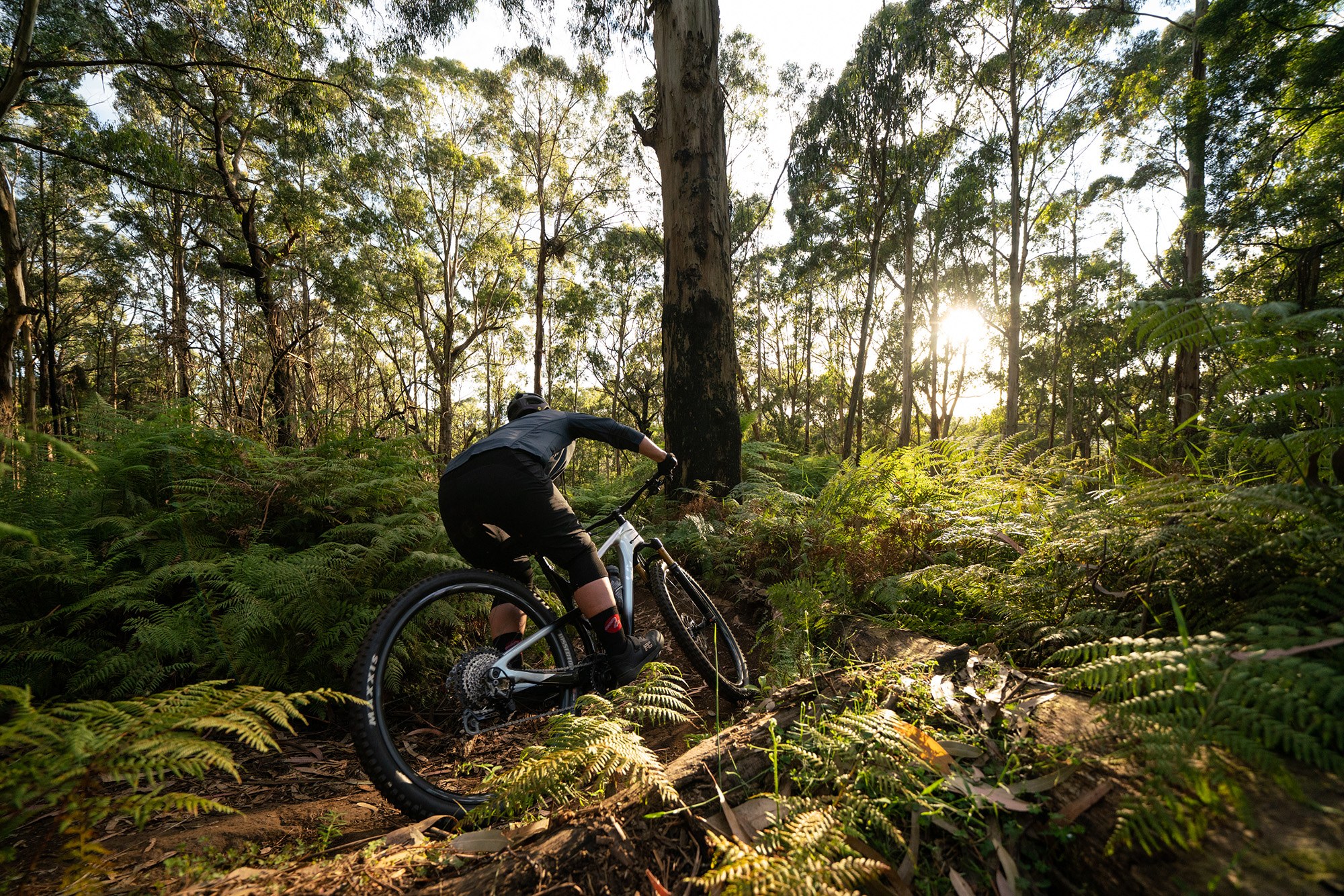 Tell us a bit about that crazy high-tech Fox 'Live Wire' suspension – what is the theory behind it, how do you set it up and how does it actually feel to ride?
So it's designed to work automatically and adjusts to the type of terrain you're riding, as you are riding it. A good feature. This was the first time I have ever ridden Fox suspension (I run Rockshox all the way) but I have to say performance wise, the suspension delivered. It felt spot on all of the time and didn't miss a beat. We set it up to suit and that was it. I couldn't fault it, in my experience. Not having to worry about adjusting my suspension for climbing and descending was great, and definitely a good feature to have available.
Pedalling wise how efficient does the bike feel whilst climbing?
Really good. Anyone who knows me, knows I am definitely not a climber (I'm all about that descent life) but I really felt that having the ' flip chip' feature – being able to adjust the geometry to shift you into a better body position for climbing, really made it a lot more efficient. The Fox Live suspension automatically kicking in when you need it made a really big difference to the overall experience.
Liv designed the Intrigue to really pack a punch whilst descending rough trails – do you feel that it delivers on that promise?
Yes, I 100% feel it has delivered. I had such a ball riding this bike, it actually hurt to give it back ha ha! It really gave me such a playful nature while riding it and made me want to give it a bit more. A really great fun bike to ride and perfectly suited to my body (going back to the large frame fitting me perfectly) It made the whole ride enjoyable, not just the descending!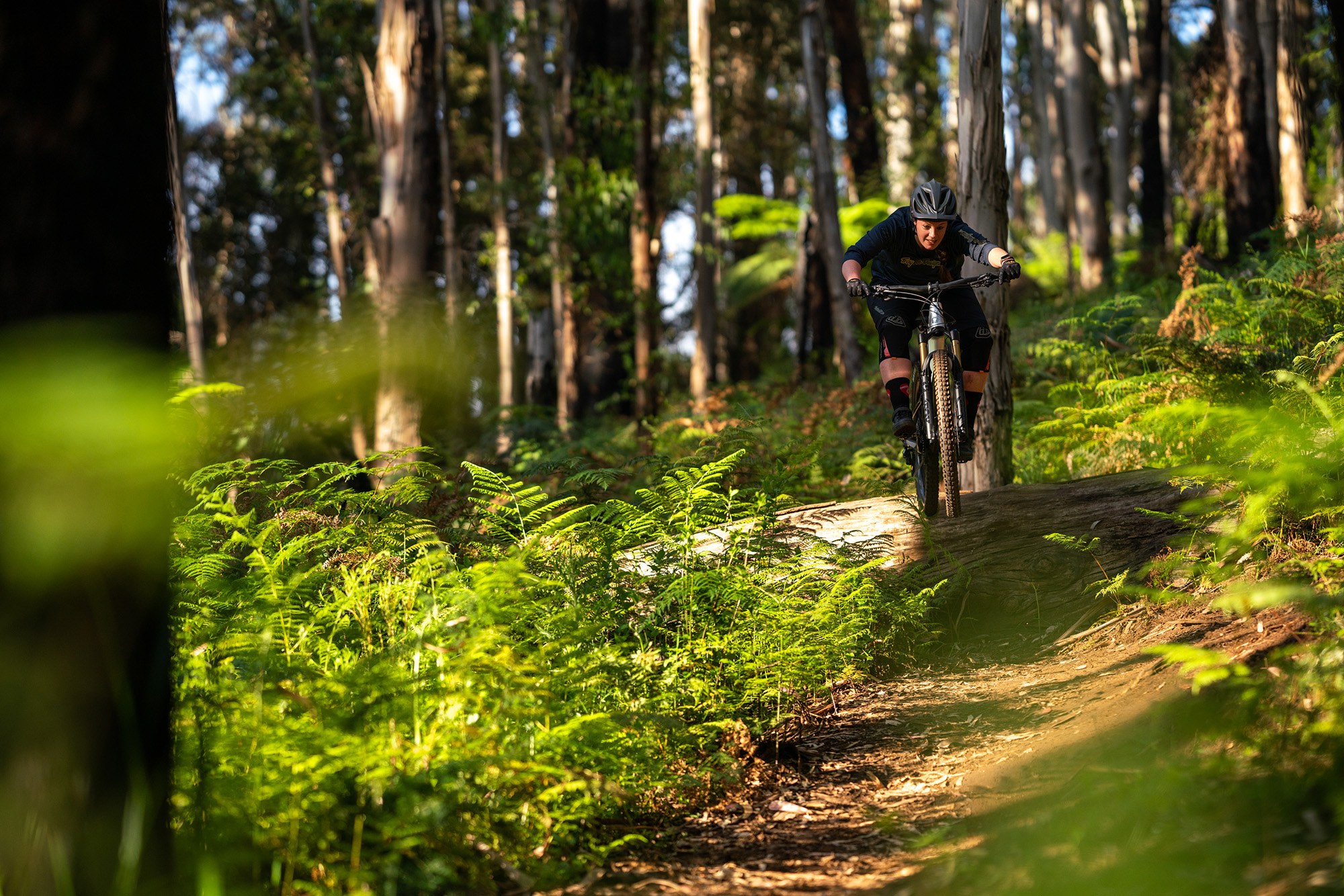 Does the bike feel playful and easy to 'throw around'?
Unbelievably playful and it definitely makes you want to throw it around. Into corners, over jumps, gliding across tree roots, it really allowed me to let go of the brakes a bit more being so forgiving with its custom tuned suspension and all round position that it puts you in. I will admit, the brakes just weren't doing it for me though. I felt when I really needed them (approaching a sharp corner at speed) it failed to stop me enough to roll comfortably through the corner. Either that or I am just too used to using my SRAM Codes brakes! Haha
This is the first time we've seen the new Sylvia SL saddle, how does it perform?
Really well. Like I mentioned earlier in the review, I feel like Liv have done a great job with this one. I was super impressed with the fit and performance of the Sylvia SL saddle. It also made it a lot more enjoyable for longer rides. A really good fit for women.
The million dollar final question – is this a bike that you'd spend your own money on buying?
I loved this bike for sure and could totally imagine myself picking it as my next bike. Obviously the heart and soul of a bike is its frame and that is exactly what makes the Intrigue Advanced handle so well out on the trails. As my 'own every day' I think I would probably opt for the middle spec 'Pro 1' model because keeping in mind all 3 Intrigue Advanced Pro models share the same frame. By opting for the mid spec model I'd be saving a good few thousand dollars and I'd then have a little bit of budget to swap/upgrade some parts in order to make it nice and custom to exactly the way I like. All in all the new Intrigue Advanced Pro 29 has proven to be yet another fantastic bike from Liv. Right now I'm going to close my laptop and head out for another ride before they ask for the bike back!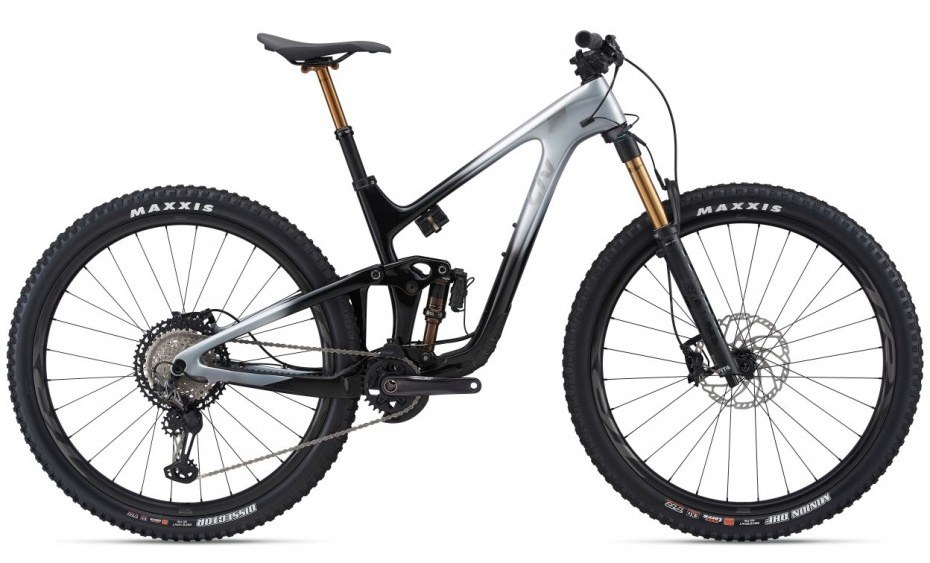 Frame // Advanced-Grade Composite (carbon) mainframe, rear triangle and rocker link.
Travel // 140mm front, 125mm rear.
Spec // Fox 36 Float Factory 'Live Valve' fork, Fox Float DPX2 Factory 'Live Valve' shock, Giant TRX carbon wheels, Fox Transfer Factory dropper post, drivetrain Shimano XTR/XT, Shimano XT trail brakes, Liv Sylvia SL, Maxxis tyres.
Price // $6599 – $11499
Browse // www.liv-cycling.com/au