Oh yes, oh yes, we're talking about the full package all cleverly wrapped into just the one bike right here; a super comfortable ride that allows you to efficiently blast up those climbs but then gives you the ability and confidence to aggressively attack the downhills… Welcome to the 2019 Liv Intrigue Advanced!
Story

//

Shelly Flood   Photos

//

Reuben Krabbe
After a two-year hiatus from their MTB line-up this Summer, Liv are set to bring the Intrigue back with a completely new cutting edge bike that promises to throw a cat amongst the pigeon's in the female specific trail bike market.
The new Intrigue Advanced (carbon) has been designed and built for women by women. Are you someone that's a little skeptical about the whole 'women specific bikes' and wonder if it's all just a bunch of marketing noise, or in fact if 'women specific bikes' do in fact make a big difference to the way a bike rides and the experience that us ladies are going to have out there on the trails when we ride one? Okay, I confess, I probably used to fall into the skeptic category myself. But then when [R]evolution was invited to the launch of Liv's latest trail bike, I was excited to finally get the chance to put the theory about women's specific bikes to the test. I hopped on a plane and headed to Squamish, Canada, where I got to spend three days riding incredible trails and hanging out with a bunch of incredible like-minded women, discovering for ourselves how capable this bike is. And for those of you that don't know, Squamish is pretty much like heaven on earth for trail riding!
Okay so credit where credit is due, Liv is the only cycling brand in the world dedicated solely to women and this year they are hitting their 10th year anniversary giving us something to celebrate with their launch of the Intrigue Advance. Having not ridden a women's specific bike since I was about 5 as I've always been fairly skeptical about them, thinking they are more your comfortable big seated hood cruising bike you see your grandma riding. I mean, don't get me wrong, I loved my limited edition flaming pink Huffy kitted with streamers and spokey dokeys, but if I'm totally honest with you, ever since I've been into mountain biking, women's specific bikes just never appealed to me. That was, before I swung a leg over the new Intrigue Advanced!
It's fair to say that there had been a little something-something missing from Liv's off-road range after the disappearance of the Intrigue a few years ago… That gap has now been filled with the return of the new fully revamped Intrigue Advanced, which we reckon is the perfect addition to complete Liv's all-round impressive 2019 bike range. The Intrigue Advance falls between the Hail, their long travel enduro bike, and the Pique, which offers an efficient cross-country style ride.
Intrigue was built using Liv's 3F design philosophy with the goal to create a super playful trail bike with all-mountain capability. Liv create their ranges' from the ground up for women by women using Liv's 3F Function, which includes thousands of data points about women's anatomy, sizing variations, and muscle energy and outputs with the 3 F's; Fit, Form, Function, the data is then used to engineer the frame and complete the bike. Resulting in a bike that puts the women in the right position and a position for strong efficient riding.  So no, its not just a Giant with a girly paint job like a lot of people seem to assume.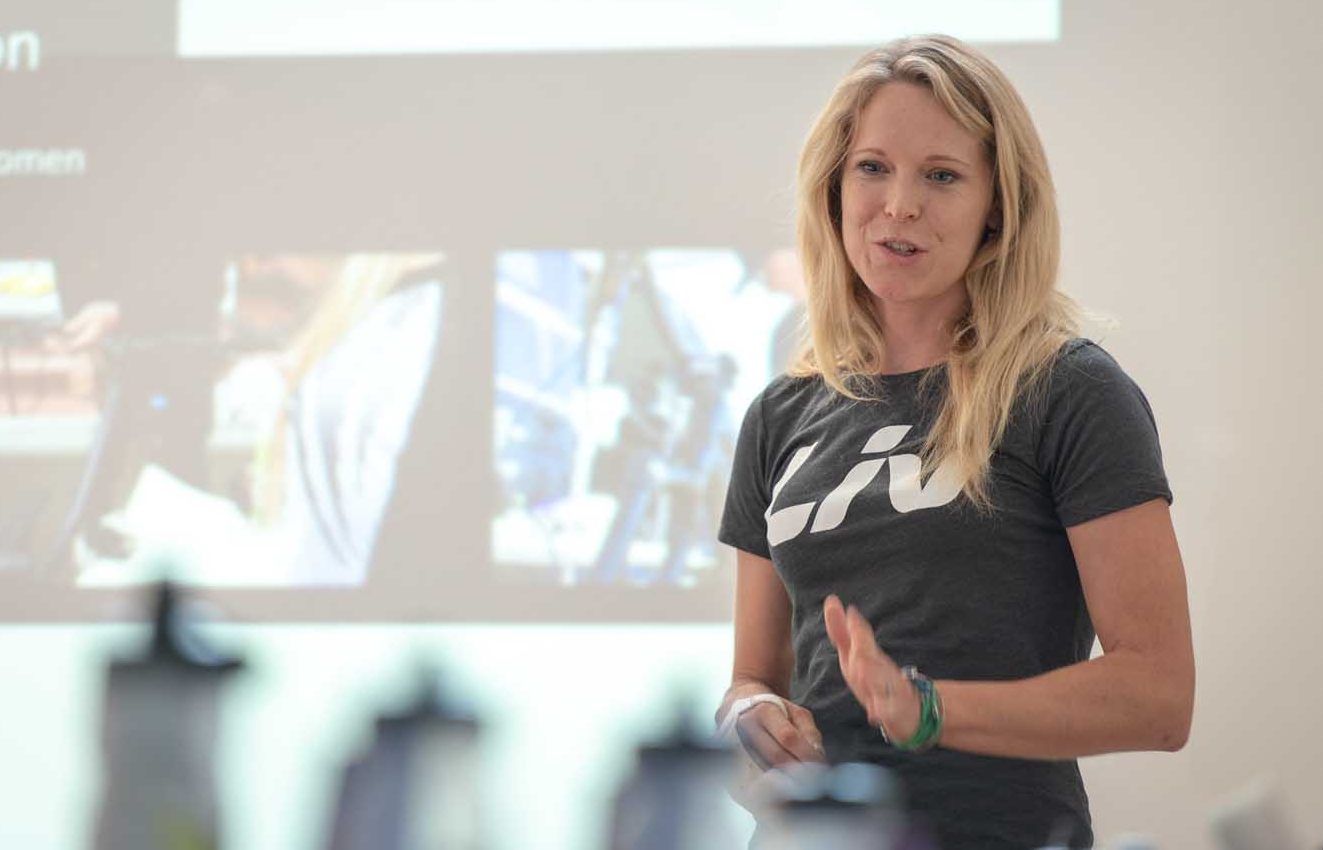 "I was lucky enough to get to test the prototype over the Australian and New Zealand summer. I was blown away with the versatility of the bike with its agile yet stable performance over a wide variety of terrain. It is the bike that does it all really well. I found that it pedals and holds momentum really well on physical trails, and was also very light and manoeuvrable over obstacles and rough terrain."

Rae Morrison // Liv Factory Off-Road team rider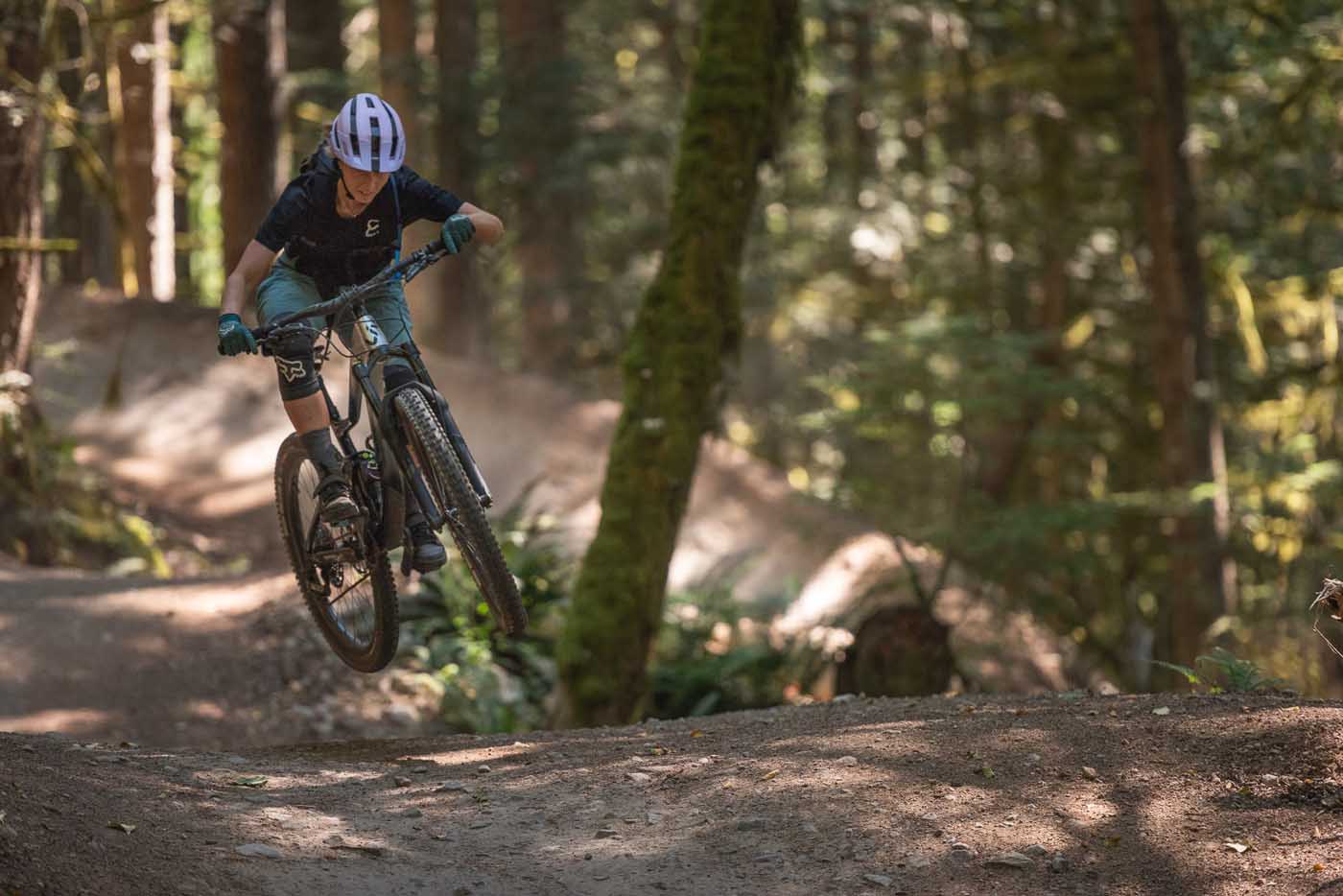 This is not the same as the Intrigue used to be a few years ago and not like any thing else on the market. Compared to the previous Intrigue the re-vamped Advance features an advanced composite frame with 140 mm of rear suspension and a 150 mm suspension fork including improved aggressive trail geometry. The improved geometry includes a longer top tube, shorter stem and slacker head angle and a steeper seat tube angle offering improved pedaling efficiency and the capability to tackle the steeper and more technical descents.  It also offers 27.5-inch tubeless Boost wheels that can accommodate higher volume tyres up to 2.6 inches.
A new feature on this bike (compared to previous generation) is that it utilises an ultra-light and super stiff Advanced Forge Composite (carbon) linkage compared to the alloy rocker that used to be spec'd on previous generations of the bike. Of course being a Liv this bike also utilises a proven Maestro suspension linkage which efficiently uses 4 main pivot points, effectively creating a floating pivot point for the shock. Which means what? The suspension feels super plush and active, yet the bike still pedals really well.
Right, how does it ride? Over at the launch I was lucky enough to spend my days shredding trails aboard the top of the line Intrigue Advance 0 model.  This machine comes spec'd with only the finest goodies, including a DVO custom-tuned front and rear suspension, SRAM X01 Eagle drive train, SRAM Guide RSC brakes with 180mm rotors, Maxxis high roller tyres and a TruVativ carbon 35mm, bar mounted to a TruVativ 35mm stem. As I measure in at 5'6 tall, Liv recommended I ride a size small but I got to switch it up and try the medium towards the end of testing, finding that it suited my riding style better as I'm used to riding a slightly larger frame size.
After spending some time setting up the suspension and all the other bits and bobs you do before riding a fresh bike we were ready to hit the Squamish trails. Heading straight up the hill to the trails the first thing I noted was that this bike felt incredibly light and easy to climb and with me being bit of a lazy climber it was a dream.
We then got onto a more technical single-track climb and I was impressed with how well and effortless it was to get this bike up over the roots and rocks and still managing the tight corners no problem. I tried all 3 modes stiff; trail; open ascending depending on the climb terrain, and found the trail mode the sweet spot for the techy longer climbs.
After a bit of toasty hot climbing, courtesy of Canada's current heat wave, we made it to the trail head and began the best part of the ride, the downhill.
"Feeling instantly comfortable on the bike I didn't really hold back too much as I really wanted to push my limits and try to see just what this machine was capable of. I found it very playful, and it was really easily to move around underneath me. I was popping over roots and go wherever I pointed it, there was no 'being a passenger' feelings at all descending on this bike."

Shelly
Being quite petite, I've always found moving the bike around harder, using more energy, but the Intrigue just felt very natural and effortless to maneuver over the roots/rocks/drops and still handling the steep shots and rock rolls smoothly.
The bike also performed really well on the flowly tracks, being very playful along with keeping speed through the whole trail. It certainly gripped really well in corners also, which for me made it harder to slap'm them like we do back in South Australia (but I don't think that's every ladies style of riding anyways, right!?). On the fast rougher terrain I found the bike a bit twitchy, I tried the bigger size frame (medium) and I found that to be more stable. Its obvious that its not designed to be that long travelled enduro bike, that position in Liv's current line up belongs to the 'Hail' range, however this bike is without doubt much more of an all round trail package. 'One bike that does it all' is the name of the game when it comes to the new Liv Intrigue.
Yep, it's fair to say I really loved getting to know the new Intrigue Advanced. It's a super comfortable bike that felt natural from the start.  Really impressing me by how versatile it is and topping it off it's a good-looking bike, lets be honest the looks play a bit part and I think they really nailed the colours and graphics. And yes, it's safe to say my skeptical first thoughts around women's specific bikes have now well and truly been laid to rest (and yours should be too!)
Australian Model Release
Geomtery
For more information head to www.liv-cycling.com/au