You might have heard a little recently that Giant's ever growing e-MTB line-up has been bolted with another promising new release. Indeed, the brand has re-worked its super popular Trance X E+ 'alloy' platform with a bunch of new updates which promise to deliver even more performance and power than the bike's previous generation (which we already thought was a pretty bloody impressive ride!).
Giant fans reading this will probably remember that late last year they released the Trance X Advanced E+ 'carbon' range which came sporting a heap of fancy new features, including a new 'more powerful than ever' Yamaha SyncDrive Pro motor and an LED information display integrated into the bike's toptube.  We're pleased to report that the new alloy Trance X E+ also arrives sporting all of those features, and perhaps best of all given it's alloy frame, rather than carbon, you'll be able to ride away on this new alloy models for a couple of grand less than you'd have to outlay for its carbon sibling. Alright, lets dig into some more nitty gritty details about the new bike.
The new Trance X E+ is built around Giant's ALUXX SL aluminium frameset which is built with boost spacing, clearance for a 2.6″ tyre and every model comes tubeless out of the box.  As expected from a Giant bike, the Trance X E+ rocks the brand's Maestro suspension platform which offers 140mm of rear travel. Then, that's paired with a 150mm fork and 29″ wheels exclusively. We mention the new motor above, it has been co-designed with Yamaha, the new motor is said to offer 85nm of torque while being significantly lighter than the previous generation, boosting agility and efficiency. With that, the bike offers SmartAssist tech, which is an adaptive support mode, a system that employs six sensors around the bike to determine the optimal level of support for the given terrain. It's also said to be more efficient by only offering the power needed to assist the rider as required.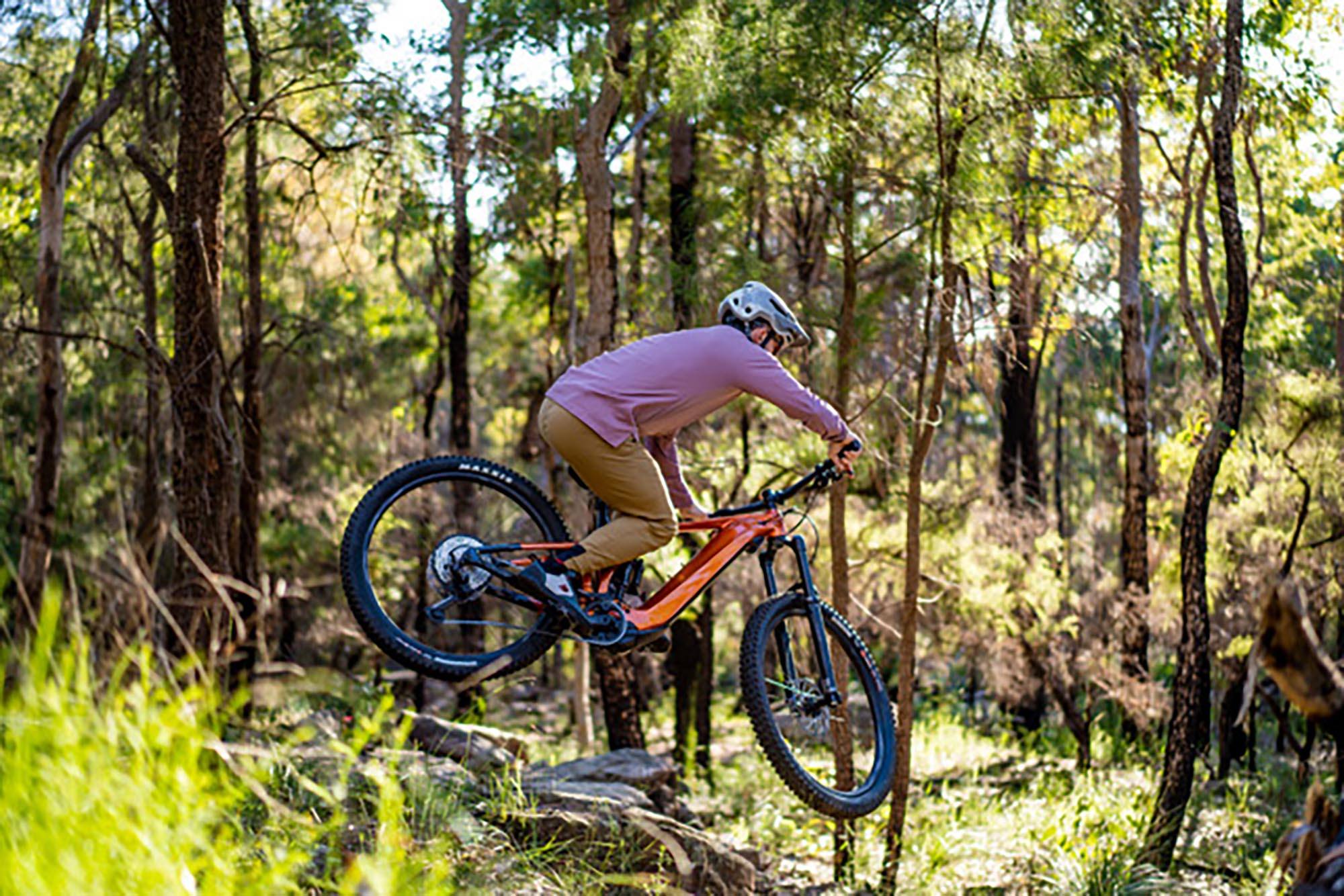 Giving the bike even more customisation options is the geometry adjusting flip-chip. On a large frame in the low setting, the bike gets a 482mm reach, a 65.8° head tube angle, a 76° seat tube angle, and a 473mm chainstay. Putting the flip-chip into the high setting steepens the head and seat angles by .7° and raises the BB by 10mm.
The Trance X 'E+ Alloy' will be offered here in Oz in 2 different spec levels: 
Trance X E+ 1
Retailing for $9299
Frame: ALUXX SL-Grade aluminium front and rear triangle w' carbon rocker
Sizes: S, M, L, XL
Travel: 150mm up front, 140mm rear. 
Fork: Fox 36 Float Performance
Shock: Fox Float X Performance
Motor: SyncDrive Pro, 85Nm, powered by Yamaha
Controller: RideControl Ergo 3, grip integrated
Display: RideControl GO, frame integrated LED displayANT+
Battery: EnergyPak Smart 750Wh
Dropper: Giant Contact Switch
Saddle: Giant Romero Trail
Drivetrain:  Shimano Deore XT, 12 speed
Brakes: Shimano Deore XT 4-pistons w' 220mm rotors
Rims: Giant AM 29" 30mm inner, tubeless ready
Hubs: Shimano MT410
Tyres: Maxxis Assegai 29×2.6"
Trance X E+ 3
Retailing for $7699
Frame: ALUXX SL-Grade aluminium front and rear triangle w' carbon rocker
Sizes: S, M, L, XL
Travel : 150mm up front, 140mm rear. 
Fork: RockShox 35 Gold RL DebonAir
Shock: Rock Shox Deluxe R
Motor: SyncDrive Pro, 85Nm, powered by Yamaha
Controller: RideControl Ergo 3, grip integrated
Display: RideControl GO, frame integrated LED displayANT+
Battery: EnergyPak Smart 625Wh
Dropper: Giant Contact Switch
Saddle: Giant Romero Trail
Drivetrain:  Shimano Deore 12 speed
Brakes: BR-M420, 4-piston w' 203mm rotors
Rims: Giant AM 29" 30mm inner, tubeless ready
Hubs: Shimano MT410
Tyres: Maxxis Assegai 29×2.6"