Set to shake up the e-Enduro category Giant have come out swinging with their new completely redesigned Reign E+. Lighter, more powerful, a more balanced ride and even more integration than the previous generation Reign E+, the 2022 model is absolutely loaded with new performance features.
Designed to win races and conquer all-day adventures up and down gnarly trails, the bike features a new motor with more power than ever, a massive 725Wh battery, a mullet (mixed wheel size) and plenty of travel.
The Reign E+ was developed in partnership with the Giant Factory Off-Road Team. Josh Carlson, winner of multiple E-MTB national championships, played a key role in the process. In recent years the veteran racer from Australia made the transition from enduro racing to off-road E-bike racing. Carlson is currently focused on the E-bike category of the Enduro World Series. As an emerging new form of mountain bike competition, bikes and gear play a big part in an E-bike racer's success. Carlson helped the development team identify the critical areas to improve upon from the previous generation Reign E+.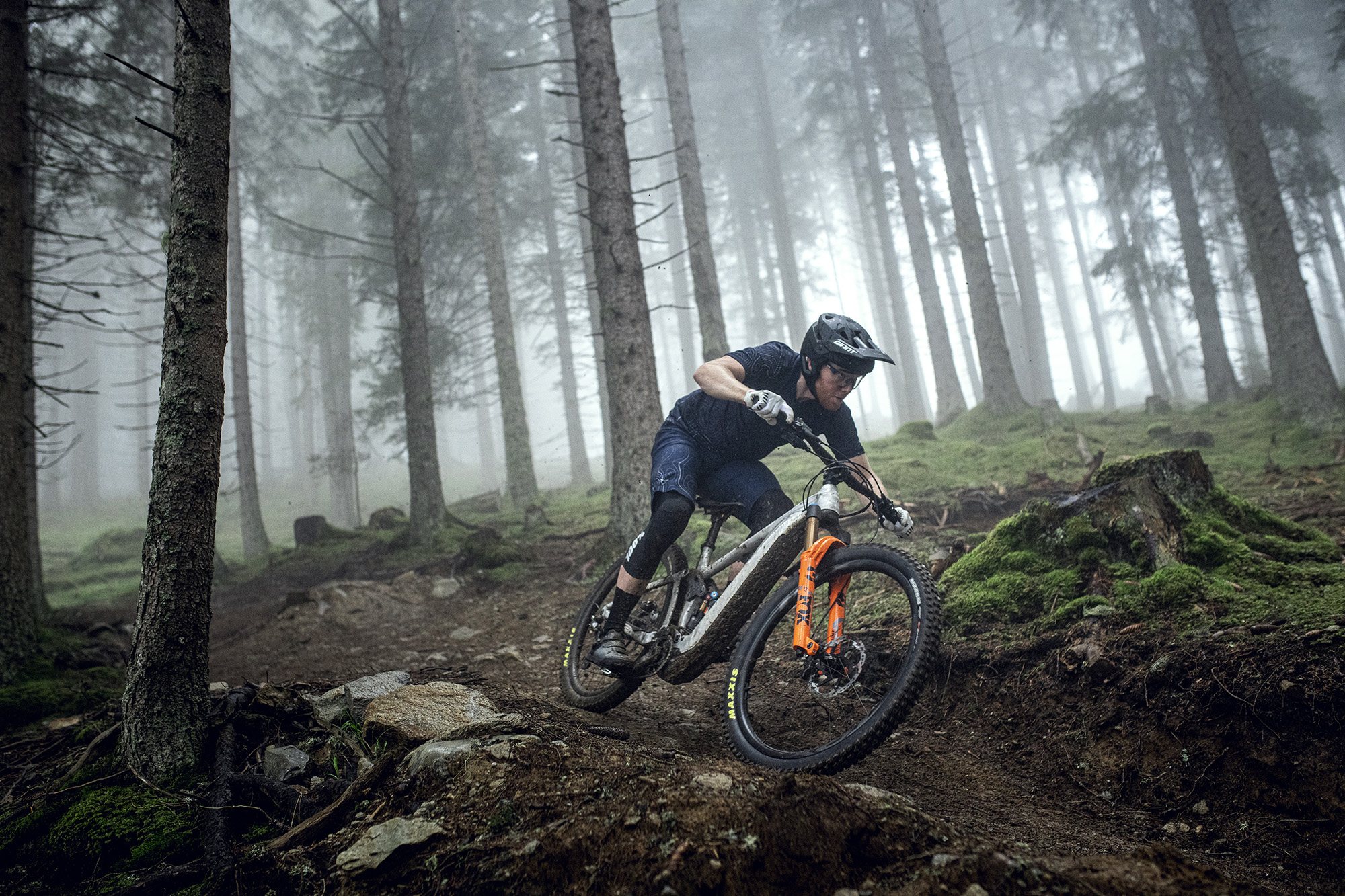 My demands for a race bike are that I want a fast, efficient motor with plenty of power and clearance, I want it to be a race weapon.
With that in mind, Giant's team of engineers and race mechanics worked closely with Yamaha to develop a new SyncDrive Pro motor that delivers increased torque output (up to 85Nm). The motor is also more compact and lighter weight (2.7kg), which helped make room for significantly more ground clearance. Compared to the previous generation, the new Reign E+ has 37mm added clearance.
That's one of the biggest improvements, you want to be able to pop over roots, rocks, steps, all that kind of stuff—which I had to be conscious of before.
Another key update is wheel size. While the previous Reign E+ was built on 27.5-inch wheels, this one features a mixed wheel size including a larger-diameter 29-inch front wheel. The larger wheel up front improves balance, control and roll-over capabilities on the roughest terrain. In the rear, a more compact motor and smaller 27.5-inch wheel helped Giant's engineers tighten up the rear end by 19mm. This makes the new Reign E+ feel more nimble on the trail.
The robust ALUXX SL aluminium frameset is built around a Maestro rear suspension system that delivers 160mm of smooth, active rear travel for added traction and control on climbs and descents. Another new feature is adjustable frame geometry. Two flip chips located on the rear suspension linkage allow riders to quickly change geometry between two settings (high and low). By removing and flipping tokens on either side of the linkage, the bottom bracket moves up or down by 10mm. This also changes the head tube and seat tube geometry.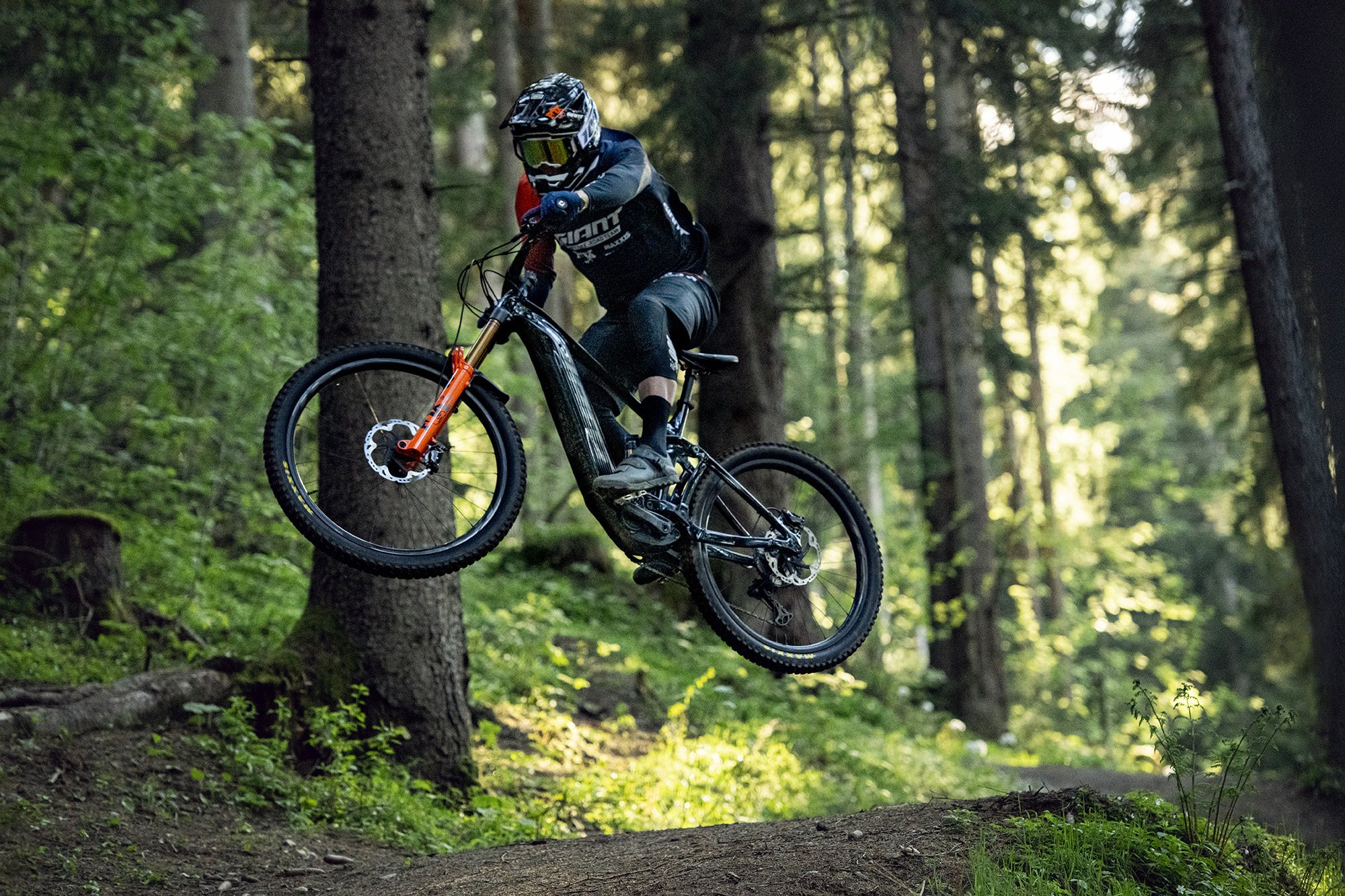 The high position is recommended for slower, tighter, more technical terrain. This offers a steeper head angle for quick handling and a steeper seat tube angle to put the rider in a more aggressive climbing position. The low position is ideal for faster, more open terrain. It offers a slacker head angle and places the front wheel farther out in front of the rider for more confidence on steep, technical descents. The low position also lowers the centre of gravity, making the E-bike feel more stable at higher speeds.
The SyncDrive Pro powertrain offers SmartAssist technology, an automatic adaptive support mode. Instead of manually choosing a support mode (Power, Sport, Active, Basic or Eco), riders can opt to ride with SmartAssist, an intelligent system that uses six sensors and advanced algorithms to determine the optimal amount of pedalling support while riding variable terrain. SmartAssist also maximizes efficiency for both the battery system and the rider by always using the right amount of energy.
Riders now have two ways to control the functionality of the Reign E+. The new RideControl Go unit, integrated into the top tube, features an on/off button and coloured LED lights to indicate support mode and battery level. This clean setup eliminates the need for external wiring or additional handlebar-mounted units. Reign E+ also comes with the RideControl Ergo 3, which is integrated with the handlebar grip. This three-button controller allows for a clean cockpit setup and can be configured for personal preferences via the RideControl App. It can be mounted on either the left or right side of the handlebar. Riders also have the option to add a second RideControl Ergo 3 unit on the opposite side for more controls.
Powering the Reign E+ is the new EnergyPak 750 battery system. Giant's most advanced E-bike battery system is cleanly integrated into the downtube of the frameset and increases range up to 20 percent compared to the previous generation. The battery can be charged up to 80 percent in just over two hours using a Giant Smart Charger.
All these new features and technologies are the result of a detailed development process that featured multiple prototypes being tested and refined in the field. Carlson says that when it comes to racing, the added power and control are his two favourite improvements.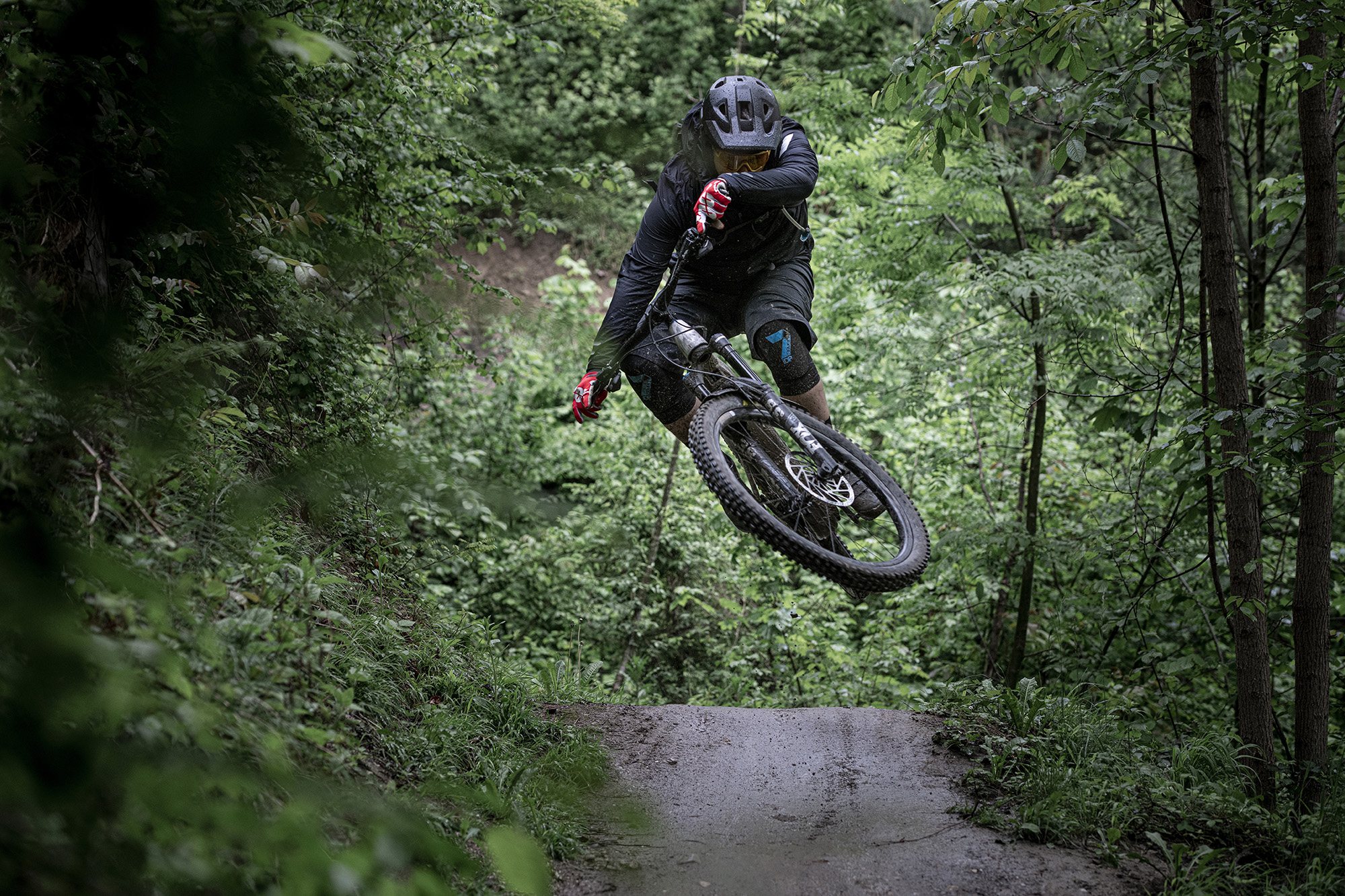 Testing involves putting prototypes into circumstances that the average person is not going to put it into, but if it works for me, it's definitely going to work for everybody else. Once you get up in that higher cadence range, this bike has plenty of support. That's hugely beneficial for performance when you're racing uphill. Some of the EWS stages are super technical, and the bike must be powerful. Hopefully it will take me to the very top of the podium more than once. That's my ultimate goal.

Josh Carlson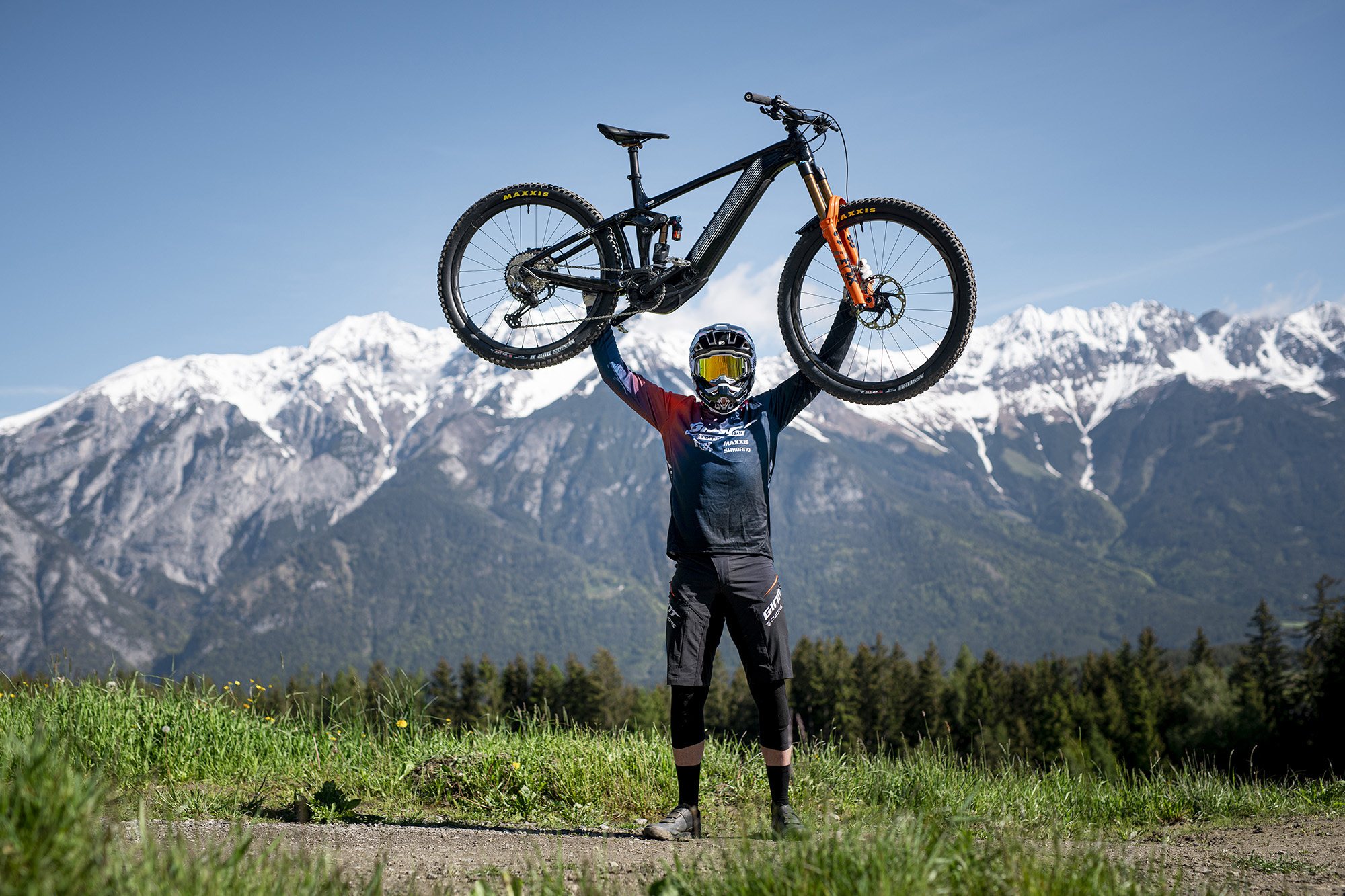 Key Details:
Revised Syncdrive Pro 85nm motor co-developed with Yamaha (more power and smaller in size than previous gen motor)
New (tiny/awesome)  handlebar remote
Integrated LED toptube multi-function display & power button
New EnergyPak 750wh battery
Adjustable geometry via flip chip
Mixed wheel size (29 inch front wheel / 27.5 inch rear wheel)
160mm rear travel, 170mm front travel
Aluminium frame exclusive (for now at least)