How can someone so laid back and easy going be one of the fastest mountain bikers on the planet? We asked Jack that very question and he just laughed it off. But of course he did, there is nothing that fazes this guy.
This past offseason the race team that he'd ridden throughout his entire pro career was stripped bare and re-built from the ground up (literally the only 3 things at Intense Factory Racing which were left unchanged heading into 2019 was the frame they ride, the grips they use and Jack, everything else, every staff member, every other component on their bikes, everything was replaced!) most people would probably get stressed out by all the disturbance change to their routine. But not Jack. His heart rate wouldn't have raised a single beat. Upon his recent return to Oz after the first World Cup of the year we dropped him a line for a chat about how the year has been unfolding.
Where do we start mate – obviously there was a big re-shuffle with the Intense Factory Team during the offseason. Dean and Charlie departed and somehow they managed to land Gwin. I wonder, does it make you feel pretty good knowing that the team clearly values you so much that they wouldn't risk letting you go even though they must have had to dig bloody deep to secure the funds for Gwin?  
Yeah Man, big changes for sure. I'm the only person (riders and staff) that continued with Intense Factory Racing this year, so its pretty much like I moved to a new team with the same bike. I've always had a good relationship with everyone at Intense, so it's awesome to be able to keep working with them and I'm proud to continue representing them at the races.
Last year you were essentially the team's lead rider. No doubt a lot of that spotlight will now be shared with Gwin. I wonder, does that take some of the pressure off your shoulders and if so how is that for your mindset? 
I've never really thought about that, just always tried to focused on what I need to do and try to do the best that I can with that. Looking back on the last 2 years, we have always had a strong team, Deano made it to the podium and Chuck in to the top 10, so if one of us had a bad race, normally the other 2 would hold it down.

So the World Cup season has just gotten underway with round 1 now in the books. What was it like being surrounded by all the new and different people in the team, even though I guess technically it's branded the same? 
Yeah everything went smoothly for round one. All of us are pretty chilled and easy to get on with, so I feel like it was a quick adjustment. It felt a little weird at the start being in my same pit from last year with totally different people, and I nearly called my new mechanic Chappy a couple of times haha.
You guys have a pretty sweet pit set-up at the races. Give us a virtual tour/run-down of the whole set-up? 
We got that pit in 2017 and it was a major upgrade from the easy up tents we use to run. It's just a lot bigger, with a lot more room for riders and mechanics. It's also pretty much fully weather proof, so when it gets  gnarly in the alps we are a little warmer and don't get wet. The riders have a private section over to the right where we gear up and chill out between runs, the middle is just like a hangout spot in the open, and the left hand side is where the mechanics work.
Random question, but do you have catering in your pits or do you have to roll down to the shops when you feel like lunch at a World Cup? 
We have a team chef, Cathy. She makes insane meals/snacks for us out at the track, and dinner every night which is way too handy.
On race day, there is obviously big gaps in the schedule for you guys between track time in the morning and then racing later in the afternoon. What sort of things do you usually do to pass the time? Are you quite regimented with a routine or do you just wing it? 
Nah, I just wing it. Pretty much anything to pass the time and stop me thinking about the race, then when it gets closer to heading up, I'll start to get in the zone and do a little routine with Todd. The gaps depend on what you qualify as well. Last year I was like 4 hours after practice, as I was qualifying good. At Maribor, I didn't have the best qualifying run (31st) and I had to go up 40 minutes or so after my last practice run, so not really much time to do anything in that scenario.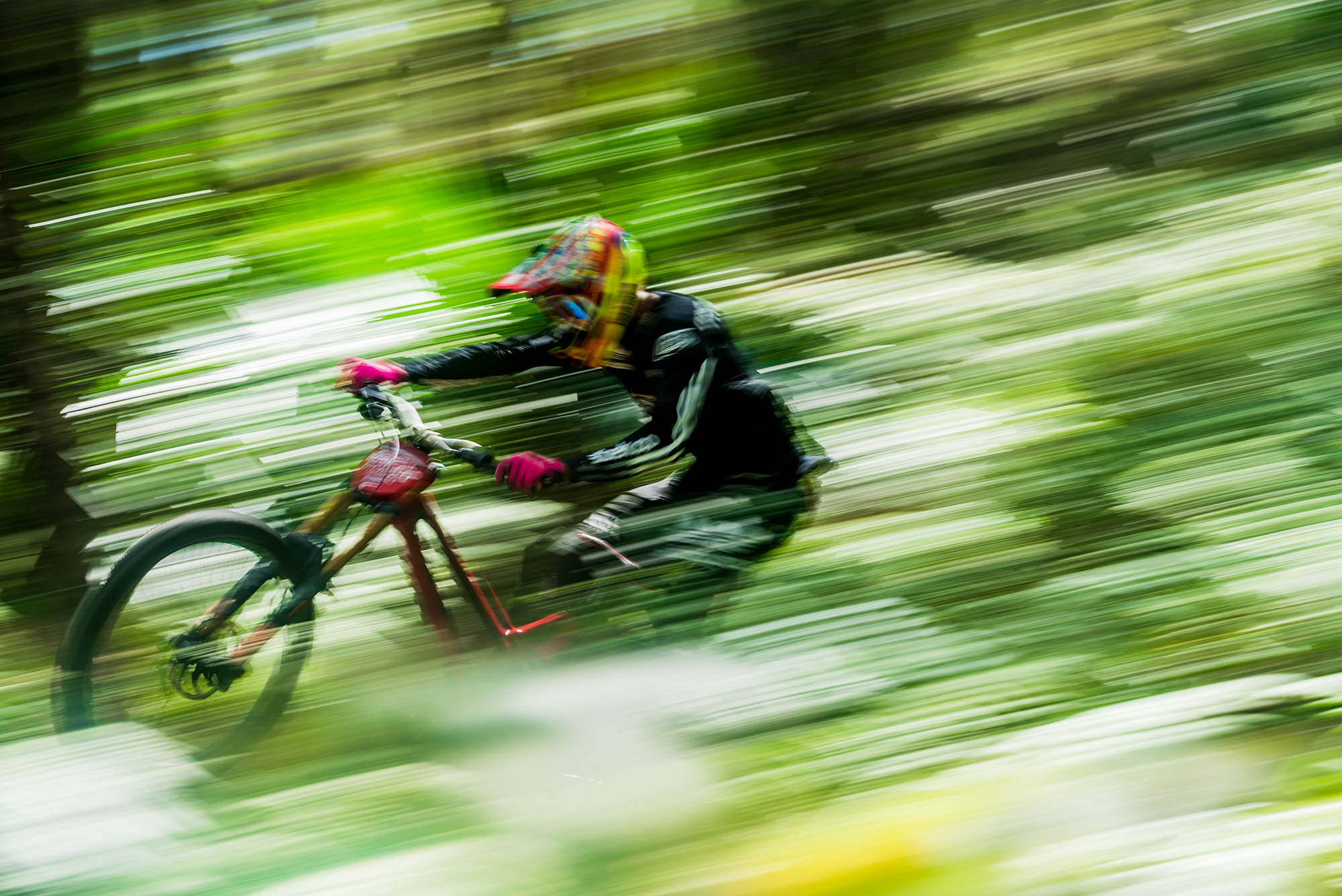 Let's talk a bit about your race bike, you're onboard the M29. Such a slick looking machine with all those gorgeous lines of its carbon frame. How would you describe the way it rides/handles? 
It has been awesome to be apart of the development of the M29 over the last couple of years, and see the journey from the first alloy prototype to the latest production carbon model. It's definitely one of the cleanest looking bikes out there and it does everything I told Jeff I wanted it to do at the very start. The best thing about the bike is the fact that it carries speed very well over rough sections rather than getting hooked up and killing momentum. Somehow they were able to do this without sacrificing the sensitivity in the initial stroke though, which gives you good traction on chattery off camber sections and rough flat corners.
So are you all about 29'er or do you still fancy a bit of 27.5" now and then? 
Yeah I'm a 29er guy when it comes to racing for sure, but I always keep a 27.5" in the quiver. The last couple years I have made sure to get a Tracer 275 to play around on back home. I love how playful that bike is, and how easy and quickly you can change direction.
Quite a few component changes on your bike this season, eh? Probably the most prominent would the switch over to Fox suspension – what has that process been like for you getting used to the new gear and getting it all dialled in? 
Yeah, we literally changed everything but the grips and chain guide, so it was a whole different bike to start with, but I just about have it right where I want it now. I had help from all the companies, and loads of help from Neko and Aaron, who have been running these parts for a while.
Tell us a bit about the brakes you guys are using? Before Gwin started running them a few seasons ago I'd never heard of TPR. Are they any good? 
Yeah I had not heard of them until recently as well, but I figured if Aaron had been working with them they would have a dialled product. They are pretty damn good, They stay solid for a full run and have a lot of feel in the lever. There's a few world cup teams on them this year so that tells you they are solid.
What tyres are you boys running this year?
We are on Kenda this year. We are currently riding the Hellcats, which I'm really liking at the moment. They have a pretty aggressive tread pattern so really bite in, and can be used in slightly muddy or softer loamy conditions as well. I know Aaron has been working closely with these guys, so might have some new rubber to try out at Fort William.
"I'm a 29er guy when it comes to racing for sure, but I always keep a 27.5" in the quiver."
When you rolled up to the photoshoot day for this article you had a killer set-up with your new ute. Tell us a bit about your partnership with Nissan? 
I started working with Nissan mid last year. I was real excited to join forces with them as the new Navara was one of my favourite utes. I love driving that thing! It's by far the smoothest shuttle rig I have ever had so myself and Major Paine have been setting record lap counts on the home shuttles! haha
Are you the only Aussie rider with a car deal going on right now?
Mmmm I think Sam (Hill) might have a dealership deal or something, but I'm not sure, I haven't done too much research on the topic to be honest! haha.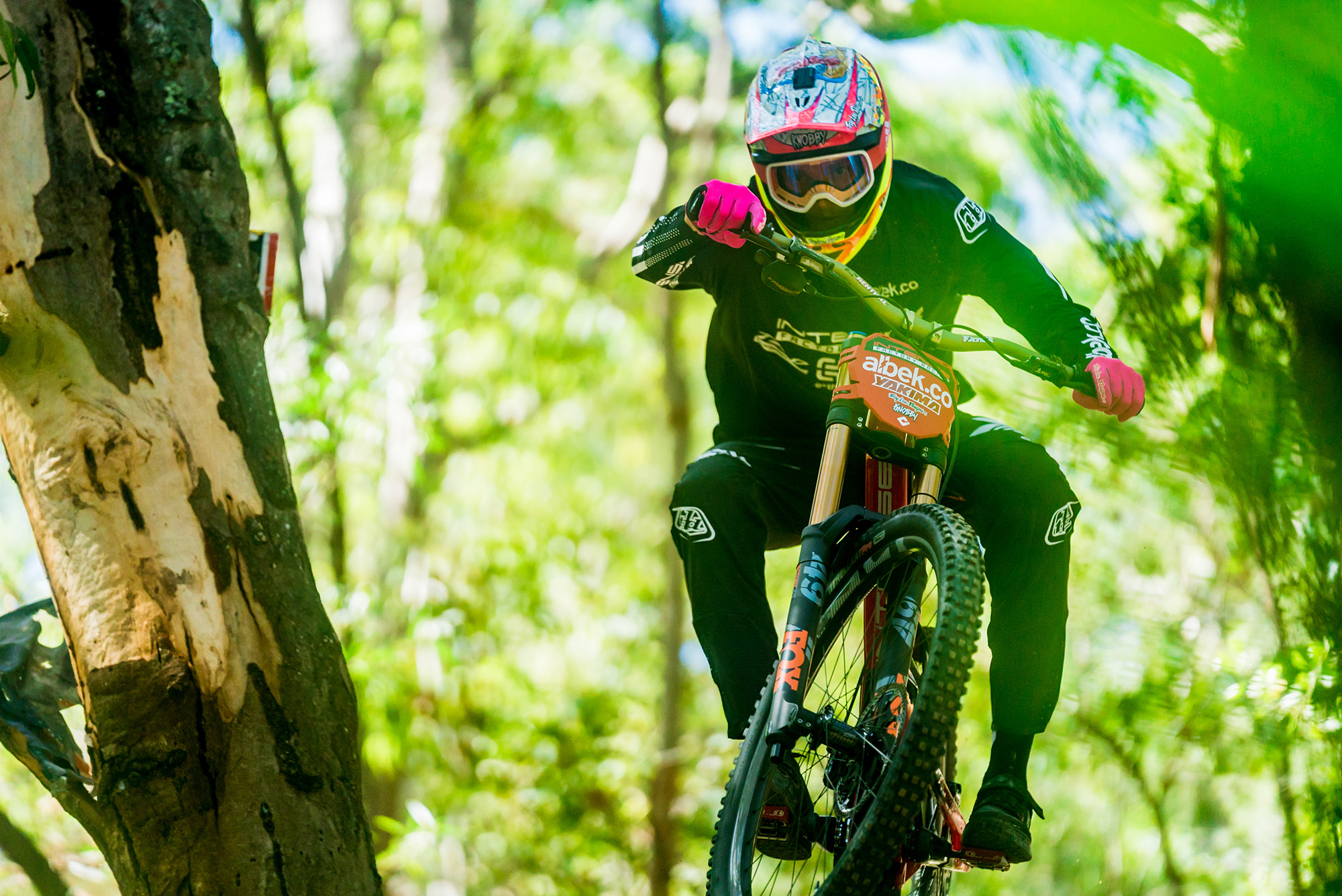 You always seem to have the freshest kits at races. You get to rock TLD gear than no-one has seen before. How does it all work – is there a person from TLD that comes up to you with a bag of kit on the first day of each race weekend or do you just have a ton of new kits always sitting around at home which you pack yourself when you're going racing? 
Yeah TLD kits have always been my favourite from way back in the day. I was stoked to be able to run TLD again this year. The Australian TLD distributors played a big part in originally getting me onboard with TLD a couple of seasons ago which I'm really grateful for. But yeah since then it's just grown and grown. I deal mostly with one guy over there, who's kind of the guy that takes care of everything kit wise for me. Tim is his name and he just gets the shit done! TLD as a brand really go out of their way I feel to make sure I'm dialled in at the races. We go through a plan at the beginning of the year of what kit and helmet I'm going to wear for each race, then he ships them out to me before the race, or sends them straight to the venue.
I was wondering, what's the deal with you not having an energy drink sponsor mate? Do you not like drinking that stuff or have you just never been offered a helmet logo deal? Surely Monster would love to get Shark Attack on their books? 
To be honest I just haven't been approached by any energy drink sponsors or had the contacts to approach them. I was trying to sort out a deal with some Aussie Pale ale companies over the off season, but it was a little last minute, and everything kind of fell through. That would of been cool. I rock a couple of stickers on my helmet (thanks to the guys at knobby Underwear and Yakima), but if anyone out there wants to go a full helmet logo/paint job, hit me up! haha
Can we talk a little about you body mate? Your career to date has been a constant mix of either setting the DH world on fire with solid race results, or sitting on the sidelines with major injuries… It doesn't exactly seem that you're accident prone, because all of you mega fast boys crash, but it kind of does seem that when you do go down your body and bones tend to crumble rather that bounce. What's going on inside that big 'lo rig of yours Jack? 
Well, yeah… Up until 2014 I hadn't ever had a serious injury that caused me to sit out races. The recent string of injuries all started from a surgery in Spain that resulted in a bone infection that turned a simple collarbone break, into a couple of years of struggle. After that I had a couple of good years with no dramas, then I re injured that shoulder last year, but was able to come back for the end of the season and still get back into the top 10. But I don't really like talking about that stuff.
"I feel like I have spent a lot of the last few years playing catch up, rather than building, which is quite frustrating. would rather just focus on the future and the things I can do to be ready for the next race."
How's the rig feeling right now – are you strong and healthy, ready to attack the rest of the season? 
I feel good. I'm working with Urban base fitness and Todd Shumlick from PerformX, who is also IFR team manager. We have been doing a bunch of stuff in the gym to make me stronger, and less likely to break when I have a crash. So I'm learning a lot, and am excited to see where it will take me.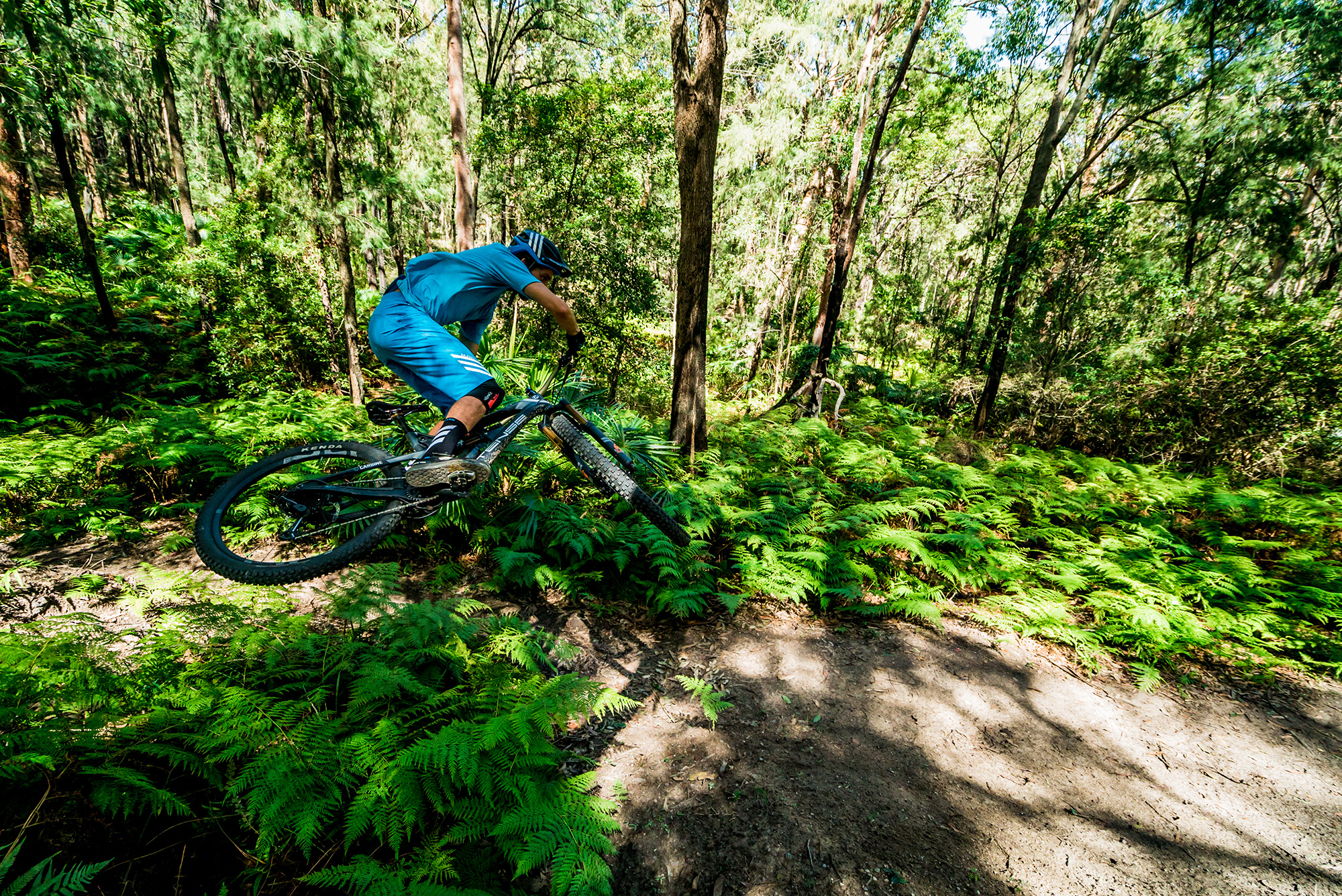 What's your training program like these days – during the season I mean?
I'll Normally do a gym session Mon, Wed, Fri, cardio Tue and Thu (big XC ride or rowing etc) and then mix in sprints and Downhill laps a few of those afternoons. Then I'll normally do downhill on the weekends, and maybe even some moto if I have a moto running.
How much does your 'in season' training vary from the stuff you do from January leading up to the start of a season? 
Normally building up in those earlier months to be race ready in April, and then once the season starts it's more about maintaining what you have. I still go to the gym and everything, but do a lot more actual on bike stuff to stay sharp and fast for the constant racing.
On the subject of the offseason, we've seen you ripping around on the trails on the new Intense Tazer e-Bike, what's that thing like to ride? 
That thing is awesome Man! I have ridden one in the carpark a few times but never on the trails. I pretty much said what everyone does when they ride an e bike on trails for the first time. Never thought it would be so fun, plus you can cover twice the amount of ground in the same time. I took it to some local push tracks, and was able to keep riding straight back up without breaking a sweat. Crazy how good it handles on the downhill as well, I thought the extra weight was going to be a problem, but it makes it feel sturdy and planted.
"Me and Neko took them for a rip over in Maribor at the world cup, and we were riding straight up the steep ski field under the gondola, outrageous!"
I know a lot of the top downhillers have been spending some time on e-Bikes. Do you reckon they'll  be a useful training tool to mix up your program, perhaps for days where you're meant to take it easy but you still want to get a solid amount of trail time in, etc? 
They are definitely a useful training tool, and I've got one on order to add to my quiver. I know Aaron gets out on his a lot, and even uses it for interval training etc. But yeah, as you say, they are awesome for getting out and working on your skills with little physical effort, especially if its a rest/easy day.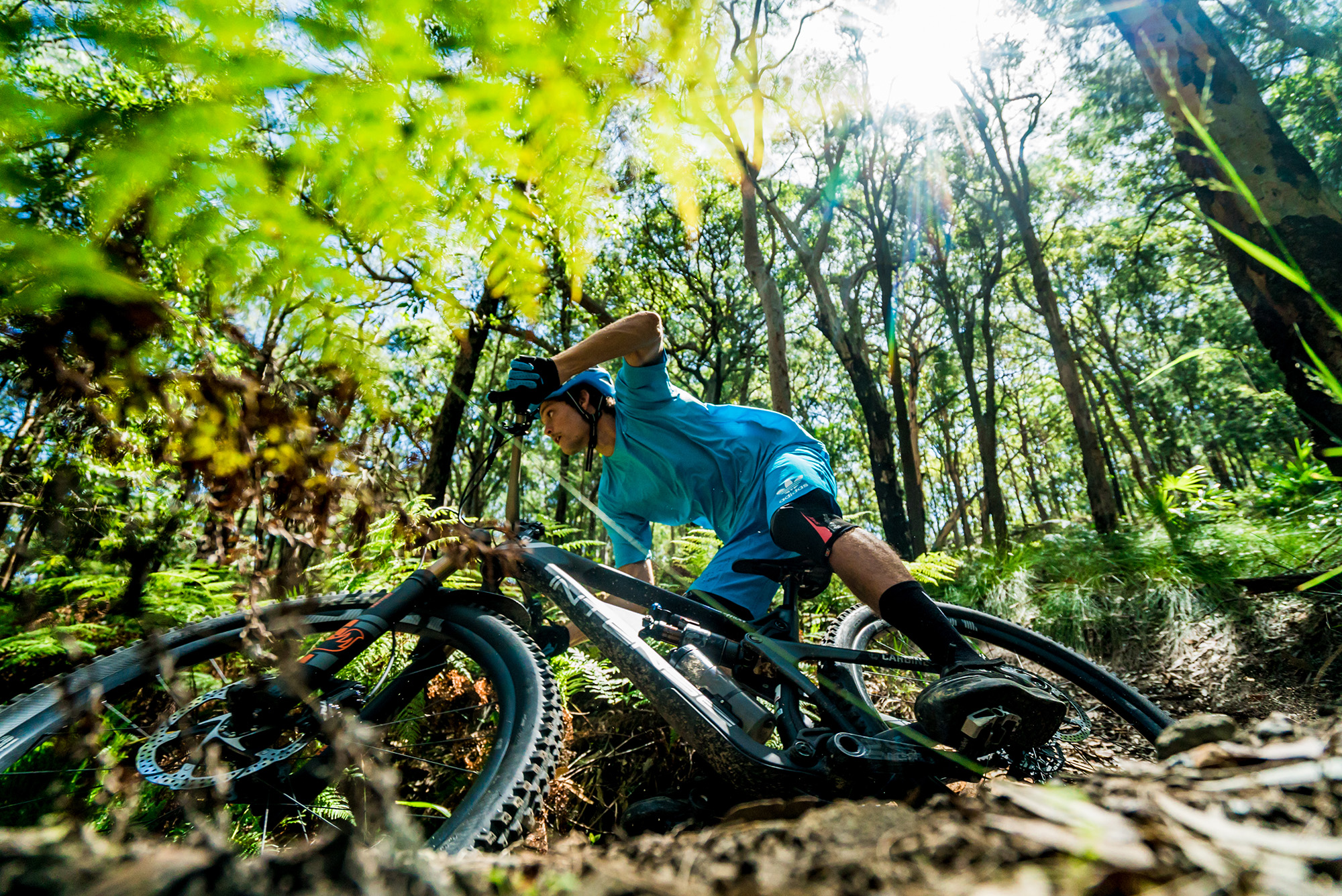 Photos // Matt Staggs