If you want a solid connection with your bike, both for putting down the power and keeping your feet planted even in the roughest situations, the clip in pedal is many a riders first and only choice.
So for those that want to clip in, we bring you four of our favourite shoes for the summer season that kicks off today!
ION Rascal
Features: Unique 'Serpen Tie' fastening strap, 'SupTraction' rubber sole featuring dedicated climbing and pedal zones, EVA midsole, 'Toetal Protection' Reinforced toe cap, Raised inner 'ankle pad' design, '2K insole' two piece foot bed insert, 'Jetstream' laser cut ventilation holes featured on the side and top of the shoe for additional airflow/cooling.
Design/construction: When an established brand (that aren't known for making shoes) one day decides to branch out into the shoe market and they release their first range of kicks, it is easy to be sceptical about quality or level of technology. However the thing to keep in mind about these Rascal's, is that whilst they are indeed ION's first offering, these shoes are in fact a collaboration with Swiss footwear brand 'Suplest' and so in fact the Rascal already has a strong heritage of R&D behind it. With that said, it is easy to understand how and why these shoes fit and function so well. Their level of construction technology and the tech materials that they boast are right up there with the most advanced of any shoe we've seen.
Fit and lock-down: For a casual looking 'skate style' shoe, the Rascal's offer a surprisingly high level of support. We put this down to two features; the Serpen Tie fastening strap and the 2K foot bed which boasts heaps of arch support.
The sole/grip: Because these shoes features a rather stiff shank that runs nearly the entire length of the sole, they're very stiff and really don't offer a lot of flex from front to back which does hinder them a little whilst walking/pushing up sections of trail, however ION have incorporated quite an aggressive grip design into the rubber sole which means you do still end up with fairly good ground traction.
Ride performance: We don't get into star ratings when we review a product, however if we did, these shoes would score very highly. We really like the high level of tech in their construction and their overall fit was really comfortable. Personally I reckon they just look really cool as well – you could easily get away with wearing them from the trails straight to the pub for a few frothies afterwards.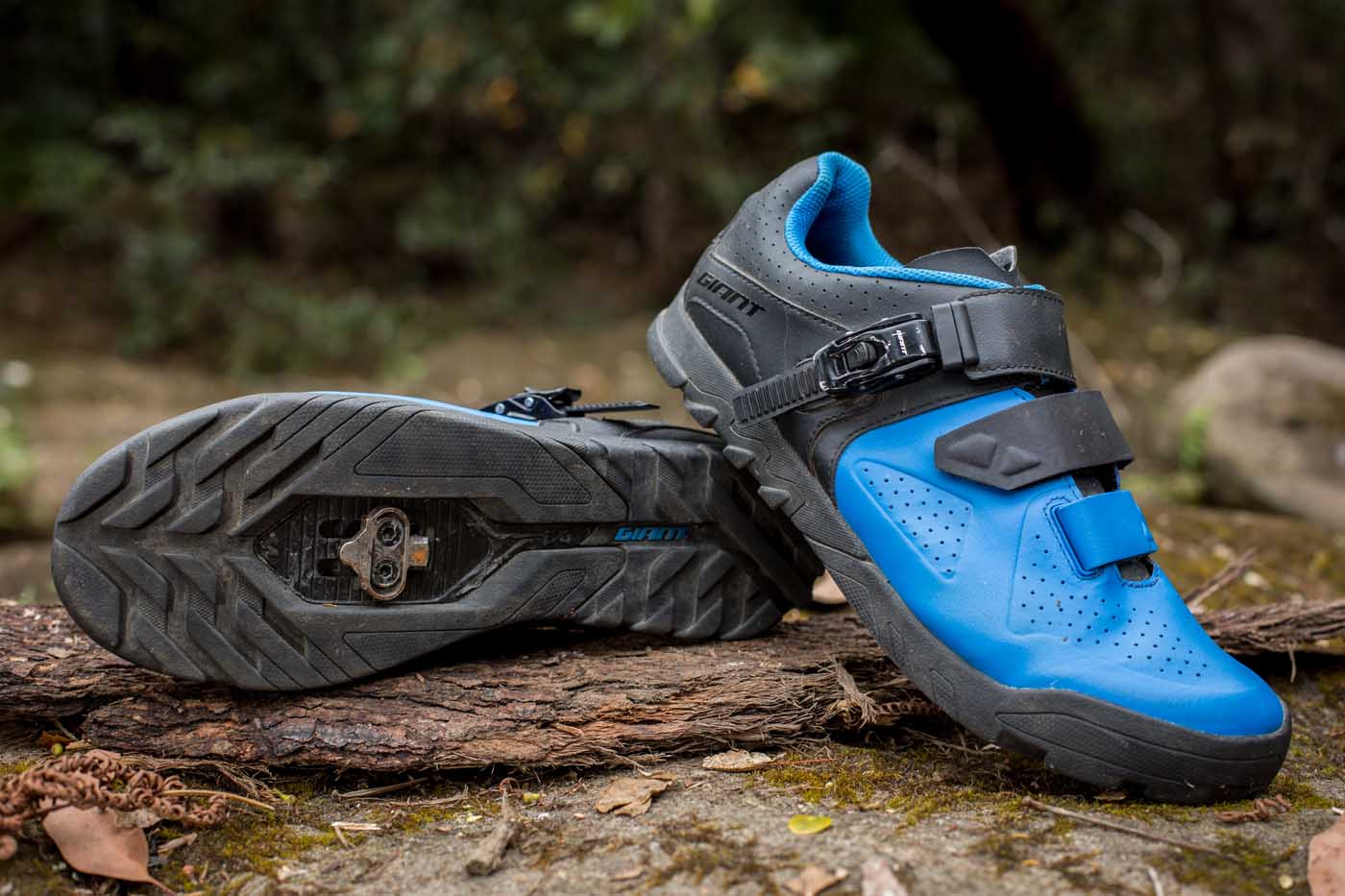 Giant Line
Features: 'Exo Wrap', a unique foot enclosure system with optimised support and 360 degree fit for all foot shapes. 'Quick Fit Upper' a 1-piece material upper construction which provides excellent enhanced comfort and ventilation. A ratchet buckle system with two hook-and-loop straps for simple on-the-fly adjustments. 'Exo Beam', Giant's unique designed midsole plate combines and engineered flex zones for enhanced power transfer, better stability and traction on rough terrain. 'Exo Flex' works in conjunction with 'Exo Beam' allowing the natural flex of the human foot whilst maintaining optimal and consistent power transfer to the pedals/cranks/rear wheel. Toe box protection and wide, full-coverage rubber tread design for excellent traction and stability while also protecting the rider's foot from trail elements. 'Trans Textura Plus' removable single-density EVA insole designed to help promote a balanced foot climate. And, every single pair of these shoes is personally hand packed into their box over in the factory by Josh Carlson himself – true story!
Weight:
1070 grams
Colour options: Only as pictured here.
Price: $189.95
Browse: www.giant-bicycles.com/au/footwear
Design/construction: The 'Trail' is a quintessential example of a cutting edge modern day enduro shoe. A blend of cross country power and performance, blurred with the protection benefits and comfort of a gravity specific footwear. It's hard not to be impressed with the overall look of these shoes. Stealthy 'big block' colour panels, the type of styling which will hold up to the test of time.
Fit and lock-down: Perhaps this shoe's biggest strength; loads of comfort and they really form to the shape of your foot like a glove. Yeah, a foot glove!
The sole/grip: The Line features a tacky rubber sole with a nylon midsole plate and engineered flex zones which have been tuned with the assistance of Giant's Factory Race Team.
Ride performance: Giant's new Line shoe are all sugar and no salt. They've been really well designed and so their function is right up there with the best. Their construction is spot on which has led to the shoe having great durability (no significant signs of wear and tear) and we've been riding most days for a couple of months now. We also like the fact that they don't have a massive logo or branding, which will no doubt make them appealing to a lot more riders (that might not ride a Giant) which we think is a good thing as these shoes are awesome. They're the total package. If you try a set on, we reckon there's a 99.9% chance you'll love them straight away.  Giant are onto a real winner with the new 'Line' shoe.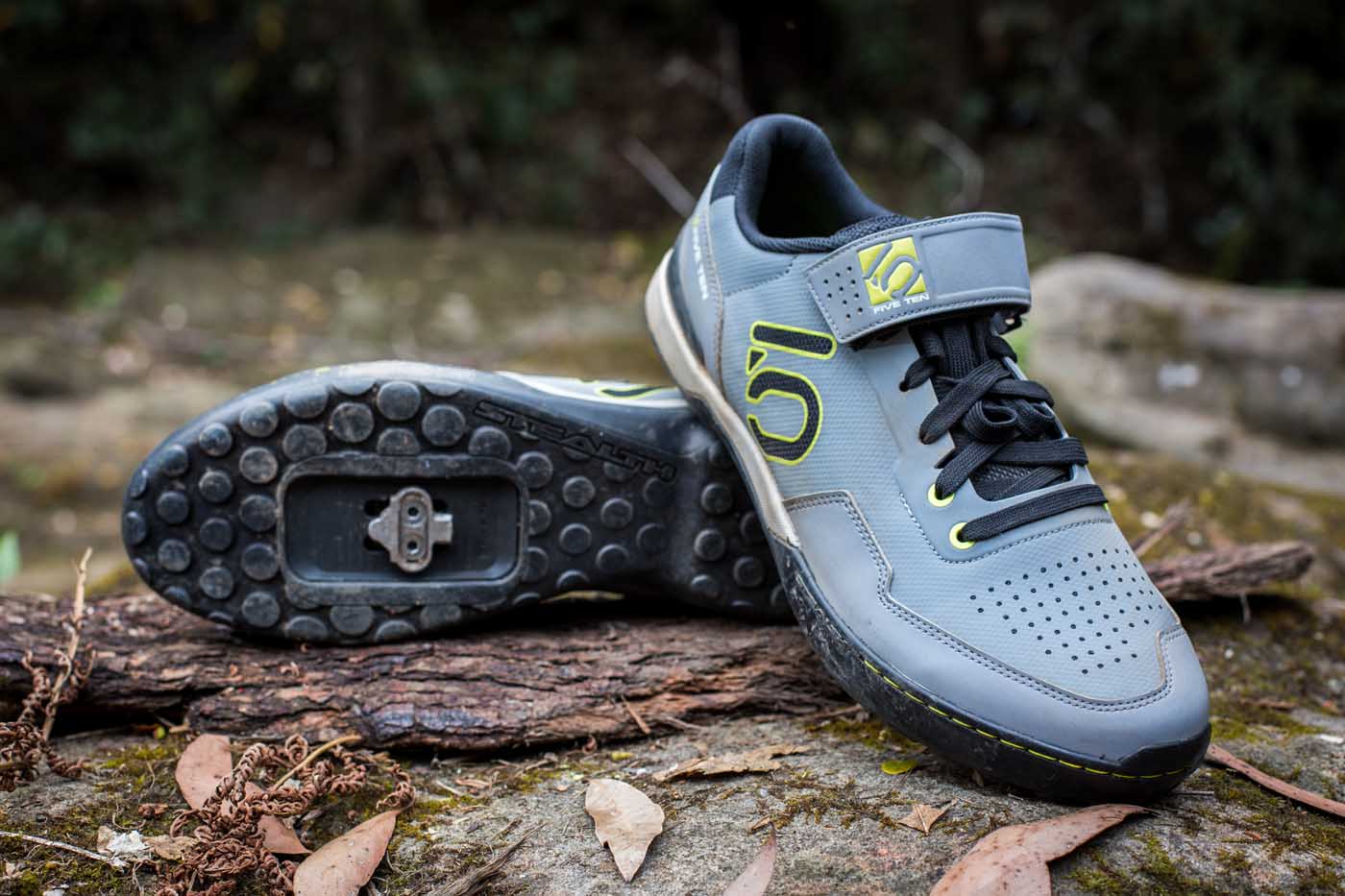 Five Ten Kestrel Lace
Features: Stealth C4 'mega grippy and luxurious' rubber outsole, wide fastening strap and full length laces, perforated toe vamp and mesh tongue for extra breathability, non-slip heel cup to reduce torsional flex, compression moulded EVA midsole with nylon shank, poly-urethane coated synthetic upper for easy cleaning.
Weight:
1100 grams
Colour options: Onix/solar yellow (as picture, black/carbon, black/red
Price: $229.95
Browse: www.lustyindustries.com
Design/construction: The Kestrel lace features a slim line, sleek overall shape and design. Furthermore, they have the appearance of looking quite narrow, however when you put them on, they're actually perfectly comfortable and not narrow at all. The key to this design is that there is less bulk and more clearance to avoid the shoes getting caught up on trail clutter or to rub your crank/bike. The top portion of the shoe features a synthetic upper, a perforated toe and a mesh tongue which enables a good mount of airflow to keep your feet cool and keep them dry from water build-up when the conditions out there on the trail get a little moist.
Fit and lock-down: We found that the Kestrel's generously proportioned fastening strap combined with traditional full length laces certainly allow for a lot of adjustment rider tuned lock-down. Foot bed wise, they could maybe do with a little more arch support, but when you consider more and more riders are now fitting orthopaedics to their shoes it probably isn't an issue.
The sole/grip: Let's be honest here, FiveTen's famous Stealth 'sticky rubber' is the first and last word when it comes to the best grip in the business. Not surprisingly, when it comes to pedal traction and trail grip, these Kestrels simply outperform every other shoe in this feature. The Kestrel's feature a full length internal shank which makes their sole very stiff, with only a small amount of flex, from top to tip, which delivers bucket loads of power transfer from your two pistons straight to the back wheel. Whilst we've only been racking up trail miles in these shoes for a few weeks and they're showing no real signs of wear, from past experience with FiveTen shoes and their Stealth rubber soles, we're confident that these shoes will hold up for years, and years, to come.
Ride performance: Backed by years (and years) or racing winning DNA, the FiveTen Kestrel certainly is a strong contender for the best all-round performer that we tested.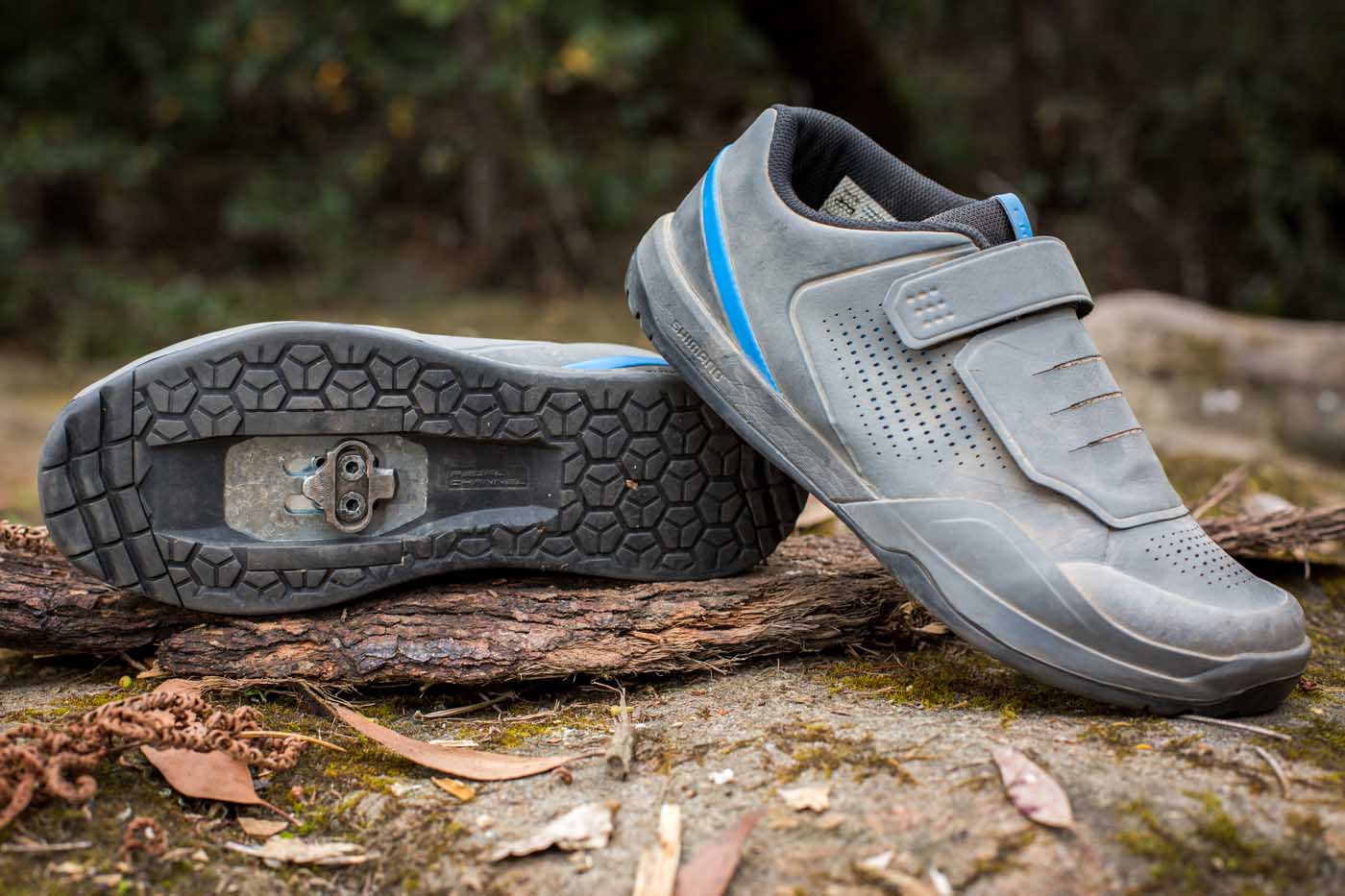 Shimano AM901
Features: One-piece upper construction for less water absorption and quicker drying, armoured lace shield provides protection from trail debris entering the shoe, moulded toe cap for additional toe protection, padded asymmetric ankle collar, speed lacing system allows fast, secure adjustments, unique pedal channel design for stable shoe to pedal platform when not clipped in, ultra-grip rubber sole with toe and heal traction tread improve walking.
Weight:
812 grams
Colour options: Only as pictured here.
Price: TBA.
Browse: www.shimano.com.au
Design/construction: Cutting absolutely no corners on expense or technology, when you pick up the new AM901's it is easy to see why they are positioned as Shimano's flagship model in the gravity category. Every little detail of their construction screams quality. You're hard pressed to even find any stitching, the majority of the shoes upper has been heat welded for durability, precision and also to help save weight. Impressive stuff.
Fit and lock-down: You'll notice that the AM901 features the lace shield that has become iconic to Shimano shoes. Under the shield you'll find Shimano's unique 'quick lacing cord' system which ensures a precise adjustment around your foot and then located directly above that for 'locked down', you've got a large Velcro fastening strap.
The sole/grip: The rubber that covered the AM901's sole is in fact made by Michelin and offers a surprising amount of grip and excellent traction with the pedal interface. When walking, or pushing, up the trail we found the AM901's amount of flex up in the toe area to be comfortable.
Ride performance: It seems like Shimano's impressive AM9 shoe only just hit the market and already they've raised the bar even higher with the AM901. These shoes are not messing around, they're pure performance, ultra-light weight, and yet packed with tech and features. If you don't mind their slightly space age appearance, then we reckon you're going to absolutely love the fit, feel and function of the new AM901's.
Design/construction: The upper of the shoe is made up of largely one piece of several material interfaces bonded together, seamlessly (pardon the pun), and up front you'll find a reinforced asymmetric toe box to help protect your little piggies from rocks and trail dangers as they head off to market. Under foot, you'll quickly discover the comfort of a cushioned EVA foam midsole for comfort with a moulded heel cup for stability. And in staying true to their design and performance philosophy, these new 2F0 2.0 Clip shoes feature Specialized's Body Geometry sole construction, and footbeds, which have been ergonomically designed to increase efficiency, increase comfort on long rides, and reduce chance of injury by optimizing hip, knee, and foot alignment.
All Photos // Richard McGibbon