It's hard to know how lucky you were as a child. I was fortunate enough to grow up in the Ride High Country region, specifically in Mount Beauty where the oldest mountain bike trails in Australia were built.
Since growing up, moving to Melbourne and racing bikes around the world, I still always love coming back home and riding the trails of my childhood. Having spent countless hours riding every inch of the trails in the area, I know them like the back of my hand.
So when the team at Revolution Magazine asked me what my ultimate long weekend in the high country was, I had a few secrets to share.
If you're looking to spend a long weekend in God's Country (as my Dad calls it), you're spoilt for choice. There are now nine different official mountain bike parks in the Ride High Country region. From the steepest gravity trails to some epic cross country riding and everything in between, the world is your oyster. Which isn't actually the best metaphor, as I'd much rather be on my bike than eating oysters.
It might seem counterintuitive, but to narrow it down, I decided to go big!
Everyone can go to the bike parks and ride loops and explore, but I wanted to share the more adventurous side of the high country. I've chosen to focus on riding that I would want to do if I had 3 days and an enthusiastic group of mates (plus a legendary shuttle driver), who loved a road trip and a lot of riding.
Before we get into it, a comment on equipment. These three days of riding can be tackled on whatever bike you have… If you've got the skills and fitness. All three rides would be ideal on a trail bike from 120mm-160mm. The main thing is to get out there and give it a go. I would also suggest thinking about an e-bike. It would allow you to enjoy the riding to the maximum and make the adventure achievable for people who don't train every day. The choice is yours!
Let's start off in Melbourne as that's where I begin most of my adventures these days (But you can road trip in from anywhere). Just one and a half hours drive from the big smoke is a lush little location called Marysville, at the bottom of Lake Mountain. There is a relatively new trail called the Cascades, which boasts 1500m of descending over 28kms of trail and apparently just 500m of climbing. But don't trust those numbers! I always seem to clock up around 700m of climbing per ride, so keep that in mind.
The best way to do it is to shuttle up to Lake Mountain, so if you don't have a driver then you can just book the awesome Lake Mountain shuttle.
Cascades is a really fun half day ride, and I'd allow at least three hours. The trail climbs to the summit from the car park and it's one crazy view on a clear day. You can see all the way to your final destination and it seems quite far, because it is! Then you head into the epic downhill, and I'm talking janky alpine rocky single track at the summit, before some face melting berms and booter jumps for the rest of it.
I've always taken my time and enjoyed the ride and everything it has to offer. The beauty is in the snack breaks and jump sessioning, so don't rush it. Last time I rode it with a bunch of mates we convinced Lach Norris, who was a World Cup XC rider and roadie, into doing all of the jumps. He was just two days out from starting basic training for the RAAF, but he couldn't resist the air time temptation!
There are multiple line choices for how you make your way down, but the main A-line will always have a cool feature to keep you on your toes. A hot tip is to save some energy in the tank for the last section. The 4-5km from Lady Talbot Drive can break even the best of us on a hot day, and that's speaking from experience!
After you get to the bottom of the jump filled trail, it spits you out in town. Ride through the park and get a table at the Duck Inn, which is a great refuel stop to grab some classic pub food and craft beers. A very good place to have a feed and talk trash about the eventful ride that was. You could stay the night in Marysville, but I think it's important to keep the adventure going, so get back in the car and head to Mount Buller, a very well respected place in the MTB world.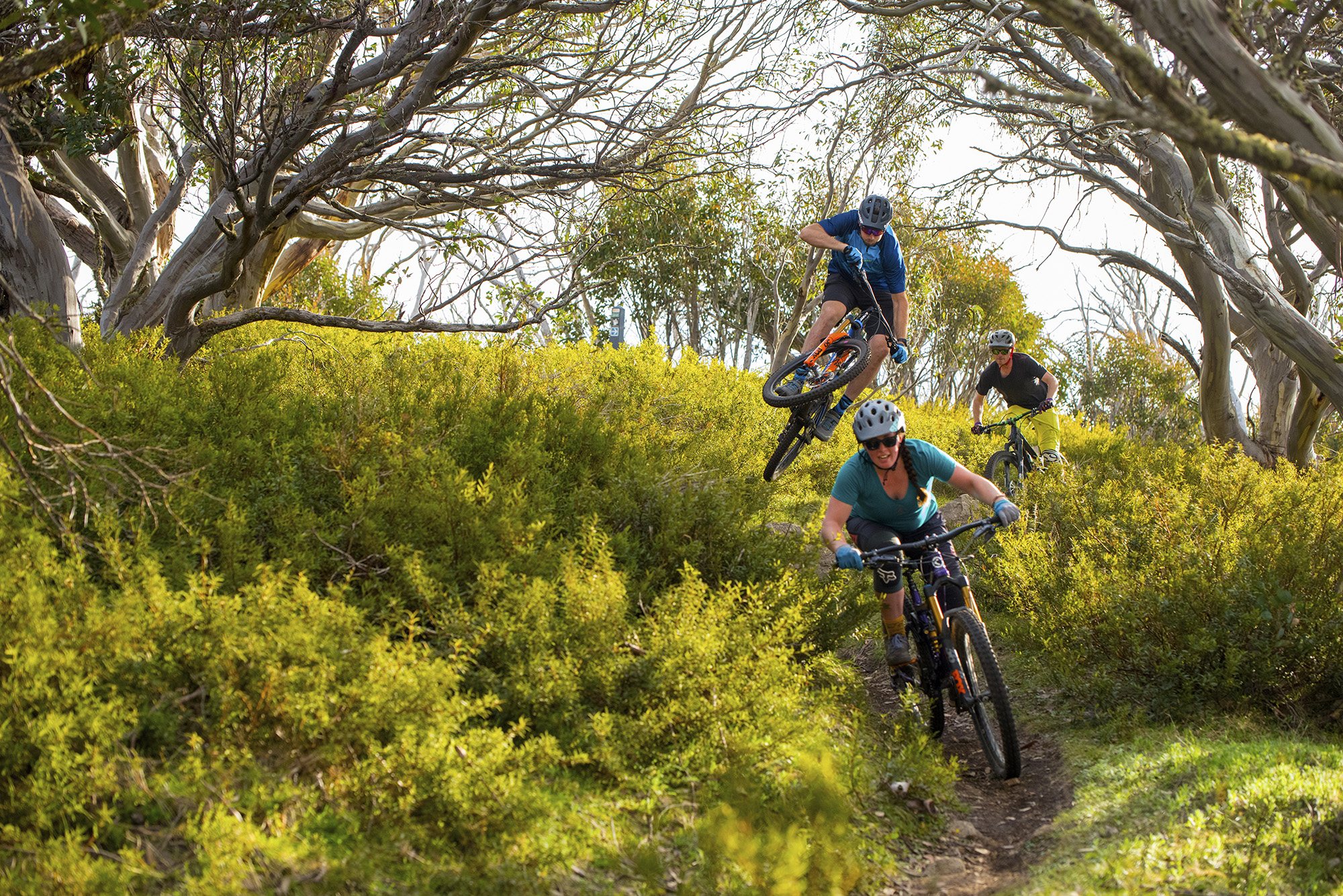 Mount Buller has a solid mix of cross country and gravity trails, but the pièce de résistance is the alpine EPIC trail!
It's a solid 3-6hr ride starting at the alpine resort, winding along the ridgelines, before heading up over mount Stirling and across to the famous ENJOY downhill section. Start off with a coffee and stock up with food for the ride. It's a minimum of 40km with 2200m descending and 1250m of climbing.
The initial ride goes along the XC trails and out to Stonefly. The Stonefly climb is long and if you have time, do the Stonefly downhill and roll back around the circuit road to Telephone Box Junction. On the weekends in summer there is a cafe pumping out brews to give a boost for the next climb.
This section hits hard and I've had many moments where I've questioned how good I am at riding a bike – it's an energy sapping climb! But the best part of the Alpine Epic trail is the 700m vertical descent called the ENJOY section. I have no idea how World Trail managed to make this section, because you truly feel like you're in the middle of nowhere.
Once you've finished high fiving your mates at the bottom, it's a meander up the river to the ticket box at the base of Mount Buller. If you have a shuttle driver they can pick you up here or if it's in Summer there's usually shuttles back to the resort. Don't forget to book ahead to get your seat! If it's a hot day, cool the legs off in the Delatite river and feel the sting of the ice cold water recovering your legs for the next day.
I'll always suggest that to really get maximum adventure for the weekend, drive deeper into North East Victoria through Bright and up to Falls Creek. This seems like a big mission, but trust me it's worth it. You only YOLO once, right? On the road trip, call into Bridge Road brewers in Beechworth and see Ben, or Bright Brewery for a g'day to Scott, both of who have a reputation for quality craft beer and are passionate mountain bikers. You'll have to restrict yourself to pots, because the rest of the drive is winding and mountainous.
Falls Creek is a relatively new place for some, but I've been riding in this alpine playground since I was a toddler!
It has a full range of trails that will look after everyone from the first timers to the advanced pinner. Blue Dirt do shuttles in summer and it's so fun sessioning from the summit down to the shuttle point, Big Fella and FlowTown are my top picks! In saying that, I'm going to suggest another adventure ride called the Fainters track. If you spend the night at Falls Creek, hit up the Frying Pan for dinner and in the morning grab a delicious breakfast and coffee from Milch cafe. Trust me you'll need it!
The ride can start from Falls Creek, or get a lift (with your legendary shuttle driver) to Pretty Valley dam. It will pay to do some research because unlike the previous two rides this big dog is an unsigned backcountry route. Luckily it is pretty straight forward without too many turns, but it's something you'll need to keep in mind. It's roughly 40km, climbing over a few 1800m peaks, before finishing in Mount Beauty at 400m above sea level. Please also note this is a fair weather ride! I've done it in a storm before and it was Type 2 Fun, which is not fun at the time but fun at some point after reflection (I might be back with another article on the different types of mountain bike fun soon).
From Pretty Valley, you climb over to Tawonga Huts, an old cattleman camp and a lovely spot. The next section can be a challenge. It's an overgrown fireroad and it has some steep climbs that will have you on the nose of your saddle trying to find the balance between traction and power. Once you get to the summit there are 360 degree views of the great dividing range across to Mount Feathertop and Mount Hotham on one side, with Mount Bogong and Mount Kosciuszko on the other.
Now, take a deep breath because it's about to get wild! The next section is an old cattle track and there are boulders as big as your head. Remember, it's called backcountry for a reason! Once you survive the descent, the track opens up to Bogong Jacks Saddle.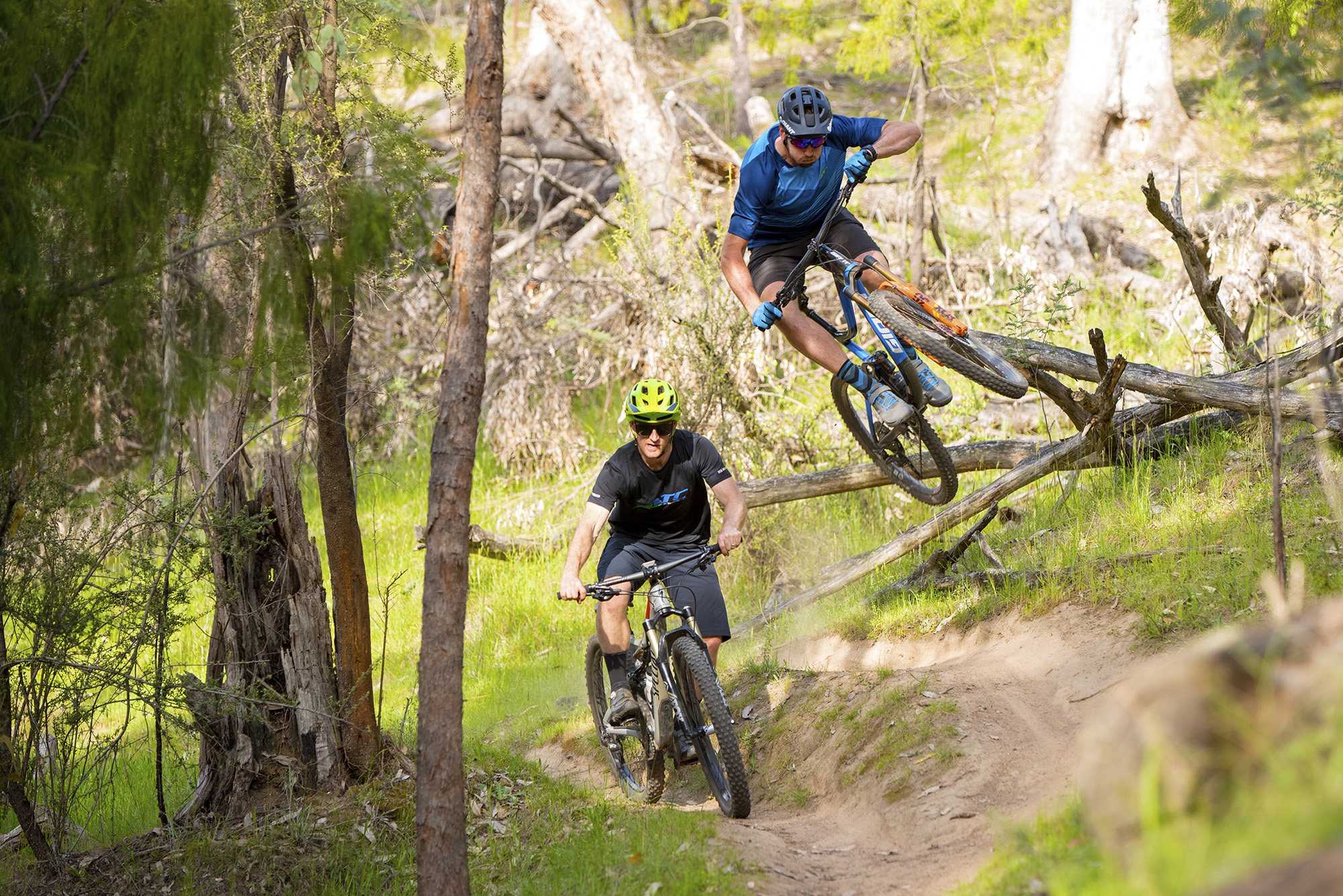 From here it's a fast fireroad that will make your eyes water from the speed. Once you get to Spring Saddle turn left and the ride has two options:
Ride up to the very top of Big Hill or,
Take Springs Creek and west Kiewa logging road.
The aim is to get to the bench 5 Big Hill DownHill track to bomb into the MTB park and straight to the Mount Beauty Bakery. You'll need some sustenance after what you've just done! If you have time, stop in at Crank Handle Brewery or West Peak Pub for a refreshing adult beverage and soak up some sunshine on the grass and outdoor areas.
After a long weekend of epic exploring and riding, that's it, you're done!
Three days in the Ride High Country region and three truly adventurous rides. From Lake Mountain to Mount Buller and Falls Creek it's like an alpine smorgasbord of surprises and delights. I've already started planning this trip for the near future.
Happy trails everyone! [R]