Record rider numbers at the Shimano Bike Buller Festival.
It was a brilliant weekend of festivities for the annual Shimano Bike Buller festival. The 11th year of the mountain bike mecca drew in record numbers with well over 600 riders taking part and 2,00 spectators. The new two-day format of Downhill, Gravity and Cross Country races fed hungry mountain biker riders from across Australia as they raced along the popular mountain bike trails at Mt Buller in the Victorian Alps.
The event was extra special for Cross Country riders with the first race ever conducted on the Australian Alpine Epic Trail. The race was won by Russel Nankervis, followed closely by his brother, Tasman, and Griffin Knight third. Times were super-hot with Russel completing the 46km trail in 1:53:53. Tasman and Griffin came in a touch over two hours.
The Epic Trail uses a point–to-point format and takes riders on an incredible journey through magical alpine wilderness in the Australian Alps. Passing over mountain summits, beside raging rivers and along trails snaking through Snowgums the Epic Trail is a bucket list ride all mountain bikers so the first end to end race along its length was a popular drawcard.
The Saint ABOM Downhill from the Northside lift was another big feature on Saturday as 200 downhill riders blitzed this iconic downhill track in a flurry of berms, jumps and dust. Star privateer Chris Panozzo from Mount Beauty won the final race run in a time of 3:32:86 just 0.5 of a second ahead of rival Josh Carlson in 3:33.39 whilst Ben Mcilroy was third in 3:34.67.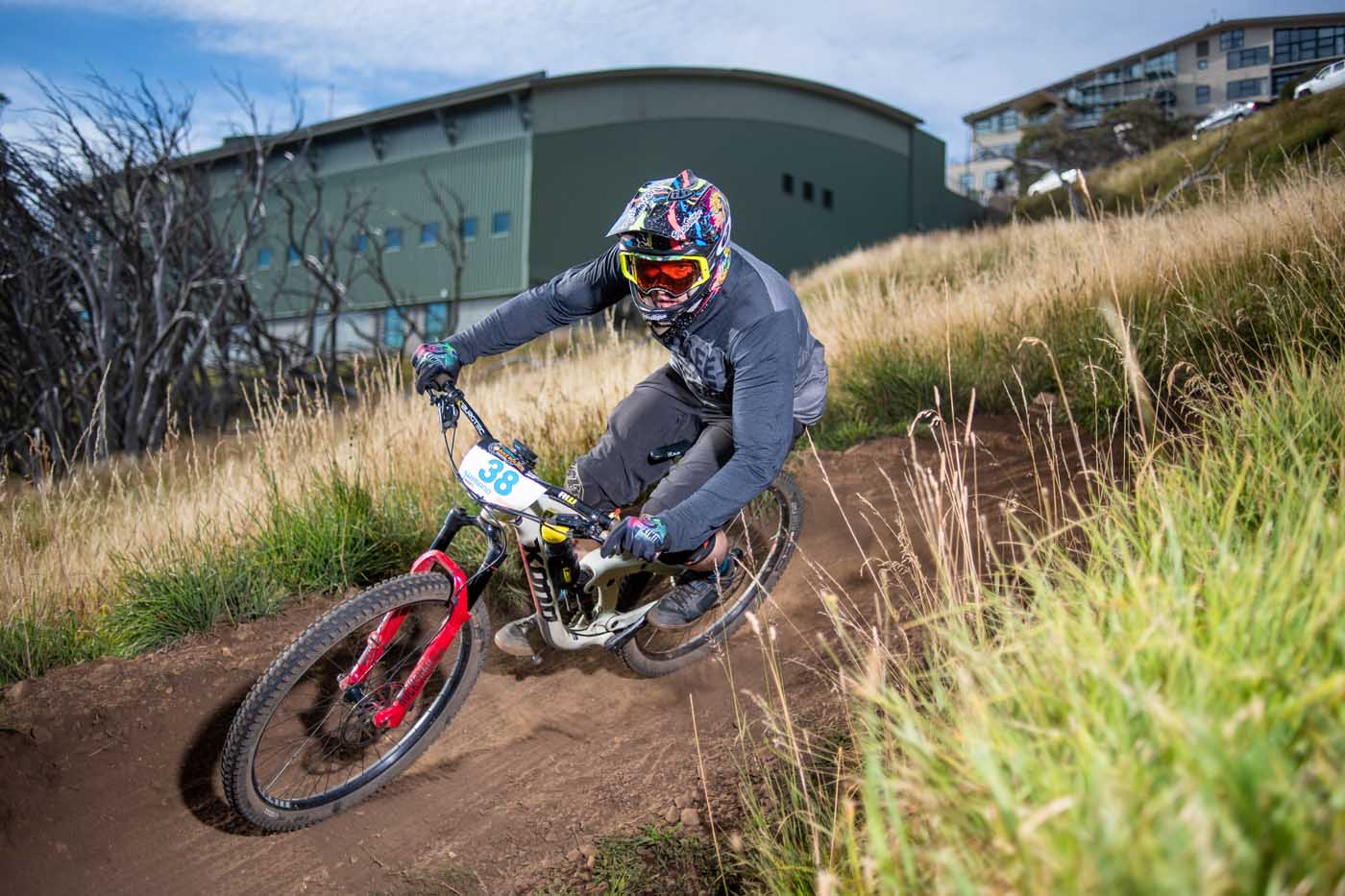 Enduro World Series (EWS) circuit rider Josh Carlson was wrapped to be back for his 3rd Bike Buller carnival.
"It was a tough weekend. Stages were brutally physical. You're just sprinting out of every turn and smashing the corners and it's just relentless all day"
Josh Carlson
Saturday's festivities were topped by a 16" Dual Slalom race which sees riders racing a grass dual slalom track on kids 16" bikes, much to the delight of the crowd of spectators. The event was one by James "Cannonball" Hall in a fiery contest held in good spirit. The event was supported by the ATC Highline Slopestyle competition with Australia's best jumps riders throwing down some huge tricks on some even bigger jumps. As Australia's first ever slopestyle event it which drew some big crowds and saw some outstanding aerial acrobats from riders.  
Sunday's headline event was the XTR Gravity Enduro. The popular race format doubled as Round 3 of the Victorian Gravity Tour and put another 300 riders to the test over Mt Buller's challenging trails. With a shorter course for amateur categories and a longer, and very challenging course for pro categories the longer event was won by Chris Panozzo again in a time of 34:00.89 ahead of David Ludenia in 34:03.59 with Ben Mcilroy third in 34:34.32. First female was Leonie Picton from Victoria in 41:24.53
Sunday concluded with the DHaRCO Mt Buller Super-D. The 11km descent drops a whopping 1,100 vertical metres from Mt Buller to the base of the mountain at Mirimbah. Fast open sections, rocky switchbacks and steep drop-offs were a feature of all downhill and gravity events across the weekend with the Mt Buller trail network receiving high praise from all riders.
The ABOM Downhill and Gravity Enduro events were combined into a 'Gravity God' category with rider's times were added together to determine a weekend winner. Chris Panozzo doubled up on his 2018 victory by again winning this pinnacle prize in 2019 with a cumulative time of 37:34 with David Ludenia 2nd in 37:46 and Ben Mcilroy 3rd in 38:10. Leonie Picton won the womens title in 45:32 ahead of Ayla Armitage with Jess Muddyman in 3rd.
"The weather's been super nice and it's been such a good time with the boys up here, it's been really good. Thanks to all the competitors for coming out, it was great to see the volume of riders coming and racing, it was perfect weather and a great venue to do it, I'd like to say a big thank you to all the volunteers who were out there, they do a lot of work behind the scenes, and to Shimano, they provide a lot of support behind the scenes so if you get a chance say thanks guys, cheers, thank you! I'll definitely be back at Bike Buller again next year."
Chris Panozzo
The cross country riders were chasing the XC Whippets pinnacle title with the combined times of their 46km Epic Trail race on Saturday and the short / fast  / loud 20km Corn Hill Grand Prix race on Sunday. The Nankervis brothers traded wins on each day of racing but it was the older of the two, Russel Nankervis who took home the title with a cumulative time of 2:54.43 with Tasman second in 3:01.17 and Griffin Knight third in 3:17.12. Melissa Anset won both events and was overall winner in 3:57.18 ahead of Jess Eagan 4:12.04 and Kate Bramley third in 4:30.35
The weekend was topped by a Picnic in the Park festival and mountain cinema session. Heavy rain mid-afternoon put a small dampener on the Village vibe but it quickly dissipated. The sunshine returned and families and groups of friend enjoyed their final night on the mountain.
"To welcome some of Australia's best riders in combination with your amateur category riders is always such an awesome experience,"
Sam Maffett from Rapid Ascent.
For more information head to www.ShimanoBikeBuller.com

RESULTS
Gravity Gods male Top 3
Chris Panozzo 00:37:34:00

David Ludenia 00:37:46

Ben McIlroy 00:37:70
Gravity Gods female Top 3
Leonie Picton

 

00:45:32

Ayla Armitage 00:45:63

Jess Muddyman 00:49:48
Race Results are available HERE.
Photos // Nick Fletcher & Rapid Ascent