Keeping your brain protected when you go OTB is one of MTB's biggest challenges. Especially when out trail riding on a hot as day, when a full face is the furthest thing from anyone's mind. Thankfully the biggest brains in helmets have been adding so much tech to helmets over the last years that we're in the safest hands (or lids) we've ever been lucky enough to wear. Here's some of our favourites from the current crop of trail lids!

Fox Flux 2.0 Mips
"It's little wonder why the Fox Flux is often credited as being the single highest selling trail helmet is all of mountain biking. Great styling, heaps of cool safety and comfort features and the whole package comes in at an affordable price point. The secret of the new Flux 2.0 is its Varizorb dual density EPS construction, large wide open venting throughout, MIPS as an added insurance policy, a massive range of adjustability, quick-connect magnetic buckles."
Tech Features // Varizorb multi-density EPS for enhanced impact absorption,  MIPS impact protection system, Internal roll cage provides additional strength, 14 Big Bore air vents, 300-degree retention system w'large roller dial, X-Static padded liner, Fixed anchor Y-strap system simplifies adjustment and improves fit, Full range adjustment visor, Fidlock Snap magnetic closure buckle
Weight // 400grams
Price // $199.95
Browse // www.foxhead.com.au

Bell Sixer Mips
"The new Sixer is Bell's premium trail helmet and it continues the brand's line of innovation and quality that has made them one of the most respected names in helmets since 1954. Perhaps the standout feature of this helmet is its unique construction which utilises a roll cage and a polycarbonate shell that covers the entire exterior of the helmet which hides a full EPS foam liner that uses Bell's 'Progressive Layering' technology where different densities of foam are used in order to better absorb a wider range of impacts; softer foam works best for slower speed impacts, while harder foam helps with the faster hits."
Tech Features// Fusion in-moulded polycarbonate shell, Exposed polycarbonate roll cage, EPS foam core with Progressive Layering, 26 vents, Removable X-Static padding, 4-position adjustable visor, Goggle Gripper across the rear of the shell, Float Fit Race fit system with integrated MIPS, No-twist Tri-Glides, Integrated breakaway camera mount.
Weight // 395grams
Price // $249.95
Browse // www.cassons.com.au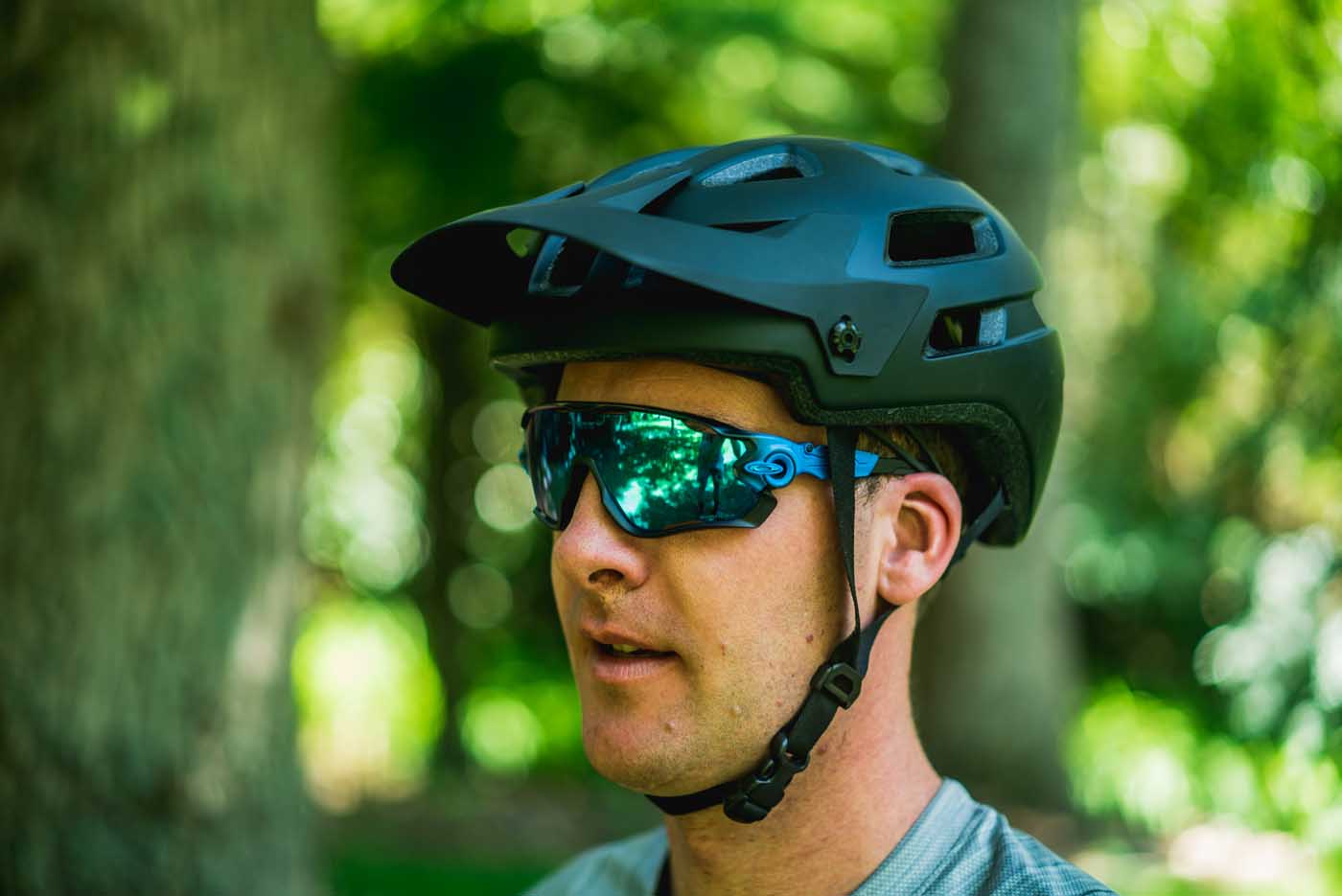 Giant Rail SX Mips
"This is a really lovely, well designed and well made helmet. We were already big fans of the performance of the original Giant Rail that came out a couple of years ago, and now with the new Rail SX Giant have managed to lift the bar even higher. This helmet boasts huge wrap around coverage, massive air vents for cooling, the added safety protection of MIPS, a great micro adjustment system, and the whole thing is very light indeed. If fact it is the lightest helmet in this article by a long way. With all of that said, this helmet should be way more popular and common than they are. Why? Because as is often the case when a bike manufacturer puts their name on a product for some reason it's often a massive turnoff for people that have a different brand written on their downtube. For instance; someone that rides a Trek is a lot less likely to pick up a Giant branded product. Which is a shame really because it means those riders are missing out on tying some potentially fantastic products – and the new Giant Rail SX helmet is a prime example!"
Tech Features //  Tri-level EPS construction; 3mm lower (Front), 3-5mm lower(sides), 8-10mm lower (back), MIPS Brain Protection System, 18 large air vents, Removable moto-style extended visor, Integrated goggle strap clip, Element Strap System (ESS), Cinch One Pro fit system, TransTextura Plus padding, Dual-position integrated mounting surfaces for GoPro or Giant Recon light systems.
Weight // 358grams
Price // $184.95
Browse // www.giant-bicycles.com/au/

6D ATB-1T Evo
"What makes this helmet unique is its Omni-Directional Suspension (ODS) Technology. 6D invented the concept and they're the only brand on the planet that is allowed to use it. ODS is essentially a similar concept to MIPS, but on steroids! If you turn the helmet upside down you'll notice that it in fact features 2 separate helmet shells which sit one inside the other. The shells are joined by twenty-seven rubber dampers that allow the outer shell to move independently of the inner shell. How and why the system works is that when the rider has a crash, the energy forces of the initial impact is displaced by the other shell and inner shell which sits directly around your skull is able to move slightly via the suspension system between the 2 shells. What this means is that you're less likely to suffer a head injury when wearing this helmet compared to wearing a traditional single shell helmet design."
Tech Features // Omni-Directional Suspension (ODS) Technology, Polycarbonate Shell, Modular ODS carrier system, replaceable inner EPS, Magnetic buckle closure, 15 large air vents, Adjustable fitment system, adjustable visor, Moisture wicking padded inner liner, 6 different colour options.
Weight // 515 grams
Price // $289.95
Browse // www.stevecramerproducts.com