Proven to be one of the fastest enduro bikes on the planet, having piloted
Kevin Miquel
to
3
rd
overall at this seasons EWS, Sunn have pulled the trigger on production and the brand-new KERN EN29 Finest is now available right now across Australia. With it's almost futuristic looking carbon frame the new Kern EN29 Finest is guaranteed to turn heads when you pull up to the trails.
Reviewer // Blake Nielsen  Photos // Matt Staggs
This bike is about as cutting edge as design gets and it's packing a ton of travel (160mm up front, 155mm in the rear) for its 29" wheels. Our boy Blake has spent the past month putting the bike through its paces so without further ado lets hand the mic over to see what he thought!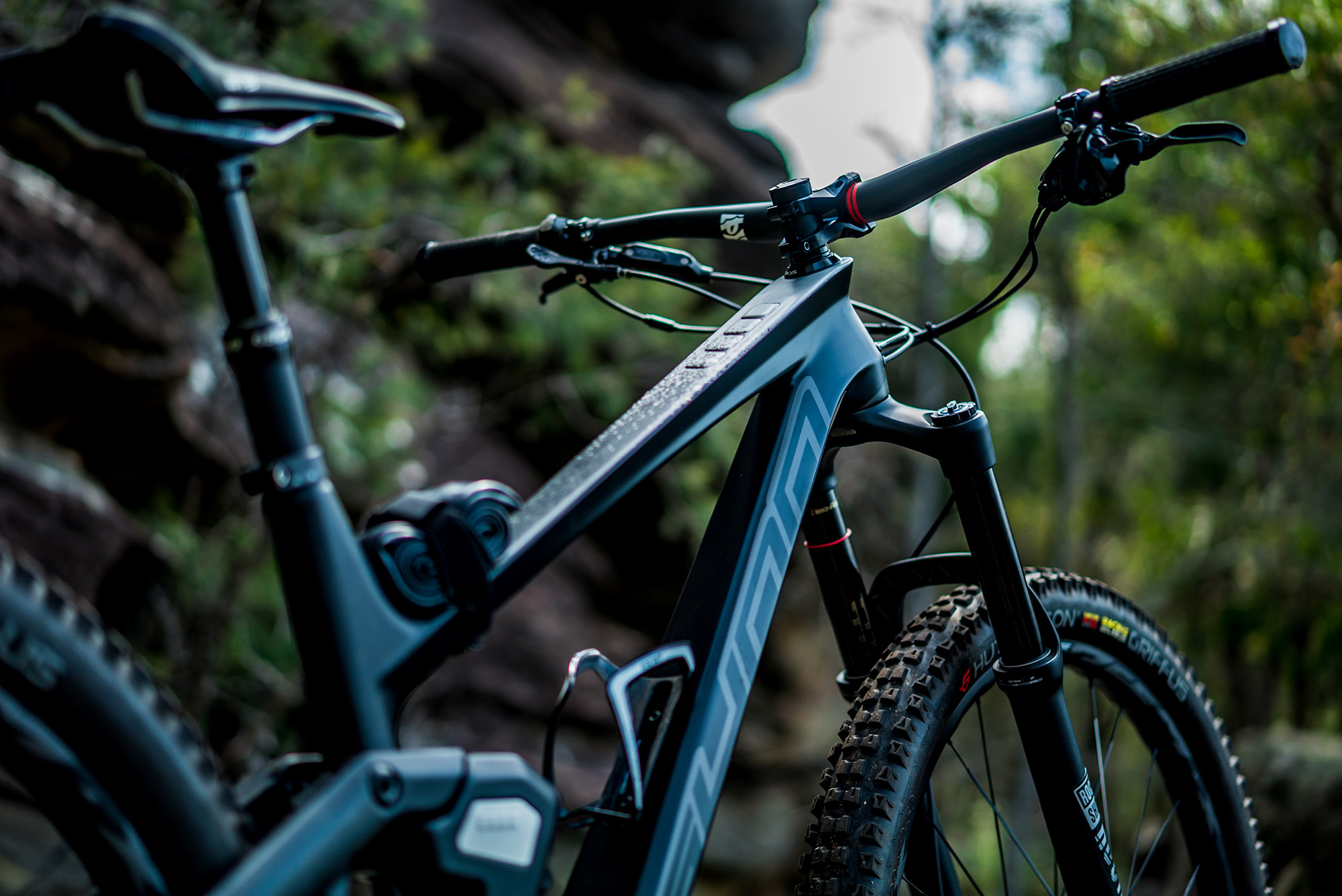 Let's jump straight into it – what were your first impressions when you pulled the bike out of the box and begun assembling it?
What a bike! The way the lines of the head tube flow into the top tube, through the upper link and into the seat stays was very pleasing for me. Obviously, this is purely aesthetic, but if people don't like the way a bike looks that can be a huge deal breaker. It also proves that before you've even put tyres to dirt you get a sense that Sunn have thought about every detail of the frame design and construction, they're not just banging tubes together during the Prototype phase and saying "sure, that'll do".
Spec wise what does the Sunn KERN EN29 Finest feature?
Sunn have opted for a bit of a 'mixed bag' with the parts selection. That said, pretty much everything has been selected from the top shelf and it all works together really well when you're out in the saddle. Up front you'll find a set of RockShox Lyric forks fitted with the RC2 Charger damper and a Super Deluxe out back complimented with a grip-shift style remote lockout. SRAM X01 shifter and derailleur, GX crankset and cassette, Code RSC brakes with big dog rotors. A nice set of Race Face SIXC carbon bars mounted to Sunn's own 45mm stem and Mavic's newest set of DeeMax Elite wheels. The only perhaps slightly disappointing spec piece is the dropper post choice, Sunn have gone with a 125mm SDG Tellis. We'd have loved to see a 150mm or even higher post fitted to the bike because when you combine the short travel dropper post with a rather short seat tube you can easily run into some sizing and 'fit' limitations… 
As we discovered on the alloy Kern we reviewed last year, modern-day Sunn frames are packed with cool little frame details and accents. Tell us a bit about the frame on this bike?
Like I mentioned, those sharp frame lines flowing through the bike really do make it look like the design work of an architect and not an engineer. But wait, there's more, the bike features a nicely shaped and very functional guard at the void underneath the seat tube to protect your shock from getting smashed by dirt, mud, rocks etc. There are also those industrial looking fins on the underside of the chain stay, man they look cool! I didn't get the opportunity to ride the bike in the wet, so I'm not sure how functional they are, they sure do suit the look of the bike though and they are removable if they aren't to your liking.
Often you'll find that long travel 29'ers feel like 'a lot of bike'. Our test bike was obviously a size medium frame. How did it feel when you first hopped on?
As the years clock over, I feel like this point is constantly changing. A few years ago a 150-160mm 29er was considered almost gargantuan, but now with suspension and kinematics constantly evolving this just isn't the case. With a 77 degree seat tube angle and the option to lockout the rear, climbing and pedalling along the flat, your body position and pedalling efficiency almost felt XC like. The overall geometry of the bike isn't particularly "progressive", so it's not like you're doing yoga to reach the bars or anything like that. In its stock build the bike feels very light and nimble, it doesn't really feel like a bike around 6 inches of travel.
As a 'direct to consumer bike' is there much you need to do in terms of set-up once you pull it out of the box?
It's super simple, pretty much all I had to do was set the suspension 'sag' to my body weight using a shock pump, then a few clicks here and there, adjust the bars to where I like them and that was it – ready to roll. Sunn build their bikes pretty good straight from the factory.
Appearance wise the KERN EN29 Finest appears to have a rather striking graphics and paint finish – how does it look in the flesh?
We loved the matte finish, the graphics and colours flowed very nicely and worked well with all of the parts. How's the effort put into the embossed squares on the top tube? Details like that are few and far between.
So we're talking a FULL carbon frame and a top-shelf component spec through and yet somehow the complete bike comes with a price tag of just $6299 here in Oz. This thing would have to be one of the absolute best value bikes on the market right now, eh?
Absolutely! Given the spec, this is literally one of the best value bikes out there. Sunn may not be a brand that we have seen a huge amount of down under recently but if you do a little research you might find just a few decent results from way back.
I was truly shocked when I found out the recommend retail price, this is so much bike for the coin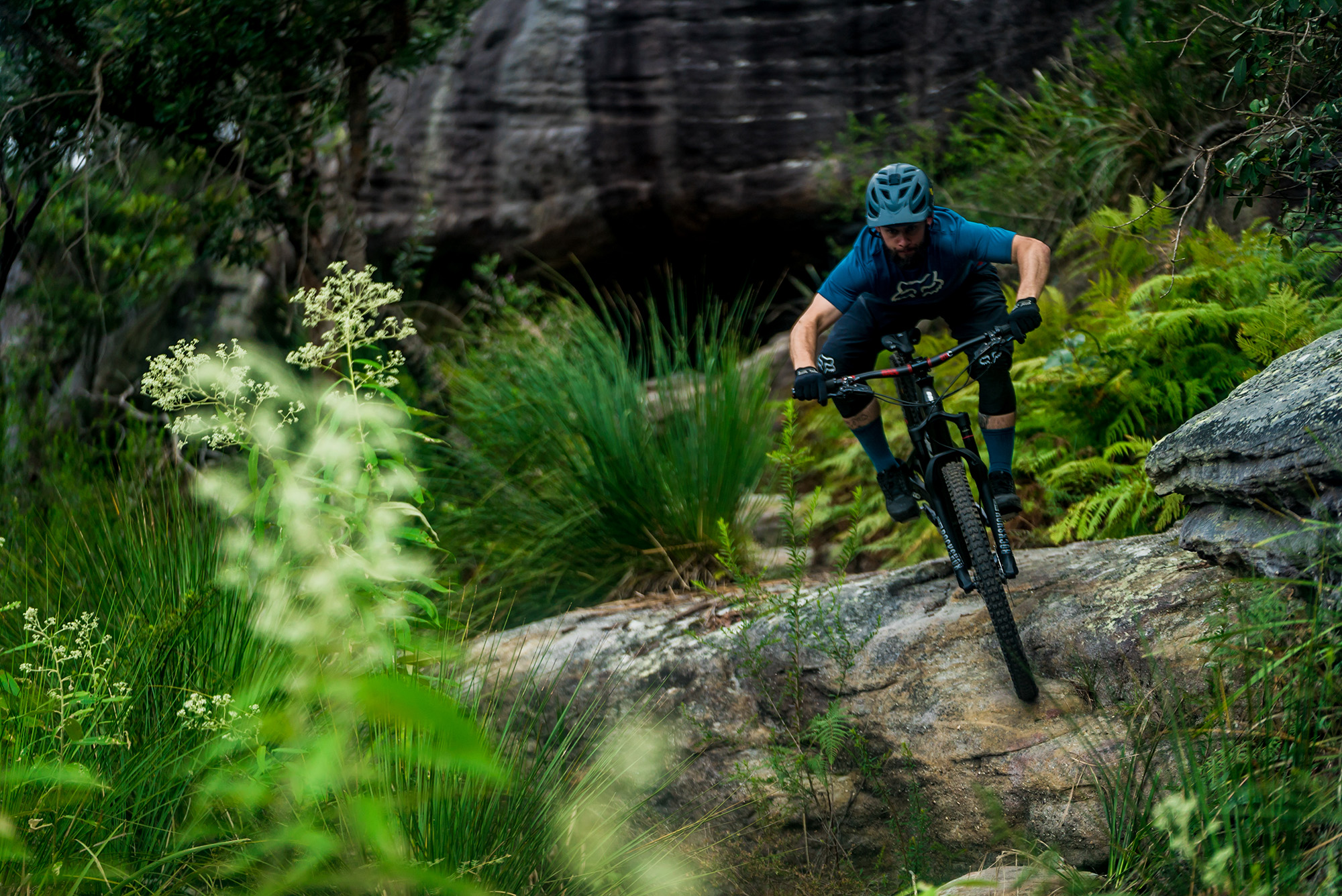 Okay let's get dirty and talk about how the Sunn KERN EN29 Finest actually rides?
Straight away when I started riding it what I noticed first was how nimble it felt to throw around. With a 65.5* heat tube angle & depending on size a "middle of the road" reach, it feels comfortable in all scenarios. It's not a bruiser on the descents, which is why it pedals so well everywhere else. They have found a nice balance for the long-travel bike, this won't suit everyone. Some are willing to sacrifice climbing for better descending characteristics and vice-versa. If you feel you've got a lust for a good 50/50 split, then this could certainly be the bike for you.
Are we talking about an all-round performer or did it excel more in one area than another?
I think in its stock form it's more of an all-rounder than anything else. If we had a longer fork, slackening it out a bit it would obviously feel better on the downs, but again that's all personal preference and riding style.
Being aimed as a 'purebred' enduro race bike, you'd have to expect it to shred down the descents. Did you feel the bike gave you a lot of confidence when the trial went downhill?
There was definitely the potential there for it to feel that way, however I think the tyre choice was standing in our way for that one. Most of the riding on the bike was descending some pretty gnarly trials. With heavy hits, high speeds & hardly ever a berm in sight we always felt a bit on edge (not in a good way) because of the available grip. In a straight line, the bike felt great.
There was a great deal of support from the rear suspension and no noticeable effect from braking.
Staying with the point that this bike is a 'purebred' race machine for a second, do you think it would still make for a comfortable daily trail cruiser or is this the type of bike  you only want to have a number plate and then ride your spare bike the rest of the time?
I think this bike would make a great daily cruiser, especially for the range of trails we ride here in Australia, once you get used to using it too, that rear lockout really is awesome.
How does the bike's suspension package handle? 
To be honest I was already very accustomed to the suspension as it's the exact same (minus lockout) to my own 29er at the time, so setup was a breeze. The suspension felt particularly good through very rough sections, it recovers very well without needing fast rebound which for me is great. Given the results this bike got this year under factory riders in the EWS we know it's going to feel great though don't we?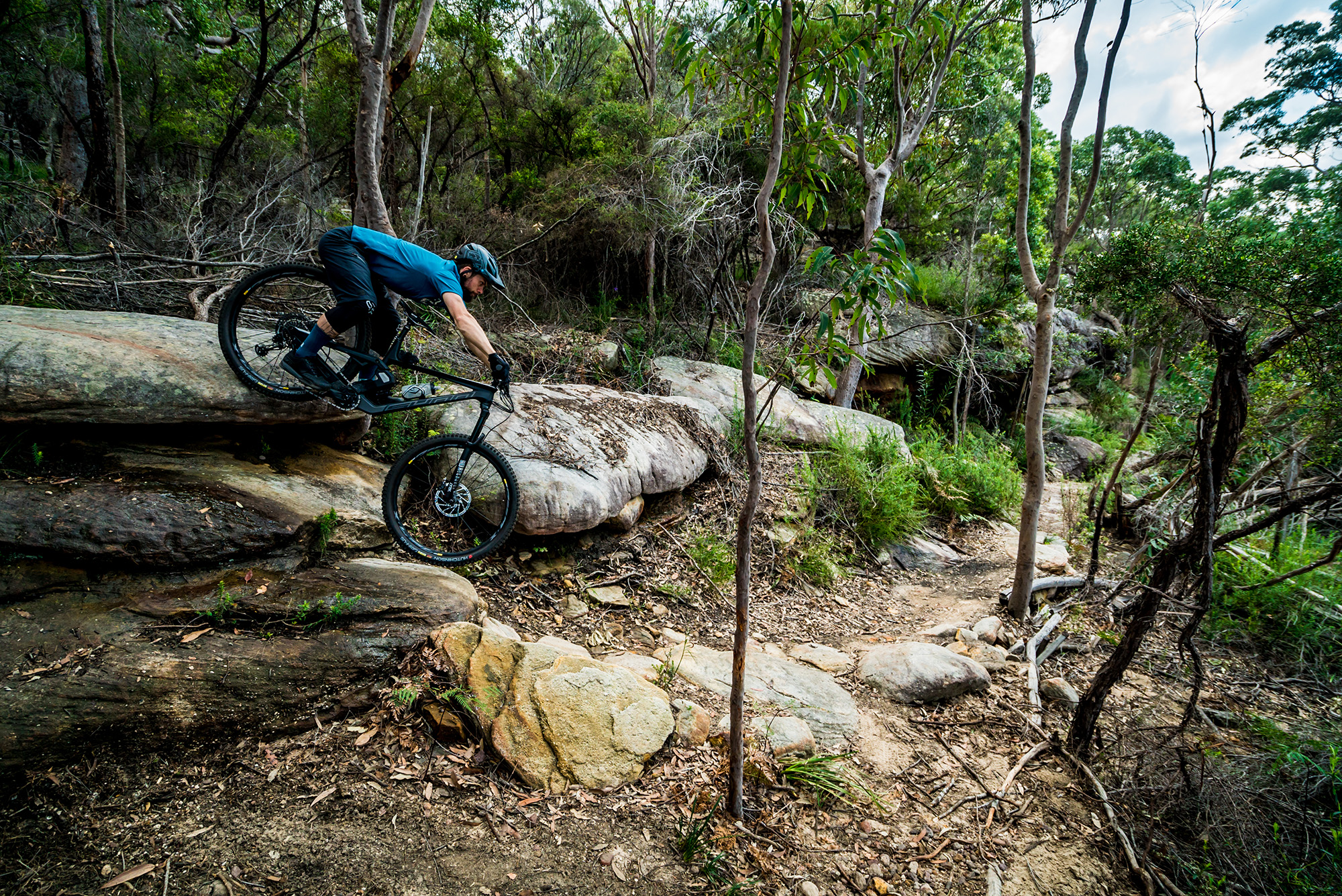 Did you find yourself needing to use the RockShox Super Deluxe's remote lockout whilst you were out on the trails?
When we first received the bike we didn't think we were going to and I didn't for the first few rides. But once we got used to it, we used it everywhere. Remember when droppers first came out and majority of people said they'll never have one and when you did try one it felt a bit goofy and awkward. This is the same thing, if you can live with another cable coming from your bars then you'll love it. The RockShox grip shift style actuator is awesome too, doesn't budge when you don't want it to but is always there to help your sleepy legs get up that next climb a 'lil easier.
How do those Mavic DeeMax Elites feel?
They are definitely a world apart from the Dee Max's of days past! Let's not touch on the old hubs, I'll be here for hours. I'm quite confident that Mavic have sorted that issue out. Luckily for the wheel's sake, we didn't have any face melting hits, however our local trails are littered with baby head rocks and serious rock gardens that are constantly changing and they came out the other side like champs every time.
What were some of the other 'stand out' parts on the bike in terms of its spec?
Those SRAM Code RSC's were definitely much appreciated, especially when the price of the bike was taken into consideration. Perhaps Sunn could have easily just put some G2's on there and called it a day. But this spec option just goes to show the thought they put into the overall feel of the bike. Sure, majority of the time we didn't actually need that much stopping power, but it's confidence inspiring to know you've always got that bit extra just in case.
Did you have any drama's or concerns about the bike during the month or so you spent testing it?
Other than the dropper length, our only other thing we would have liked to have seen was a bit more tyre clearance in the rear. With the stock 2.4" tyres it's already pretty tight back there and even though this didn't cause any real issues it would be nice to have the option to fit some different wider rubber down the track.
"This bike does suit the all-rounder. It's a long travel bike that is happy enough trail riding as it is riding downhill tracks, then riding back up the shuttle route. It does call out to those who want to break the mould of the big brands & beats most of them in value too."
And finally, given its price tag and how it performed is this a bike you might consider buying yourself?
I really would. The spec is great and given the heritage of the brand and the features of the frame, it's a great package. If you're thinking about getting a long travel 29" enduro bike this summer the Kern EN29 Finest is going to be hard to go past!
Sunn KERN EN29 Finest
Frame // Full carbon throughout with monocoque tubing. 
Size options // Small, Medium, Large.
Spec // RockShox Lyric RC2 fork, RockShox Super Deluxe shock, DeeMax Elite wheels, SRAM Code RSC brakes, SRAM X01 Eagle drivetrain, Race Face carbon bars, SDG dropper post.
Price // $6299.00
Browse // www.ridesports.com.au