In what was undoubtedly the biggest rider move last offseason, Gwin parted ways with YT and joined forces with the most iconic brand in the history of downhill racing, Intense.
We recently caught up with him for a quick chat about his new bike and set-up. 
This piece originally run in our current issue 55, available here.
First up mate let just throw it out there that you riding for Intense, it was always going to be an All-American, All-Californian, match made in heaven, right!? 
Haha, yeah something like that! I'm stoked, it's definitely the ideal scenario and I'm really happy to be representing my hometown brand with Intense.
Tell us a bit about your race bike, the stunning Intense M29 FRO. How much different is this frame compared to the bike you were on last season? 
 To be honest it really is quite a bit different actually. Intense uses a different suspension platform, they also have a somewhat different take on a bike's geometry in a few ways. Overall, I'm really happy with the bike so far, I've never ridden a bike that felt so smooth!
 Switching bike brands for a rider of your calibre must be a daunting experience. There's no guarantees I guess that the new bike will be faster than the old bike, etc. What was the process like making the switch?
 That is true. Well, we did some back and forth testing before I signed the new contract but nothing timed. I was comfortable and confident on the new bike straight away and have been focused forward ever since.  
[R]: Are you and the rest of the team on custom or production frames at the moment? 
Right now we're on stock production bikes. We've got plans to start testing different things to see how we can keep improving but we're loving the bikes currently and wanting to get them to a few more races before we start considering any tweaks.
Are you convinced that 29" wheels are the best/fastest for DH racing or might we see you switching back and forth between 27.5" hoops at different races this year?
I really like the 29er wheels so far and I feel they suit my style pretty well. We might mess around with some mixed wheel sizes for fun but I'm pretty confident that I'll be on a 29er front and rear long term.
Note: Gwin's last race saw him opt for a 27.5 rear…
No one would call you short, however you're not exactly NBA tall either, I've heard that you'll be racing a size X-Large frame this year. What's the story there? 
Gwin: For me, I just like the roomier reach of the XL. The longer reach and wheel base does create some other issues though so I've decided to go back to the large frame for the next few races. I'm a little in between sizes at the moment but I'm confident that we can get things dialled in.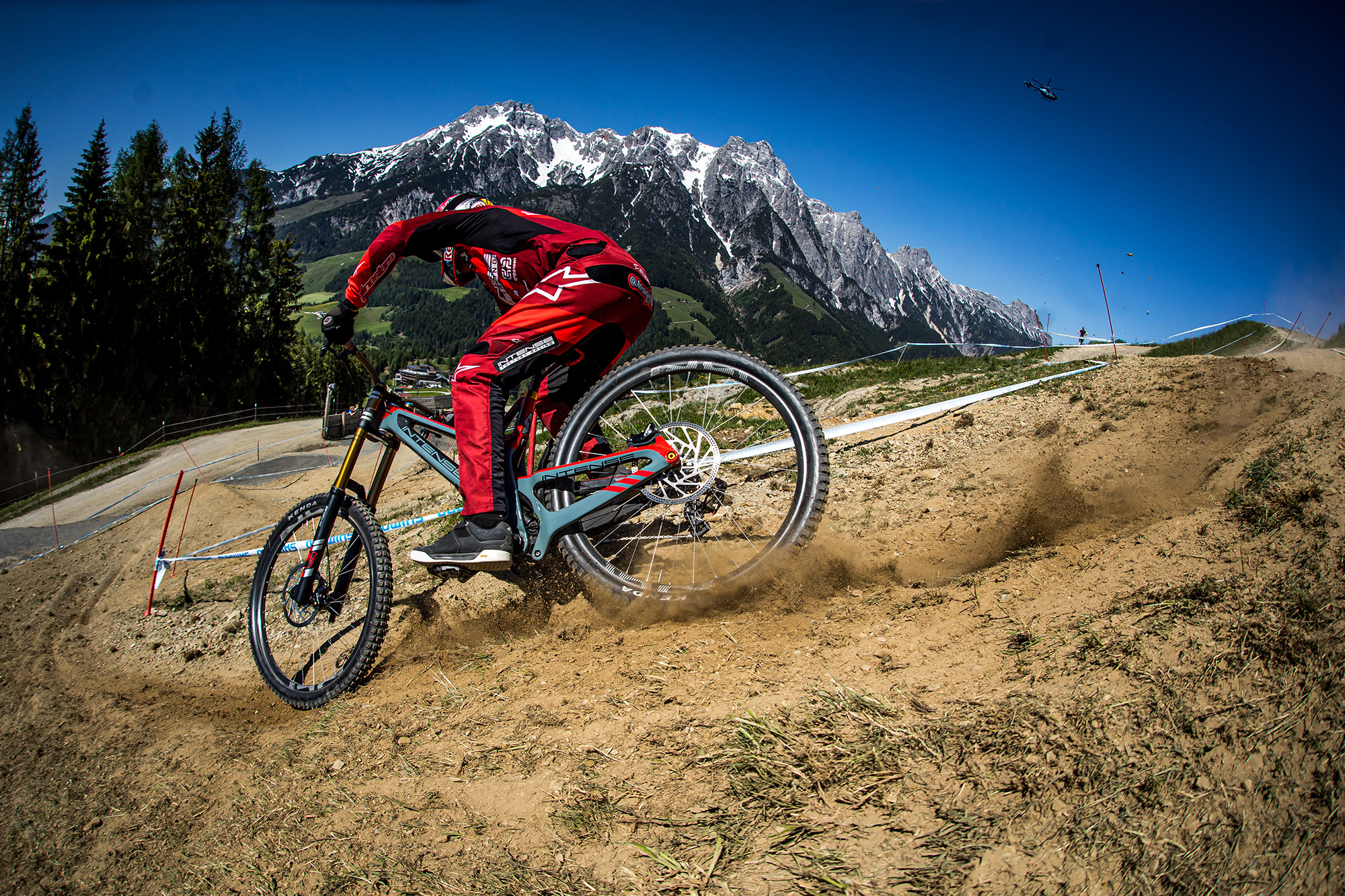 Let's talk tyres – you guys have changed brands across to Kenda this season. Can you tell us a bit about how testing has gone with the new rubber so far?
The testing has gone great so far. We have a new hard-pack tyre that we'll hopefully be debuting at Ft William and then should have our new mud tyre shortly after. Kenda has been awesome with their efficiency and willingness to get us dialled in with these new tyres. We've got high hopes working together and we're capitalizing on all of the resources available to us to make these new tyres really good.

Final question, one of the most commented on spec choices aboard your current race bike is the TRP rear derailleur. Obviously TRP isn't a brand that a lot of people know much about. How does the gear perform compared to rear mech's from Shimano and SRAM?
I think the biggest things that stand out with our new derailleur is the durability, quietness, and adjustability. We've had a lot of problems with other derailleurs wearing out quickly in the past and just kind of losing their integrity in general. I love a quiet bike and I wanted a product that would stay tight and quiet long term without constant adjustment and maintenance. We've achieved that with the new product and it's been working really well for us. That's been the goal for us with all of the TRP products, brakes included. We want a product to be easy to set up and reliable/consistent long term.
Cheers for taking the time to chat with us today mate. 
Thanks guys. Catch you back Down Under sometime soon!